Discover what is coming up from the Department of Theatre and Dance in 2022-2023. Performances are held at the Performing Arts Center (PERF) and Theatre Center (THEA).
For tickets go to, https://txstatepresents.universitytickets.com/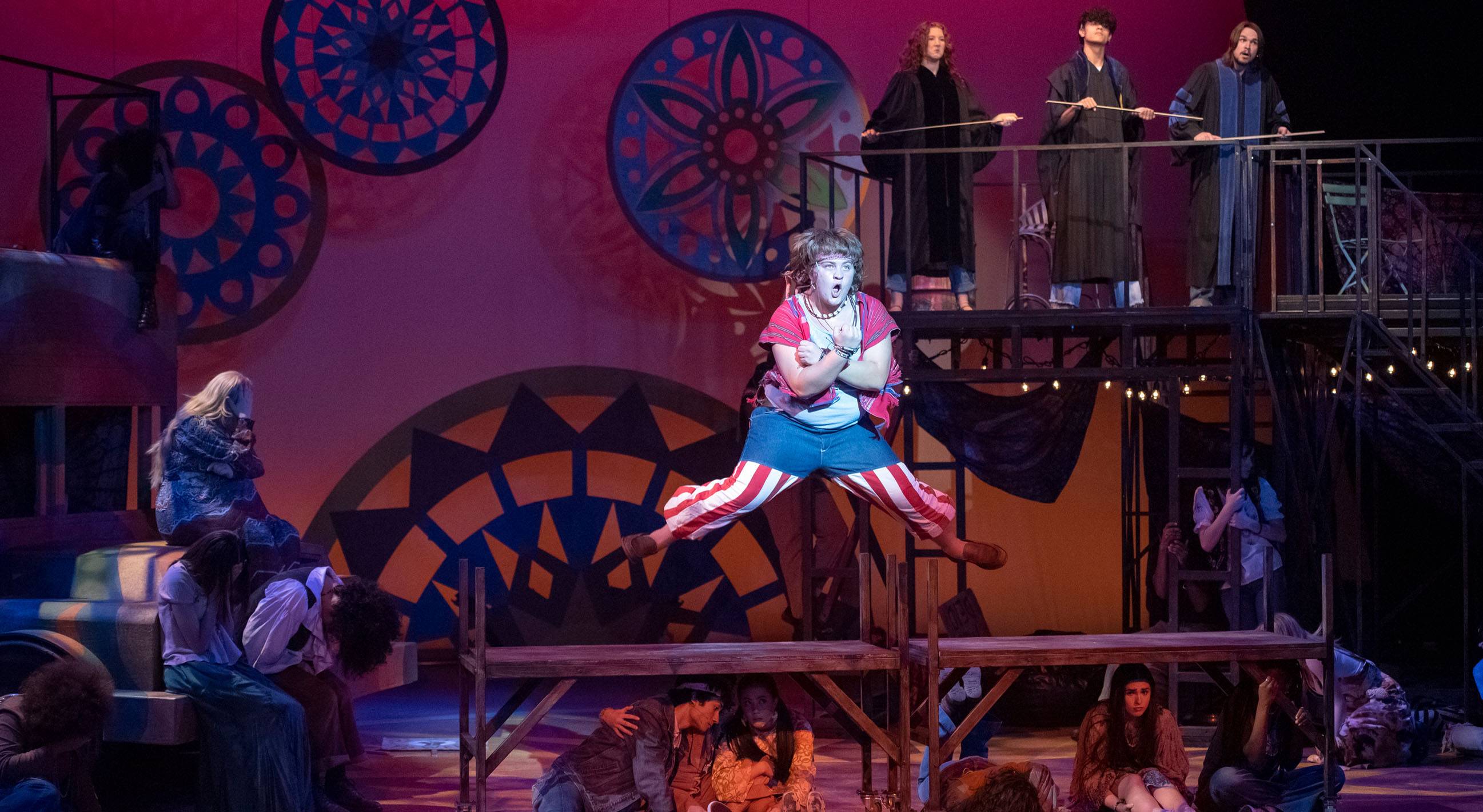 Theatre
The 20th Black and Latino Playwrights Celebration, Aug. 29-Sept. 4 — A tribute to August Wilson. A workshop and showcase featuring the work of student and professional Black and Latino playwrights, conducted by professional guest directors and artists.
Antigone, Sept. 27-Oct. 2 — Antigone is a Greek tragedy written around 451 BC by Sophocles. The play was adapted by German playwright Bertolt Brecht. Directed by Jess Hawthorne Fiene.
Life Sucks, Oct. 25-30 — Playwright Aaron Posner says this play is "sort of adapted from Anton Chekhov's "Uncle Vanya." A group of old friends, ex-lovers, estranged in-laws, and lifelong enemies gather to grapple with life's thorniest questions— and each other. Directed by Peter O'Ongolo.
Into the Woods, Nov. 15-20 — Music and lyrics by Stephen Sondheim and a book by James Lapine. The musical intertwines the plots of several Brothers Grimm fairy tales, exploring the consequences of the characters' wishes and quests. Directed by Stacy Hawking.
Devised Work, Nov. 8-13 and Nov. 17-19 — "Amber Jar Chrysanthemum," by Neil Patrick Stewart in collaboration with the students of the Department of Theatre & Dance.
Devised Work, Feb. 23-26 — "Demaskus aka Running" by Nadine Mozon in collaboration with the students of the Department of Theatre & Dance.
Mala Hiebra, March 2-5 and March 8-10 — By Tanya Saracho, directed by Ana Martinez Medina. The play follows the seemingly impeccable trophy wife of a border magnate living in Texas. But beneath that polished exterior lies a fierce determination to survive at any cost.
Big Love, April 3-8 — 50 brides flee their 50 grooms and seek refuge in an Italian villa in this modern re-make by Charles Mee of one of the world's oldest plays, "The Danaids" by Aeschylus. Directed by Reina Jabbour.
Pippin, April 18-23 — Music and lyrics by Stephen Schwartz and book by Roger O. Hirson. Bob Fosse, who directed the original Broadway production, also contributed to the libretto. The musical uses the premise of a mysterious performance troupe, led by the Leading Player, to tell the story of Pippin, a young prince on his search for meaning and significance. Directed by Tom Delbello.
Dance
Open Door Dance Company, Oct. 20-23
BFA Performance & Choreography Showcase, Nov. 11-12
Merge Dance Company, Feb. 16-19.
CIM TEYA Dance Company, March 27.
Student Dance Concert, March 31-April 1
Choreographer Showcase, April 20-22