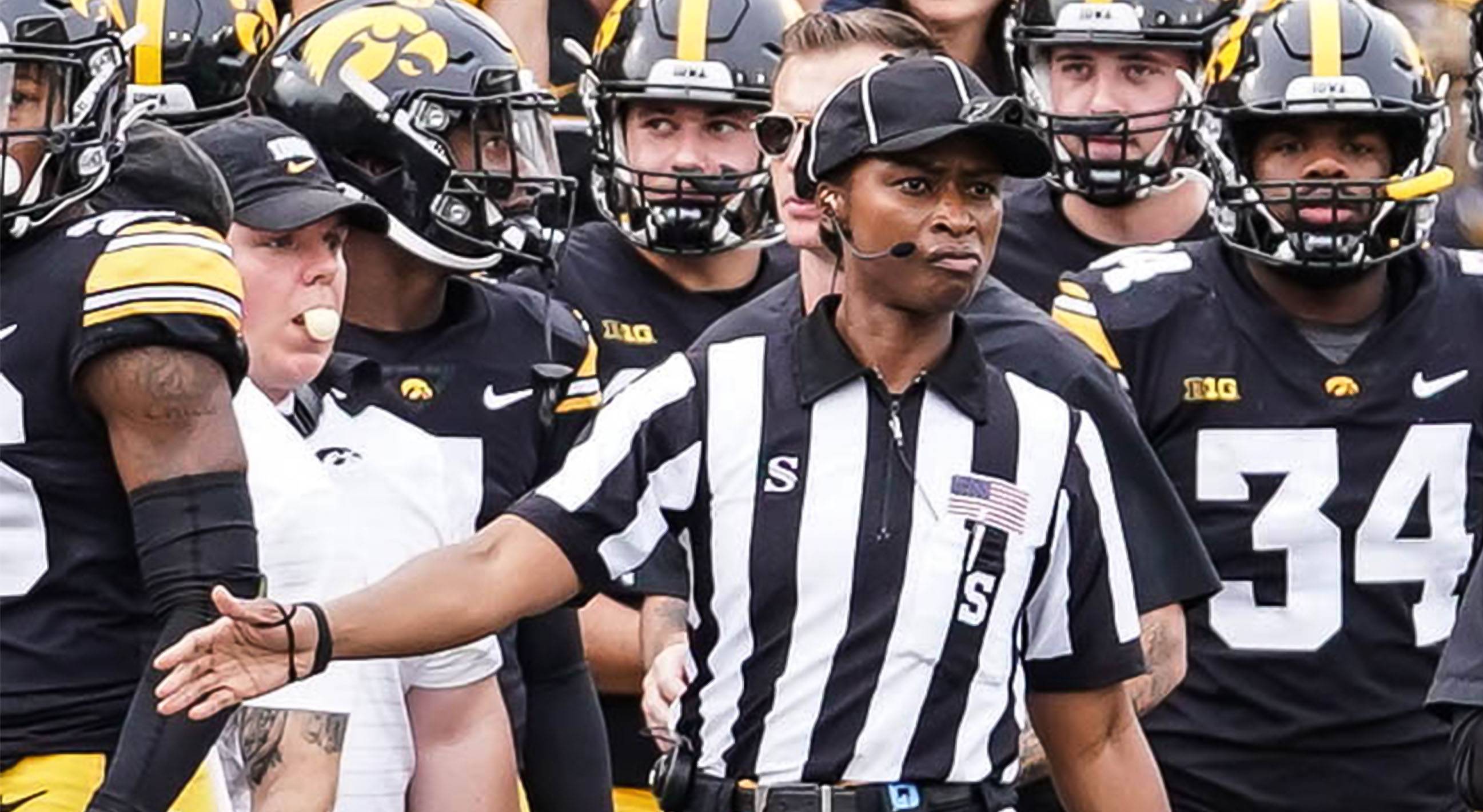 LaShell Nelson made her mark as Bobcat athlete, now she serves as sideline official for college football
By Benjamin Gleisser
The next time you watch a Big 10 football game, look for the sideline official running up and down the field like an Olympic sprinter with something to prove.
That's LaShell Nelson (B.B.A. '02), who broke several Big 10 football records as a referee. She was the first Black woman to serve as a football official in the conference (2020), and was part of a historic Big 10 moment, as a member of the first all African American officiating crew (Oct. 26, 2020). She has also officiated Bowl games and traveled north of the border to officiate contests for the Canadian Football League.
Nelson credits her years of running track in high school and at Texas State University, where she lettered, for giving her the skills she needs to be an effective line judge. As a Bobcat, she ran the 400-meter hurdles and mile relay. She captained the women's track team in her senior year, when they won the indoor and outdoor conference championships under head Coach Don Hood and sprint and hurdle Coach Galina Bukharina, a former Soviet Olympian who coached the team until her retirement in 2011.
Nelson doesn't consider herself a trailblazer. "I'm honored to be called that," she says. She makes her home in Irving, where she works as the vice president of customer services for a Dallas-based financial services company.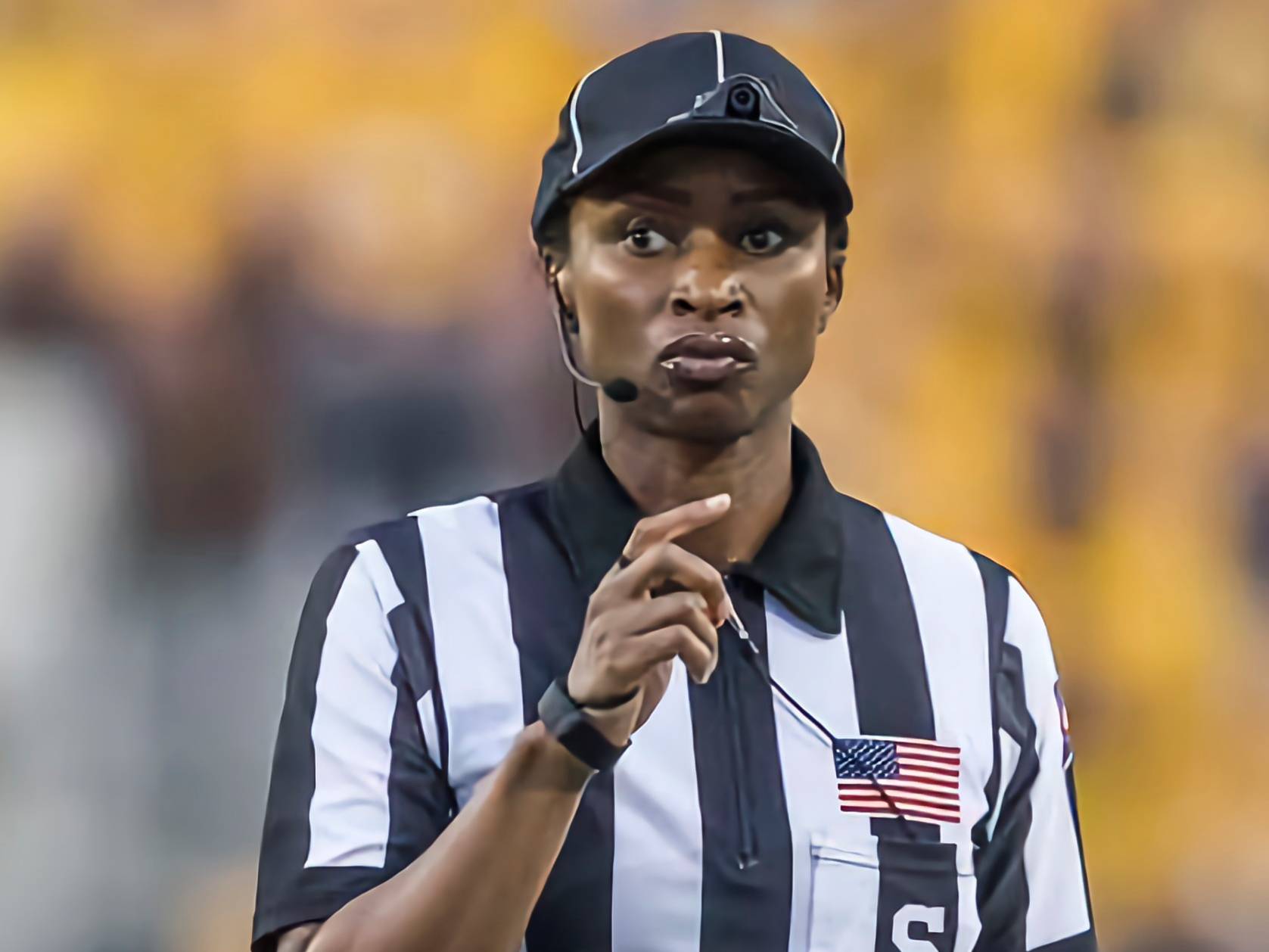 "I just love officiating football games," she says. "I don't go looking for recognition for what I've done, and I don't want people to look at me as a Black woman who is an official. I don't like doing interviews, but the only reason I do them is to show other women that they can do this job, too."
Nelson's job as a sideline official is to focus on the widest receivers and widest defenders, and she looks for penalties like holding and illegal below-the-waist tackles.
"I love college football, and I especially love the Big 10, with all its traditions, rivalries, trophies, and stadiums," she says. One memorable moment: was at a game at the University of Michigan's Michigan Stadium, nicknamed 'the Big House' for a good reason: "There were 109,000 people in the stands. It was loud and amazing."
Despite all the noise and excitement from the stands and on the field, where players can blow their cool in tight situations, Nelson says her skill to laser-focus on plays ensures that she never loses her composure under pressure.
"I have the ability for running and the tunnel vision to concentrate on the play," she says. "When I'm in the zone, I don't even hear the crowd. Boos don't bother me, and I don't even hear players' comments."
After graduation, Nelson joined a financial services company, where she quickly rose through the ranks to a leadership position. At the same time, she began putting on the zebra shirt for high school football games and attended football clinics that taught the mechanics of officiating. Impressed with her work, she was recruited to work Conference USA games in 2015 and five years later was working in the Big 10. The Big 10 today has four full-time female officials among its 91-member team, including replay officials.
Her proudest game-day memory: "A little girl saw me, and her dad said, 'Look at her. When you are grown up, you can be an official just like that lady there.' That was a pretty amazing moment."