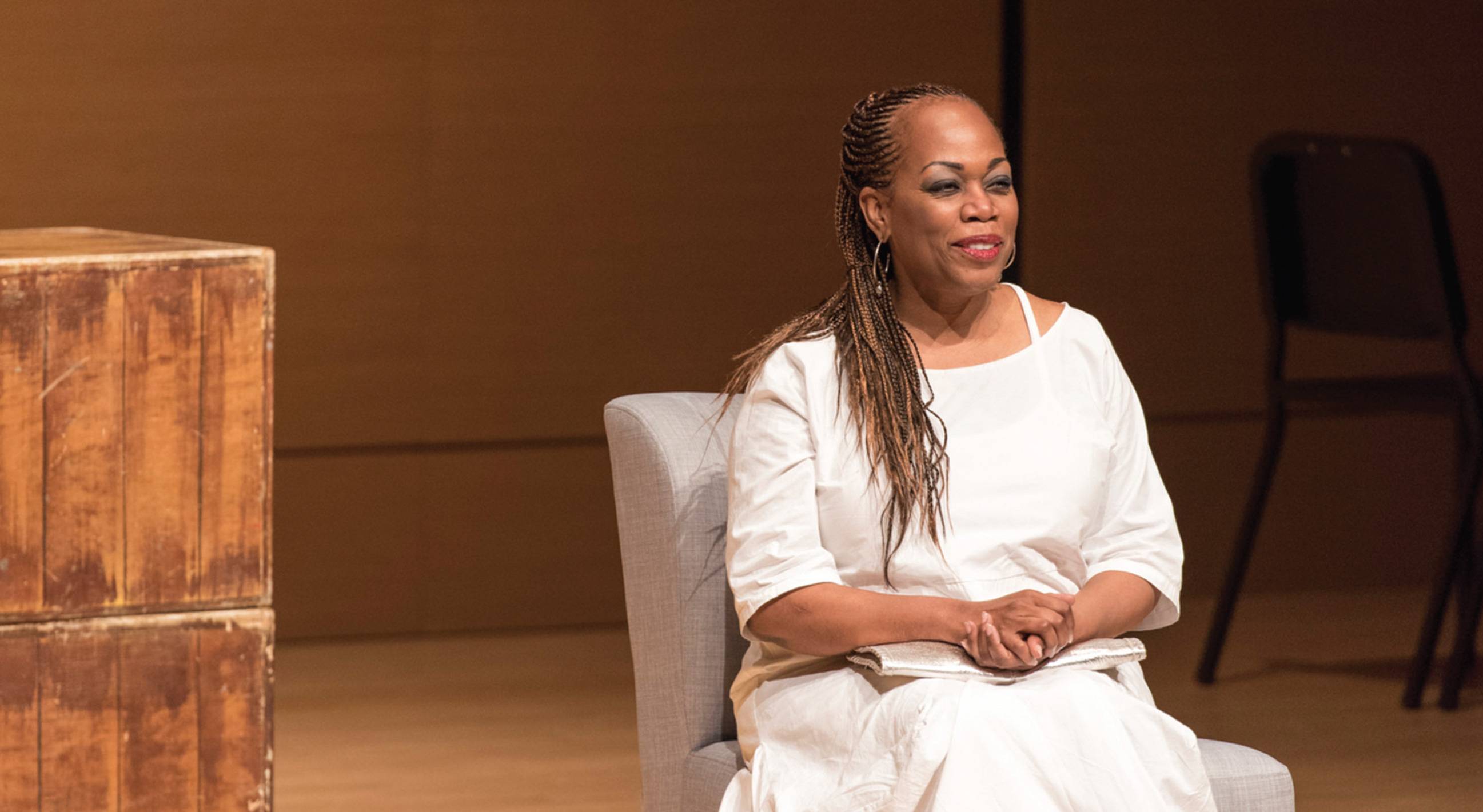 The Play's the Thing
by Benjamin Olivo
Taylor enlightens students at Black and Latino Playwrights Conference
In the theatre world, the creative process involves collaboration, script writing, rewriting, and much fine-tuning. And, as playwright and accomplished actress Regina Taylor puts it, that process starts with getting the voices in her head onto paper and culminates on opening night.
Taylor calls it "the beast," for short.
"Through the rehearsal process, you want this beast to be walking around at least before you open it to the audience. You want it to be walking around and speaking something, saying something. You're moved by it in some way," Taylor, 56, told a packed Theatre Center in September during the 14th annual Black and Latino Playwrights Conference at Texas State University.
"When the audience comes that first time — you want it to start flapping around. The audience's breath meets it and buoys it to be lifted and flying by the time you get to opening night," Taylor added.
Taylor was one of eight guest artists from across the country to attend the conference. Among those featured artists was Hope Villanueva, a stage manager and playwright from Santa Barbara, California, whose work-in-progress The Veils was read by students. Judy Tate, a writer and four-time Emmy Award winner, covered the fundamentals of building drama in a piece.
The process that Taylor described so well is exactly what the playwrights' conference is all about. The conference brought together playwrights, directors, and other theatre professionals of color to work directly with Texas State students. The conference received nearly 200 submissions from playwrights nationwide for the New Play Development Workshops.
The benefits go both ways, says Eugene Lee, the conference's artistic director and Texas State artist in residence. "For these students to be a part of the unfolding of this process, it is life changing," says Lee, an accomplished actor and playwright who has worked with Taylor in plays in Chicago and New York. "And whether it's a professional playwright, director, actor visiting, or the students going through the process for the first time, it's so wonderfully rewarding," he adds.
This process played out repeatedly as students worked directly with professionals for seven days. It culminated in an evening with Taylor, who was selected as the conference's 2016 distinguished guest artist. Past honorees are Luis Valdez, founder of El Teatro Campesino, and Douglas Turner Ward, founder of the Negro Ensemble Company in New York.
Taylor is perhaps best known to TV audiences for the series, I'll Fly Away set in the South in the 1950s. In 1993, she won a Golden Globe for the role of Lily Harper, housekeeper to the family of an attorney played by Sam Waterston.
A Southern Methodist University graduate, Taylor is a legend in the theatre world as both actress and playwright. She was the first African-American to play the lead role in Romeo and Juliet on Broadway. Her adaptation of Chekhov's The Seagull into Drowning Crow, which was written specifically from the perspective of the black community, has earned Taylor much acclaim.
When she spoke inside the distinctive round Theatre Center, taking questions from the audience, students soaked up insight and advice. As a child, Taylor began cultivating her love for storytelling. "It was my mother sitting with me on the floor with construction paper, scissors, and crayons, creating children's books," recalls Taylor, who grew up in Dallas, before moving to New York and settling in Chicago. "This was the most important gift that my mother gave me: the power of creativity — wielding that power, being able to write my own stories from my own perspectives, from the eyes, the lens of an African-American female who was born in Dallas, Texas."
At SMU Taylor studied journalism and worked at the Dallas Morning News as a reporter. A university counselor suggested she take an acting class as an easy credit — after all, she says, "the jocks took acting classes, too." The class changed her life, and she decided to shift from telling nonfiction stories to telling fictional stories.
Along the way, Taylor learned to always be prepared, and that hard work and determination can take you far, she told the budding actors, playwrights and theatre professionals. "When you have an opportunity, you charge in and you're ready with all the tools that you gathered along the way." ✪