Stewart gets off to fast start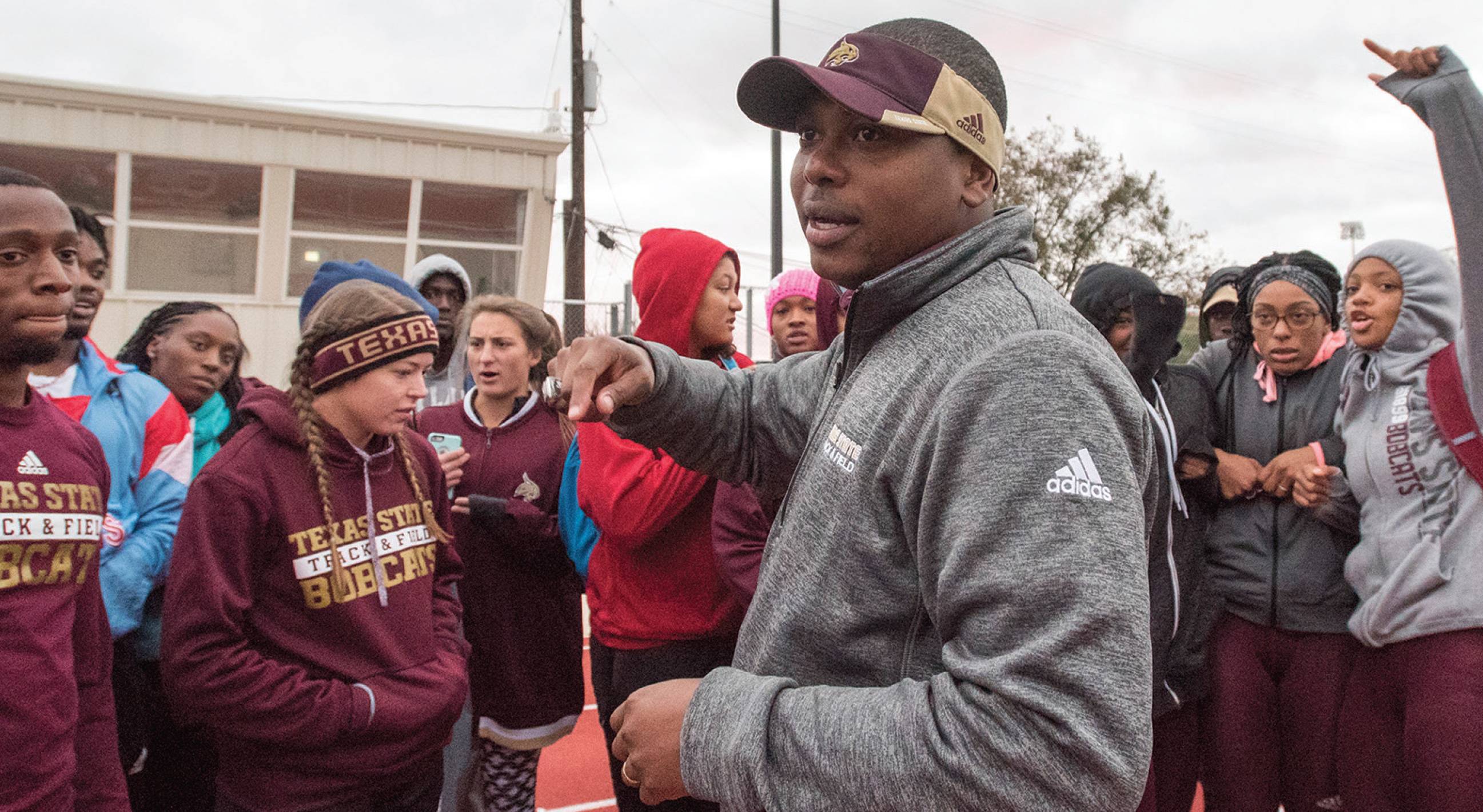 Stewart Gets Off to Fast Start
by Edmond Ortiz
Director of track and field leads men's team to Sun Belt championship
You could say that Coach Jody Stewart hit the ground running.
He already had a reputation as a strong recruiter upon becoming Texas State's director of track and field/cross country in the fall of 2015, even though this school was his first head-coaching job.
Stewart quickly expressed confidence in his athletes' abilities and work ethic. "Early on, I told them, we will win a championship," he recalls. "It was a new system, but the student-athletes were able to buy in."
Last season, the men's team won the Sun Belt Conference Indoor Championship. The women's team fell two points shy of repeating as indoor champs. Several Bobcats received All-American honors and honorable mentions following the NCAA championships. Stewart was named Sun Belt's Men's Indoor Head Coach of the Year.
Before coming to Texas State, Stewart spent three years as an associate head coach at Stanford, where he helped assemble the top men's recruiting class in the NCAA in 2015. Prior to that, he had similar success as an assistant coach at Georgetown and Bowling Green State. But as much as he has taught student-athletes to excel at sprints, hurdling and other track events, the Columbus, Ohio, native has emphasized quality academics.
He knows that being a student-athlete can be simultaneously exciting and overwhelming, having earned a bachelor's degree in education in 2006 from Ashland University in Ohio, and a master's degree in education from Cleveland State in 2008. "The first time you're on a college campus, you want to be part of all of the opportunities," Stewart recalls. At Ashland, Stewart was a four-time NCAA Division II All-American, four-time Academic All-American, four-time Great Lakes Intercollegiate Athletic Conference Champion, and the 2003 Great Lakes Intercollegiate Athletic Conference Most Valuable Performer.
"I was blessed being able to get a great education and have a great experience. That's what I try to provide to our student-athletes now. We do a lot of things to enhance the student-athlete experience," he says.
Stewart's influence in this realm, on and off the athletic field, has already paid dividends at Texas State. Seven Bobcats — four men and three women, more than all other Sun Belt Conference schools — received All-Academic honors from the U.S. Track and Field and Cross Country Association following the 2015-2016 season. Stewart says these and other impressive showings demonstrate that Texas State track and field's star keeps rising. He attributes much of that success to an increasing number of skilled track and field athletes recruited from around the state. He says the men's team is "reloading" after graduating 10 seniors. "It's a great state. We want to recruit Texas. The state has tons of talent," he says.
"I was blessed being able to get a great education and have a great experience. That's what I try to provide to our student-athletes now."

– Jody Stewart, director of track and field/cross country
Entering the spring 2017 season, Stewart describes the women's track team as remaining strong. No surprise there because the squad is led by Tramesha Hardy, who was named the Sun Belt Women's Indoor Most Outstanding Freshman and the Sun Belt Conference's Women's Outdoor Most Outstanding Freshman.
Over the summer, Stewart, his colleagues, and athletes reached out via social media to former Bobcat pole vaulters Logan Cunningham and Anicka Newell, who competed at the Summer Olympics in Rio. Cunningham represented the United States, and Newell represented Canada.
Meanwhile, the cross-country program is headed toward achieving a level of consistent success. "We are putting more resources and more recruiting efforts into cross country," he says. "The goal is to continually move up in the conference."
Stewart called Texas a supportive scene for well-trained cross-country runners who successfully make the transition from high school to college. "There are strong distance schools in Texas. It's a great distance running community," he says. "We believe we can be a top three program in cross country in the future." ✪