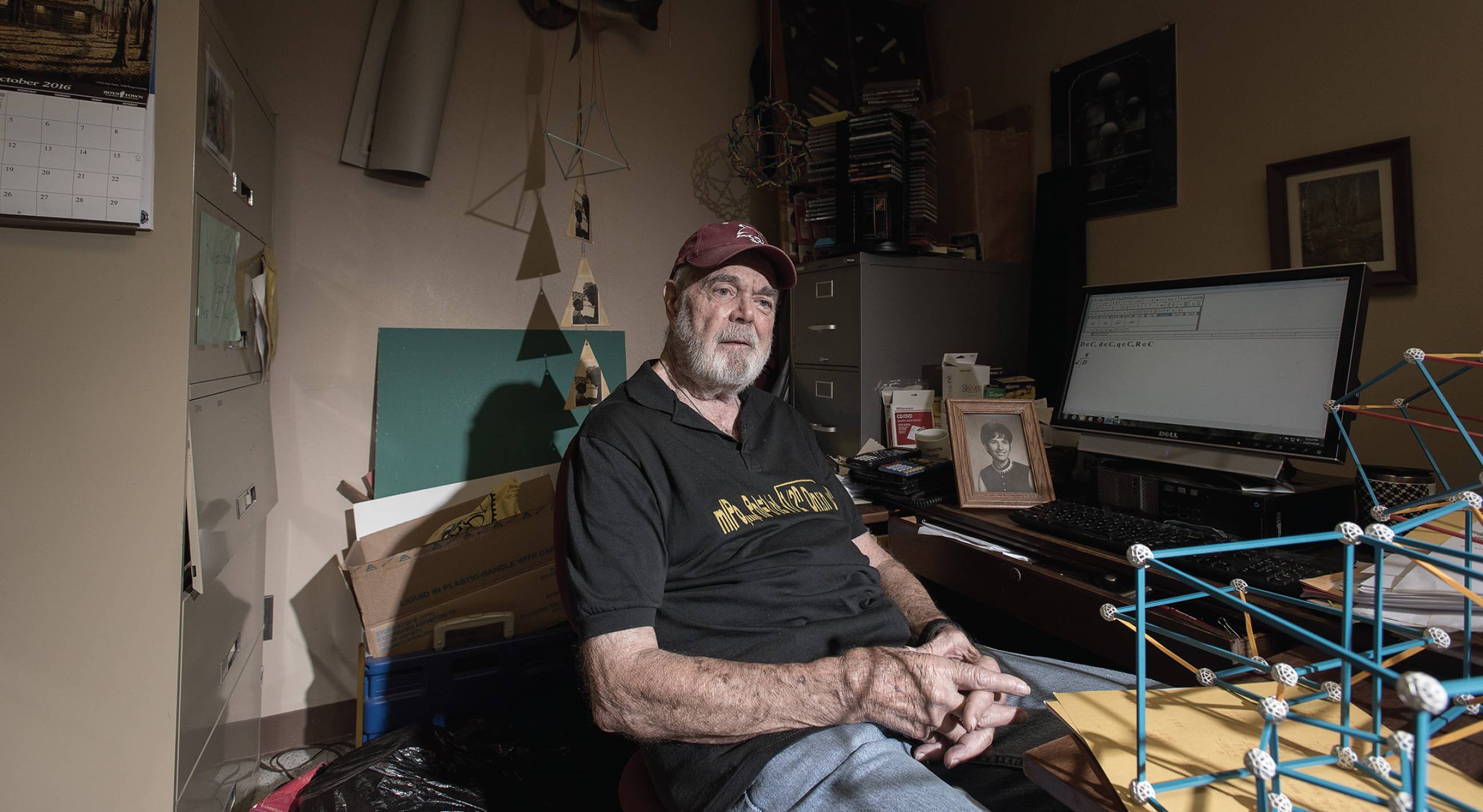 Dr. John Edgell
by Julie Cooper
50+ years of math education adds up
The year was 1966.
Lyndon B. Johnson was in the White House, the Beatles' Rubber Soul topped Billboard's pop chart, and more than 30,000 people marched on New York's Fifth Avenue demanding an end to U.S. involvement in Vietnam.
And on a handshake deal that year, Dr. John Edgell was hired as a math instructor at Texas State University. Fifty years later, Edgell is still at it, having served six university presidents and taught thousands of students.
From his Math Department office crowded with years of scholarly documents, Edgell recently took some time to reflect on a career from which he will retire this spring.
"When I first started here if you wanted a copy of something, you rewrote it," Edgell recalls. "Later you got a carbon sheet. There have been a lot of changes, but essentially we are still teaching in caves — with black rock walls and white rock chalk. But it works."
Of course, laptops are now the preferred learning instruments of students, and the math faculty has grown from the handful that were in the department when Edgell started in 1966 to roughly 80 people today.
Edgell received a bachelor's degree from Lamar University after transferring from Pittsburg State in his native Kansas to be with his wife, Lucy, whom he calls "the love of my life." They married in 1959 and began their teaching careers in Port Arthur. Edgell had accompanied Lucy to a job interview, but also got a job because the school needed mathematics teachers. He taught grades six through nine for five years.
Later, Edgell earned a master's degree in math and physics from Sam Houston State University while teaching undergraduates. While working on his Ph.D. at The University of Texas at Austin, he landed a teaching job at Texas State to help support his family. He started out teaching mathematics but says he "backed into" mathematics education.
The late '60s to mid–'70s were turbulent times on college campuses: domestically, there was tension over civil rights; overseas, it was war. "There were a lot of student issues that needed to be addressed," Edgell recalls. The counter-culture movement was spreading, and Edgell took a cue from it. He wore T-shirts and jeans, and grew his hair long. "That was not the dress code of the day," he says with a laugh.
Over the decades, Edgell contributed to the university in several ways. He served as the advisor for the university's international students for seven years. He conducted field research, working directly with public school teachers and students. In 1998, Edgell was invited to Rome to present a paper about M.C. Escher's artwork during the centennial celebration of the artist's birth.
Looking back, Edgell says he's proud of what his students have achieved. A few years ago, while doing a field research study at an elementary school in Kyle, he learned that the school's principal and 19 teachers were former students of his. Several of his students later joined the university faculty.
For Edgell, a father of five and grandfather of 10, family means everything. "My children have done so well," he says proudly of Kara Green, Lora Klinge, David, Sam, and Johnny (John III) Edgell. He also praised his wife, who taught special education students for more than 30 years. She earned a master's degree at Texas State and later taught in the College of Education. Daughter Kara, a retired kindergarten teacher, and son Sam are also Bobcats.
The Edgells have endured some setbacks. Son Johnny was seriously injured in a motorcycle accident in 1988 and his parents are now his caretakers. In 2015, the Edgells lost their home to a flood, and they since have relocated to New Braunfels.
While the spring semester marks his final one at Texas State, the professor says he may continue teaching — perhaps as a volunteer at an elementary school near his new home. "I just really like teaching. I like to see people grasp the ideas and to be able to become more independent in their thinking." ✪