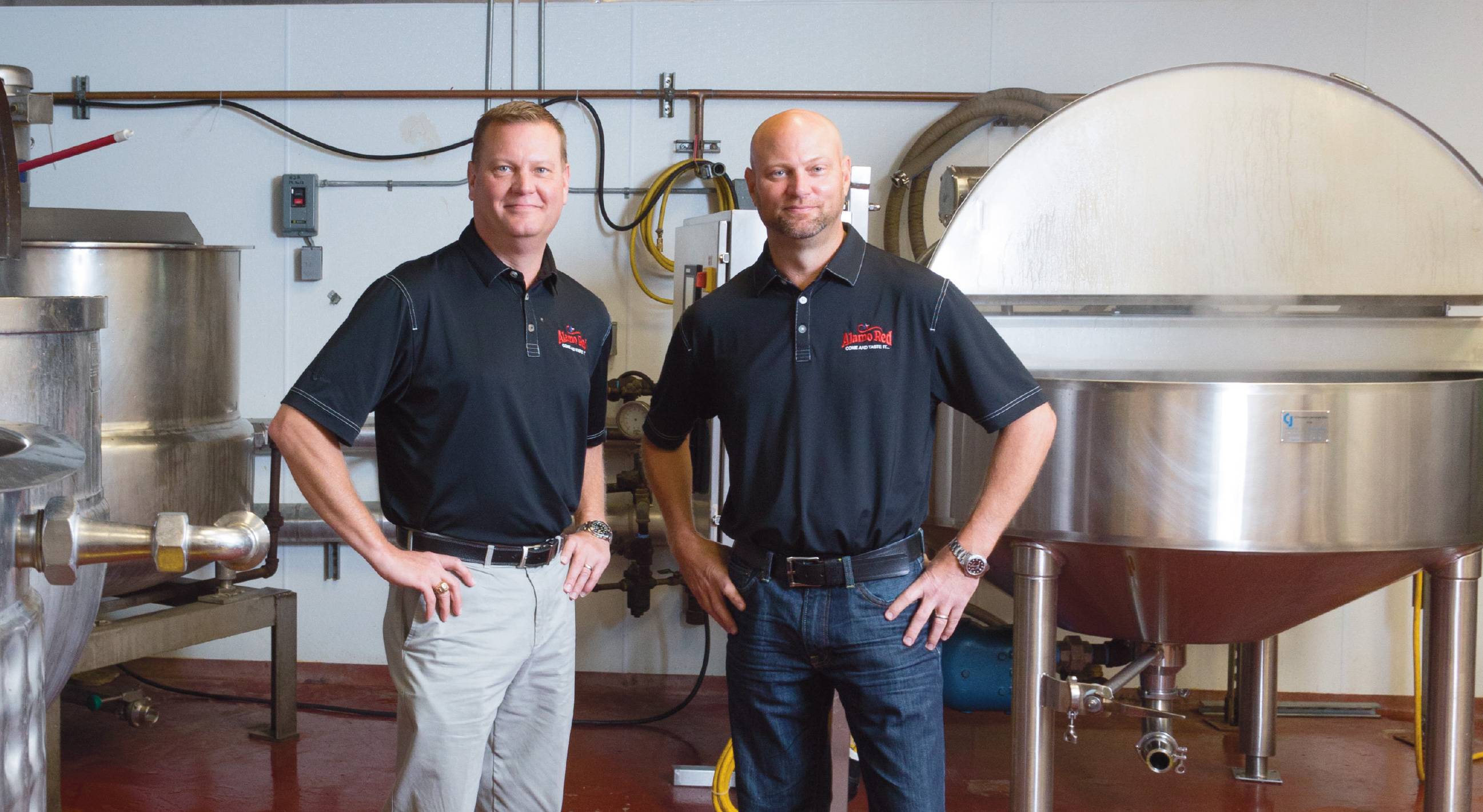 Spice it Up
by Bryan Kirk
Brothers parlay business degrees, experience into successful food packaging firm
Passing the salt during a family dinner has a different meaning for Keith and Scott Vrana than it does for members of most other households. That's because the brothers often are focused on how the salt makes it to the table in the first place.
In fact, the owners of Consolidated Mills Inc. and Alamo Red, known to many as "those brothers down in Houston," have acquired a reputation for being an exceptional food contract packaging company.
The brothers, who are 18 months apart (Keith is older), graduated from Texas State University two semesters apart in 1990 with bachelor's degrees in business administration. They both began post-collegiate careers with consumer giant Proctor & Gamble, where they mastered the art of sales, marketing, and closing the deal. It proved to be an important skill that would ultimately lead to the success of Consolidated Mills.
After a few years of working at Procter & Gamble, Scott Vrana took a position with Berlin Packaging in San Antonio. One of his accounts was Consolidated Mills and over the years he formed a bond with the owner, Chuck Ordner. When Ordner announced he was ready to retire he asked Scott Vrana if he wanted to buy into the business. Around that time, Keith Vrana was working for Sugar Foods Corp. and was often on the road. He was hoping to start a family and stay in one place, so he accepted the offer to join in the venture. In 2003 the Vranas and their parents, Edward and Martha Vrana, purchased Consolidated Mills. Today, Scott Vrana is president and Keith Vrana is the firm's executive vice president.
Incorporated in 1962 as a packaging company, Consolidated Mills became the first Texas company in 1970 to import jalapeño peppers from Mexico, which were distributed under the FARO brand and sold to Sysco, Whataburger, and Church's Chicken."When Scott and I bought the company, we really were just a spice packer and blender as well as an importer of the FARO jalapeño peppers," recalls Keith Vrana.
There was some packaging equipment, but it was never really utilized, so they taught themselves how to operate the equipment and design an actual production line. Not long after taking over, they landed their first big contract manufacturing and packaging enchilada sauce for Trader Joe's. "It was like the I Love Lucy show with the chocolates on the conveyor belt," says Scott Vrana. "Total chaos. But it's just like anything else, and each time it got a little better."
So they switched their focus to expanding the packaging aspect of the business. In 2009, a team of students from the McCoy College of Business Administration sold SuperCat Salsa as part of an entrepreneurship course under the guidance of their professor and the fundraising sector at Consolidated Mills. The specialty salsa was sold on campus and in local stores.
"Our flavoring department started growing and we started getting some bigger accounts," Scott Vrana says. Since 2004, annual revenue in manufacturing and packaging has more than quadrupled. Today, the operation employs more than 40 people.
In 2013, Consolidated Mills was named Small Business of the Year for the Cy-Fair area of Greater Houston and Medium Business of the Year from the Cy-Fair Houston Chamber of Commerce. In 2014, the Vrana brothers launched their own brand of Bloody Mary and cocktail mixers under the name Alamo Red with the challenge to "Come and Taste It," printed under the name. Stores such as Spec's, Fiesta, and Kroger now carry many of their products.
"We have this great line of Texas products," says Keith Vrana. "Our vision is to continue to grow this brand, while remaining focused on our contract packaging business." ✪