Eating Animals in America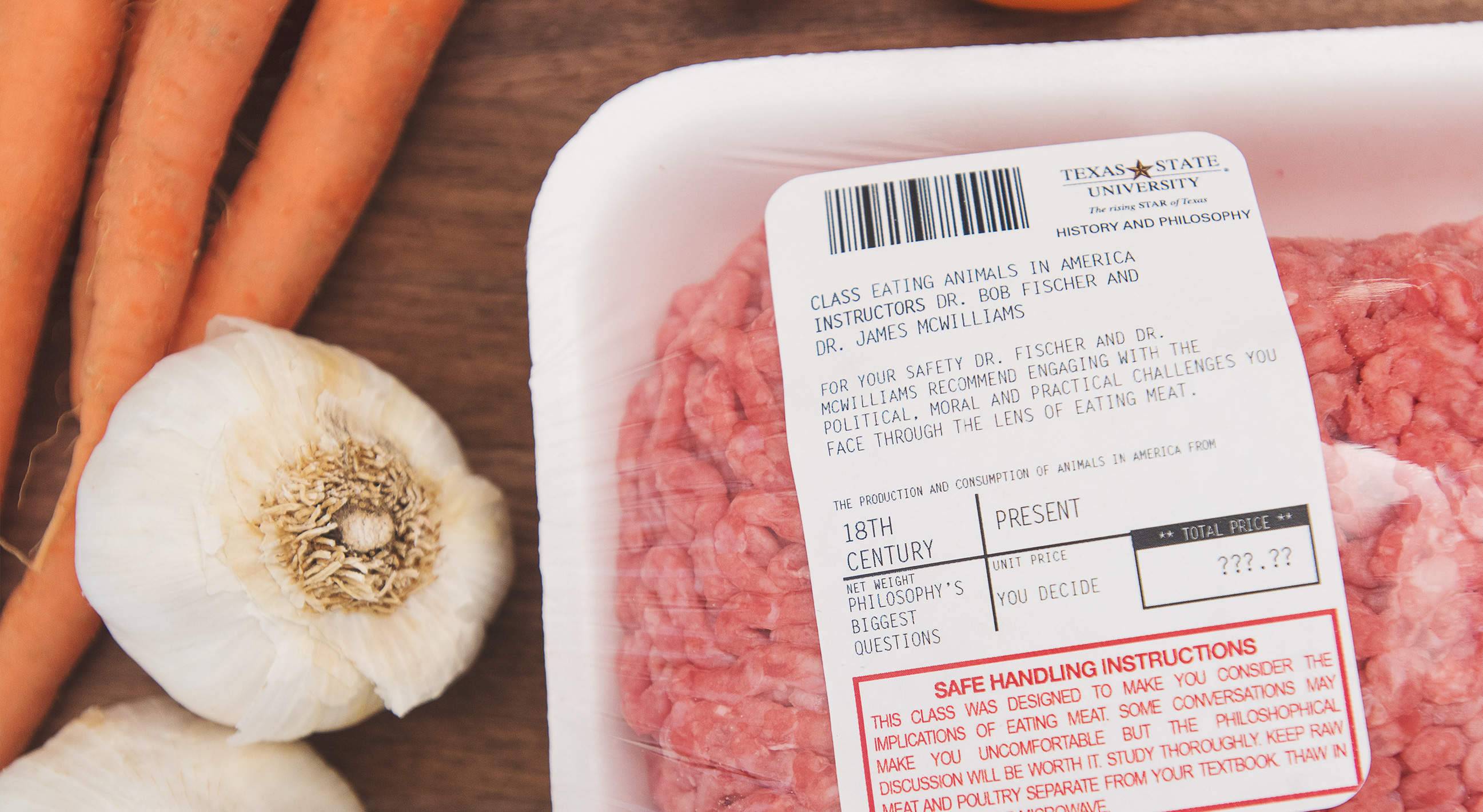 Eating Animals in America
by Julie Cooper
Asking the hard questions about food ethics
"Eating Animals in America" may sound like a title for a cable TV reality food show. But in actuality, it's the name of an Honors College class that chronicles the changing nature of — and views about — the production and consumption of animals in America since the 18th century.
The course, taught for the past four years by Dr. Bob Fischer of the Department of Philosophy and Dr. James McWilliams of the Department of History, also introduces students to the philosophical issues raised by the practice of eating animals.
For Fischer, animal and food ethics have become his area of concentration. A New York native who joined the Texas State faculty in 2011, he co-edited The Moral Complexities of Eating Meat (Oxford University Press, 2016), a book of modern essays with Dr. Ben Bramble, an assistant professor in philosophy at Trinity University Dublin.
"Every time I turn a corner in food ethics, I find some great philosophical puzzle to mull over," he says. "I think it's stimulating, exciting, and sometimes uncomfortable." Indeed, Fischer thinks about food ethics as learning to ask the hard questions about what we eat.
In the Honors course, Fischer explains, the class looks at how society reached the point where industrial and animal agriculture looks as it does. "What are the alternatives, and which is best?" he asks.
This spring, Fischer will also be part of the sustainability studies master's program in which the food ethics course is taught. Graduate students with different interests and concerns — representing business, engineering, and family and consumer sciences — will be looking at sustainability issues in the food system, as well as how our food choices affect the environment.
"Some of the biggest questions in philosophy come up through the lens of food."

Dr. Bob Fischer
"What's exciting about teaching about food ethics is that some of the biggest questions in philosophy come up through the lens of food. It is a unifying theme. It allows you to get at some of the biggest moral problems that face our society, but through this lens that students and engaging, accessible, and comprehensible.
"Think about all the questions you can ask through the lens of food.
Questions about famine relief and our obligations to folks in the developing world," he says. "Massive questions about climate change — something like 14 to 15 percent of greenhouse gas emissions are traceable to animal agriculture — what are our obligations in light of that?"
There are also questions about how animals are treated, society's obligations to future generations of humans, and the fundamentals of consumer responsibilities. "These choices people make every day: going to the dining hall, going to a restaurant or the grocery and plunking down money. Those actions raise big moral questions. The kind of questions we ought to think through together. And hopefully, philosophy helps us do that better," Fischer says.
"[Food] is this wonderful way of getting at so many political, moral, and practical challenges that we face through this one simple question: What's for lunch today?" ✪