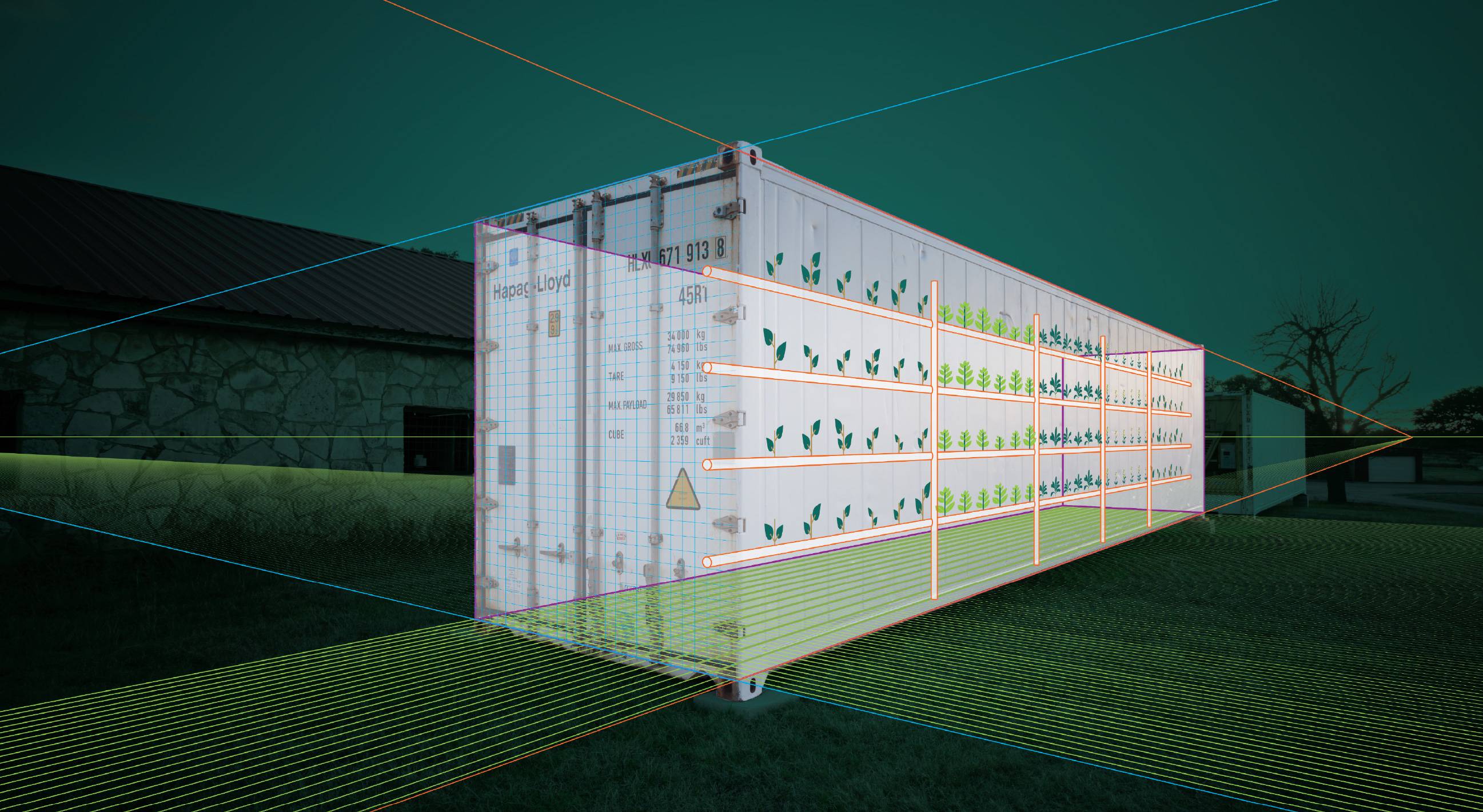 Hunger Contained
by Julie Cooper
Engineering, Agriculture partner up on EverGreen
The United Nations expects that by the year 2050 the world population will reach 9 billion, up from 7.5 billion today. At Texas State University, a collaborative team of researchers is looking for new ways to feed that growing population. And a solution may be found in a surprising place: a shipping container.
"How are we going to grow food for a growing world population despite a changing climate and severe weather — and do so without irreparable damage to our environment?" asks Dr. Nicole Wagner, senior lecturer in the Department of Agriculture. "Those are big issues at the intersection of agriculture and engineering."
"Assuming that trends in global population growth, rising incomes, food waste, and average crop yields do not significantly change by 2050, it has been estimated that we will need up to 70 percent more food to feed the world's population," Wagner continues.
That need is where the EverGreen project comes in. Texas State has received a $1 million grant from the U.S. Department of Agriculture (USDA) for the four-year project, a collaborative endeavor of the Ingram School of Engineering and the Department of Agriculture. The goal is to find innovative solutions for the global food-water-energy nexus, along with increasing the number and diversity of students with advanced technical degrees.
"Researchers seek to develop an agricultural system model that is off-grid, soil-free, and is sustainable by renewable resources — and creating it in a way that is financially viable," says Dr. Bahram Asiabanpour, associate engineering professor. "The affecting factors in such a model are related to energy, water, environment, market prices, and other fixed and variable costs such as labor, land, construction, and capital."
Asiabanpour, Wagner, and Dr. Ken Mix from the Department of Agriculture serve as EverGreen's principal investigators. Students from Texas State, San Antonio College (SAC), and Palo Alto College (PAC) are also participating. Other collaborators include Dr. Semih Aslan (Ingram School of Engineering), Dr. Hamed Ghoddusi (Stevens Institute of Technology), Steven Lewis (SAC), and Ty Chumbley (PAC).
An innovative facility and updated curricula will enable students to study the highly interdisciplinary STEM-agriculture concepts of food production, conduct research, and develop the technical, innovation, and leadership skills to address the food challenges of the 21st century. The USDA grant will also support summer internships, conferences, paid tutoring, and facilities.
And that is where the shipping container solution comes in. EverGreen will grow hydroponic crops in the containers' controlled environment, powered by renewable energy and irrigated by renewable water sources (such as rainwater harvesting and atmospheric water).
Engineering students will integrate the technology on the shipping containers with sensors that will monitor conditions from the inside and relay information via an app. The grant will provide scholarships for 11 students per year for four years. When the project is completed, students will be prepared to enter positions in well-paid, technical jobs in agriculture-related fields.
Wagner says EverGreen is about increasing crop yields while teaching students about food production through innovation and resource efficiency. The shipping container aspect of farming is not brand new in the United States, she adds. Freight Farms, a Boston-based company, is building and selling fully functioning containers for about $80,000 to urban businesses that want fresh, local produce. In California, farmers are growing some livestock feed in shipping containers.
"The crops we will initially grow include herbs, leafy greens, brassicas, and then potentially other fruits and vegetables," Wagner notes. "In the U.S., these are the type of crops that a growing number of Texans want locally and organically, but largely come from California where there is limited water. We are missing local economic opportunities given the growing local food demand."
"Another project objective is to model this system in different parts of the world, as well as food deserts in the U.S.," she continues. "For example, places more prone to severe weather due to a changing climate or those that are drought stricken. Can one of these systems economically sustain vegetables that otherwise wouldn't be grown outdoors due to lack of healthy soil and irrigation water? That's another angle of our project."
Early indications are that the interdisciplinary partnership is right on track.
"The whole team is very excited about this project," Asiabanpour says. "This is one of those rare opportunities that you love, the world needs it, you are paid for it, and it is aligned with your expertise." ✪