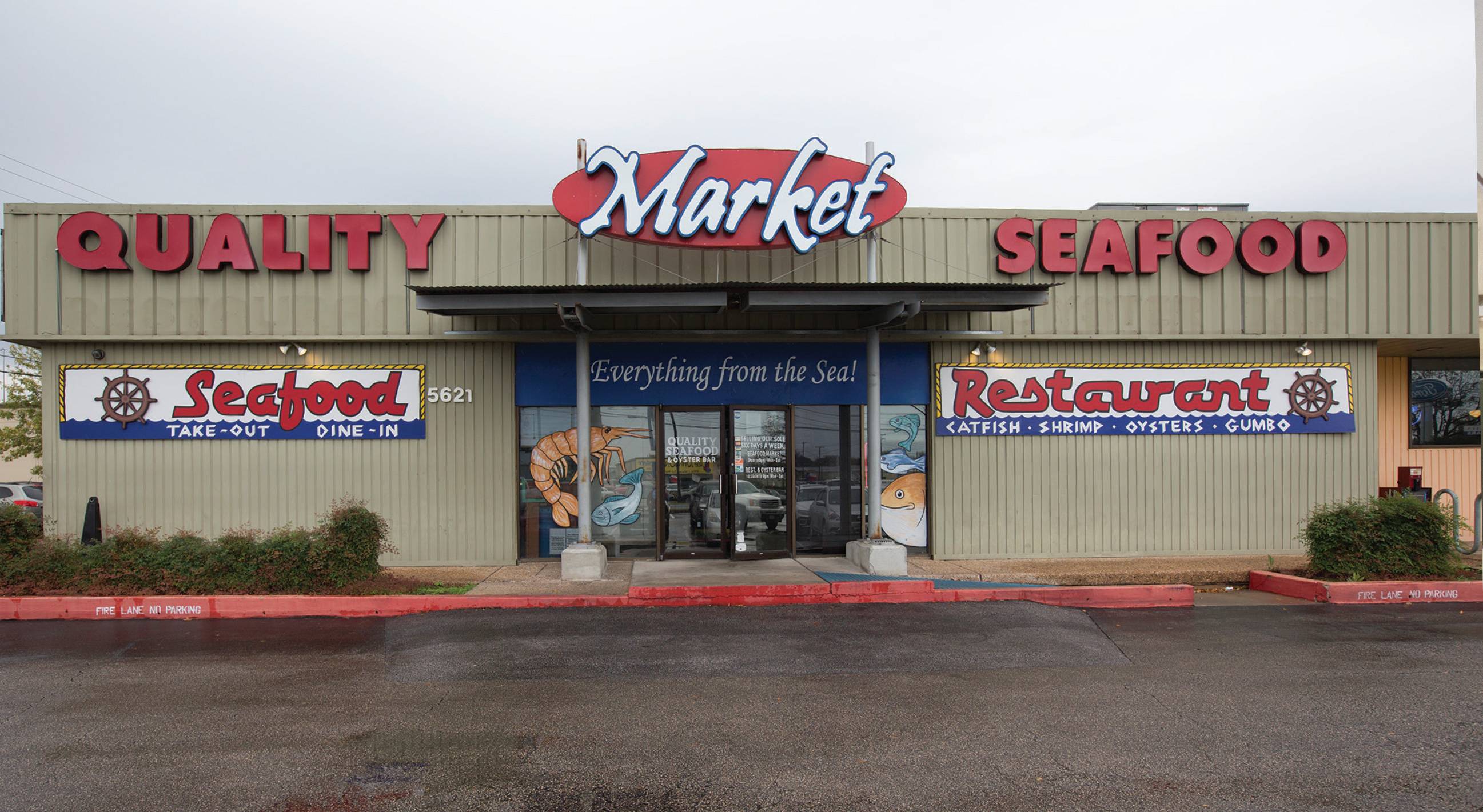 Casting for Success
by Jacque Crouse
Bobcat finds calling with Austin's Quality Seafood Market
When Carol Fowler Huntsberger earned her accounting degree in 1983 from Texas State University, she never dreamed that one day she would be standing on the deck of a shrimp boat learning the seafood trade or discussing the finer points of yellowfin tuna.
Today she is the owner of Quality Seafood Market in Austin. Before taking over the restaurant/fresh seafood counter, Huntsberger followed a more traditional route as an auditor and then an assistant comptroller.
She traveled across the nation with her career, before marrying fellow Bobcat Paul Huntsberger. They moved to Austin to start a family. He was a rising star in financial services, and she was a stay-at-home mom to their two children. But it was hard to break the entrepreneurial streak and she began selling cosmetics, eventually becoming a sales director and managing a team of 75 people.
"It was during those years I learned a lot about working with different people – it was very educational," Huntsberger says. "I learned to be a good cheerleader to people in general and to some in particular."
After 9/11, her husband left his job with a healthy severance. The Huntsbergers asked their friend Sam Eaves if they could open a second Quality Seafood in another part of Austin. Instead, Eaves offered to sell them the original. "It is 78 years old and a kind of Austin fixture. Looking back, I had no idea when we bought it what this business meant in Austin," she says. "It is one of the oldest restaurants in town." In fact, it started out in 1938 as a stall in a fruit and vegetable market.
By 2003 the Huntsbergers were the new owners and had changed the name to Quality Seafood Market. About a year later, the office manager called and told her that they could "make payroll or pay the fish suppliers, but not both." That's when she brought her practical business experience and education to the seafood shop. Huntsberger not only spent time all along the Texas Gulf Coast learning the business from shrimpers and fishermen, but also worked the counters and kitchen, learning how to cook the seafood. She added an oyster bar, got a beer and wine license and added a grill, creating a new dimension to what had been basically a fried food eatery.
In 2010 following a divorce, Huntsberger took over as sole owner. Quality Seafood grew from 8,000 to 16,000 square feet. And she added catering to her business repertoire. The business has grown steadily every year, she says.
Huntsberger credits Texas State with some of her success, saying the university was a great breeding ground for confidence that came from being able to approach professors or deans, be in clubs and learn from others around her.
"My daughter (Audrey) says it best — they taught me to be resourceful," she says. That spirit has led her to be named to the McCoy Advisory Board, the Airport Boulevard District Redevelopment Advisory Group, the Texas State Development Foundation, and a seat on the board of Candlelight Ranch, dedicated to helping at-risk children. This year, Huntsberger became president of the Austin chapter of Les Dames D'Escoffier International, a philanthropic society of professional women in the food industry.
But, you can't let all that go to your head, she cautions.
"One day I was going to the Four Seasons to speak to the head chef about buying some of our yellowfin tuna," Huntsberger says. "I was so nervous I thought I would forget all I knew about seafood and just choke up." She spent the afternoon on a terrace with the chef as they sampled several courses, including her tuna, and drank appropriate wines with each course.
"I thought, this is it, and I could get used to this life," she recalls. "Then, when I got back to the restaurant, a dishwasher had called in sick. So I pulled on my boots and washed dishes for five hours. That's what keeps you grounded." ✪