Alumni Stories: The Opportunity to Lead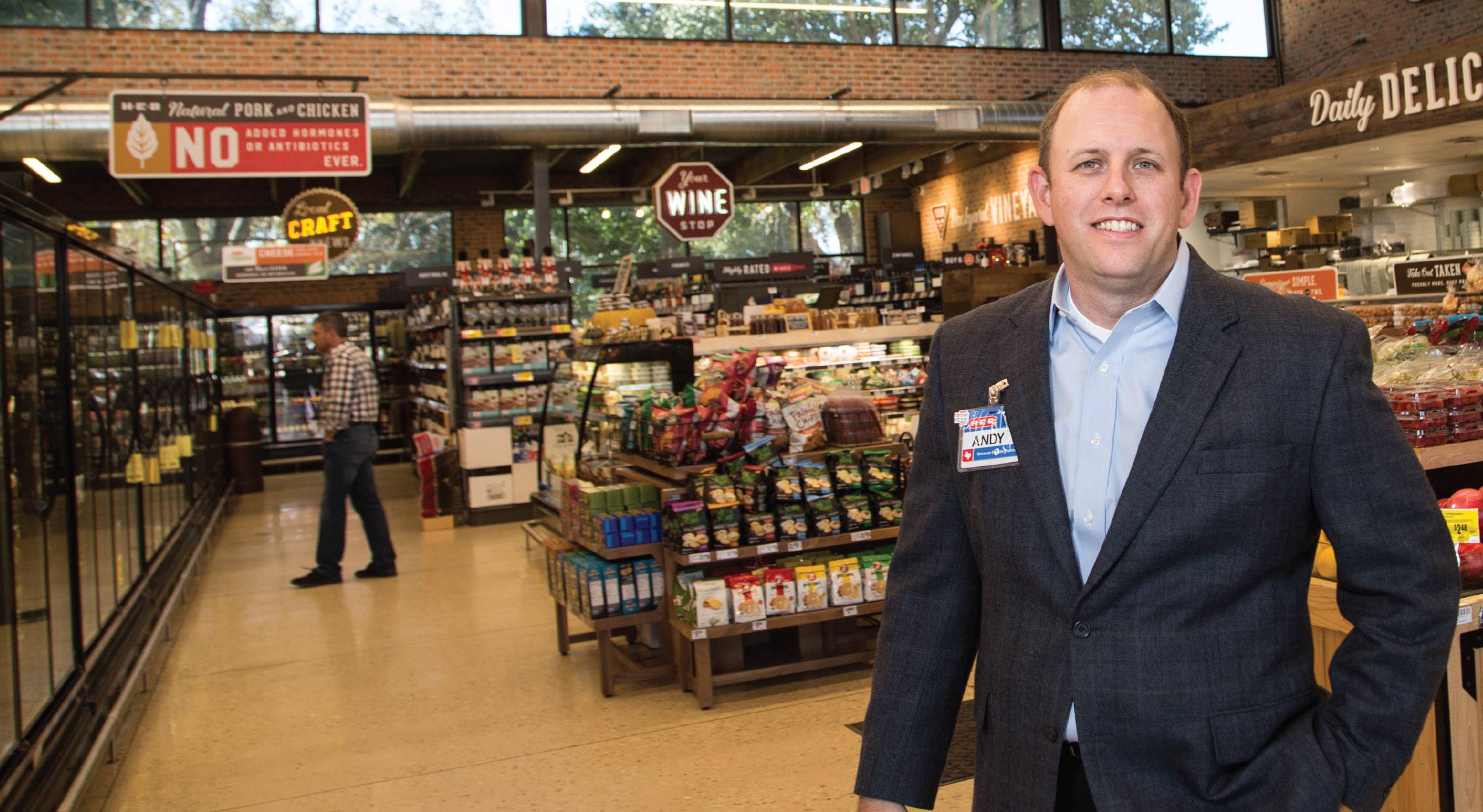 The Opportunity to Lead
by Alex Dominguez
Business graduate carves out his place at H-E-B
Andy Russ got his start with supermarket giant H-E-B as a high school junior bagging groceries and performing other entry-level duties. While a full-time student at Texas State University, he worked weekends at a south Austin H-E-B in the seafood department, assisted with front-end operations, and eventually was elevated to assistant service manager.
Today, the 37-year-old is a director of Financial Planning and Analysis at H-E-B corporate headquarters in San Antonio.
As a standout high school student, Russ had several post-secondary options after graduating from Austin's Crockett High School. "I am proud and happy that I ended up at Texas State — it was a blessing," says Russ.
Russ' Bobcat journey began when he was invited to Texas State to interview as a scholarship candidate. "They put me through a long, painful interview, after which I didn't think they would even let me attend school there," Russ recalls. But the interview went better than he thought. Russ was awarded the University Scholars scholarship, which provided the support he needed to take full course loads and complete two degrees in four years.
And it was through the scholarship interview process that he met Dr. Paul Gowens, then dean of the McCoy College of Business Administration, who became one of Russ' mentors. "During my time at Texas State, I had a lot of people that plugged in to me, invested in me. I feel like I have a lot to give back. The biggest thing is — and I don't know that this happens at other universities — Texas State gives students the opportunity to lead," Russ says.
"During my time at Texas State, I had a lot of people that plugged in to me, invested in me. I feel like I have a lot to give back."
— Andy Russ
Russ took advantage of those opportunities. He became president of the Accounting Club, helped initiate Business Leadership Week, and delivered the commencement speech in 2002 upon receiving his two degrees — accounting and computer information systems and quantitative methods.
As he prepared to graduate, Russ considered a position with one of the Big Four public accounting firms after a successful internship. "Somewhere between Christmas and Easter of my senior year I was offered an associate analyst position at Central Market and I did what we always do at H-E-B — I stepped in," Russ says.
As Russ's career began to develop, his relationship with his alma mater evolved. He once again received an offer to lead, and embraced the opportunity to become a member of the McCoy Advisory Board. He and other business alumni provide a sounding board for the dean as the business college continues to evolve.
When reflecting on how the pieces of his life came together, Russ says it was a combination of university experiences that helped make it work. "Texas State is a pretty amazing place and I had some strong mentors that taught me there is something to just showing up and seeing what happens; don't be afraid to make the effort." ✪