Facing a tuition crisis, a diligent student got unexpected help from attentive faculty to keep her college dream alive
By Matt Joyce
The future is now for Texas State University graduate student Denise Salazar.
The 26-year-old is on track to complete her master's degree in music this December, and in August, she'll start a new job teaching theatre at La Vernia Junior High School. She also keeps a busy schedule as a professional singer, gigging around San Marcos, Austin, and San Antonio in Latin music groups that play salsa, merengue, bachata, and cumbia.
"I'm ready to start teaching and hopefully continue performing on the side," she said. "I like the idea of inspiring kids, and I love the middle school age group because I remember when I was that age and how I really enjoyed theatre."
But Denise's horizon hasn't always been so certain, so promising. Raised in the West Texas border town of Presidio, Denise is a first-generation student whose family couldn't afford to pay for her college. She enrolled in TXST as a theater major in 2015, determined to make it work. She covered her bills with loans and grants, and along with a 17-hour class schedule, she worked full time with jobs on and off campus.
Denise pulled it off — until she couldn't. Returning to Texas State for her sophomore year, she was placed in a dorm that turned out to be too expensive. At the same time, her single mom lost her job back home, and Denise sent money to help. Midway through the fall semester, she realized she was about $3,000 short on her tuition bill.
"I was crying for days, worried about the payment and thinking that there was nothing that could be done," she said. "I was waiting for the day I would have to drop out. I had lost all motivation to wake up in the morning and go to class, or to even eat."
That's when an email arrived from Deb Alley, the professor of her Theatre Activities course and chair of the Department of Theatre and Dance.
"It was a large class of about 130 students, so not every student stands out in your memory," recalled Alley, now retired. "But Denise stood out for several reasons. For one, she wrote to me before the semester even began to ask me what she needed to do to prepare, which is extraordinary. She seemed really engaged no matter what we were talking about, and she always had good questions to ask. At any rate, things were going along well and suddenly she missed a couple of classes, which was not like her."
Denise said Alley's email was a surprise. "I genuinely thought she didn't take attendance because it was such a big class. I debated not answering, but I didn't want to be rude."
Denise calls Presidio home, but she was born in the Texas Panhandle town of Dumas. Her father, Gabriel, was born and raised in the Rio Grande Valley, and her mother, Flor, was born in Mexico before her family immigrated to Presidio. The two met when Gabriel's family was traveling through Presidio to work in the melon fields. They married when Flor graduated high school, and shortly after, the young couple moved to Dumas because the local slaughterhouses were hiring.
"They pretty much just traveled wherever they could get work, and so Dumas was where I ended up being born," Denise said. "My sister was born in Nebraska for the same reason."
The family eventually returned to the Rio Grande Valley for Denise to start school, but when she was 10, her parents split up. Flor moved to Presidio with the children.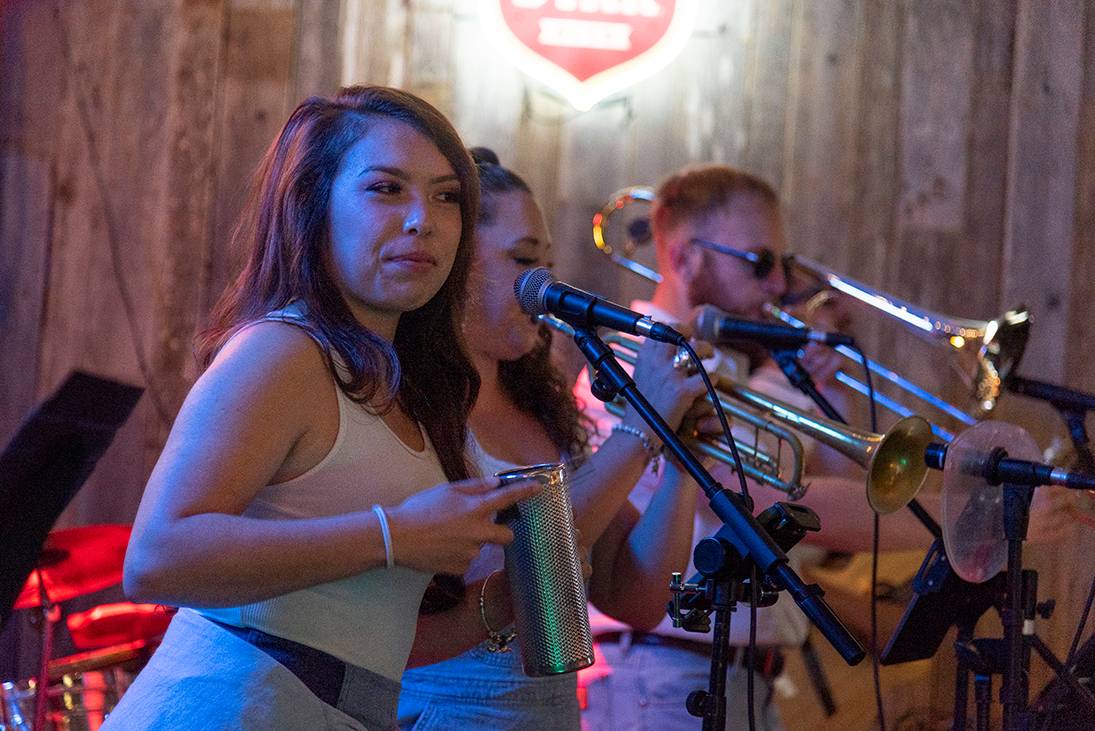 Denise excelled in the tight-knit border community. She played trumpet in the high school band, played on the basketball team, and participated in clubs for science, robotics, and rocketry. But it was her love of theater that motivated her to apply to Texas State.
"I remember the week of my last musical in high school, and I was like, 'You know what? I think I could keep doing this,'" she said. "I looked up the best schools in Texas for theater, and Texas State was the top one."
Denise was on her way, but she knew it wouldn't be easy. "We've always been a low-income family, my whole life," she said. "I knew going to college was going to be a big step."
She's not alone. About 45% percent of Texas State undergrads are first-generation students, meaning neither of their parents completed a four-year degree. And like Denise, 36% of undergrads are recipients of Pell Grants, a federal aid program for students who display exceptional financial need.
"There's an amazing number of students who will come to school on the faith that somehow the money will materialize for them," Alley said. "And I think that's a good thing. They want their education so badly that they're just praying and hoping that somehow everything will fall into place."
Denise was one of those people. But there was a problem. Things weren't falling into place.
Denise said she broke down when she visited Alley's office and described her predicament. She'd reached a dead end. She couldn't see any way of making enough money by the deadline for her tuition payment. Alley comforted Denise and encouraged her to start attending classes again.
"Here was a student who was really passionate about learning, who really was invested in her own education," Alley said. "And she wasn't asking us to solve her problems. She was just saying, 'I'm in this pinch and I don't know how to get out of it.'"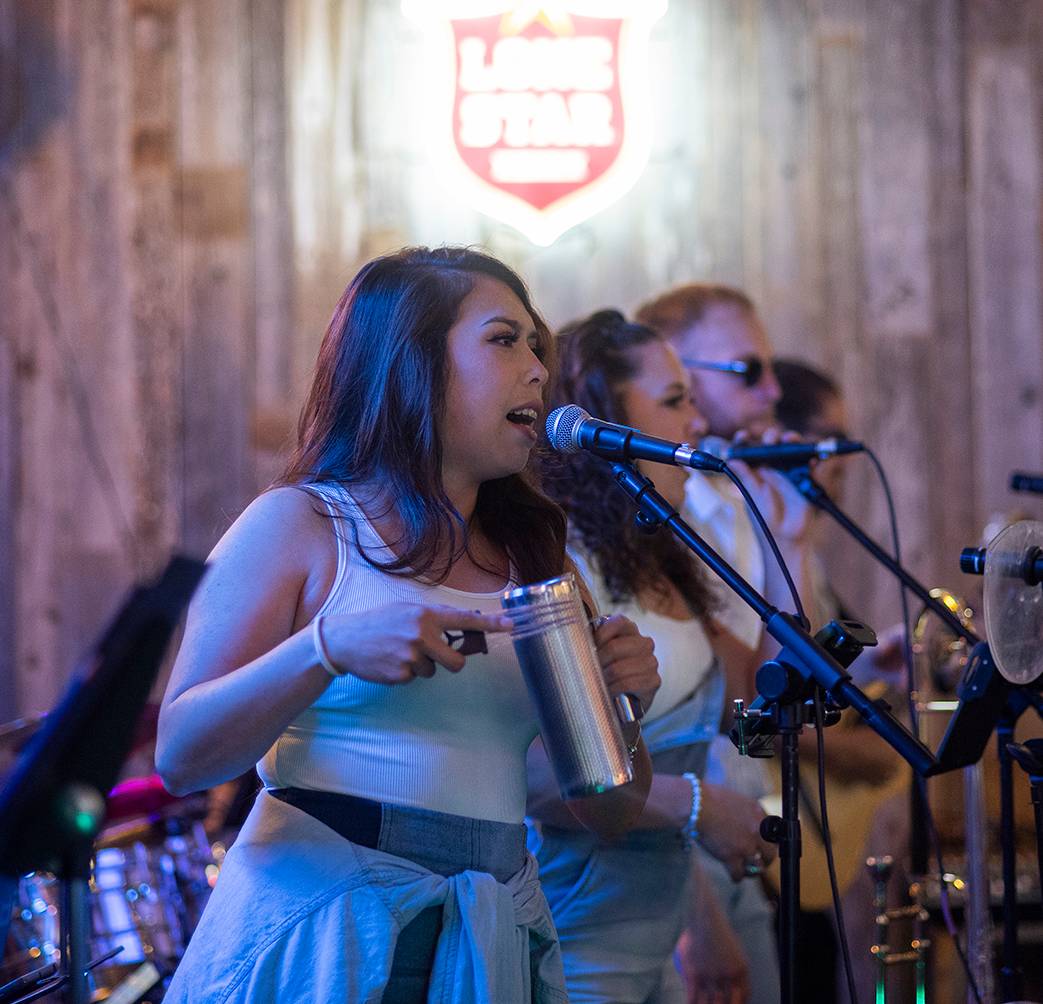 After the meeting, Alley contacted John Fleming, dean of the College of Fine Arts and Communication. The two put together a plan to provide a $2,000 scholarship for Denise with money from the college and the department, both of which receive donations for such use from the Friends of Fine Arts and Communication. The group supports students with scholarships and funding for activities like study abroad and conferences.
Denise returned to Alley's office the next week for a follow-up meeting.
"She basically told me that she had spoken to Dean Fleming about my situation and that they were able to give me a scholarship to stay in school," said Denise, who tears up at the memory. "I was in shock. I remember I called my mom afterward, and I told her, 'Mom, they gave me a scholarship.' I was so happy and very grateful."
It was a pivotal moment. Denise found a cheaper dorm for the second semester of her sophomore year, and her mom found a new job. Denise continued to scrape by financially throughout her undergraduate studies, but she made it through.
"Deb noticed something and reached out," Fleming said. "It takes an engaged and caring faculty to do this."
When interviewing faculty candidates, Fleming said, he impresses upon them that nearly half of TXST students come from families who haven't navigated the nuances of college before, haven't faced the roadblocks of bureaucracy.
"Student success is the primary reason we're here," Fleming said. "Sometimes our job is to help students realize their potential, to help show them what's possible."
In December 2019, Denise graduated from Texas State with a bachelor's degree in theater and a teaching certificate. Family members converged on San Marcos for the occasion, traveling from Presidio and beyond.
"I was very surprised that everyone came — I hadn't seen some of these people in years," she said. "My grandparents had a ranch in Mexico, and they sold it, left it all behind to come to United States. So, it means a lot for my grandpa to say, 'This is what I wanted for you guys. This is why we sacrificed.'"
Denise made her own sacrifices along the way. Through her academic career, she's held a campus job as well as working off campus for restaurants, coffee shops, outlet retailers, and even as an Amazon delivery truck driver. Between her undergraduate and graduate studies, she taught school in a remote Alaskan village for about six months.
But she said it's been worth it. As the oldest of five children, it's important to her to show her siblings that college is possible. Her sister, Viviana Salazar, has since blazed her own trail at TXST, earning a bachelor's degree in animal science in 2021.
Denise said she remains grateful for the help she received from Alley and Fleming in 2016. "It still amazes me to this day how observant Deb Alley was, how she even noticed that I hadn't been going to class, and how she took the time out of her schedule to reach out to me and meet with me. She didn't have to do that."
As Denise embarks on her own teaching career, she aims to pay it forward.
"I knew that coming to college was going to be hard, and I was super determined to make it work," she said. "I'm proud of everything I've done. I persevered, and now here I am. I want to teach, and I want to encourage and give those resources to students that I didn't have growing up." ★