Coach Frazier takes the reins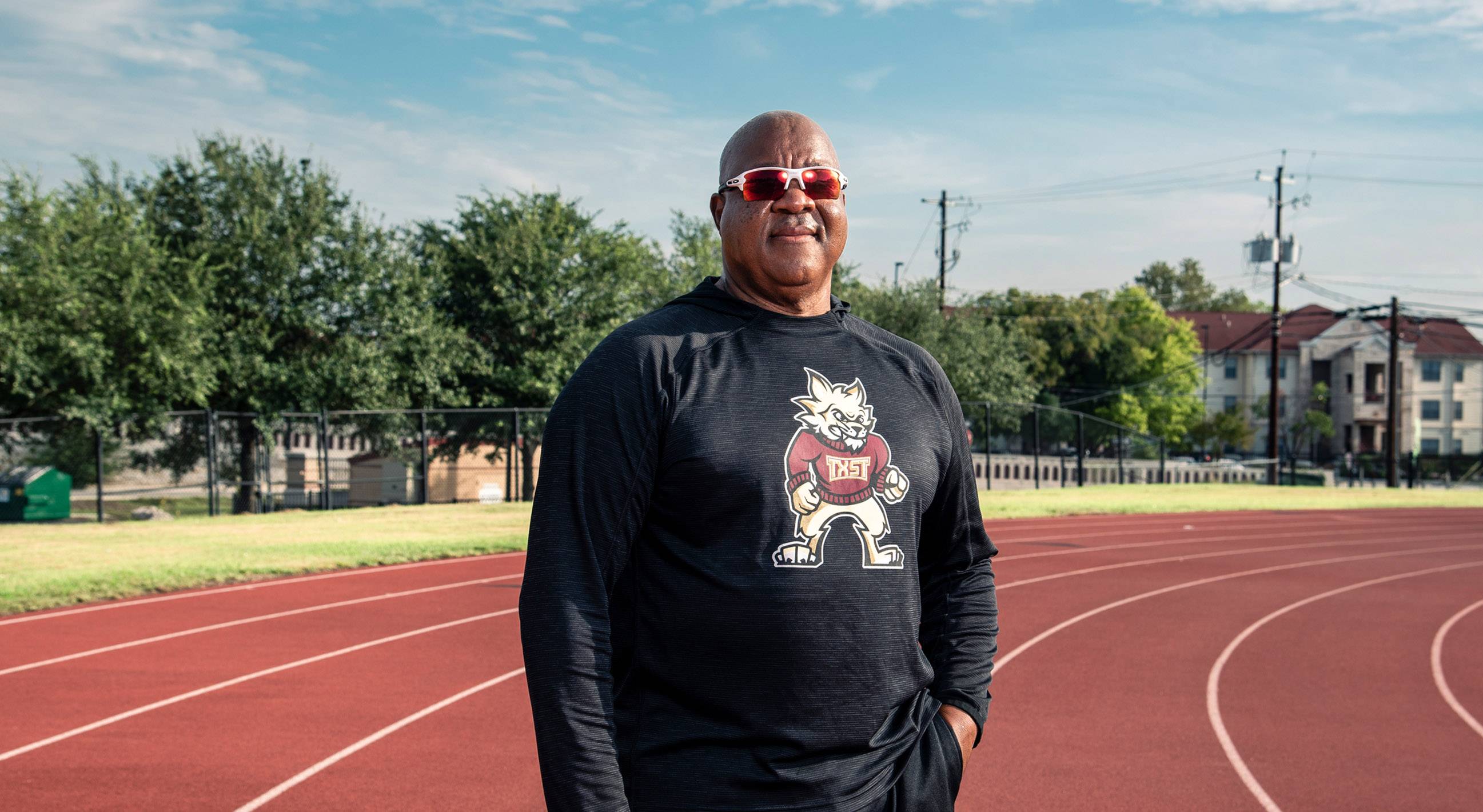 Bobcats get a new vision for track and field
By Mark Wangrin
At one time, John Frazier figured the track and field program at the University of California, Los Angeles, formed his career bookends. It is where he started his career as a thrower and would finish coaching throwers.
Then Texas State University came calling in the summer of 2021, dangling the position of director of track and field/cross country. The Bobcats offered the powerfully built 59-year-old a chance to be a head coach and have the latitude and support to build the program in his vision. With his three children either in college or graduated, he and his wife, Julia, were empty nesters.
Frazier was itching to fill that void, and with Julia's encouragement, he was on board. "I knew that I needed a change," Frazier says. "And I wasn't finished with coaching. For all my career, I've been an assistant coach or a head coach who answered to a track and field director — and now I'm finally in a position where I can decide what I want to do with the team."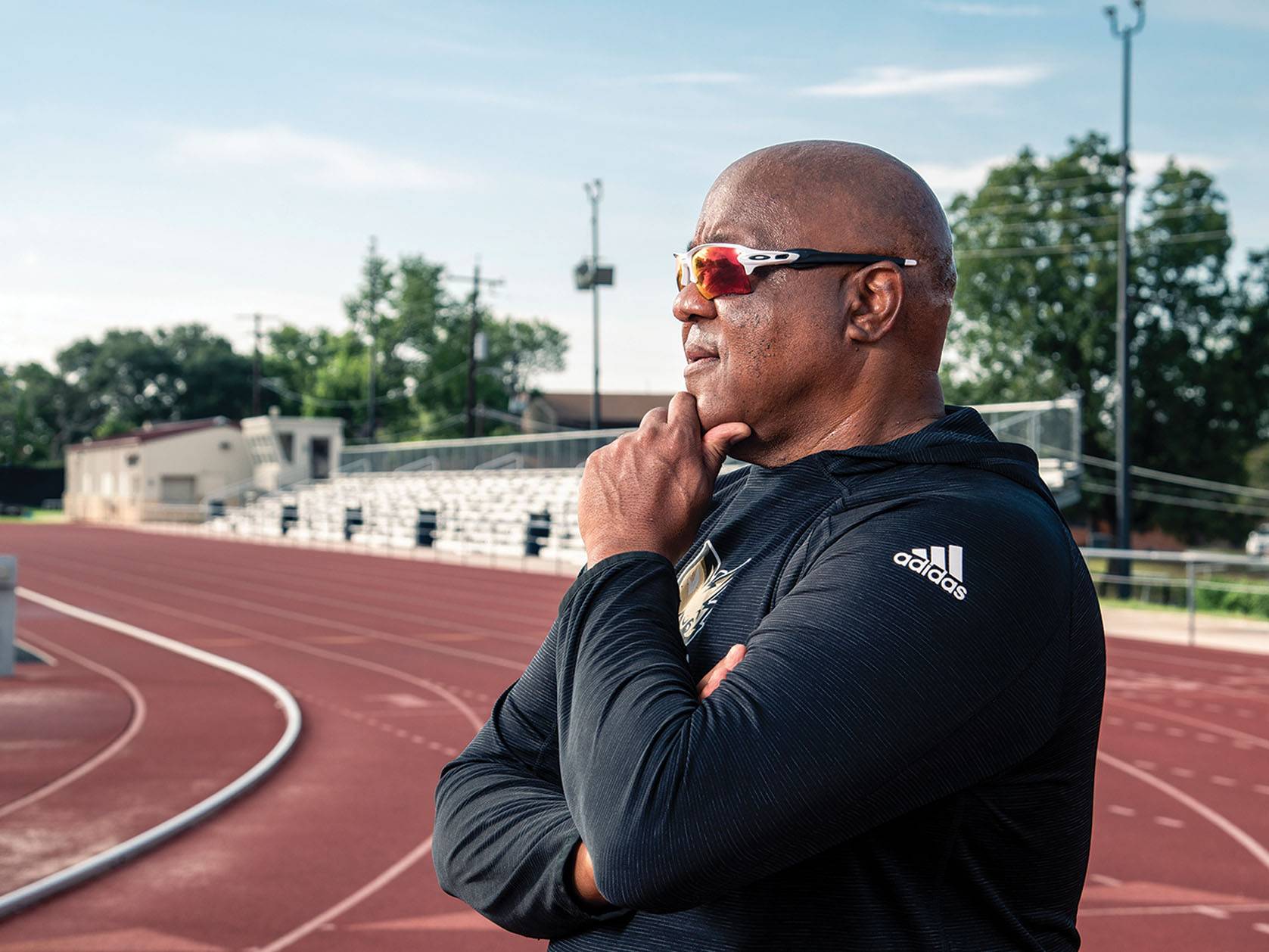 A native of Lancaster, California, Frazier competed at UCLA from 1982 to 1986, where he was a three-time All-American in the shot put. He was mulling pursuing a career in local government or going to law school in 1986, when his former coach, Art Venegas, persuaded him to try coaching.
"I wasn't ready to go to the real world, per se, but I figured, well, let me go to UC Irvine, and start graduate school there and coach," says Frazier, "and then decide what I want to do."
At UC Irvine, Frazier coached a thrower who won All-America honors, and he had an epiphany. "It was almost as though I was still competing," Frazier recalls. "And I enjoyed it so much. I decided I'm going to get a master's in kinesiology and then start coaching. That signed me up for this path."
Frazier's coaching career carried him to assistant coaching jobs in Florida, Arizona, and Tennessee before finally landing at his alma mater, where he coached throws for eight years. Along the way, he developed 70 All-Americans, five NCAA champions, and four Olympians. Frazier arrived on the San Marcos Campus in August 2021, just five days before the cross country team reported for its season. No time for contemplation or planning. Just go to work, hire a coaching staff — including the cross country coach — and find out about the talent he inherited from the previous coach.
Sprinter Dominick Yancy, who won first-team All-Sun Belt Conference honors in the 200- and 400-meter dashes and honorable mention All-America for the 400 relay last spring, said the team was wary, not knowing much about their new coach except his history. They worried that the new coach "would just blow it up" and start over.
"Everybody was kind of iffy," Yancy says. "We didn't know if it was going to be a good year or if he was going to be a bad coach."
But Frazier wisely didn't upset what was in place — and he won over his athletes, including Yancy. "I remember the first time I met Coach Frazier I could just tell how genuine he was, what an amazing dude he is, and how he understands us," Yancy says.
First intrigued by Frazier's experience, Director of Athletics Don Coryell came to value his passion, personality, focus on the well-being of student-athletes, and his presence. "In my opinion, he has the personality that motivates people to be better," Coryell says. "You want to perform at a high level for him because of how he approaches his job and carries himself."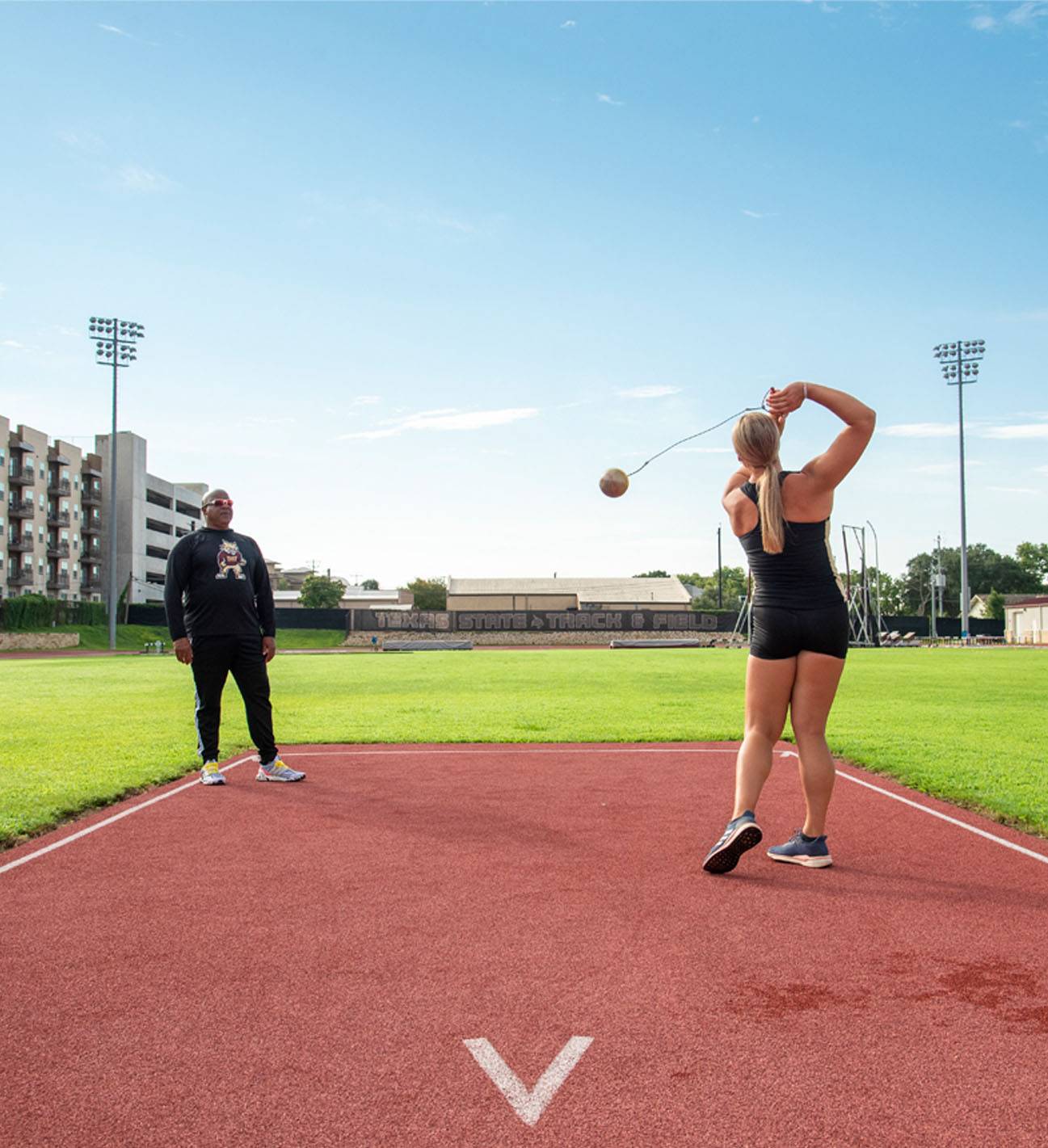 Frazier's strengths were enough to convince recently graduated UCLA star Alyssa Wilson, who earned 14 All- America honors in the hammer, shot, and discus, to follow him to Texas State for her final year of eligibility.
"Coach Frazier is a leader at heart," says Wilson, who placed second in the hammer at the NCAA meet in June 2022 to lead the Bobcat women to their first top 30 (30th) team finish since 1995. "He is always trying to make sure his athletes are taken care of whether they are a national champion or a new freshman who is just starting out.
"I followed him to Texas State to finish what we had started together. I couldn't have asked for a better end to my collegiate career," adds Wilson, an elementary education graduate student from Toms River, New Jersey.
Even with Wilson finishing her eligibility — she will stay on as a graduate assistant coach as she trains for the 2024 U.S. Olympic Trials — Frazier and his staff added 40 new athletes, from all disciplines, due to last season's success.
"The great thing is the previous staff left us a lot of good talent to keep moving in the right direction," Frazier says, "We're looking to being more relevant again, winning conference championships, and trying to get to a higher level nationally." ★