Denise M. Trauth Endowed Presidential Research Professorship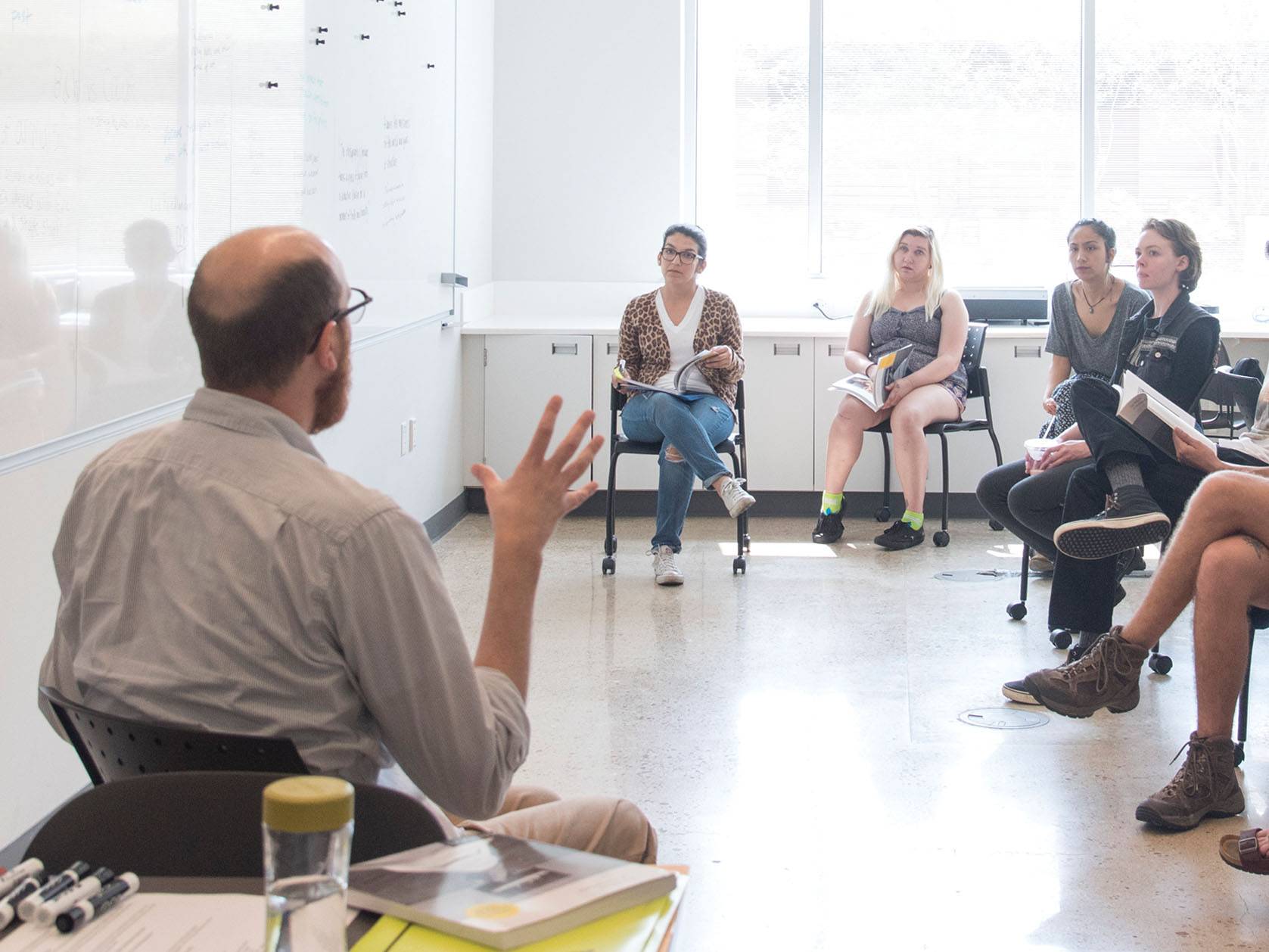 Generosity of McCoy family promotes, encourages research and creative expression among faculty
By Jayme Blaschke
Over the past 20 years, Texas State University has rapidly transformed into an emerging research university, and the new Denise M. Trauth Endowed Presidential Research Professorship exemplifies that dramatic evolution.
Established in April 2020 by a $1 million gift from Mrs. Miriam McCoy of San Marcos and named after Texas State President Denise Trauth at Mrs. McCoy's request, the presidential research professorship marks the first time the university has had such a prestigious award for faculty.
"It's a chance to reward and recognize one of our high-profile faculty in the areas of research or creative expression," explains Dr. Walt Horton, associate vice president for research and federal relations. "Any time you can have a named research professorship at the presidential level with a significant endowment, that communicates how important research and creative expression are at Texas State."
The endowed presidential professorship will promote and encourage research and creative expression among tenured faculty members who hold the rank of associate or full professor at Texas State. It is a special academic appointment recognizing a faculty member engaged in compelling and transformational research that can include creative expression. The faculty member will be selected for this professorship by the president following a university-wide competition and will hold the job for three years. "The endowed presidential research professorship reflects the quality of our world-class faculty and the enduring support Miriam McCoy has given our students and the university," says Trauth.
The endowed presidential research professorship joins an existing suite of presidential recognitions for faculty excellence. The Presidential Award for Excellence in Scholarly/Creative Activities, the Presidential Award for Excellence in Service, and the Presidential Award for Excellence in Teaching, recognize junior and senior faculty annually. The Presidential Seminar Award invites one faculty member each year to showcase their expertise in their chosen field of study to the university community.
"Practically, it allows this individual and his or her team to carry out a compelling project in the broad area of research and creative expression. It's tangible support to bring an important project to fruition," Horton says. "The subject matter is wide open — that's been clearly articulated. We say research and/or a project in the area of creative expression. Those are two different ways faculty members can make their case for being the recipient of this award.
"In no way does research mean just the STEM disciplines. It could be a traditional research project in the humanities, in the social sciences, or any other area of research. It could also be that they propose to develop a creative endeavor — a play or some other kind of unique activity involving performing arts," he says. "But it has to be a tangible, defined product that's being produced. Over the three years of this award, whatever is proposed will come to fruition."
In addition to recognizing and supporting the excellence of Texas State's faculty, the endowed presidential research professorship offers the additional bonus of helping to recruit top-flight faculty.
"Yes, it does help us recruit the very best faculty. They want to come to a place where they're appreciated. We're trying to recruit faculty and they're wondering, 'How does Texas State value teaching and research and creative expression?'' Horton says. "We can point to the fact that we have the presidential-level recognitions that support these activities. It's a clear, tangible way we can communicate that this is valued, and faculty are valued at Texas State."
The generosity of the McCoy family has benefited Texas State since 2004 when Mrs. McCoy and her late husband, Dr. Emmett F. McCoy established the $20 million McCoy Foundation Endowment to support chairs, professorships, fellowships, scholarships, faculty, program, and student development in the Emmett and Miriam McCoy College of Business Administration. The endowment was established with a donor matching program designed to encourage new gifts. In recognition of their support, the college and the building that houses the college were named in their honor, and in2007, the couple was presented with honorary doctorates by the university.
In 2016, Mrs. McCoy gave the McCoy College of Business a $2 million gift to establish the Emmett and Miriam McCoy Scholars Endowment to support the McCoy Scholars Program. The program provides scholarships of excellence and distinction for high-achieving undergraduate and graduate students in the McCoy College.
In spring 2020, another $1 million gift from Mrs. McCoy, matched by the McCoy College of Business Foundation, established the Eugene E. Payne Endowed Chair in the McCoy College of Business.
In 2018, Brian McCoy, son of Miriam and Emmett, and his wife, Wetonnah, gave the McCoy College a $1 million gift to establish the Dean Denise T. Smart Endowed Chair in Business, named for the dean who led the McCoy College for 20 years until she left the dean's position in 2020. ✪