Ira Kennedy brings dream landscapes to life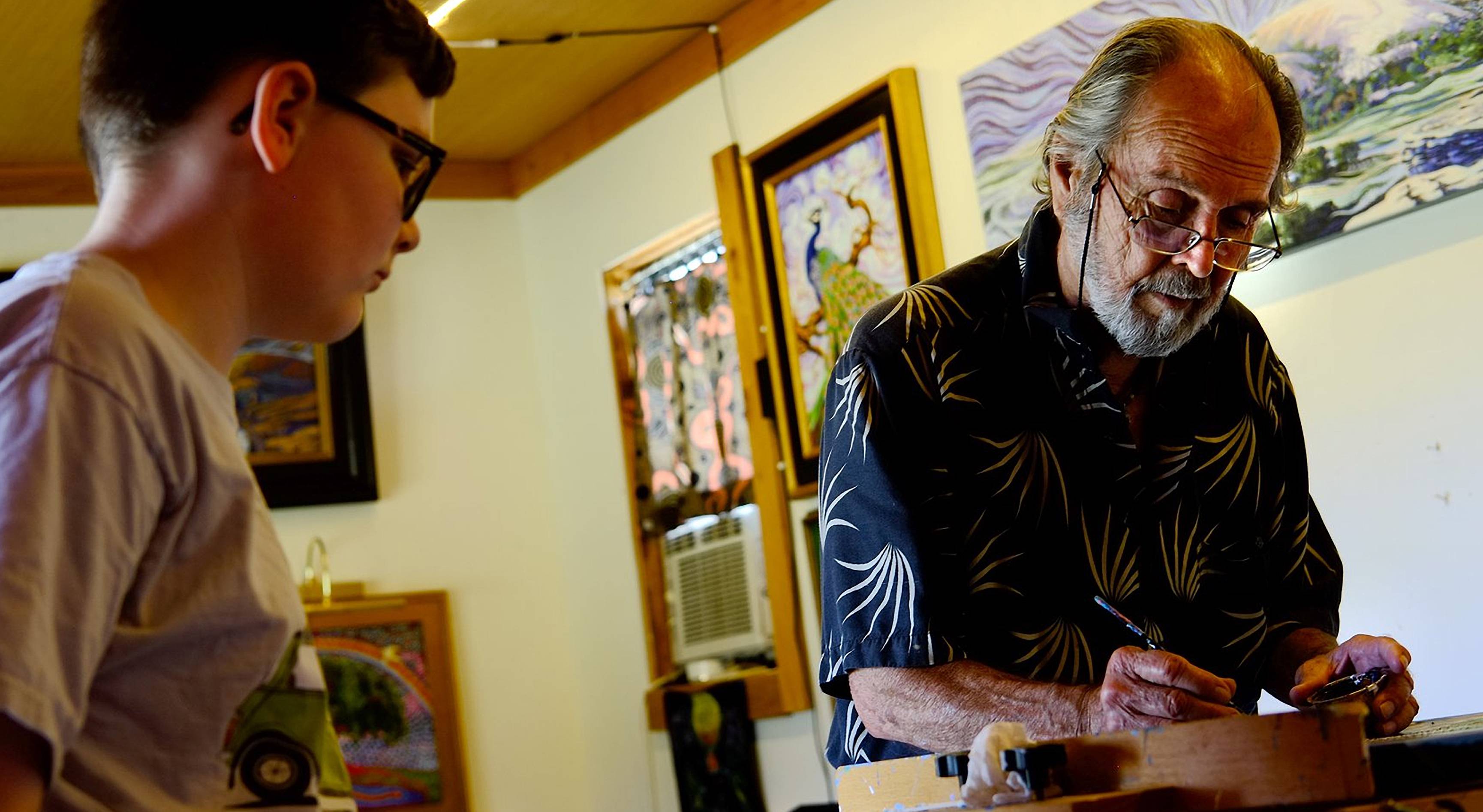 While most people at Ira Kennedy's stage of life would be content to rest on their laurels, Kennedy, who turned 80 this year, remains an active artist, drawing on techniques common in Japanese and Aboriginal art.
A native of San Saba, Kennedy (B.F.A. '83) makes his home in Llano. He continues to find new avenues to market his work — most recently sharing his colorful paintings of Texas landscapes with quilters nationwide.
In collaboration with Dallas-based Moda Fabrics, Kennedy's paintings are transferred to fabric sold by the yard, as panels, strips, and fabric bundles called fat quarters. The fabric collection is called "Dreamscapes" and is available nationwide. It was the quilting skills of his wife, Kathy, that inspired Kennedy to pursue turning his paintings into fabrics.
Kennedy's landscape paintings often feature Enchanted Rock, which has remained a touchstone throughout his life, along with other iconic Hill Country scenes. His art almost always features a water element. The brilliant blues of sky and water electrify his pieces, which consist of many dots evocative of Aboriginal art.
"Although my work has been described as Pointillism, it is more aligned with Australian Aboriginal paintings, Oaxacan-painted sculptures, and the art of the Huichol Indians of Mexico, who all use dots as the primary brushstroke," explains Kennedy.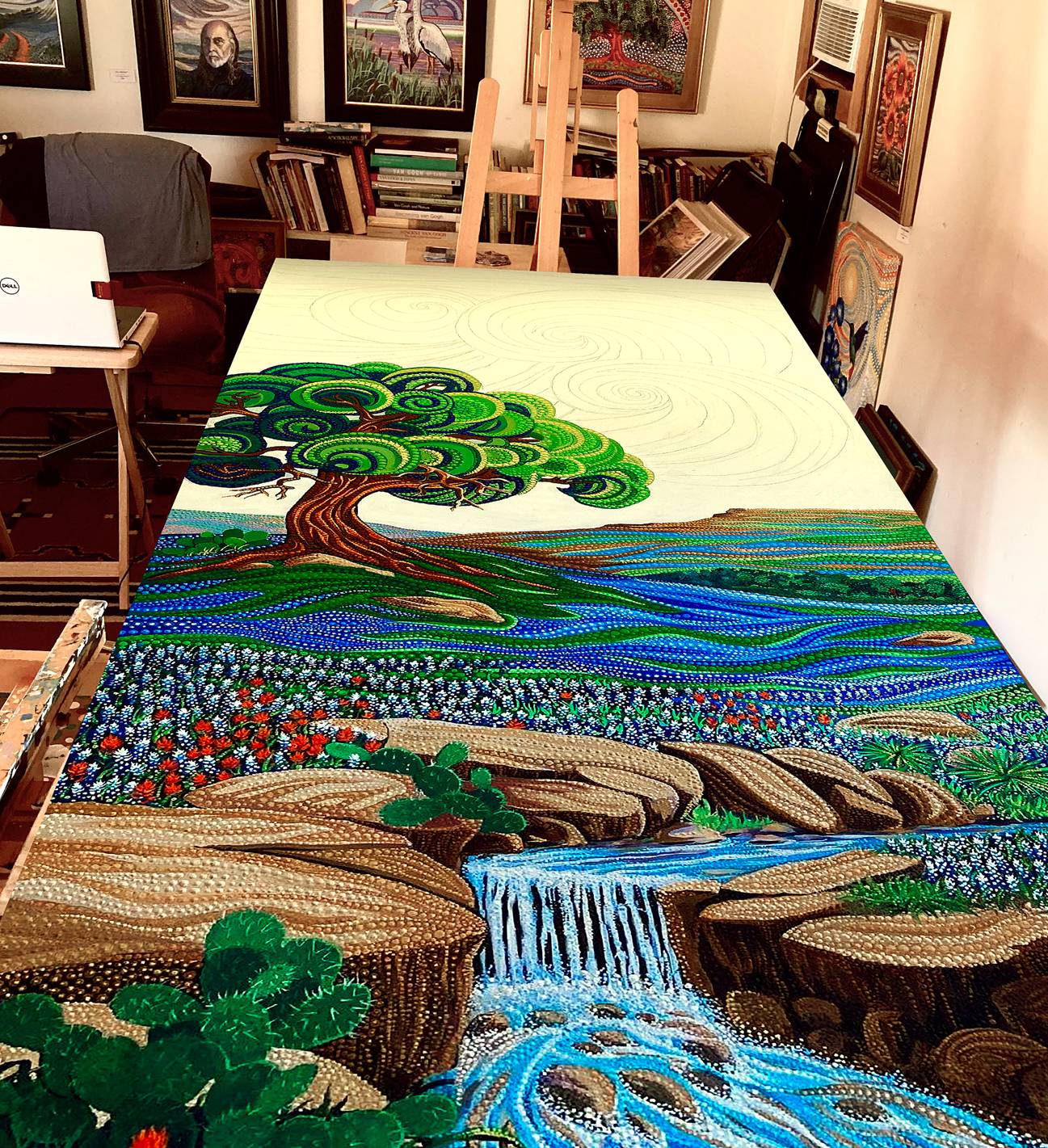 "Once I figured out how to use the dot technique in landscapes, there was no turning back. I love the alchemy of mixing colors and then placing them next to each other in such a manner as to allow the viewer to mix the various dots, and the dots within dots, to achieve a new color. The polka-dotted bluebonnets are particularly suited for my technique. I love the optical effect they create in my paintings," he says.
The effect gives a dreamlike quality to his work, which Moda has aptly named. Dreams are a theme that looms large in Kennedy's life. He recalls an incident early in life when his great-grandfather was on his deathbed and hugged the little Ira. "I believe what passed between us was an understanding that I am the longing of all my ancestors," says Kennedy. "I am their dream and through me, they dream themselves awake. My dream is their dream. My challenge is to dream well."
Kennedy's love of art was inspired by his family's stay in Japan. As a military family, they moved frequently, living in Japan, Virginia, New York, Germany, Blanco, and Belton before landing in San Marcos in 1959. Striking a deal with his father, Kennedy entered Texas State University as an art major but also joined the Air Force ROTC. "Imagine, if you can, trying to fit in with the other artsy types on campus during conversations of Abstract Expressionism and Beat poetry while wearing a starched and pressed uniform and spit-shined shoes," he says.
A self-avowed "lousy student," Kennedy left the university to join the Navy. As a cryptographer, he had plenty of time alone to read hundreds of books from James Joyce and Ernest Hemingway to Sartre and Nietzsche. "At the time I didn't realize that the bulk of my education was self-inflicted. I just wanted to know as much as I could about art, literature, and philosophy," he says.
Kennedy made his way back to Texas State in 1970 after living an artist's life in San Francisco and New York City. This time around on campus, Kennedy was co-editor of an underground newspaper and helped form the Student Campaign Committee. Twice he ran for city council — once losing by only 130 votes.
Still, he did not graduate. Life got in the way and he had a family to support.
He eventually graduated with a communication design degree in 1983. Of his education at Texas State, Kennedy says, "There were some excellent teachers who encouraged me, and they were more valuable to me than the degree which I began in 1959 and graduated with in 1983. I am pleased to say that I finished what I began. That's something really cool."
Not quite as cool as the paintings — his reflections on dreaming well — that he still creates in his studio near Llano.
---
Learn more at irakennedy.com.