Big Idea: Training with Augmented Reality/Virtual Reality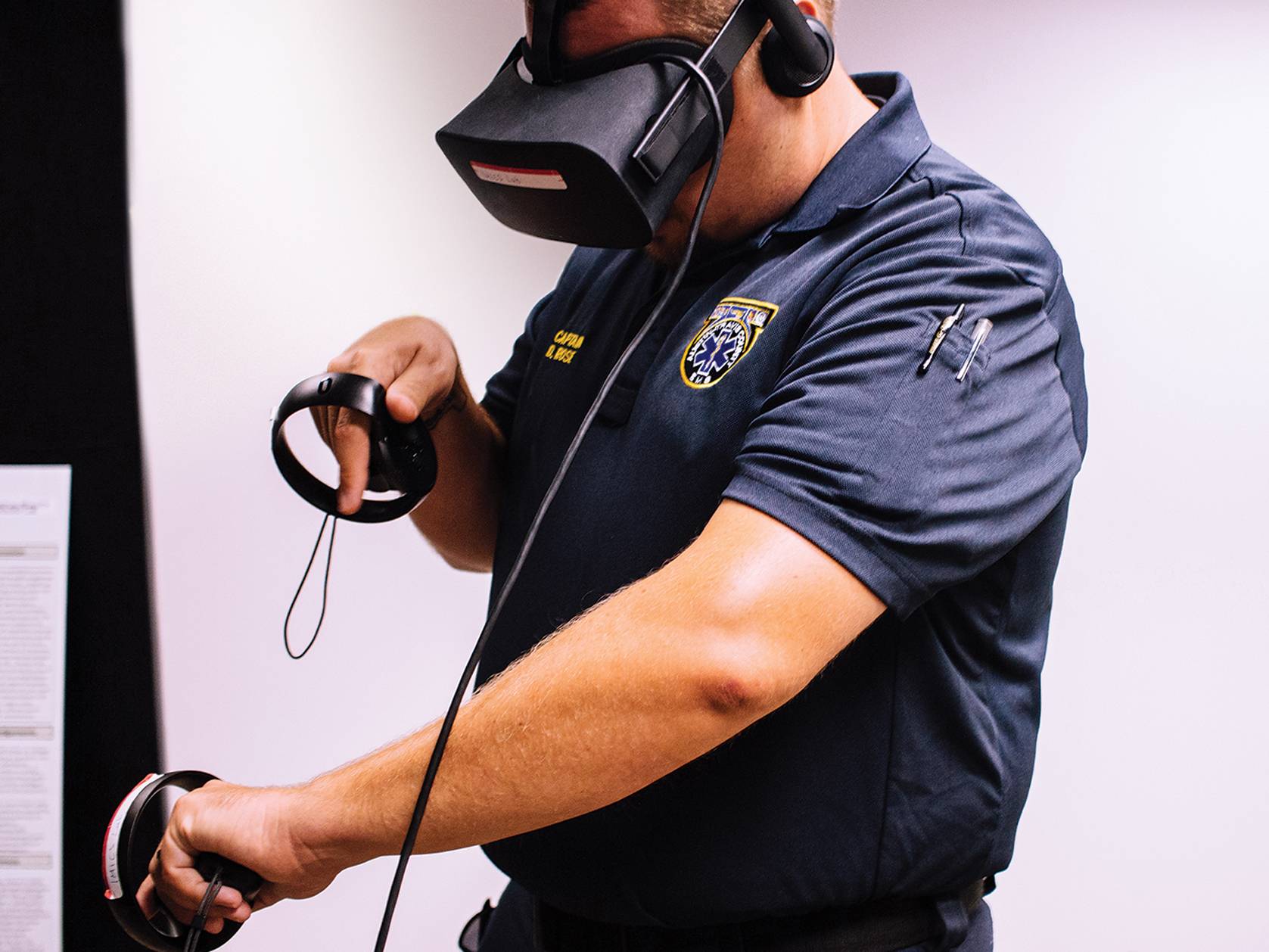 Training with Augmented Reality/Virtual Reality
Since 2013, the Advanced Law Enforcement Rapid Response Training (ALERRT) Center has been the FBI's national standard for active-attack response training. Now a Big Ideas group is testing whether virtual reality (VR) is as effective as training in other real-life scenarios. The results may shape the future of training not only for law enforcement but also in fields such as nursing, engineering, aerospace, education, and sports medicine — and the futures of Texas State students who will implement this cutting-edge technology in the workforce.
The augmented/virtual reality experiment is a collaboration among ALERRT, the School of Social Work Virtual Reality Technology Lab, the X-Reality Research Group in the Ingram School of Engineering, and the Department of Health and Human Performance. Student volunteers at the ALERRT center will take on the role of a police officer responding to a shooting in progress. As they move through the building to find the shooter, they will pass professional actors with realistic-looking injuries that portray wounded victims.
The team will also record a 360-degree film of the scenario and adapt it for VR. Later, a different group of students will complete the scenario using a VR headset. Researchers will measure both groups' stress response by monitoring their biomarkers, such as the stress hormone cortisol, before, during, and after the scenarios. If there is no difference between the two groups' physiological reactions, the team will know that VR scenarios can be just as effective and realistic as in-person scenario-based training.
VR will be a tremendous resource to help officers maintain the skills they learn at in-person classes. The technology can offer regular practice without the costs of an instructor, travel to a central training facility, or compensation for actors and a moulage artist who creates simulated wounds. Project lead Dr. Pete Blair, a professor of criminal justice and executive director of ALERRT, says the eventual goal is to use VR to improve use-of-force training. The highly realistic simulations can help officers practice making smart decisions quickly in life-or-death situations.
"All this technology is right at the cusp of being extremely useful," Blair says. "It's going to open the door to us dramatically improving the ability of police officers in all types of situations."
Once the team can deliver the training for law enforcement, it will mean that VR can be used in practically any field that requires skills-based training in lifelike scenarios. Gifts to this Big Idea will support the ongoing development of this game-changing technology. ✪