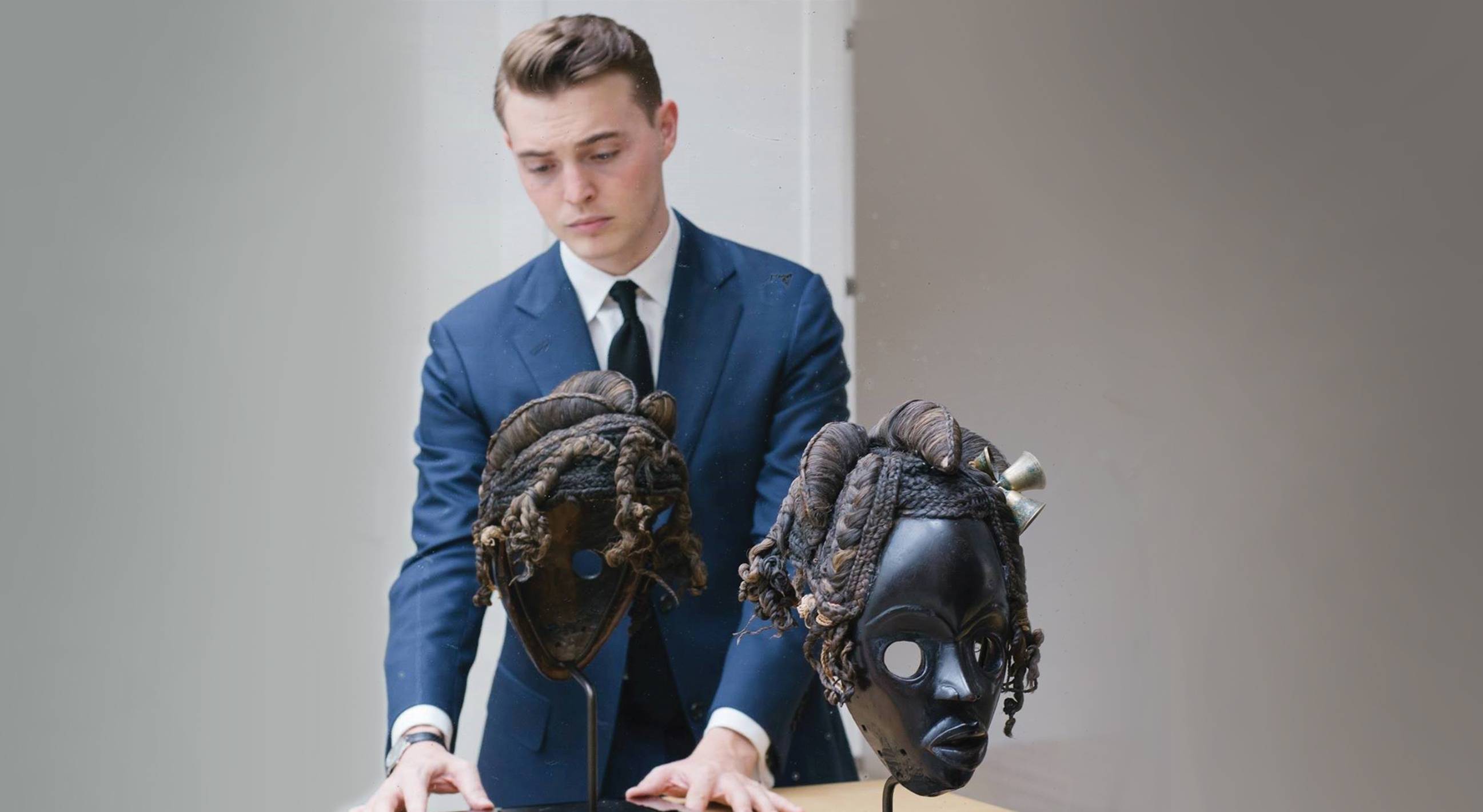 Cole Harrell
By Stacy Chavis
Bobcat aims to influence and inspire in world of African and Oceanic art
Cole Harrell is a man of many talents and titles — collector, influencer, lecturer, curator, mentor, entrepreneur, and proud husband. At just 30 years old, he has amassed a collection, a clientele, and a reputation in the world of fine art.
A transplanted New Yorker, he holds fundraisers in his gallery and at his home for some of the most recognizable people in the world, including Hillary Clinton. His journey, which began in Odessa, has led this passionate go-getter who knew exactly what he wanted early on to where he is now.
Harrell's interest in African and Oceanic Art, and specifically Kongo sculpture goes back to his youth. Once called "primitive" or "tribal" art, the market has grown slowly since the early 20th century. By age 16, Harrell's fascination with ancient cultures was influenced by his grandmother. "I found pretty early on that I had a love of dance and that was something that I was quite motivated by. I got into world dance and found myself keen on learning about Balinese theatre and African dance. That kind of led to African masks, which led to African art," he says.
In 2007, Harrell entered the musical theatre program at Texas State University. Harrell cites the guidance he received from program director Kaitlin Hopkins, whom he calls "A great teacher. A hard teacher."
Harrell's love for African art became the basis for his Honors College thesis. Dr. Heather Galloway, dean of the Honors College, recalls Harrell's work. "The thing I remember most is that we mounted a gallery show of his African art when he was an undergraduate student. We had a visitor from Africa who met with students in the room while the exhibit was up, and he was deeply moved. It's also just telling that Cole already had a collection worthy of exhibiting while still a student."
Harrell headed to New York when he left Texas State in 2011. "There are so many skill sets that you learn while you're studying to be an actor — hard work, discipline, communication skills, independence, and entrepreneurship. When I moved here, I found I was pretty well equipped to go do my own thing."
He began reading everything, purchasing up to 10 books a week. "When I indicated I was pretty serious about this, people came out of the woodwork to help me and I was very grateful for them." Harrell worked for an art consultant for two years before opening Harrell Fine Tribal Art in 2013. He chose to specialize in works from the 19th and early 20th centuries. "I kept veering more toward Western, Central African culture — Kongo sculpture is what I'm most known for. I knew I needed to hone it in, find, and identify what I really liked."
Harrell says now is a dynamic time to be in the African art world, and a big portion of his job is getting younger people exposed to classical African sculpture. "I would love to see more diversity, more Africans representing African art. I would love to see more inclusion," he says.
"I think my favorite thing about what I do is telling the stories about what the pieces represent. If I can create a window for you, as if you were peeking into this village in this time period, I feel like I've done my job. You walk away with a curiosity for these cultures. I want to share, I want you to ask questions, I want you to show interest because I love it so much and want the chance to show it to people."
In 2017, Harrell married Tai-Heng Cheng, a prominent global arbitrator and partner at a leading law firm. They make their home in a two-story apartment in Chelsea, one of New York's hippest neighborhoods.
Harrell says every day is his gift, to do what he loves and expose more people to African art. "African culture, African studies — that's my world, my life. I know African art will be in my life forever. Where my career takes me? I can't say, but it's the thing I'm most passionate about. I want art to be approachable, and most importantly, accessible." ✪