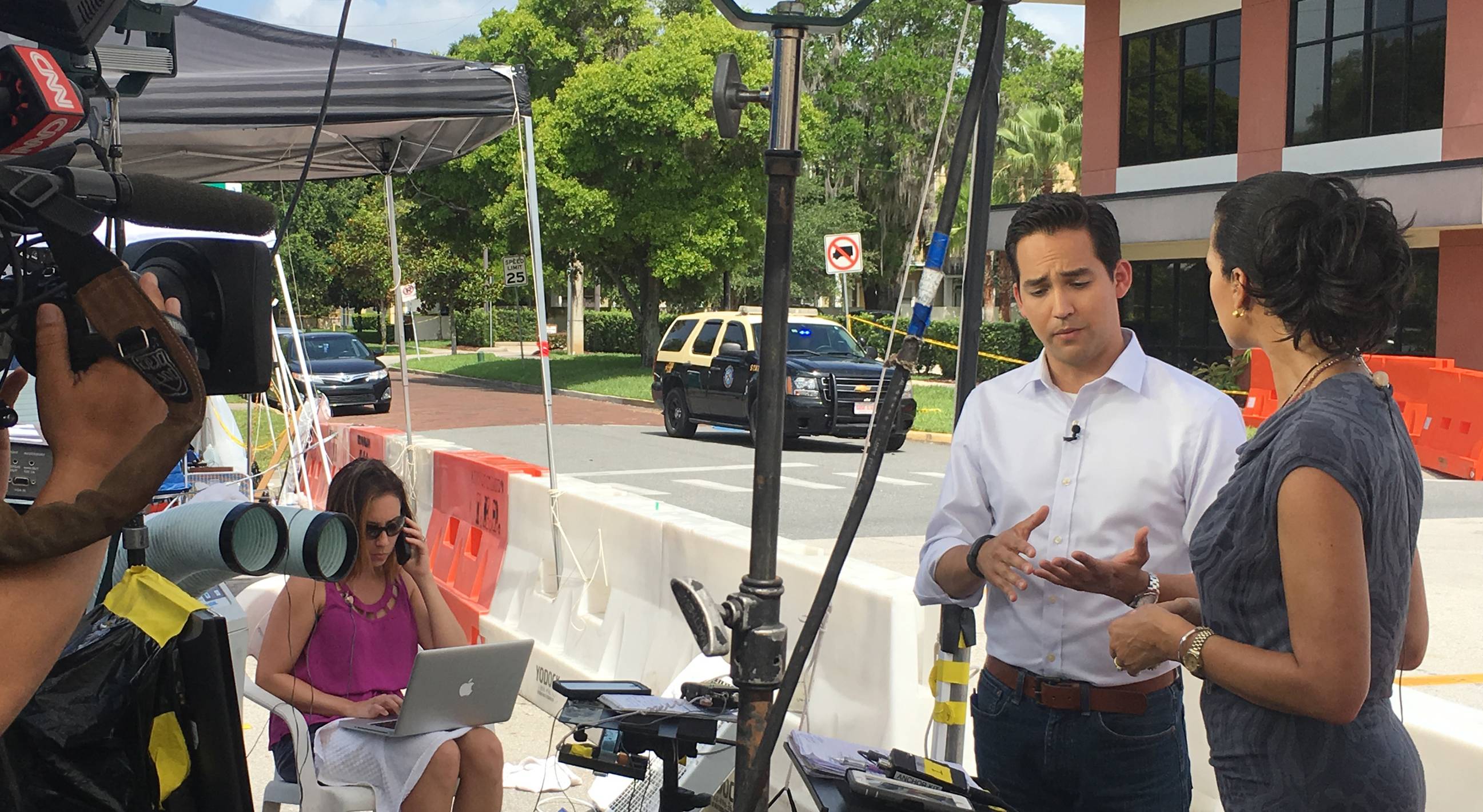 Polo Sandoval
CNN newsman rises through the ranks to national media
EDITOR'S NOTE: Polo Sandoval (B.A. '07) is a TV news reporter. Now 34, Sandoval was in his late 20s when he found himself sitting at a desk alongside veteran CNN reporter Wolf Blitzer. His rise from local news to a national audience surprised even him. "It was like going from high school to the major leagues," he says.
Sandoval transferred to Texas State University, majoring in mass communication with a concentration in electronic media. Before joining CNN, he was a reporter and anchor at KRGV-TV in the Rio Grande Valley. It was his stories about immigration and the drug cartels in Mexico and Central America that brought him to the attention of CNN. "It was nice to be doing stories that touched people outside of my region," Sandoval says.
In 2018, he was awarded Texas State's Young Alumni Rising Star. Because he is such a busy man, we asked Sandoval to answer some questions via email.
WHERE DID YOU GROW UP?
I was born in the South Texas city of McAllen just before my family relocated to northern Mexico in the mid-1980s. I spent much of my early childhood living in the Mexican city of Nuevo Laredo and commuting across the border daily with my mom so that I could attend Catholic school in Texas. About halfway through grade school, we moved again from Texas to Ohio where I had my first real taste of life in an American suburb. From taking in my share of Cleveland Indians games to playing little league football, living in Rocky River, Ohio, allowed me to plunge into American culture. It's also where I was finally able to hone my English reading and writing skills.
Eventually, we returned to South Texas where I completed middle and high school before starting undergraduate studies.
WHEN DID YOU DECIDE TO GO INTO TV JOURNALISM?
Like all Americans, the events of 9/11 had a profound impact on me. I was struck by how journalists became the reassuring voice amid chaos and tragedy on that day as well as the subsequent weeks and months. Seeing how reporters — on all platforms — shared the stories of affected families is what initially made me consider journalism as a career. When I saw how journalism shined bright on America's darkest day, I knew I had encountered something I needed to be a part of.
CAN YOU TALK ABOUT SOME OF YOUR MOST MEMORABLE EXPERIENCES AS AN UNDERGRADUATE?
I can recall few moments in my life that have been more nerve- racking than day one as a Bobcat. It was the start of the fall 2005 semester and I was on my own for the first time. I was only a four- hour drive from home, but it may as well have been halfway around the world. That feeling of nervousness was short-lived the moment I began to settle into life in the Hill Country. I was struck by the region that would be my home for the next two years.
WHO DO YOU MOST ADMIRE IN THE WORLD OF JOURNALISM AND WHY?
Tip of the hat to Steve Hartman of CBS News. In a news cycle that has us always scrambling to cover the next breaking story or a controversial development on the political beat, Hartman aims for the heart. He has a remarkable ability to make you connect with a stranger through his storytelling. At times, that usually means laughing out loud or shedding a tear as you watch his pieces. It's also a quality that I greatly admire in my fellow CNN correspondent Kyung Lah. She exemplifies our many journalists who truly shine when given a good human story to tell. I tend to consider all of Kyung's beautifully told pieces as a lesson to us that the characters are the ones who usually need to do the talking.
AS A NEWSMAN, HOW DO YOU DEAL WITH REMARKS ABOUT "FAKE NEWS." HAS IT INFLUENCED THE WAY YOU APPROACH THE NEWS?
As a journalist, my primary role is to tell stories based on fact. Because of that, the ongoing attacks on the truth from the current administration have not affected the way I do my job. I have always approached stories as a chance to put claims to the test. If I hear someone say something that just doesn't seem to square up with reality, the next step is obvious — I'll go straight to the people affected by said claim and ask them how they feel. Add to that the research that we make sure to do, and it makes for a story based on facts.
YOU'VE COVERED SOME DEADLY AND CONTROVERSIAL STORIES — RIOTS, PRISON BREAKS, IMMIGRATION, AND BORDER FAMILY SEPARATIONS - HOW DO YOU FIND BALANCE IN YOUR LIFE?
My wife, Daniela, is the real hero in this arena. She is the one who sends me off on assignment without hesitation because she understands that it's the price we pay for the privilege of telling stories. In this business, those who are near and dear to us usually understand that our calling rarely fits with your typical 9-to-5 gig. Fortunately, we work for an organization that believes in keeping strong relationships both at work and at home. We're always encouraged to take time when needed to go off the radar for a few days. It's during those vacation stints that the burden falls back on us to resist the urge to stay connected. For news junkies, powering off our cells is nearly impossible.
WHAT WOULD PEOPLE BE MOST SURPRISED TO LEARN ABOUT YOU?
I love the kitchen. Not long after I moved out of Texas, I developed a passion for cooking. If I'm not in the field or in the newsroom, you'll usually find me in my kitchen experimenting with recipes. I get a lot of my inspiration following chefs around the world and exploring the amazing culinary landscape in New York.
WHAT ADVICE WOULD YOU GIVE TO STUDENTS GOING INTO ELECTRONIC JOURNALISM TODAY?
Read just about anything you can get your hands on. During my days in college and the early years of my professional career, I made the mistake of staying current only on what was happening in my own backyard. I had a lot to learn when the world opened up to me after joining CNN. If you include at least a small dose of national and international stories in your daily news diet, you'll be ready for whatever assignment comes your way. ✪