A Side Gig with a Silver Lining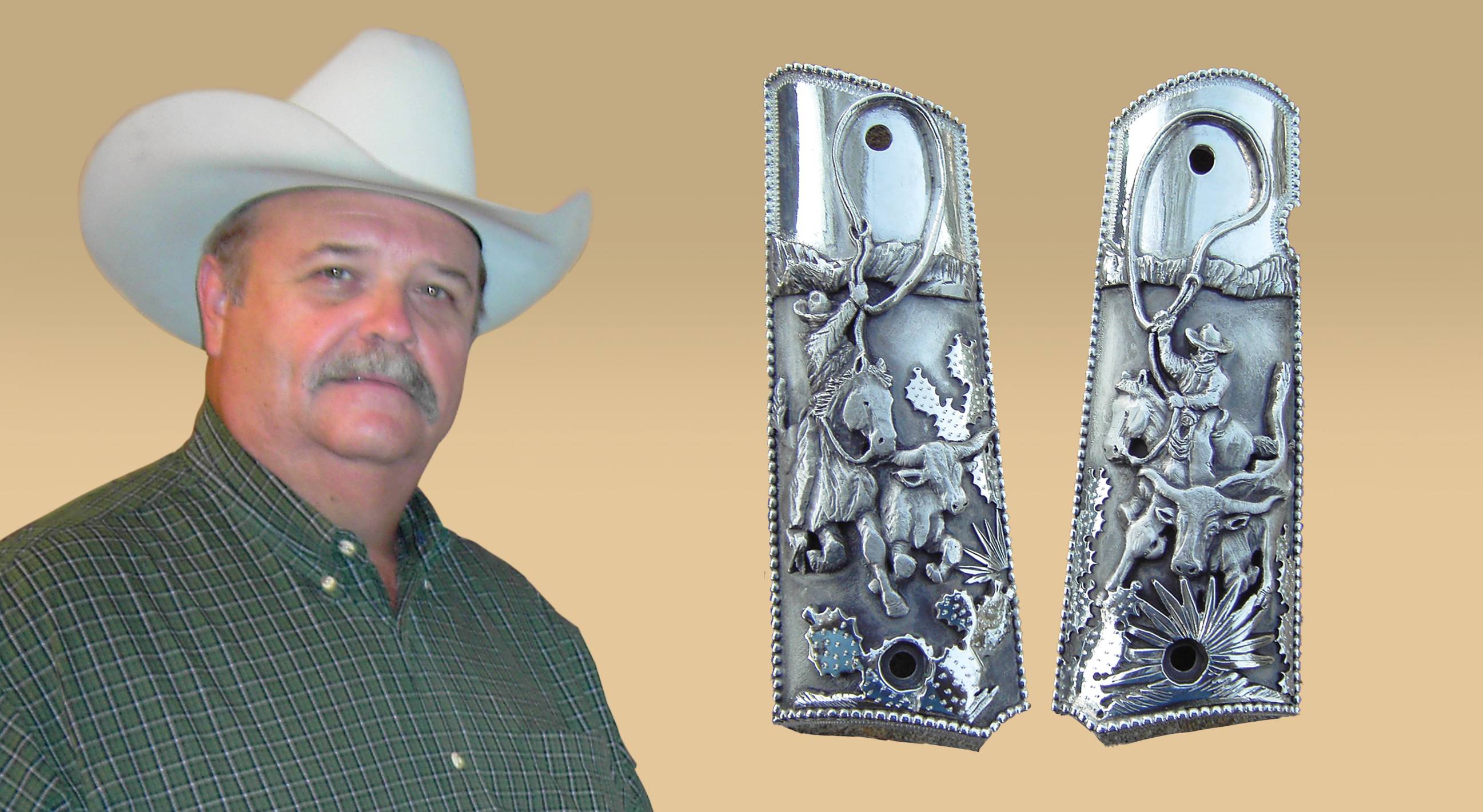 Texas Rangers help point the way to second career for artist Wayne Franklin
By Dan R. Goddard
Wayne Franklin (B.S. '77) spent more than 30 years teaching high school art in his hometown of Cotulla, but his real passion was his side gig — silversmithing. Along with earning his bachelor's degree in art education at Texas State University, he focused on learning about jewelry-making and art metals. After securing his teaching post, he bought jewelry-making books and improved his techniques for making rings, earrings, necklaces, pendants, and belt buckles.
"I was working a dual career," Franklin says. "I was a full-time, full-service jewelry maker, as well as a schoolteacher. I was setting stones, doing alterations, and eventually added engraving to my repertoire. I never apprenticed with anyone, and I never turned down a job — even if I wasn't sure how I would do it. I read, studied, experimented, and figured it out."
By 1985, Franklin had built up a good sideline when he was introduced to a pair of Texas Rangers with a silversmithing problem. Doyle Holdridge from Laredo and Coy Smith from Uvalde often met in Cotulla to catch up and compare notes. Cotulla is a small town in LaSalle County, with a population of just over 3,600 in 2010. This is where Lyndon Johnson, then a young Texas State student, first taught public school in 1928.
Holdridge asked Franklin if he could attach a silver steer head from a keychain onto a silver pistol grip. "Never turning anything down, I said, 'Sure,'" Franklin says. "Doyle noticed the belt buckle I was wearing and asked if I had made it. I said, 'Yes," and took it off for him to have a closer look. He immediately asked if I would make him one with his brand on it.
"Then he asked if I had ever made any pistol grips. I said, 'No, I never knew anyone that would be interested in having some made.' He asked, 'Do you think you could make a set and put a buffalo skull on each side?' I said, 'Sure.' This was the start of many friendships and a long journey with the Rangers through my work."
Franklin made several sets of grips and multiple belt buckles for the two Rangers. "Then it spread through the ranks and I got the opportunity to build pistol grips for quite a few Texas Rangers," Franklin says. "I built grips for two of the four Medal of Valor recipients — Ranger John Aycock, a two-time recipient, and Ranger Bill Gerth. I built grips for the most famous living Texas Ranger at that time — Joaquin Jackson. We became good friends."
Currently, two sets of pistol grips Franklin made for Holdridge are on display at the Texas Ranger Hall of Fame and Museum
in Waco. "I made pistol grips for him all these years up to his retirement," Franklin says. "I told Doyle many years ago that, 'When you're inducted into the Texas Ranger museum, I'm going with you.'"
Franklin grew up on a ranch 30 miles east of Cotulla, just outside a tiny town called Fowlerton. "The many hours sitting on a tractor, breathing dirt, convinced me that I needed to go to college," Franklin says. "I had a really great experience at Texas State University."
After the initial basic courses, he decided to work on a degree in art, although at the time, no bachelor of fine arts degree existed. "But I was hooked on jewelry-making," Franklin says. "Charles Suckle (then-chair of the Department of Art) said I should get a teaching certification and teach while making jewelry on the side." In 1979, he completed a master's degree in studio art at Sul Ross State University.
"In 2013, I retired from teaching and I'm still running my custom silver business. It's now 45 years I've been a jeweler/ silversmith," he says.
For more than 30 years, Franklin has participated in the "Trappings of Texas" exhibit sponsored by the Museum of the Big Bend in Alpine. "Through this show, my work has been seen by thousands of people from all over the state and elsewhere," Franklin says. His work has also been included in the "Made in Texas" exhibit at the Institute of Texan Cultures in San Antonio.
"I try to do my best on each piece," Franklin says. "I put my name on each piece as my guarantee and bond to my customer. I try to build things that will last and be passed down to grandchildren and their children, too." ✪