For Tianna Flores, a career in construction was worth the challenge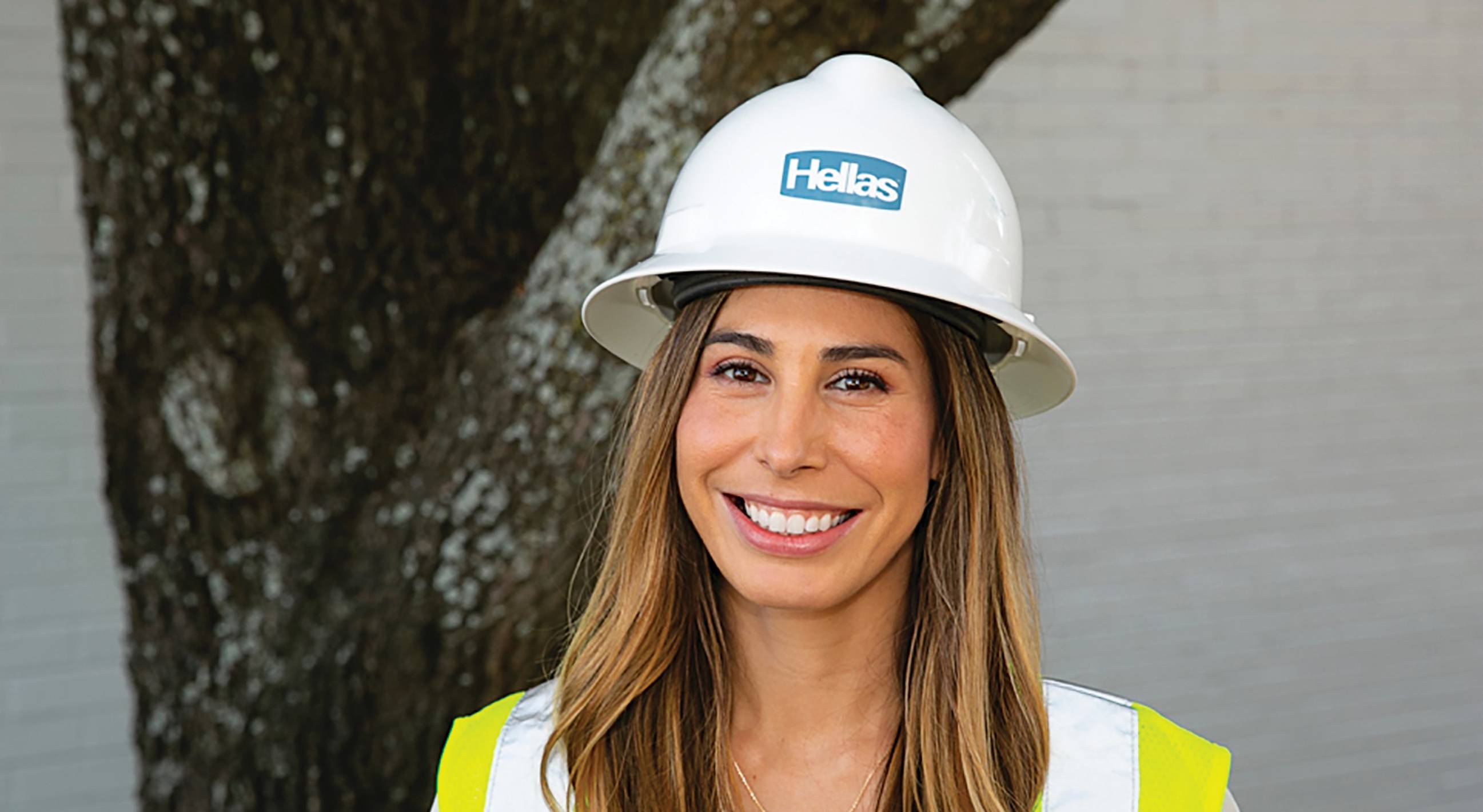 Bobcat is first woman in her industry with triple certifications
By Jeff Power
Tianna Flores (B.S. '10) is the first woman in the sports construction industry to hold all three certifications for synthetic turf, track, and tennis court building. Flores, vice president of design for Austin-based Hellas Construction, earned her degree in industrial and construction technology at Texas State University while working full time.
Construction wasn't always the plan. Flores started in chemistry and changed her major to construction science and management after speaking with Dr. Gary Winek, director of the Construction Science and Management program.
"Dr. Winek completely sold me on construction, reminding me that being a woman meant I would be among the 3% as a female in this construction business," Flores says. "I was ready for that challenge." She remembers walking into her first college construction class with close to 300 students. She was the only female. "I came into that class a little intimidated. As I walked through and picked a seat, I could see that all of the guys in the class were just as intimidated as I was." She says that through the years, many of those students would become like brothers.
The Flores family, which includes two older brothers, moved from the small West Texas town of Hamlin to Abilene. Flores, who graduated from Abilene Cooper High School, says, "I've never been intimidated in this male-dominated construction world."
In a field that is booming and changing, construction is more diverse today than when Flores was pursuing her degree.
Last fall, women made up 7.5% of the construction technology enrollment. As a student, Flores was part of the Austin chapter of the Associated General Contractors. She took courses in estimating, project management, AutoCAD, and design. In 2010, she was interning at Hellas Construction in an entry-level position. Right away, she says, there were contributions she could make.
"Our people are our most important assets at Hellas, and Flores exemplifies what makes our company great: the drive and dedication to always improve," says Reed J. Seaton, president and CEO of Hellas Construction.
Flores says she cares about not only the people who work at Hellas but the people who are buying the facilities they install. "I care about the communities we work with and I genuinely love what I am doing."
To become certified by the American Sports Builders Association (ASBA), Flores took a four-hour comprehensive exam on construction, surfacing, design, administration, and renovation. "Without my experience at Hellas, there is no way I could have passed the tests," Flores says. She attributes her success to the knowledge and support of Hellas staff and management. Flores passed her certified field construction test, followed by a track certification. She realized that by earning the tennis court builder certification, she would be entering uncharted territory as a woman in the field. Since passing the exam at the ASBA Technical Meeting, she hasn't looked back.
The ASBA certification programs were developed to help raise professional standards and improve the practice of sports construction. They assist the general public in evaluating experience and expertise and distinguish those who have met a designated level of experience and knowledge. "Everybody's goal in life is to be successful. Besides feeling personally successful in my own life, I think it's neat to be recognized by the university I graduated from," she says. ✪