Renovate, Innovate, Captivate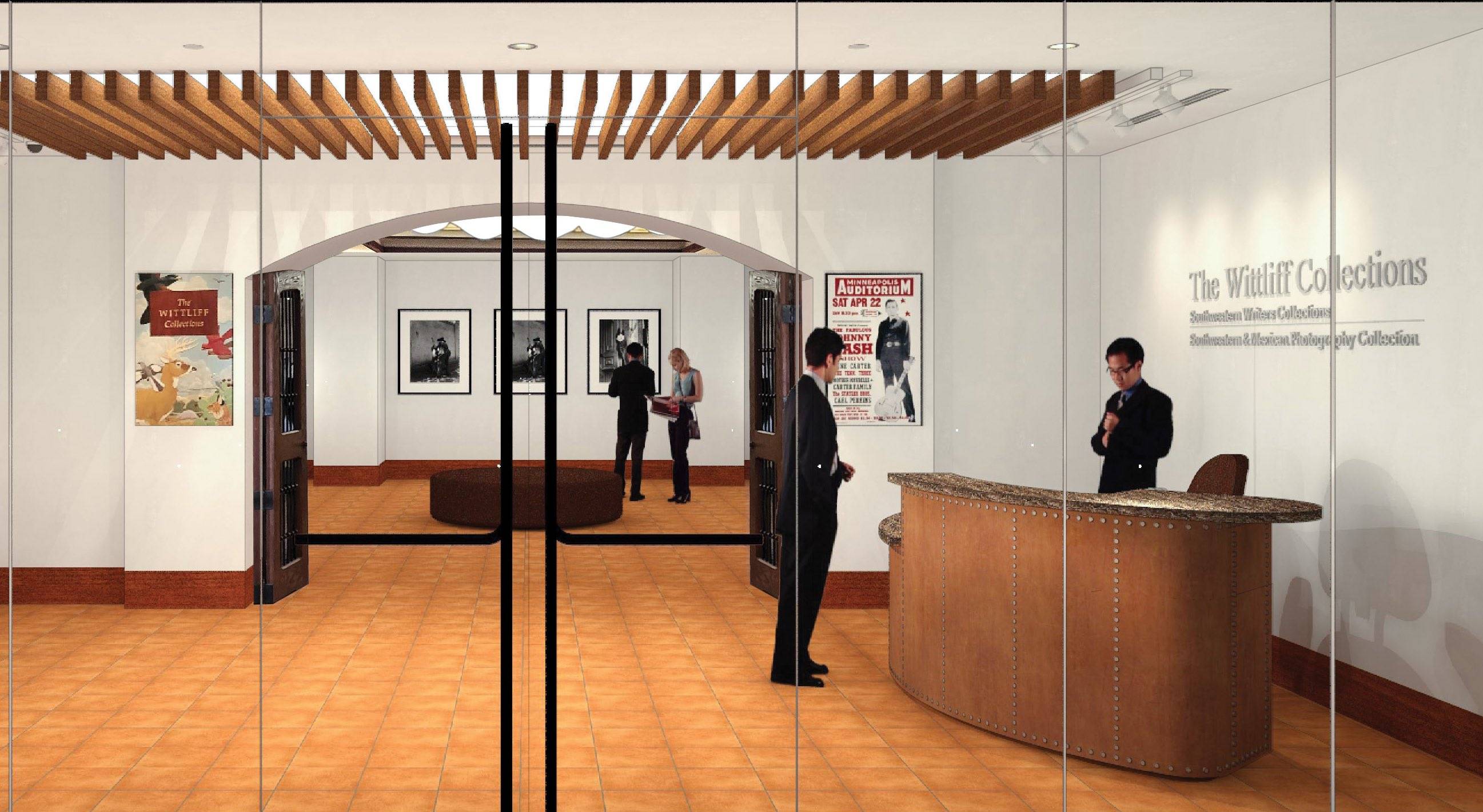 Renovate, Innovate, Captivate
By Ramona Kelly
Major expansion brings The Wittliff Collections into new frontiers
From the very beginning, Drs. Bill and Sally Wittliff had a unique vision: to create a place where people can stop and breathe in the spirit that inspires the artists of Texas and the Southwest. Maybe, along the way, people can be inspired to create something of their own, something that captures the Spirit of Place that makes the Southwest a little different from any other region.
Write a book, a play, a song. Take a photograph. Make a film. Find your creative outlet and use it to tell the exceptional story of this place we call home.
Creating is hard work; for proof, just look within The Wittliff Collections' archives on the seventh floor of the Albert B. Alkek Library and witness the painstaking research, countless rewrites, and agonizing edits endured by even the most successful writers. Formed in 1986 by Texas State University in partnership with Austin screenwriter and photographer Bill Wittliff and his wife, Sally, the collection exists to preserve and share the archives of writers, musicians, filmmakers, and photographers whose work embodies the Southwest's Spirit of Place. "All artists struggle to find their voice," Bill Wittliff says. "Once I realized that it doesn't just flow from above, and you have to work at it, I said, 'Maybe I can do that, too.' "
Some collections are generously donated by artists who wish to make their life's work a part of The Wittliff, but many collections become available through public offerings and auctions. In an increasingly competitive environment, The Wittliff must rely on private financial support to ensure readily available acquisition funds for time-sensitive opportunities.
Name your passion
A major renovation and expansion will make two things possible. First, The Wittliff will double its gallery space, enabling it to share more of its treasures with the public. Secondly, and for the first time in its history, naming opportunities will be available for galleries and other prominent spaces, ranging from $60,000 for a new classroom to $3 million for an entire wing.
All contributions to the renovation and expansion campaign will be used to build a fund dedicated solely to purchasing new collections. The goal is to build an $8 million reserve, which will enable The Wittliff to react swiftly to acquire the literary papers, photographs, artifacts, and other creative materials that embody this region's culture. Donors at qualifying levels will be recognized in major spaces. All gifts beginning at the $25,000 level will be recognized by name on signage in the renovated space.
Texas State is generously allocating the entire seventh floor of the Alkek Library, increasing The Wittliff's footprint from its current 20,000 square feet to more than 30,000 square feet of space.
It all started with J. Frank Dobie
The Wittliff Collections began with one small but important collection: a cache of personal letters, manuscripts, journals, and other writings of the beloved folklorist J. Frank Dobie — known as the "Storyteller of the Southwest"­ — acquired by Bill and Sally through Dobie's estate. The Dobie papers became the cornerstone of the Southwestern Writers Collection. Other respected authors followed, entrusting their work to this budding new literary collection. Word spread, and an all-star lineup of writers joined The Wittliff family: John Graves, Larry L. King, Sam Shepard, Cormac McCarthy, Bud Shrake, Sandra Cisneros, Gary Cartwright, Elizabeth Crook, Stephen Harrigan, and scores of other literary luminaries. Researchers now come from around the world to see and learn from the treasures in the Southwestern Writers Collection, which includes the complete production archive of the "Lonesome Dove" television miniseries, said by many to be America's best-loved western.
The Wittliff then branched out into photography by establishing the Southwestern & Mexican Photography Collection, which holds large numbers of images by acclaimed U.S. photographers such as Keith Carter — known as "The Poet of the Ordinary" — Kate Breakey, Edward S. Curtis, and Rocky Schenck, as well as the largest collection of Mexican photography outside of Mexico.
The Wittliff added music to its wheelhouse with the Texas Music Collection. Icons such as Willie Nelson, Jerry Jeff Walker, and Ray Benson have placed their personal and professional papers, artifacts, and memorabilia under the stewardship of The Wittliff.
Plans are underway to add Film & Television as a fourth collecting pillar in the future.
The Wittliff now holds more than 500 special collections, many of which reside in the Archives and Research Center, the university's state-of-the-art, high-density storage facility located at the Science, Technology, and Advanced Research (STAR) Park, less than 4 miles from the San Marcos Campus. The Wittliff has physically expanded only twice in its 33 years. The new space will be a showplace that allows this internationally acclaimed research archive to bring more of its collections to light.
Because The Wittliff Collections are used for research purposes, qualifying contributions to the campaign may be eligible for a matching grants program available to the university through the Texas Research Incentive Program. Gifts between $100,000 and $999,999 are eligible for a 50 percent match. Gifts between $1 million and $1.9 million are eligible for a 75 percent match. And gifts above $2 million are eligible for 100 percent in matching TRIP funds. All contributions are tax deductible.
Inspiring Imaginations
Just why does The Wittliff and its mission matter? Dobie put it this way: "It seems to me that people living in the Southwest will lead fuller and richer lives if they become aware of what it holds."
Or, as Bill Wittliff likes to say: "You can't know where you're going until you know where you've been."
The Spirit of Place is alive and well at The Wittliff Collections, where the voices of writers, photographers, musicians, and filmmakers come together to tell the story of the Southwest's creative soul. While The Wittliff's primary mission is to collect,
preserve, and share these voices for the benefit of all, providing inspiration for future generations is central to its existence.
"Someday, I think we'll be like a snake biting its tail," Bill Wittliff says. "We'll be collecting the work of people whose inspiration came from our collections. I like the sound of that." ✪