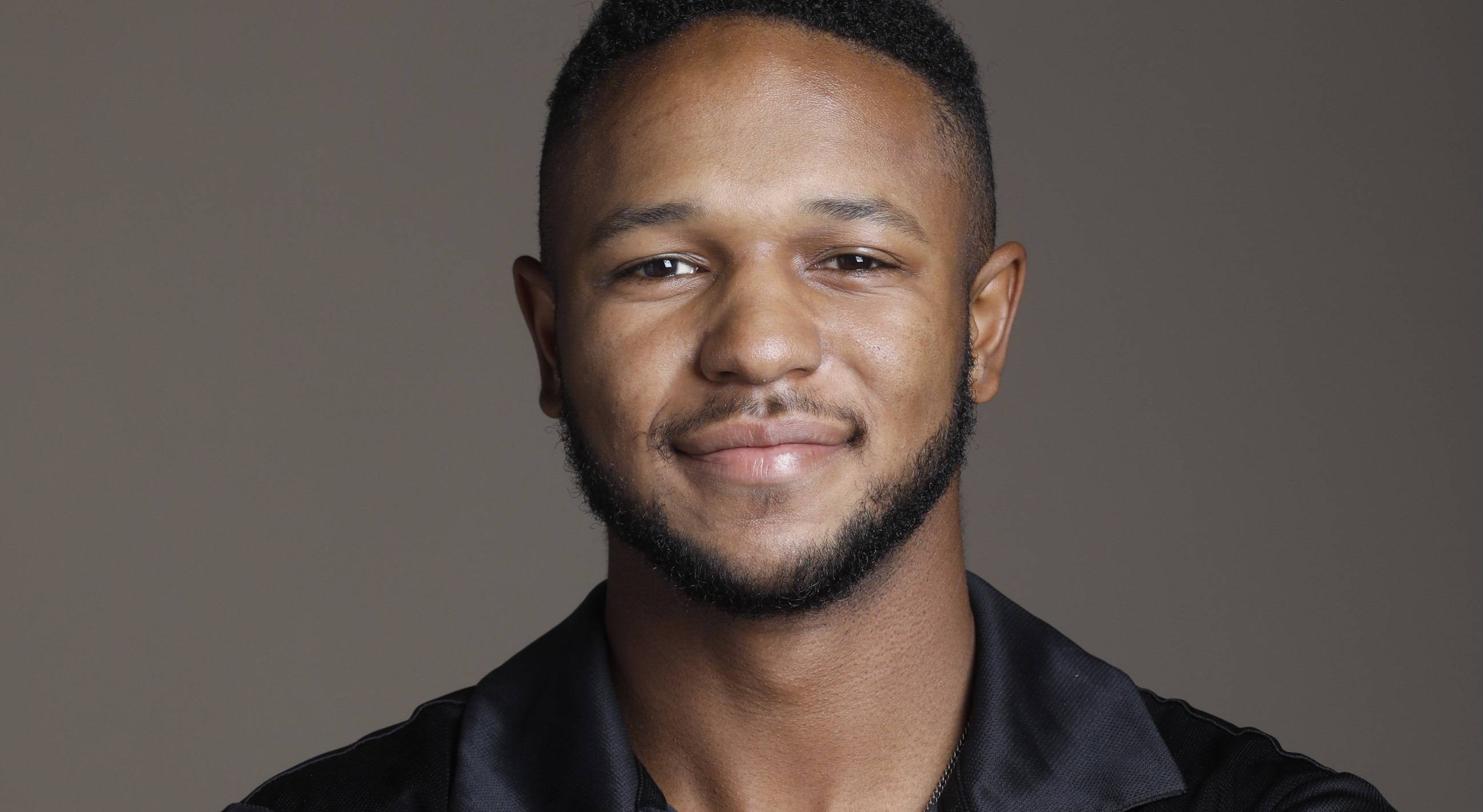 It's a WIN-WIN
by Mark Wangrin
Bobcat baseball scores big with Jaylen Hubbard
Jaylen Hubbard has the type of skills to stand out in baseball.
At 5 feet, 9 inches tall, and 200 pounds, he is powerful yet lithe. He can run the 60-yard dash in 6.35 seconds — considered the top-end-speed in the pros, much less college — has a deft glove, good arm, and the courage required to stand less than 90 feet away from a batter who can launch a hard, tightly wound ball at more than 100 mph.
"I love third base," says Hubbard, who has the versatility to play shortstop, second base, and the outfield. "Sometimes I feel it's just you and the ball. It comes at you so quickly."
Hubbard is still playing ball with the Bobcats as he works on a second bachelor's degree. He earned his first, in economics, and walked the stage in May 2018. He also earned the Athletics "T" Ring awarded to all student-athlete lettermen. He wears it proudly.
Somewhere along the way, school officials mistakenly thought he had exhausted his eligibility. Under NCAA rules, the ring could be considered an "extra benefit," which potentially could impact his remaining year of eligibility. After checking with the NCAA, which touts the term student-athlete with pride, Texas State Athletics concluded that such an award fulfilled "student" but did not jeopardize "athlete." Hubbard gets to keep the ring and the Bobcats get to keep their dynamic fifth-year senior third baseman expected to lead a baseball team filled with youth and promise. By any scorecard, that's a win-win situation.
Staying healthy has sometimes been a challenge for Hubbard. At 10, he was a hard-throwing pitcher — "I wouldn't call it pitching; I'd call it throwing. I had no type of mechanics. I'd just try to throw it over that white thing (home plate)." That resulted in the separation of the growth plate in his right shoulder.
As a freshman at Dulles High School in Sugar Land, Hubbard was pitching batting practice when he didn't fully duck back behind the screen fast enough — a mistake a ballplayer never makes more than once — and the ball hit him near his right eye.
"I thought I was done," Hubbard says solemnly. He wasn't, but that didn't mean caution was a lesson learned. "The day after I was cleared, I dove right into the fence chasing a ball," he recalls. "My coach yelled, 'What are you doing?'"
As a Bobcat freshman, Hubbard was batting against Central Michigan on a cold, rainy day when he took a fastball off his right hand. The umpire called it a foul ball. Hubbard finished the at bat but came out of the game with a broken hand, and his season was over.
Healthy again, Hubbard has increased determination and desire to prove himself, not just to help the Bobcats win but to impress Major League Baseball scouts, says Bobcats head coach Ty Harrington. "Things are turning his way," Harrington says. "Not that he didn't do this before, but sometimes when we put our full force and commitment into something, we have a little more edge to us, a little more motivation, to prove to people what we can do or what we're worthy of. One more swing, one more rep, one more moment of focus, one more whatever. In life we all do that, right?"
Trenidad Hubbard gave his son more than advice. He played at Southern University and was drafted in 1986 by the Houston Astros. His professional baseball career spanned 19 years — including nine years with MLB teams before retiring in 2005. If that wasn't enough baseball DNA, Jaylen's maternal grandfather, Hillary Bossier, was an All-American pitcher at Grambling University who once struck out 21 batters in a game.
At Dulles, Hubbard was first-team All-Houston, led the Vikings to the state finals, and was recruited by several Louisiana schools and Houston. Then he visited Texas State. "It's two hours from home, the wind blows out to left (field)," Hubbard says. "It didn't take long for me to call back and say, 'Hey, I'd like to be a Bobcat.'"
The 2019 Bobcats are young, rebuilding after losing talented upperclassmen, three of whom were drafted by the major leagues.
"We have 13 seniors coming back, but the starting lineup will be young," Hubbard says. "But if you take that leadership and experience from the juniors and seniors and the skills and athleticism of the younger kids we're bringing in, we can definitely put something great together."
Hubbard's working on a second degree in journalism and mass communication and building toward the Major League first-year player draft in June. After baseball, his goal is to become a lawyer or a sports agent.
"Education was the number one thing that was drilled in my head, by both sides of my family," Hubbard says. "You can't play forever, but they can never take that piece of paper away from you."
If you don't believe it, just check out the ring that Hubbard proudly wears on his left hand. ✪