At Texas State, Anna Uzele found an unexpected path to her Broadway dreams
By Matt Joyce
When Anna Uzele was a musical theater major at TXST, she often made her way to a favorite rock overlooking Spring Lake Dam, tucked behind the building now occupied by Kerby Lane Cafe. There she would sit and watch the water cascading to the San Marcos River below.
"I would go there all the time — having a bad day, having a great day, it didn't matter," recalls Uzele, who's now starring in the Broadway musical New York, New York. "I've cried so many tears on that rock. I've rejoiced so many roles that I got on that rock. I've had meaningful phone calls on that rock. So many things have happened on that rock."
Uzele says the waterfall served as a natural sanctuary during her time at Texas State, which she remembers as an intense four years. She was deeply immersed in the Department of Theatre and Dance, learning and evolving as a performer, while also scraping by on meager funds and growing up as a young adult.
Sitting on the river's shady bank, did the young Uzele see her future taking shape in the clear spring waters? Could she imagine herself taking center stage in a Tony Award-winning blockbuster like New York, New York? Could she envision singing on national TV for this summer's Tonys broadcast, or acting alongside Connie Britton in the Apple TV+ show Dear Edward?
"Sometimes your dreams come true in a method that is so opposite than you think they will," Uzele says. "And sometimes going to Texas is the way to get to New York. I had to trust that in the moment. And I'm glad I did."
★★★
A native of Wilmington, Delaware, Uzele grew up in a household full of creativity. Her father is a multi-instrumentalist church pastor, and her mother "can paint or draw anything and make it look like a photograph."
"Growing up, it was more a question of which art will you do?" says Uzele, whose mother home-schooled her until she attended high school at the Cab Calloway School of the Arts in Wilmington, where she graduated in 2014. "I was interested in various things — I played soccer, did gymnastics, I really wanted to try it all. Theater was just one of the things I liked."
During her junior year, Uzele starred in her school's production of the musical Aida. It was her first leading role.
"Afterwards, my mom showed me my report card and said, 'I want you to notice something,'" Uzele recalls. "'You've had the best grades you've ever had in your entire life, and it was while you were doing musical theater. Your friendships have gotten better, your relationships have gotten better. We don't measure your worth by your grades, but this is important. It stands to reason that you are the happiest you've ever been right now because every aspect of your life is flourishing.'"
Riding that momentum, Uzele got an audition coach who encouraged her to attend a "unified audition" in Houston. At the audition, numerous universities booked rooms in the host hotel, and prospective students went from room to room to audition for them. Uzele sang and acted for the judges from 12 different schools, but she wasn't having a good time.
"It's this wild, kind of toxic atmosphere," she recalls. "I had never been a part of that before. There were these giant dance calls, and everyone's fighting for attention and fighting for space. It's highly competitive and everyone's scared and insecure, and everyone wants to get seen. I remember thinking, 'This is so weird. How am I even supposed to decide what school I want to go to when tension is so high here?'"
At the end of a grueling day, Uzele's coach encouraged her to audition for one more school, a place she'd never heard of called Texas State University. Uzele was exhausted and not interested in auditioning again, much less going through the application process for a 13th school. But her coach talked up TXST as an "amazing up-and-coming" musical theater program.
Uzele relented and made her way to the TXST audition room. That's when the magic happened.
"She was extraordinary," says Kaitlin Hopkins, who was one of four TXST representatives who sat opposite Uzele during her audition. Hopkins founded TXST's musical theater program in 2009 and served as director for 14 years.
"Her presence in the room was captivating, and she was so poised," Hopkins recalls. "We look for people who have integrity and who we feel exemplify what it means to be a Bobcat. Anna's intelligence, her compassion, her grace, her empathy — she just exudes all this. She's a beautiful person, and it's evident when you meet her. And then you see her work and you're like, 'Holy cow!'"
Struck by the audition, Hopkins asked Uzele why she wanted to come to Texas State.
"It felt like the first time that day that someone saw me as a person — just a little girl who really wanted to get into a school and had a lot of talent but didn't really know what she was doing," Uzele remembers. "I was just honest with them, and I fully broke down crying. I was like, 'I don't know much about your school, but the way you've treated me in this room speaks a lot about your program. I can tell you treat your students with respect, and you've treated me with respect right now. I'm so thankful for that, and just to be taught by you would be wonderful.'"
★★★
Texas State's musical theater program is selective and rigorous. Hopkins, a veteran Broadway and film actor, joined TXST in 2009 to develop the program, which has since become one of the top 10 of its kind in the country. Each year, the program admits 12 to 14 students out of roughly 800 applicants, Hopkins says. As of this summer, the program's 56 students include 11 in-state students, 42 out-of-state students from 18 different states, and three international students.
"We're looking to put a group of people in the room together who are going to make some serious noise, and who are going to learn and grow as much from each other as from the faculty," says Hopkins, who now serves as the director of alumni and donor relations for the program. "We also want to give them a lot of performance opportunities while they're here, which is hard to do if you've got too large a program. The degree program is designed to customize the training to the individual."
Hopkins says the program is run like an ensemble company of faculty and students "collaborating together to evolve and shape the program with the intention of developing leaders in the industry. We're interested in artists who want to do that."
The atmosphere and training resonated with Uzele. Along with learning the nuances of auditioning, she says, the program prepared her and her classmates for the day-to-day work in theater once they've won a role — keeping the job and improving themselves for future roles.
Uzele recalls the program's emphasis on "failing forward," which means finding peace with mistakes and learning to recover from them. "Get comfortable just messing up and then dealing with it," she says. "It's how you recover that shows your personality and proves to people, 'OK, we want to work with her.'"
She also learned about embracing her individuality. "How do you make yourself valuable to the room and add something that wasn't there before?" Uzele says. "It comes down to being yourself, in your skin. I think Stephen Sondheim has the greatest lyric to describe this: 'Anything you do, let it come from you. Then it will be new.' Texas State encouraged that and was interested in the things that made us unique and different."
Uzele describes her student experience as hyper-focused on her craft. She spent her days singing, acting, and dancing in class, and performing in university productions. She was also learning to take care of herself away from her family and home in Delaware.
"I was learning how to be scrappy in ways that I never had before," she says. "I remember my freshman year I got the cheapest dorm. It was Burleson, and I didn't know why it was so cheap. And then I found out it was because it didn't have air conditioning." (Burleson has since been demolished.)
She didn't have much money, so she cut a few corners. "I was eating rice and beans every day," she says. "I took an algebra class that required you to pay $120 to make an account online to submit your homework. I didn't have that kind of money, and I was too proud to ask my parents or anybody. So, I figured out that if I turned in zero homework the entire class but made sure I got 100% on every single test, I would still get an A in the class. And so that's what I did. It all worked out, and I learned a lot of lessons in surviving and just keeping my head above water."
Rachel Webb, a 2020 graduate of TXST's musical theater program, says she learned some of those lessons from Uzele. Uzele gave her some of her old freshman textbooks and taught Webb how to buy groceries in bulk to pinch pennies. Uzele also made an impression on the stage.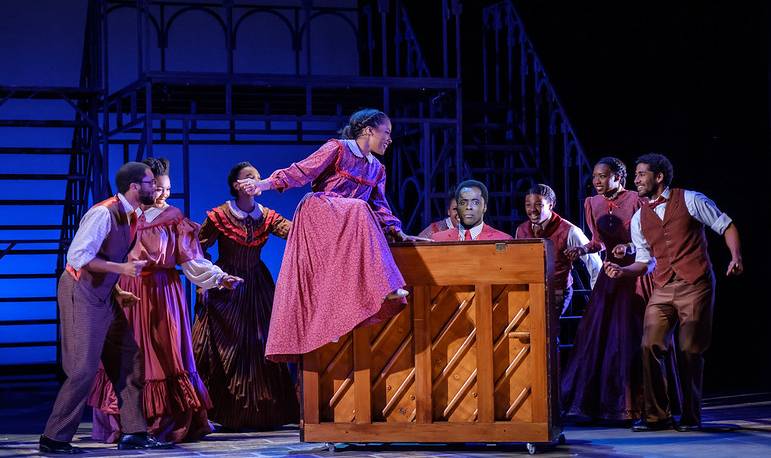 "She has the star quality that makes you want to watch her and see what her journey is in a show," says Webb, who's pursuing her own career on Broadway as part of the ensemble cast of & Juliet. "She also brings light and confidence and elegance into every role that she touches. It's really nice to witness."
Each year, Texas State organizes an industry showcase in New York for musical theater graduating seniors to audition in front of casting directors, agents, and producers. Hopkins says the auditions consistently result in students signing with talent agencies and managers and booking exciting jobs.
"This year, of our 12 graduating seniors, every one of them was signed by a top agent and had multiple offers," she says. "It's not uncommon for the whole class to get signed by agents and be working professionally within a month of graduating, whether it's on Broadway, off-Broadway plays, national tours, television, or film."
In Uzele's case, Broadway came knocking early. During her junior year, a casting director invited her to audition for the role of Princess Jasmine in Aladdin. Uzele was conflicted about the opportunity because she wanted to finish her degree. "New York will be there when you're done with school," Hopkins advised her. "It's OK to wait until you graduate to put yourself in the ring. They're not going to go away."
Hopkins was right. After graduation, Uzele went to New York with her classmates to participate in their industry showcase. She received callbacks for multiple Broadway shows and within days had signed on for a role in the Broadway revival of Once on This Island.
Uzele's disbelief and thrill of her first role grew into a quiet confidence and gratitude and as she went on to win roles in the original Broadway company of Six and then New York, New York. In the meantime, she's also had recurring roles on TV shows including Dear Edward and the Kevin Bacon Showtime series City on a Hill.
"I'm so grateful they're choosing to trust me with their material because no one's ever done these roles before," she says. "It's an incredible honor because they're trusting me to bring these characters to life. Their work is only ink on a page until I show up."
Hopkins says Uzele's relatability with the audience sets her apart. "Her ability as a singer and as an actress is exceptional, but a lot of people can sing and dance," Hopkins says. "Great artists with a unique point of view that bring humanity to their work — that's much more rare. And I see it in everything Anna does, whether it's a television series or a play or a musical."
Uzele now lives in New York with her husband, a tattoo artist named Glenn Vasaturo, and their dog, Miles. As a Bobcat alum, she has made video conference presentations to TXST classes, and she keeps in touch with Hopkins, who remains a mentor and supporter.
Uzele says her life has normalized after the frenzy of preparing for the Tony Awards held in June — if you consider her eight weekly performances of New York, New York on Broadway to be normal. She brings the same collaborative spirit to her work that she learned as a student at TXST.
"It's such a different program than the one I left simply because Kaitlin [Hopkins] is ever evolving and always improving, which I love," Uzele says. "It was an extraordinary program when I joined, but it has grown leaps and bounds because the faculty treated us respectfully and treated us like co-collaborators in improving the program. I think that's the best you could ever ask for and why I'm the most thankful for Texas State." ★