Elevating Student Success
Dr. Cynthia Hernandez, VP of Student Success, explains how TXST is innovating support for Bobcats to help them stay in school and graduate
By Matt Joyce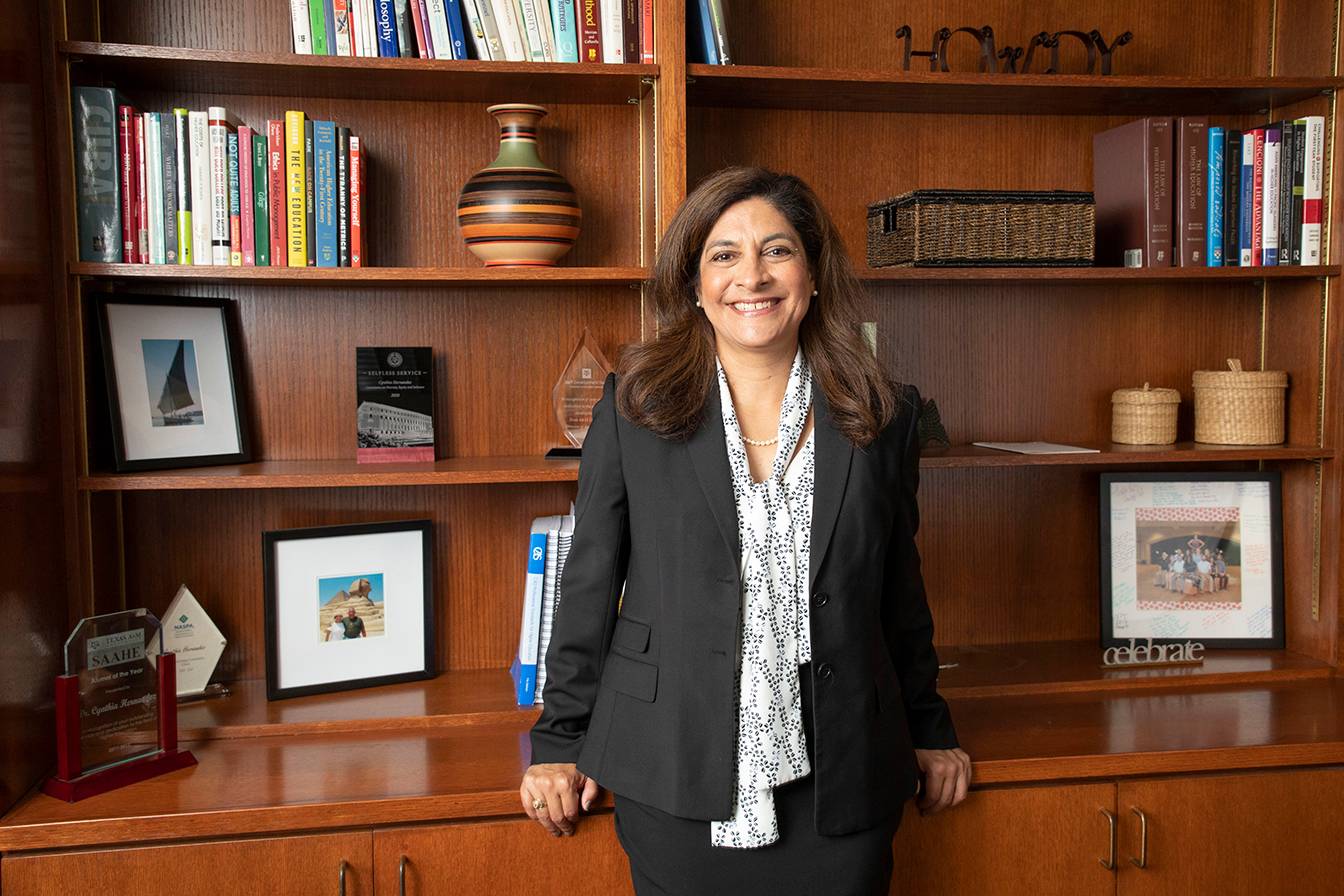 Each student who enrolls at Texas State University show up on the first day of class with every intention of completing a degree. Why else would they be here? But navigating the academic, social, and financial rigors of college can be difficult, from freshman to senior year, leading some overwhelmed students to drop out before graduation.
Knowing this, Texas State leaders are reimagining how the university supports students to help them along the journey. Shortly after his arrival last summer, President Kelly Damphousse declared student success to be a top priority of his Hopes & Aspirations High vision. In short order, the Division of Student Affairs transformed into the Division of Student Success, growing and incorporating more student support services.
With the change, Dr. Cynthia Hernandez, who had been vice president of student affairs, took on the new roll of VP for Student Success. She's been leading the charge on a range of initiatives rolling out this year, supported in part by $2.75 million in new funding. These include launching a new student success technology platform; expanding student mental health services; and hiring a new associate vice president of student success and staff members dedicated to student support.
The new measures aim to meet Dr. Damphousse's retention and graduation goals: increasing first-year retention of full-time, first-time in college students to 85% by 2025 (up from 80% in 2022); increasing the four-year graduation rate to 37% (up from 35%); increasing the six-year graduation rate to 58% (up from 56%); and increasing the transfer student graduation rate to 64% (up from 61%).
Dr. Hernandez joined TXST in January 2021 following 20 years at Texas A&M University, where her roles included associate vice president for student affairs and serving on the Student Success Executive Committee. We spoke with her about how her division's plans are taking shape at TXST.
How is TXST unique when it comes to retention and graduation rates?
One of the reasons I came to work at Texas State is I love our commitment to first-generation students. About 45% of our students identify as first generation; they're the first in their families to attend college. Nationally, and at Texas State, if you hold other factors constant, you're going see that first-generation students persist at a lower rate than non-first-gen students. Our percentage of first-gen students means we must devote more resources to that population than you might see at some other institutions.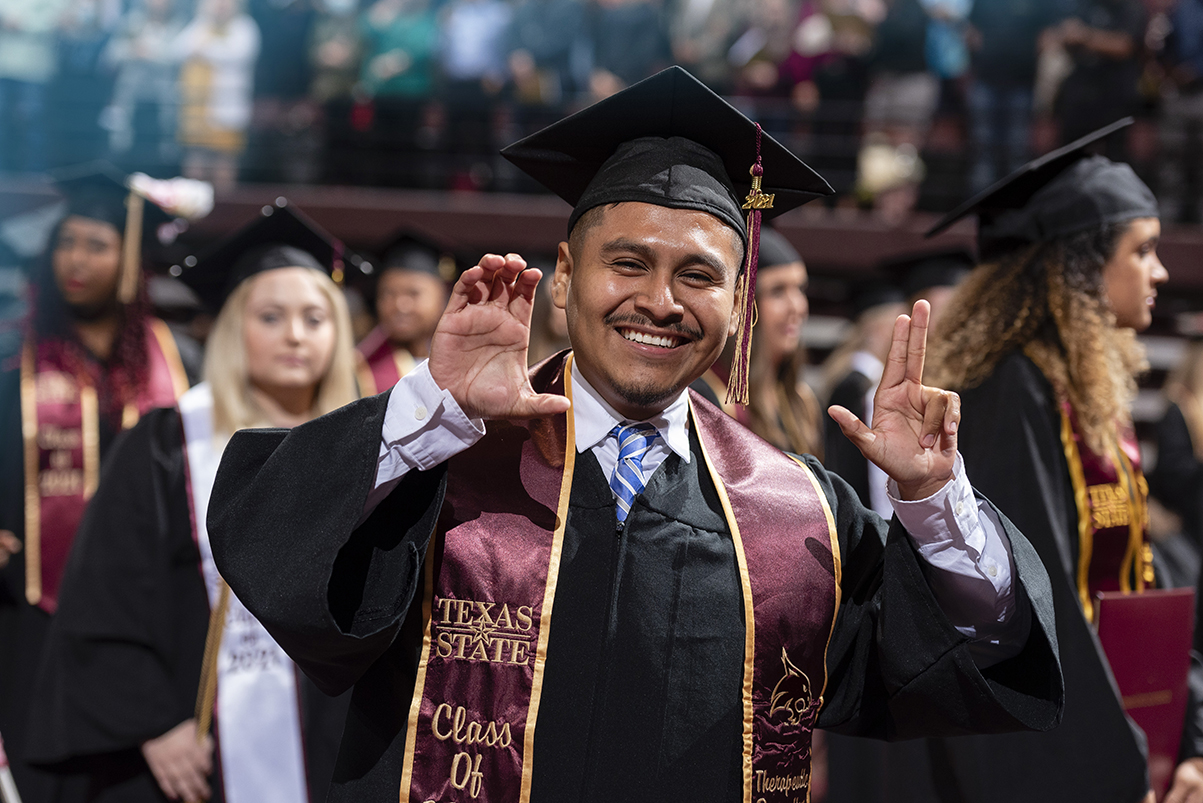 The other piece, and this is nationwide, is we saw a little bit of a learning gap given the quick shift to online delivery of high school courses during the pandemic. We're seeing the tail end of that now, the further we get out from the pandemic. What that means is some students need more support.
Another piece is the number of students who receive financial aid at this institution may translate to students coming from underserved high schools. [Thirty-six percent of TXST undergrads receive federal Pell Grants.] We need to work with some of them to help navigate the collegiate environment because they were underserved in their high school experience.
How does your division's name change from Student Affairs to Student Success reflect a change in TXST's approach to student retention and graduation?
For student success to work, it's got to be a university-wide effort. When Dr. Damphousse came and identified the two pillars of his Hopes & Aspirations High vision to be the Run to R1 and Elevating Student Success, it pushed us forward on looking at student success on a broader scale. One of the things that came was a reorganization of some units into a larger Division of Student Success, which is symbolic in a number of ways. For one, the additional units and the reorganization brings some programs that existed in University College over to work more synergistically with departments that were part of the Division of Student Affairs. It's helped us to do some new things in a more focused way. Anytime you're talking about student success initiatives, there are going to be broad initiatives that will serve all of our students. But really where the most gains are seen are in programs that move the needle through focused efforts and programming.
What's an example of a new effort that's helping students succeed?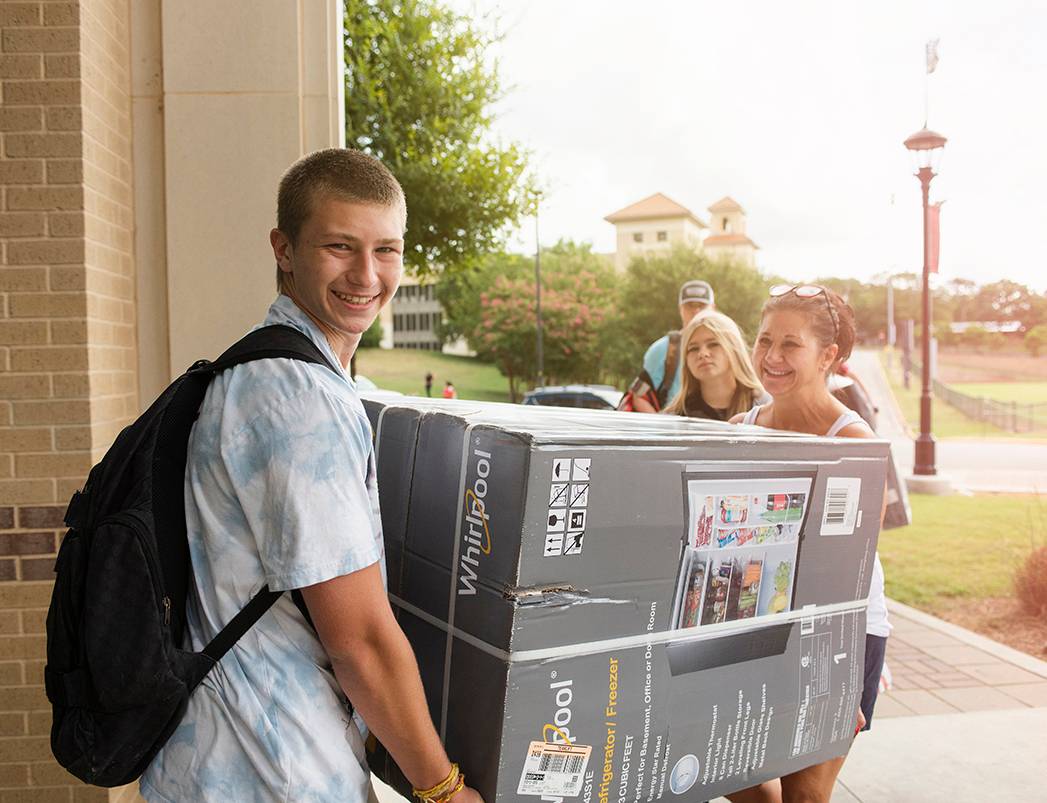 We're fortunate to have a requirement for our first-year students to live on campus because we want them to be engaged and immersed in the campus experience. With our executive director of housing and residential life, Dr. Bill Mattera, on board, one of the things we did was shift our residence life model from a curricular model to a student success model. Resident assistants became peer student success advisors and supporters for our students living in the residence halls. We increased the pay for our RAs and for our hall directors, and we did a lot more training on a student success framework and how to be part of building a community. We want them to be asking students if they have questions — academic-related questions but also social connections and questions about transition and providing resources for them. We felt it was so valuable to create that initial connection with students where they live.
It's interesting, students who come here, one of the things they choose Texas State for is to live on campus. Most of them want a residential experience, and we know that a sense of belonging contributes to student success or college completion metrics. That can take many different forms, from joining student organizations to being in the band, playing intramural sports, or working on campus. All these opportunities put the student in the center of campus, and that translates to better retention rates and graduation rates as well.
How will the new technology platform help focus student success services?
We've had broad student data but not anyone really analyzing the data on a continual basis to make informed decisions about interventions. This platform will allow that to happen. It will also allow us to set up milestones along the student journey and help us know who hasn't met those milestones. Then we can proactively reach out and support that student in one way or another to help them stay on track.
There are so many requirements around satisfactory academic progress that feed into our financial aid system. If a student misses a class or takes a class that's not on their degree plan, that could affect their financial aid down the line, and affordability is one of the main reasons why students will leave an institution of higher education. We want to do everything we can to help so students don't put themselves in jeopardy of losing funding if they're borrowing or receiving scholarships.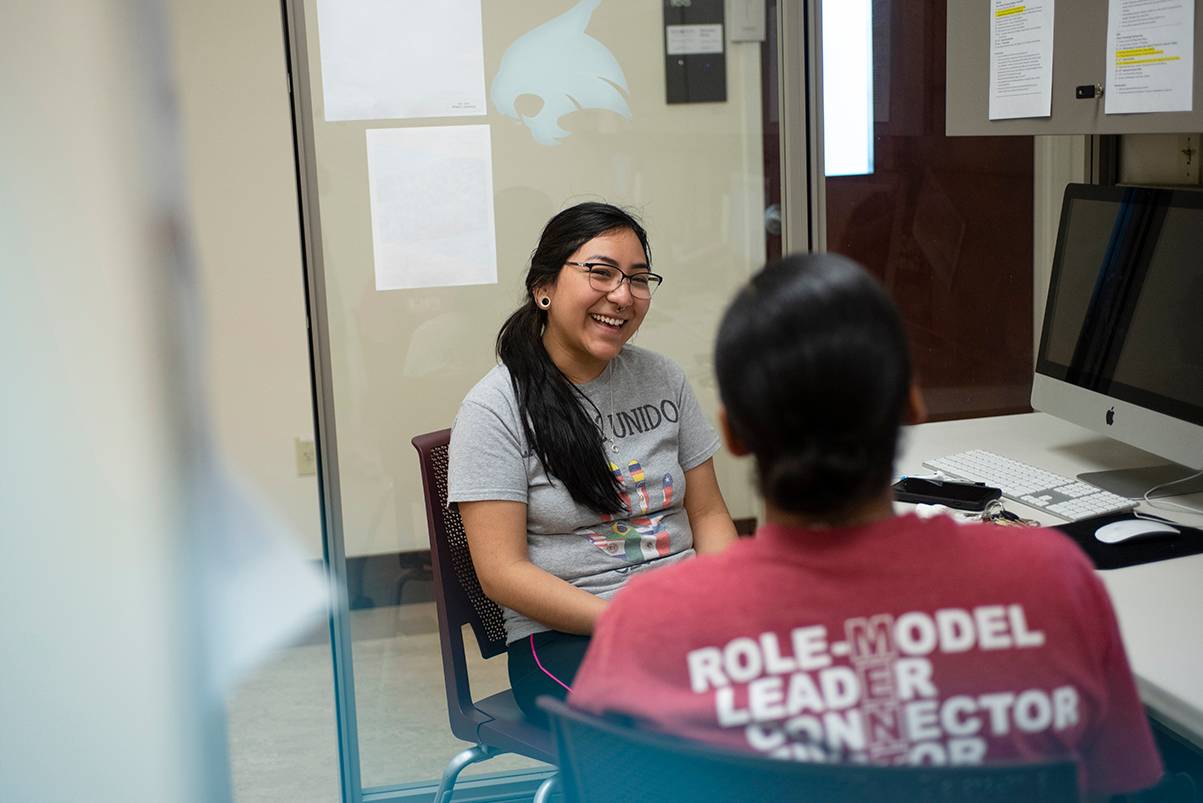 This new platform is also a tool that helps us to look holistically at students. We'll be able to see where they live; we'll be able to see what classes they're registered for; it will help us understand if they're changing majors. When we're talking to students, we'll have a more complete picture to help them meet whatever their next student success goal may be.
The system will also help our academic advisors understand who their students are when they go from first-year advising into the colleges. This will ensure good notes and good transitions of information. It also is a communication tool. It allows academic advisors to pull up a group of students and send them focused resources and be more sophisticated in our communications versus sending out general emails that may not be tailored to a student's experience.
There's also a student interface with the platform. A student will be able to log on and see what holds they might have, and then there might be easy resolutions of holds there as well. You could be able to resolve that all in the palm of your hand. Say a student's registration window is several weeks ahead, it might ping the student with a notification on their phone that says, 'You've got a hold and if you don't take care of this hold, you won't be able to register.' It's a much more tailored experience.
If the system flags a student in jeopardy, would it be the academic advisor that's charged with intervening?
It depends. One of the reasons we brought all these units together — along with the commitment by Dr. Damphousse and the cabinet to invest in student success initiatives — is to hire staff specifically to do these types of interventions. We know academic advisors have a very full plate just trying to get through advising for their students. If the student doesn't know where to turn or how to get a hold resolved, they would be able to call to somebody who will help them navigate that process.
Why did the cabinet invest $500,000 to address student mental health?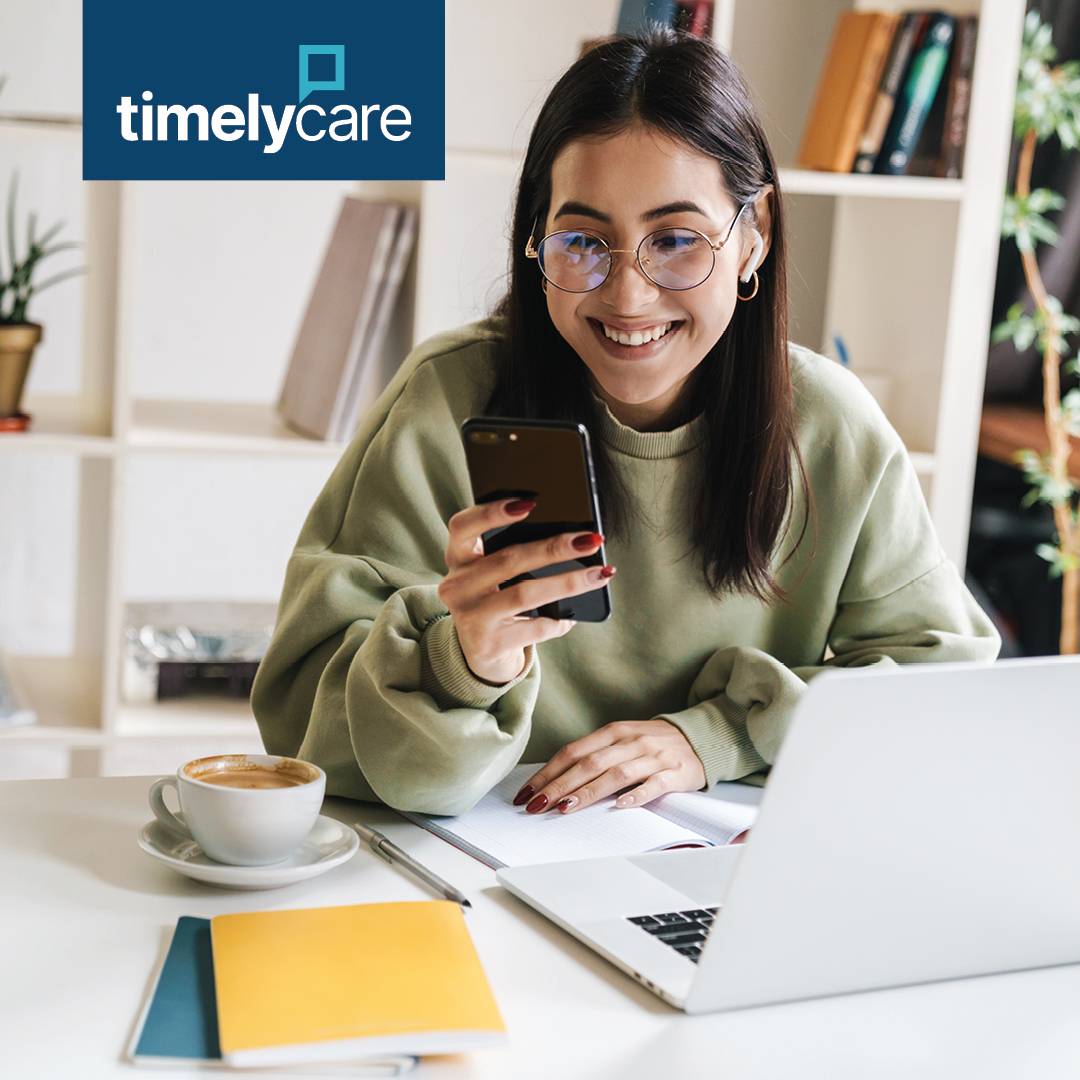 We've seen increased demand in our Counseling Center, which follows a nationwide trend. We were seeing increases pre-pandemic, but then even more so post-pandemic. Part of that is students are really concerned with their own wellbeing, their own success, and they recognize that counseling can play a role in that. Sometimes it's not a crisis or an acute situation, but it's just maintenance.
We have contracted with TimelyCare, which is a company that provides virtual counseling and virtual telepsychiatry. Many campuses are struggling to meet the demand of hiring enough counselors for students, and this complements our in-person Counseling Center to expand the availability. I'm pretty excited about this. One of the neat things is we know students aren't always available to engage with our counseling services 8 a.m. to 5 p.m. Monday through Friday. What TimelyCare will do is enable students to set up appointments with counselors also in the evenings or weekends, 365 days a year. The other thing that's neat is TimelyCare's cadre of counselors is vast, and students can look for counselors with specific identities if they're interested in doing that. That gives even more choices for our students.
How do student success initiatives benefit students who are not struggling or at risk of dropping out?
Another piece of student success is preparing students for post-graduation success. How are we going to continue to add value to our students' experiences so they're sought after by employers and by graduate and professional schools? How are we setting them up to be leaders in their careers, in their communities?
One of the things you'll hear in my strategic plan is around job shadowing and internships. We want to create more of a culture for internships here. Internships are important not just because they allow students to explore whether that's the career they want to graduate with, but internships are also one of the highest-rated experiences that employers look for. The Career Center falls under the Division of Student Success, and it has liaisons with every academic college. Internships are a piece of that. Service learning is a piece of that. Study abroad experiences are part of that.
We know that students who participate in these transformational learning experiences walk away from them with more confidence and more engagement. And they usually create connections with a professional mentor or an alumni mentor. All these things contribute to the success of our students here. These students may not be in danger of not graduating, but we are continuing to add value to their degree to help them reach their post-graduation goals. ★