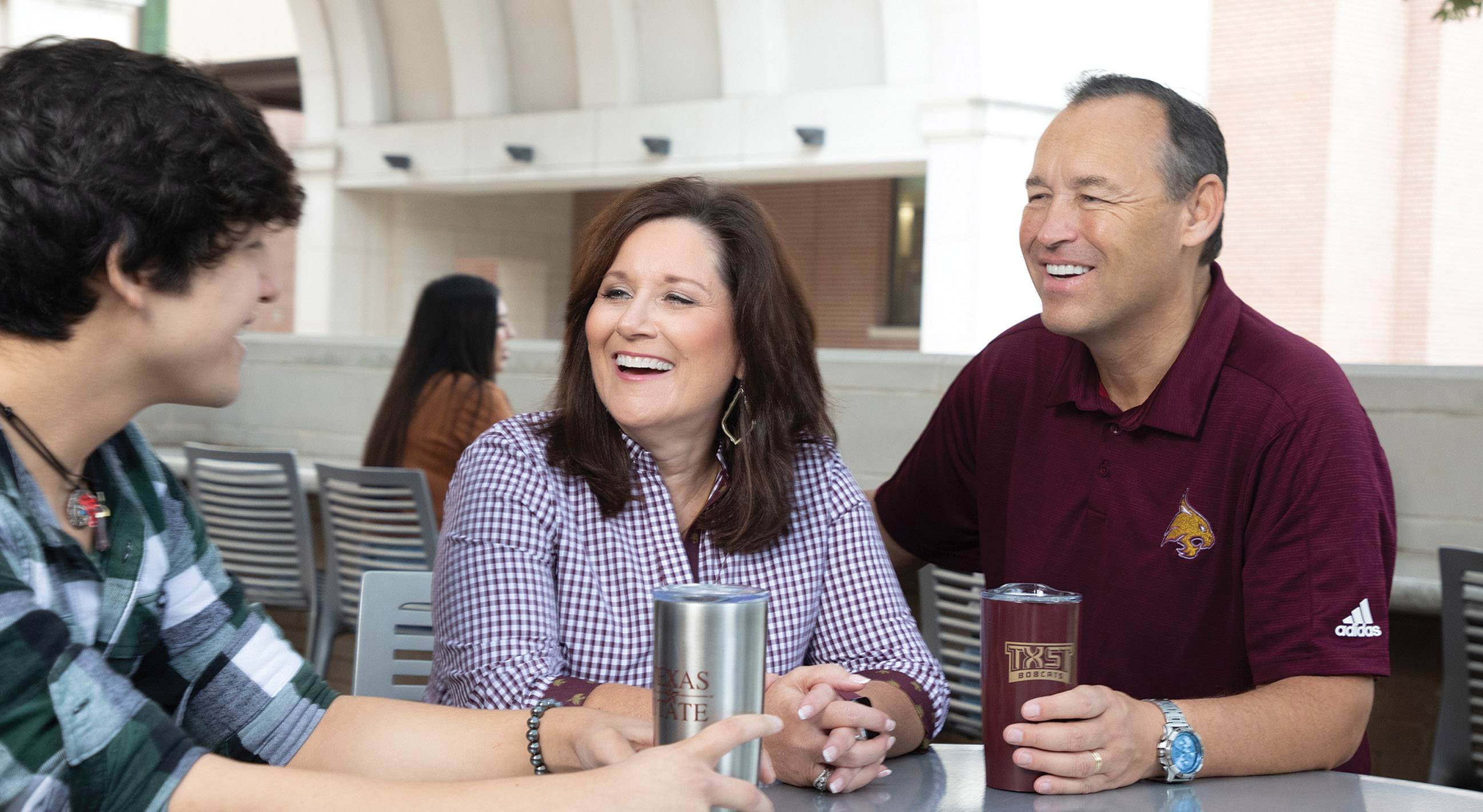 President Damphousse is covering a lot of ground in his first semester here
By Sandy Pantlik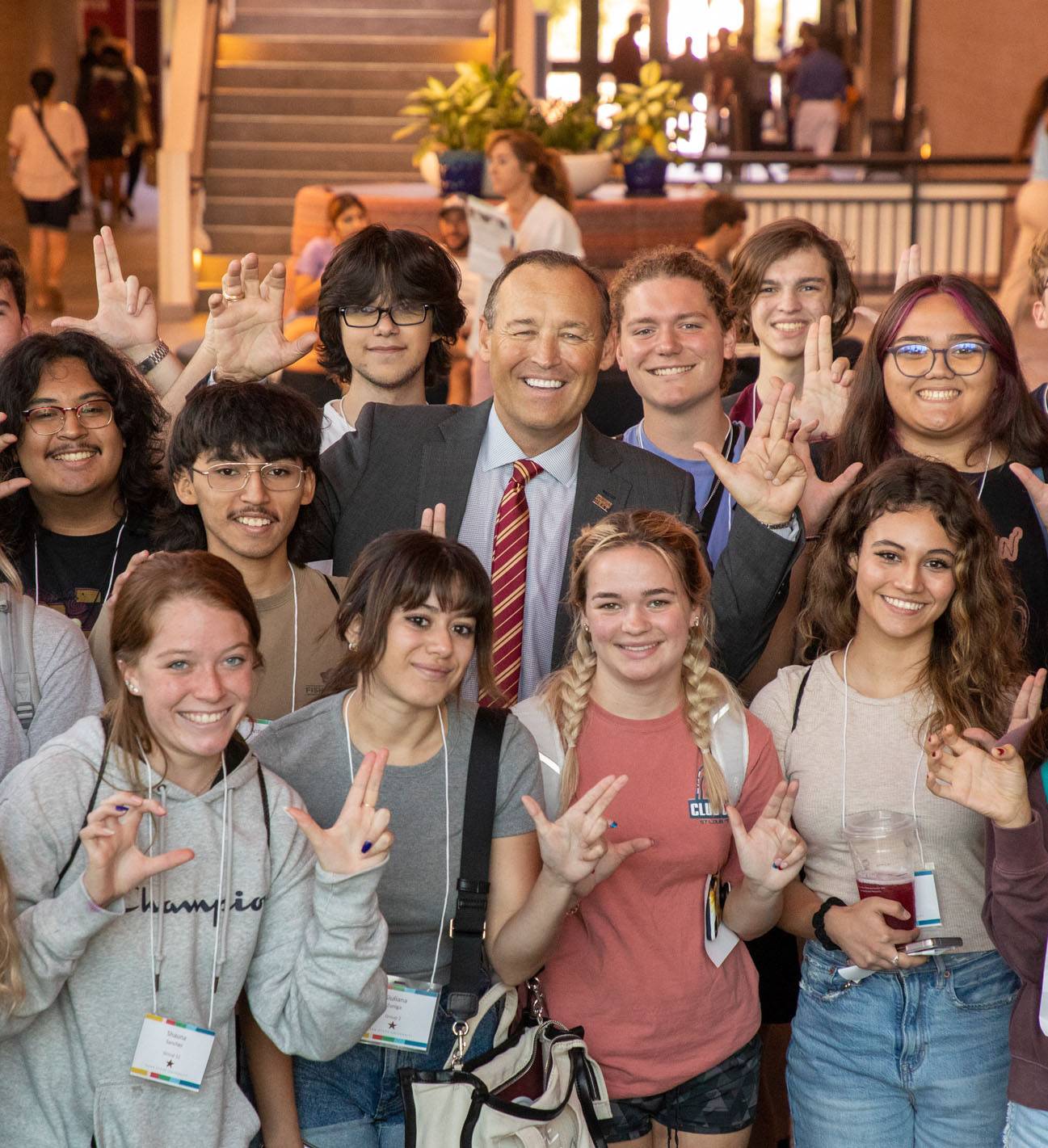 Within his first few weeks on the job, one thing was obvious about Texas State University President Kelly Damphousse — he is everywhere.
It started on day one when Kelly and Beth Damphousse stood under the hot July sun for hours to shake hands and talk with the scores of students, faculty, and staff at a meet and greet on the San Marcos Campus. For the president — who prefers to be known as Kelly — the ensuing months have been a flurry of activity including cheering on Bobcat student-athletes (often welcoming team buses home after a late-night return from an away game), testifying before legislative committees, attending alumni events from D.C. to California, promoting Texas State to industry partners, meeting with students, faculty, and staff — and even being the grand marshal for the city's annual Mermaid Parade.
"There are lots of ways to lead and most leaders find a style that works for them. One is not better than another," Kelly said. "For me, I take the saying 'leading by walking around' to heart. I like to be actively engaged in the lives of our students, faculty, and staff. Instead of having meetings come to me, I take meetings to them. Getting out of my office, having lunch on campus in a dining hall, going to a faculty member's office, or talking with students helps me stay in touch and better understand what's happening at the university. Seeing people achieve their goals, not my goals, and helping them do that — it fills my bucket."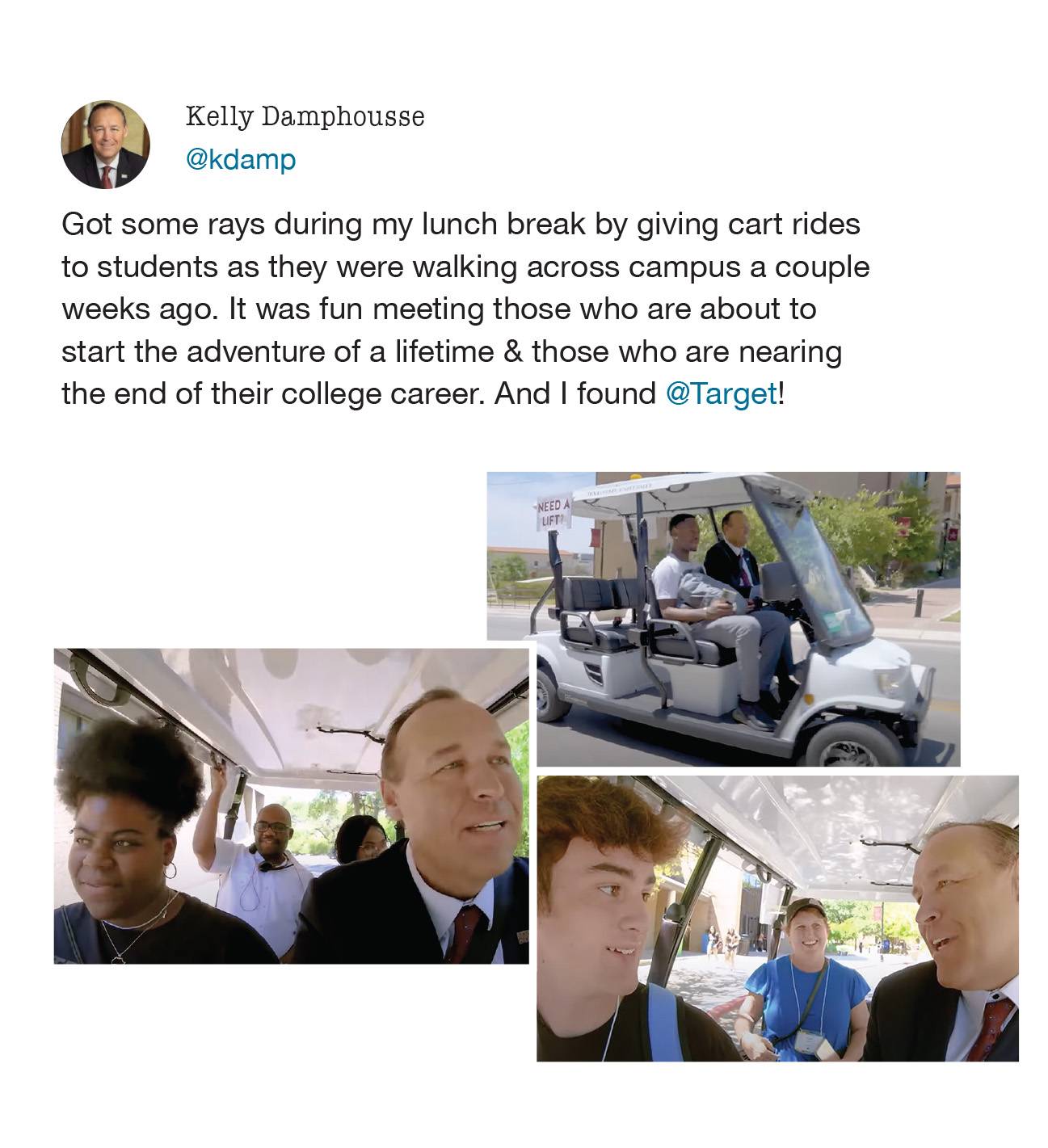 His orientation toward servant leadership was ignited as a graduate student during a rainstorm near Brownwood. "I was in the car with one of my professors who was a great mentor of mine. We had pulled over to sit out the storm. I was about to become a father, and he was once again giving me great advice. I remember asking him, 'How can I ever repay you for all you've done for me?'" The professor said that someday someone would be sitting in the seat next to Kelly, asking for help or advice. "When that opportunity comes, I hope you'll remember this moment by helping that person. There is no greater compliment for me," the professor told Kelly.
This is what energizes him to this day. "I've never forgotten the opportunity to pay him back. The blessing of my life has been people who have believed in me. I have always felt it was my duty to try and do that for someone else."
As a leader, Kelly says he is inspired to seek areas where Texas State is already good and perfect them. Within his first four months, he created and charged two presidential commissions focused on taking the university's research enterprise and penchant for student success to the next level. "We are already really good at student success. But I want to find out what it will take to make us the best in retention, graduation, and job placement. Our students deserve that.
Texas State is about giving people the opportunity to improve not just their lives but their family's future.

That's why my first commission was created for student success, to find ways to smooth the hills and broaden the curves for them."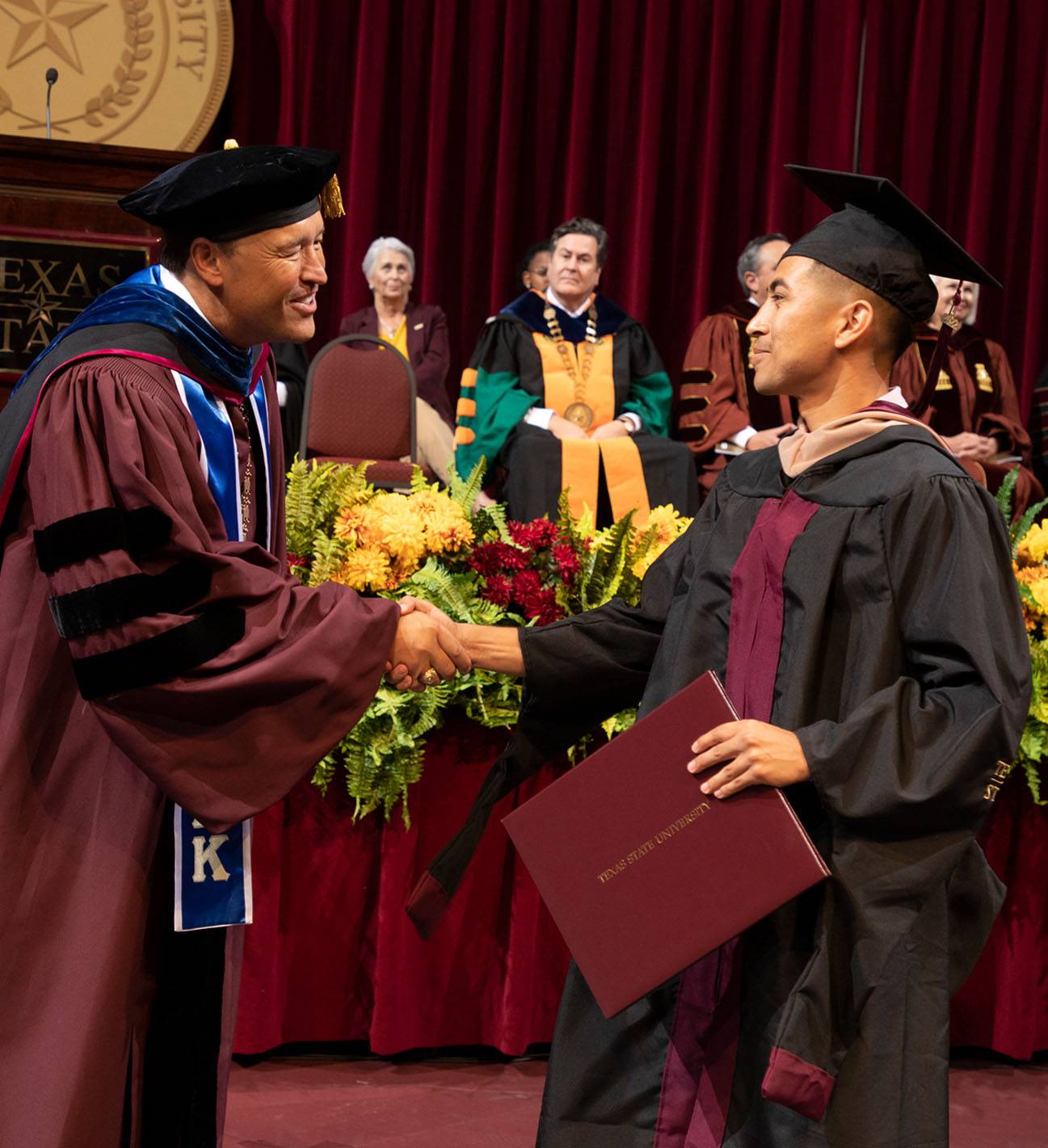 The second presidential commission is concentrating on Texas State's run to become a Carnegie R1 top-tier research institution. "Moving from good to great in research is a priority directive for us. We want to transform the research enterprise without changing the thing we love about Texas State, which has always been our passionate interest in student success, teaching, and the professional development of our student body."
Elevating Bobcat Athletics to be a window into the university, as well as the front door for new students and the rearview mirror for alumni, is also incredibly important. "When Athletics is successful, people have a stronger affinity for the university. While we've had stunning successes, like winning the Sun Belt Conference Vic Bubas Cup twice in four seasons, we must be accountable to our fans to build the best athletics program in our conference and the state."
Don't expect Kelly to slow down anytime soon. "I can be true to myself as a leader here. Like many of our students, faculty, and staff learn, I have found at Texas State that you can be your own person and take an active role in your future. You can still be yourself and be a Bobcat." ★