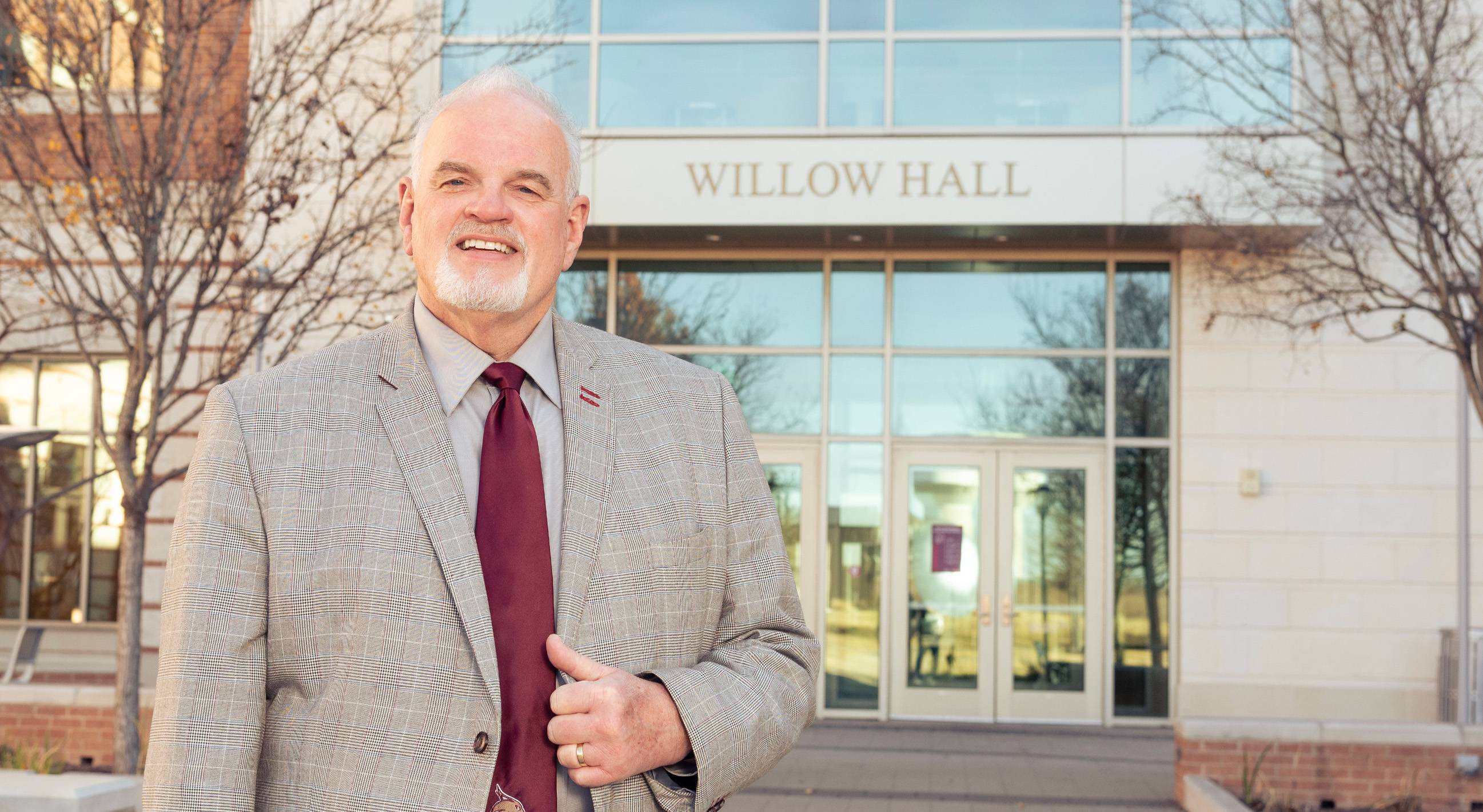 Respiratory care professor found his calling early, continues his life's work with students
By Julie Cooper
Dr. Gregg Marshall (A.A. '78, M.S. '83) had about 75% of his bachelor's degree in biology completed at Baylor University when he decided to be a respiratory therapist.
Marshall had long known he wanted a career in healthcare — he was 15 when he talked a hospital staffer in his hometown of Port Lavaca into hiring him as an orderly. That way he could get a close-up look at the medical profession.
After graduating from Baylor, Marshall would earn an associate degree in respiratory care as a member of the fourth class accepted into the Texas State program. Later he received a master's in healthcare administration and a doctorate in curriculum and instruction.
"When I came to respiratory school in the fall of '76, I had just gotten married. We were all excited about what this life was going to be, and I remember sitting in class the first day and the professor said, 'How many of you have experience in respiratory care already?' Through OJT (on-the-job training) every one of those people raised their hand except me and one other guy.
"I turned to him, and I said, 'We're cooked.' That made me work very hard. I was just always ready. What I found was that as an educator, motivation is a huge factor in your success, and just because the other people had experience holding a piece of equipment didn't mean they knew how it worked."
Today, Marshall is the chair and program director of the bachelor of science in respiratory care and director of Ascension Seton Williamson Sleep Center at the Round Rock Campus. In 2021 he was reappointed to the Texas Board of Respiratory Care.
The Department of Respiratory Care, which began in 1972, is one of the oldest in the country. Each semester the program accepts 44 students.
With the onset of COVID-19, trained respiratory therapists and ventilators were desperately needed. Texas State loaned 14 ventilators to area hospitals. Gov. Greg Abbott gave special permission for new graduates who had not yet taken their board exams to begin practicing. Marshall adds that the passing rate for the entry-level exam is regularly 100% for Bobcats.
Marshall explains how the polio epidemic in the 1950s brought respiratory therapy into focus with the use of the iron lung. "Before respiratory therapists, nurses were doing all the nursing responsibilities, plus oxygen therapy and taking care of the iron lungs," he says.
As a hospital respiratory therapist, Marshall interacted with patients. Now he does so with his students in tow. "I will always tell my students, 'Here's this procedure; is anyone ready to do this?' They would all be pretty nervous, and I would say, 'OK, I'm going to do it.' I would always do the procedure first and then they would realize that they have the confidence to step up and do it. They knew everything they needed," he says.
Marshall says he resisted the push into administration because he loved patient care. One night in 1980 he was monitoring a high-risk newborn waiting to be transported by helicopter to a larger hospital when Cade Harkins, then chair of the university's Respiratory Therapy Program, called to offer him a job at Texas State. "I thought about being able to teach, being able to still go in the hospital and take care of patients, being able to build in excellence as a therapist ...," Marshall says.
Two weeks later he started teaching at Texas State. "If you had told me when I was 21 this is going to be my life, I would have laughed and said, there's just no way. I'll tell you, if I had to do it all over again I would do it exactly the same."
Marshall, chair since 2004, says he has been courted by other universities. "But I work at the best, the biggest, and we have an incredible national reputation. We've always had tremendous support from the dean's office. They really encouraged our creativity to add new programs, to add new emphasis. They've been incredibly supportive and when you have that, why would you ever want to leave?" ★