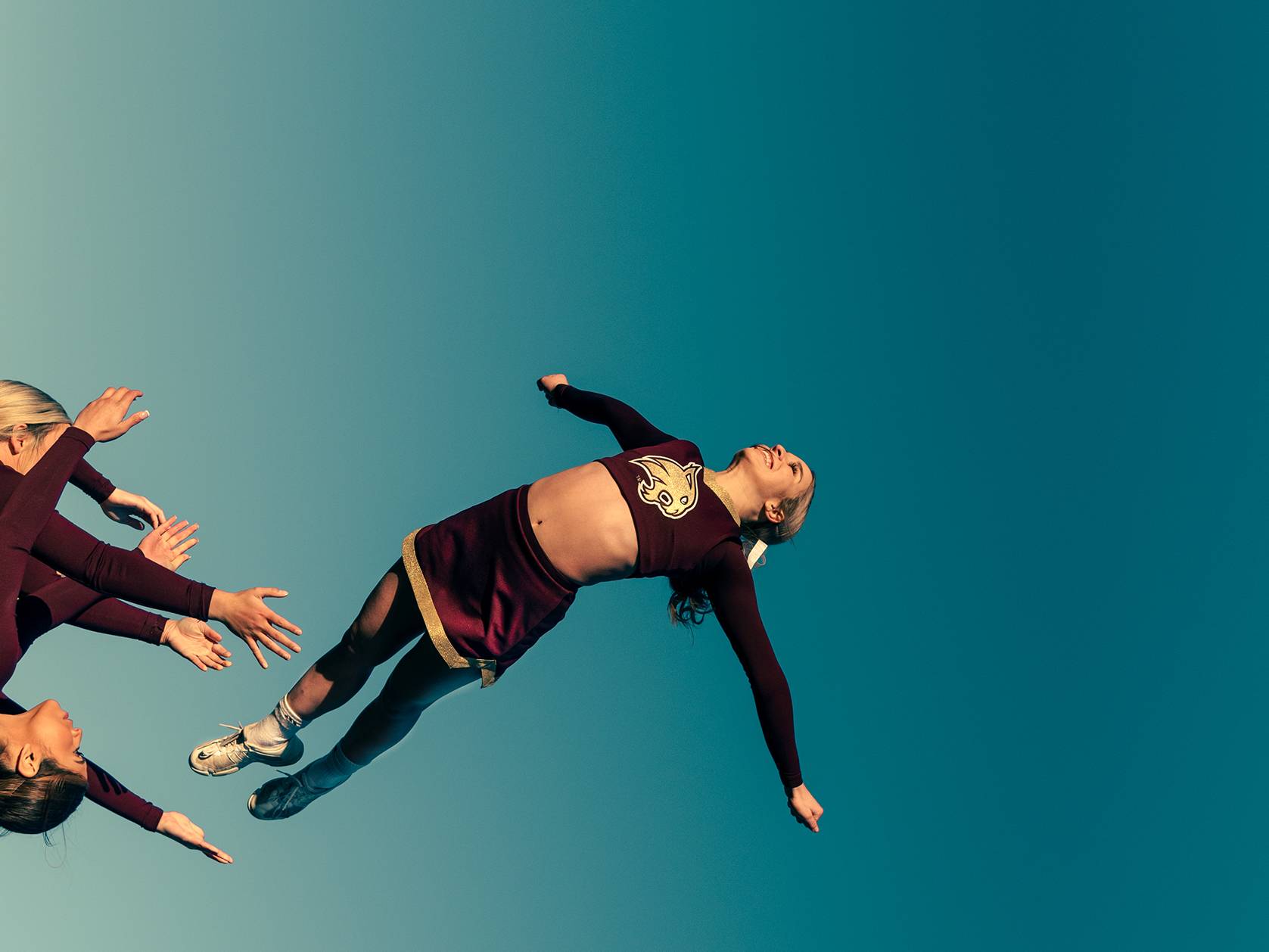 Cheerleading at Texas State is about bonding, discipline, motivation and leadership
By Susie Phillips Gonzalez
Jocelyn Stephens, coordinator of Texas State's Spirit Program and head cheerleading coach, is in Jowers Center marking off counts during the cheer squad's practice for an upcoming Bobcat football game.
As she returns to the sideline to turn on the performance music, she shouts, "Let's make it count." At random intervals, team members follow with chants of, "Go Bobcats!" and "Eat 'em up!" There are smiles and waves at an imaginary crowd. An arm thrusts skyward with a fist in the shape of a claw. Next come a few standing back tucks. Then more smiles and more waves. "Enjoy yourselves," Stephens intones as the squad begins an intricate routine with pyramids, stunts, and basket tosses.
The 2021–2022 cheer team is 39 members strong. Some of them, like senior Brittainy Carrell of Spring, have been on the team since freshman year. "Cheering here has made me a better leader," says Carrell, an education major who plans to teach middle school science. "It helps me set aside time for my schoolwork so I can be ready at practice. These are skills that will help me in the future, especially when it comes to teaching."
Devan Duran agrees, saying he strives to stay focused and motivated. "We hold ourselves to a higher standard. School or cheer, no matter if I'm doing something one time or 100 times, every time you give it your all," says the junior business management major who has been on the squad for three years.
To make the team, applicants must provide a skills video showing tumbling and stunt abilities, perform chants and band dances, and demonstrate through an on-campus interview a level of comfort and poise that will enable them to interact with students, administration, alumni, donors, and children. Members must maintain a 2.0 GPA, and about two-thirds of the squad make the dean's list each semester.
At the start of the academic year, Stephens asks incoming cheerleaders to sign a commitment letter much like one that student-athletes sign before arriving on campus. Practices are held three days a week, with two sessions beginning at 7:30 a.m. in Jowers, and workouts are scheduled twice a week. The cheer squad also appears at campus events including New Student Orientation, Bobcat Build, and the Bobcat Giving Tree, a holiday event sponsored by the University Police Department.
"The team is together a lot, and we all have to have goals that align," Stephens says. Her goal is to add a level of professionalism and excellence to the program.
Carrell says she has seen an evolution in the abilities of incoming cheerleaders. "We are getting people who show the talent we want," she says. As a flyer, Carrell is lifted or thrown into the air by her teammates.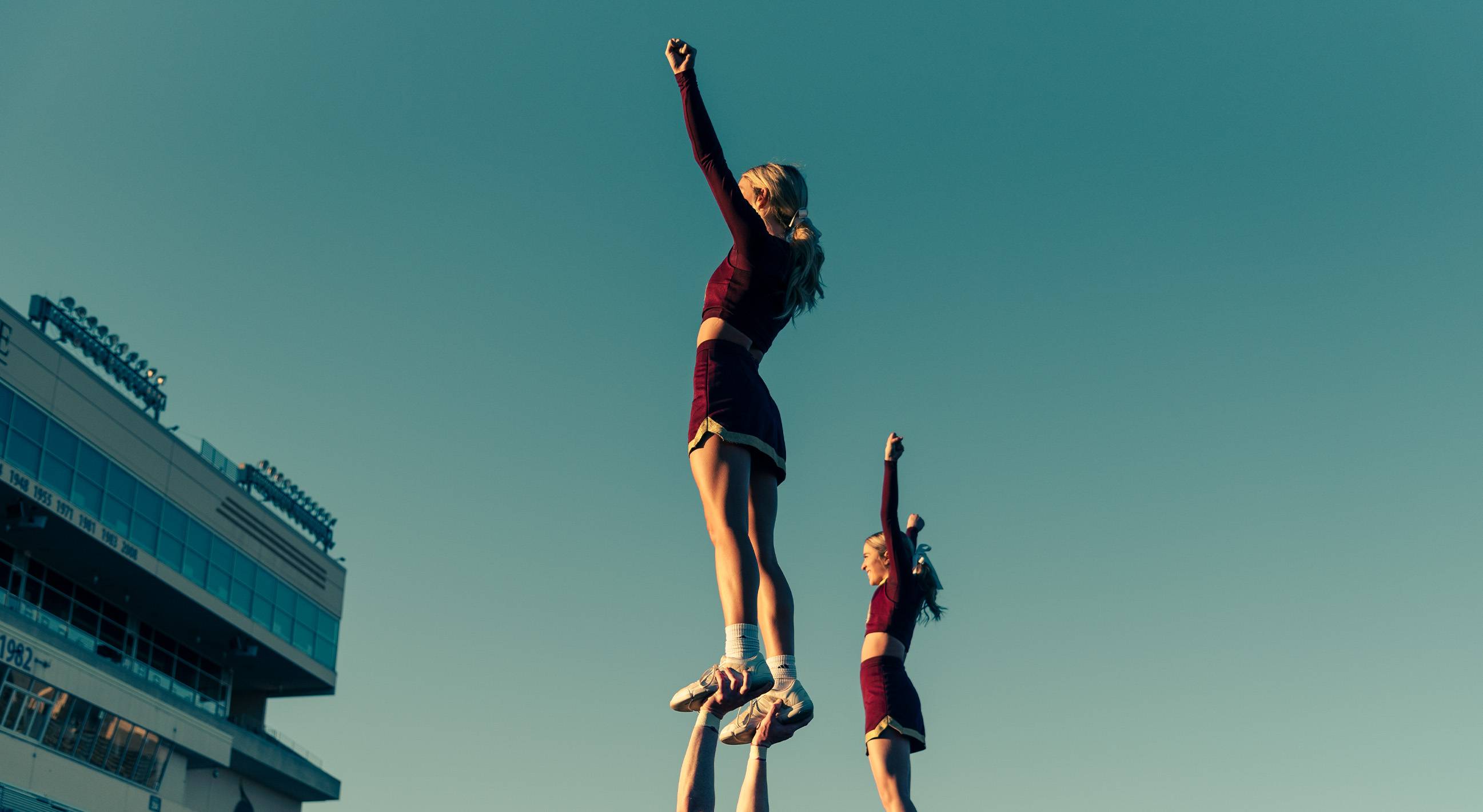 Traditions such as the school fight song, the "Deep in the Heart of Texas STATE" chant, and running down the field are still staples of the cheer package, says Duran. "These are things that cheerleaders did five, 10 years ago and even longer. I think that's supercool, and alumni love to see us maintaining these traditions." He adds that they often join the chants and cheers while sitting in the stands.
Tynisha Jackson (B.A. '19) was on the cheer team for five years, graduating with a degree in electronic media programming. She is now a reporter, anchor, and producer at WTOK-TV in Meridian, Mississippi. She credits coaches and teammates with pushing her out of her comfort zone and into a place of confidence that has helped her both personally and professionally. "I could not have asked for a better way to spend my college years," Jackson says. Knowing that she had to keep her grades up to participate in cheer activities was a plus, coupled with a program that was fun, crazy, adventurous, and dedicated to being great. "It's what I love about this program," Jackson adds. "Even on your worst days, you have 20+ humans that will go the extra mile to lift you up."
Kayce Gambill Brown (B.S. '16), who cheered for four years, said she would have been lost without the program and the team bonding. "It gave me something bigger than myself to be a part of," Brown says, noting that the program taught her how to live as an adult. Graduating with a degree in interdisciplinary studies and now a first-grade teacher, Brown says she and her cheer friends were in one another's weddings and are "now embarking on motherhood together. It has been the best sisterhood, and I am so blessed to be a part of it.
The history of the university's cheerleaders goes back almost to the start of Texas State. You might say that yell leaders were the first cheerleaders. As early as 1904 male "yell leaders" were singled out in the Pedagog, the university yearbook. By the 1940s women started to earn spots on the smaller cheer squads, although it would be many years before the women would outnumber the men.
Back in Jowers, the squad practices in front of three Universal Cheerleaders Association (UCA) banners for national awards won in 2000, 2003, and 2006. Stephens went to UCA College Nationals as a member of the Morehead State University, Kentucky, cheer squad, winning national titles three of those four years. She was part of the USA National Cheer Team in 2015 and 2016, winning gold at the International Cheer Union Championship.
Starting her fifth year at Texas State, Stephens hopes that the accountability, leadership skills, and confidence mastered through cheerleading will help students land their dream jobs or make them stronger applicants for graduate programs.
"My main goal is to create an environment for growth, experience, and opportunity," Stephens says. "I strive to lead my athletes to discover the best version of themselves. For them to not only 'win' in cheerleading but in life." ★
For these Bobcats there was something to cheer about
For many decades, cheerleaders have boosted Bobcat spirit while having the time of their lives. We reached out to ask some alumni to share their best memories of being a Bobcat cheerleader.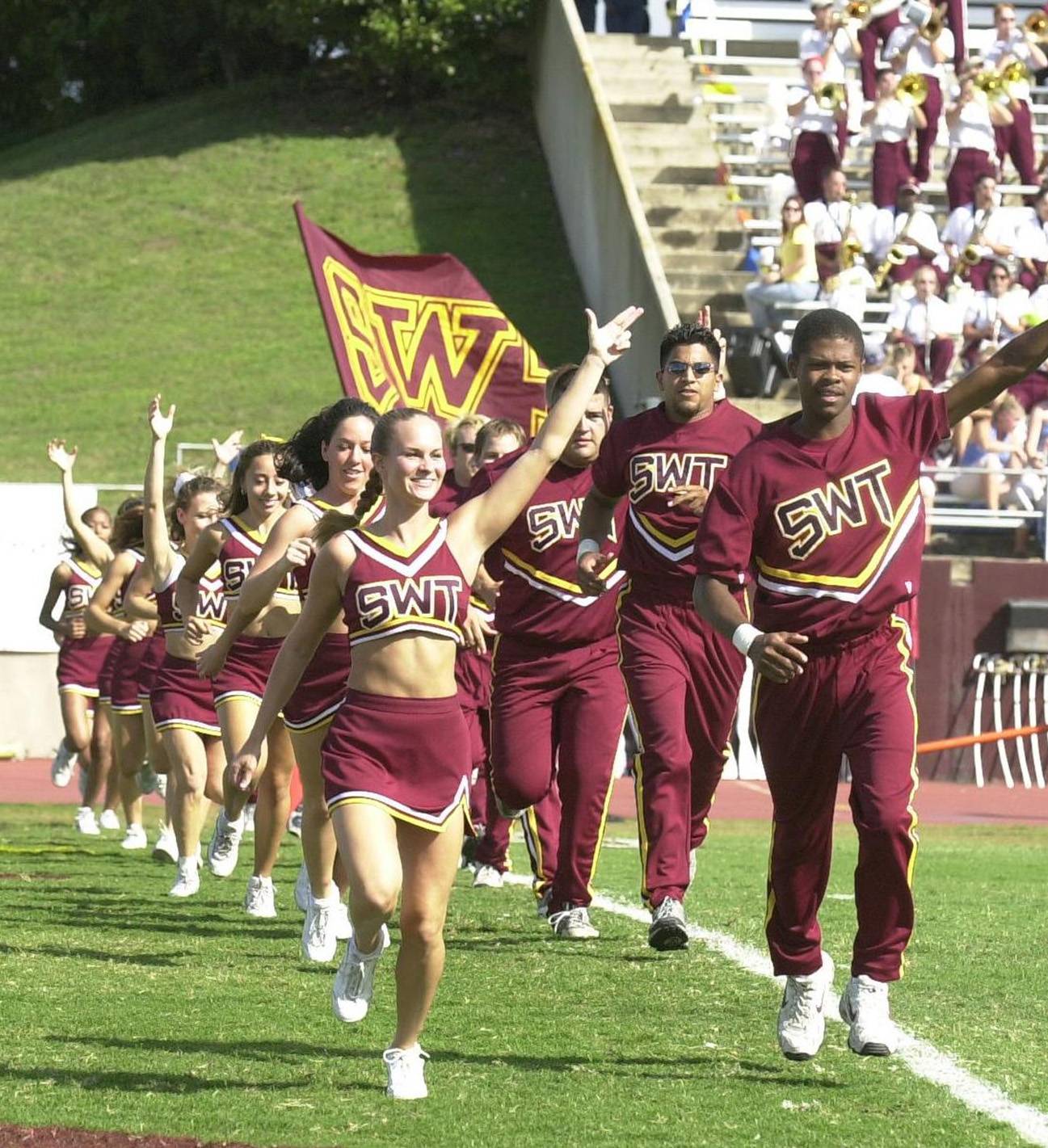 Charli Alsbury Harbin (B.A. '04)
Harbin cheered as a member of the coed squad from fall 1999 to spring 2002, graduating in May 2004 with a degree in mass communication. The first in her family to attend college, Harbin says the cheer program helped her to bond with the university and make friends who remain in touch. "The spirit program gave me confidence to be in front of large groups of people," she says. In addition, she learned how to stay healthy and fit. Her favorite memories are the homecoming pep rallies in the Quad, cheering at away games, running into the end zones after touchdowns to count out the score, and competing at UCA College Nationals. Now an algebra teacher in the Conroe ISD, Harbin is married and the mother of two boys.
Tammie Guthrie (B.S. '89)
A cheerleader from 1985 to 1987, Guthrie was a dance major who graduated in 1989. She was a cheer coach and assistant dance team director at Westlake High School in Austin from 1993 to 1998. Her two daughters, Wensley and Shelby, are also Bobcats The family, including husband David (B.B.A. '87), moved to Steiner Ranch where Guthrie is an elementary school PE coach. Her favorite cheer memory is being a part of the first Texas State squad selected to go to UCA College Nationals in San Diego. She recalls practicing twice a day after the Christmas holidays to prepare, making the team feel like a family. "And of course, going to competition was a blast. We got third in our division, which wasn't bad for our first time."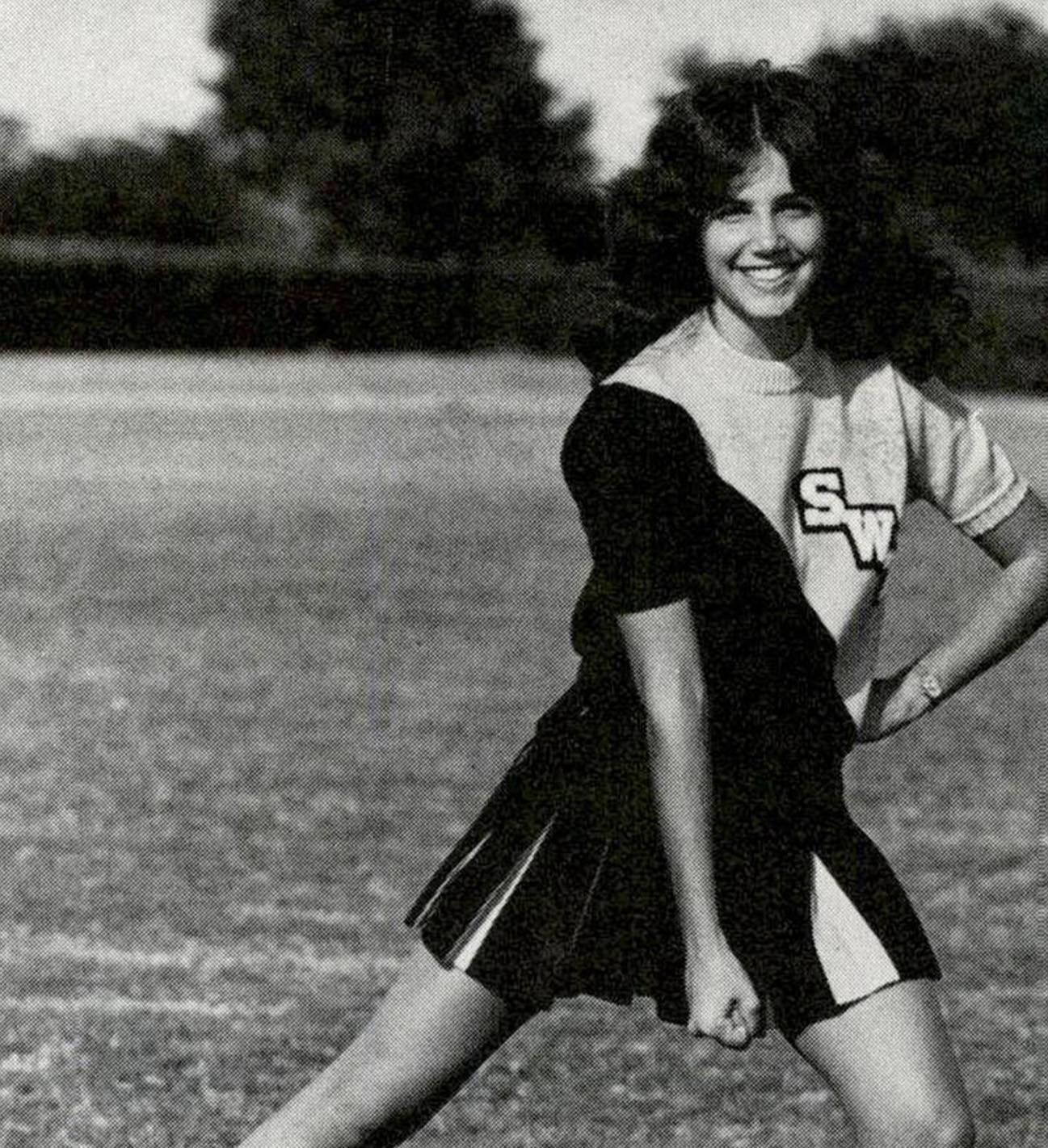 Evy Briggs (B.S. '75)
Briggs was a Strutter for two years before she auditioned and won a slot on the cheerleading squad. She says as a student at Lubbock High School, she had tried out but always came in second. Briggs says making the university squad was a major boost to her self-confidence. "I went on to become a middle school math teacher and coached the cheerleading squad the first two years that our district allowed anyone to join without a tryout. I had 60 eighth grade girls in those years. It was crazy, but I was so glad so many girls were given the opportunity to have the experience I had been denied. "Among her favorite memories are making friends with cheerleaders from other Texas universities during cheer camps and traveling to away games. "I loved serving as an ambassador and supporting our teams. Another great memory was when we cheered a basketball game with some Playboy Bunnies to make money for charity."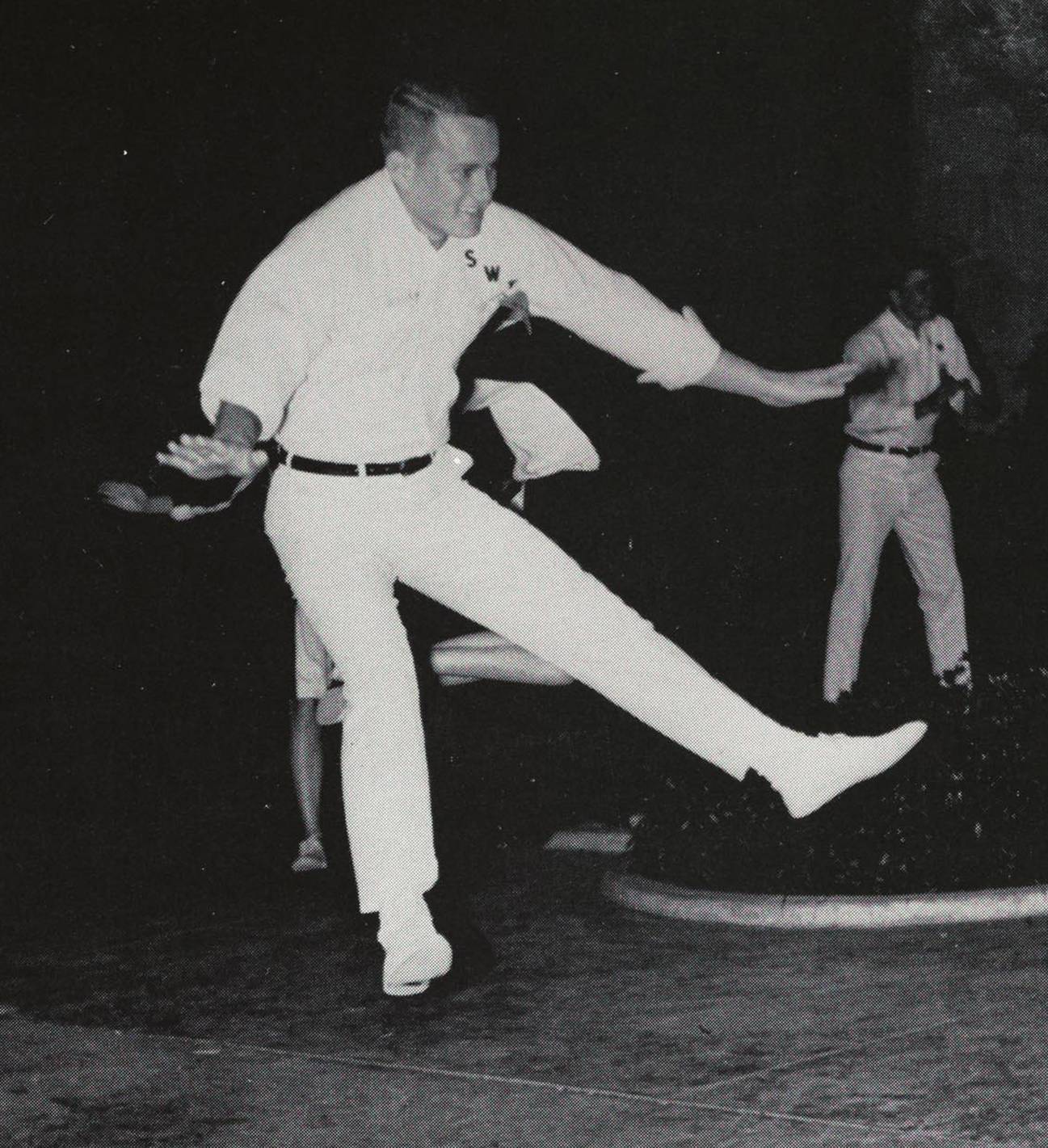 Randy Day (B.S. '68)
Day was a cheerleader from 1964 to 65. "I got to know many students," he says, adding that his cheer life highlighted his fraternity, Phi Sigma Chi, and later, Pi Kappa Alpha. "My best memories were traveling to different campuses with our group. I had a great time," Day recalls. He went on to become a high school athletic trainer at Austin Reagan in 1968 and at Brazoswood High from 1969 to 2003, where he was "very much involved with motivating the athletes." Day also was a clown with the El Mina Shriners.