Q&A with Dr. Denise Trauth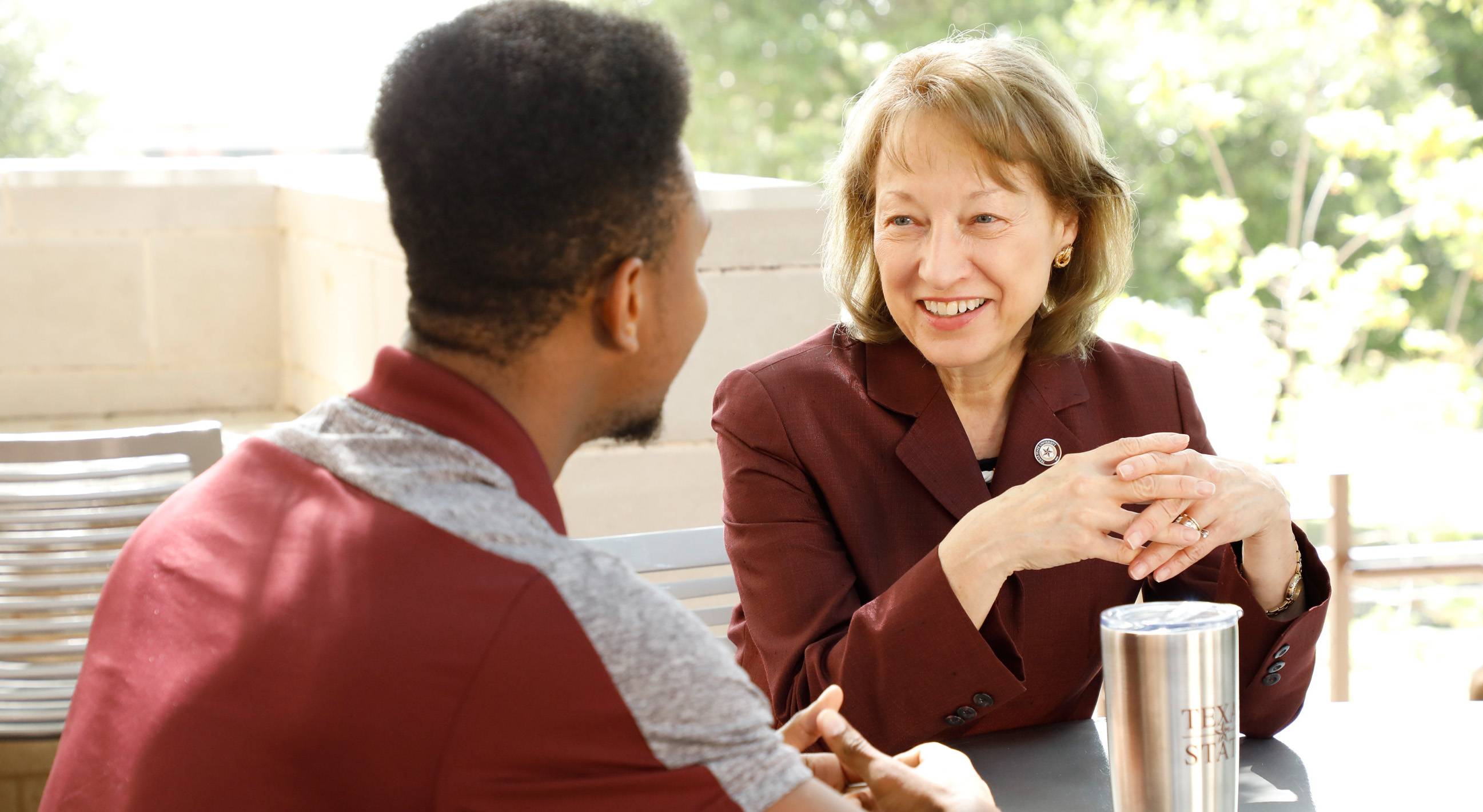 On July 12, 2002, just weeks before her first day as President of Texas State University, Dr. Denise Trauth sat down for an interview with Hillviews magazine. She candidly shared her vision for what was then Southwest Texas State University (SWT), her philosophy about academics and athletics, and what she was most looking forward to.
What was she most looking forward to (after unpacking from her move to Texas from North Carolina)? Immersing herself in the "people and culture of the institution, learning about the hopes and dreams of the university, and building an environment in which we realize those hopes and dreams together."
Fast forward two decades, and Texas State University has completely transformed from the institution it was that day. Those dreams, and many more, have come to fruition. As she prepared for retirement, Dr. Trauth sat down with Hillviews magazine for a final, retrospective interview about the past 20 years.
What are you most proud of from your presidency at Texas State?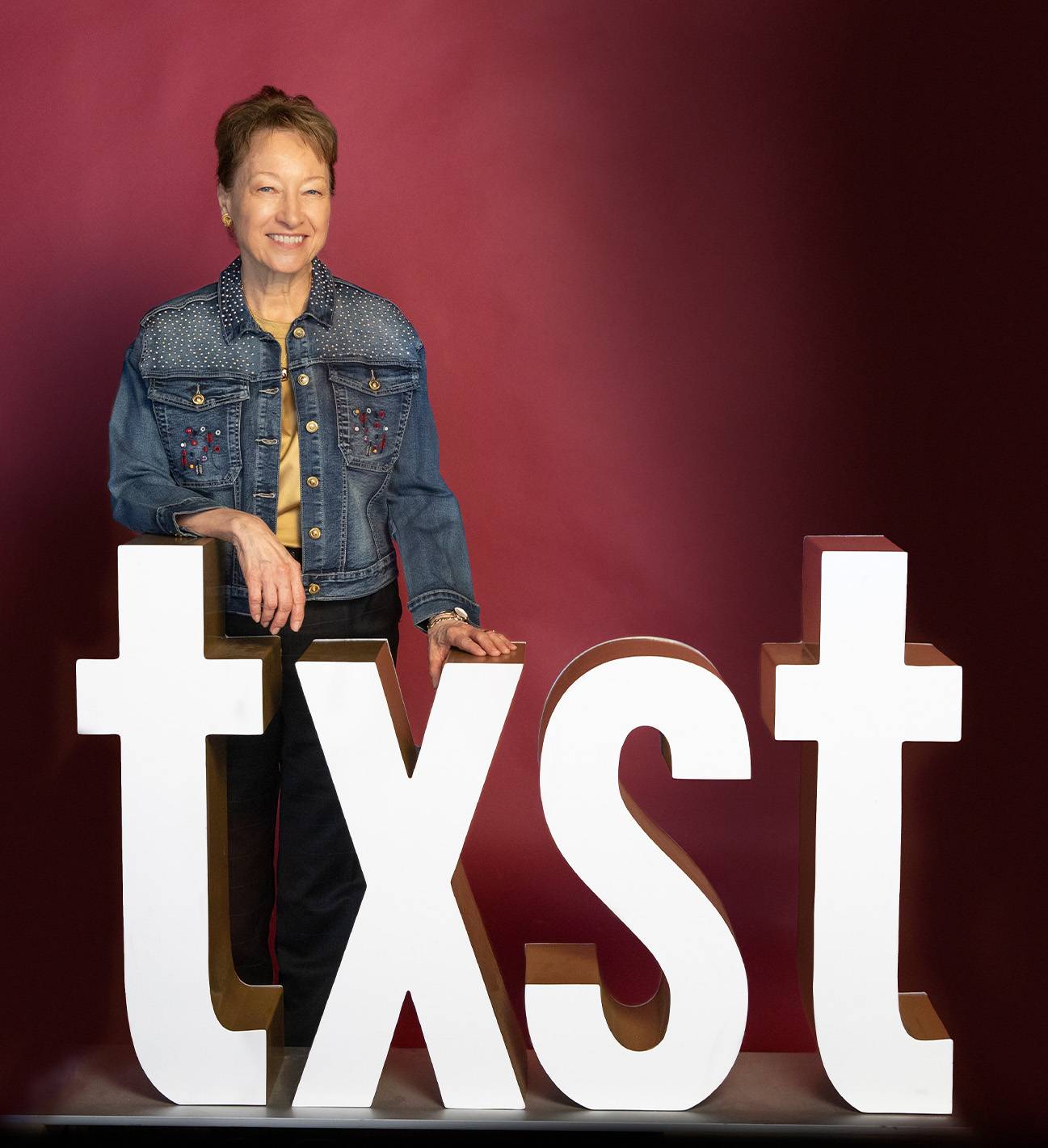 It was a significant milestone when the university was designated a Texas Emerging Research University and was elevated in the Carnegie Classification system for research universities. We grew our research enterprise and topped historic levels in sponsored research funding.
In 2010 Texas State received its designation as a Hispanic Serving Institution. This designation is a source of great pride for Texas State. More importantly, it equips us to serve our Hispanic students and the entire university community in ways that transform Texas State and make a real impact on the lives of our students.
I'm also proud that students have benefited from astounding growth in financial aid in the last two decades. We're awarding more than six times the scholarship funds we did 20 years ago, and our number of endowed scholarships has more than tripled.
Much of the growth Texas State experienced has been spurred by the launch of degree programs to meet workforce demand. We've added nearly 80 academic degree programs, including bachelor's, master's, and doctoral degrees. As we crafted these programs, we turned to our industry partners for input. Together, we tailored degrees to teach skills that employers need in the workforce today — and skills that place them and Texas on the cutting-edge of the technologies of tomorrow.
The Bobcat Athletics move to the Football Bowl Subdivision (FBS) of NCAA Division I was a historic achievement. It allowed all our sports to compete on a national stage in the Sun Belt Conference, one of the 10 FBS conferences. The move not only elevated football, giving them access to bowl games and all the benefits of playing at the top level of the NCAA, but our other sports have also flourished.
What are some of your favorite memories of your time as President?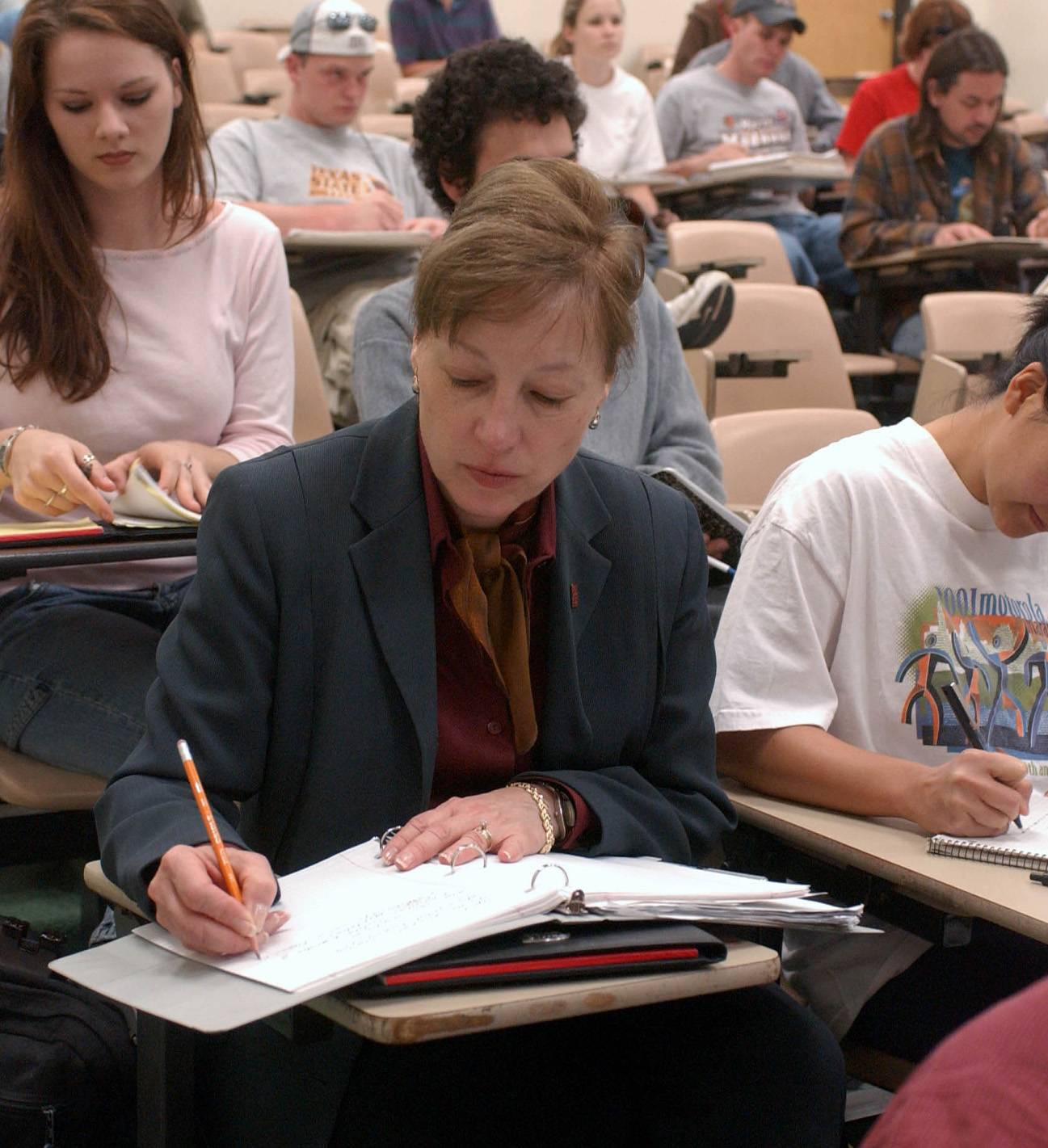 I am inspired by our students — their drive, their hard work, their talents. So of course, my favorite memories of the last 20 years center on our students.
I love that Texas State is a residential university with thousands of students who live on campus. Since my husband, John, and I live on campus in the President's House, I've had the pleasure of interacting with students constantly. As I walk across the San Marcos Campus, sometimes with our two dogs in tow, or head over to the Student Recreation Center, I enjoy chatting with students passing by or just seeing them hanging out together.
I'll always treasure a memory of a night after our annual Homecoming Talent Show. I was leaving the LBJ Student Center with a group of students and it started pouring down rain. As I drove back to the President's House, I saw countless students outside, dancing in the rain and jumping in puddles. It was a picture-perfect scene that reminded me of the levity, freedom, and fun of the college experience ... which reminds me of another memory.
In December of 2017, I was hosting a reception for faculty, and it started to snow. Of course, that was, and still is, a rare occurrence in Texas. The next day was the day before exams started. Standing on the front porch of the President's House, I could hear students all over the San Marcos Campus laughing and yelling as they enjoyed having snowball fights, building snowmen, and sliding on handmade sleds.
Over the years I've hosted multiple events to engage with our students one-on-one, such as "Talk With the President" sessions. Every semester, I hold open office hours, much like our faculty members, for any student to come in and chat. Our students are bright and inquisitive; so many of them came with specific questions and feedback. I was also struck by how many students came and said, "I just wanted to meet you." I think that reflects our sense of community. Our students care deeply about their university and want to engage with the people leading the institution they care about.
What are some of the changes that stand out most from your time as President?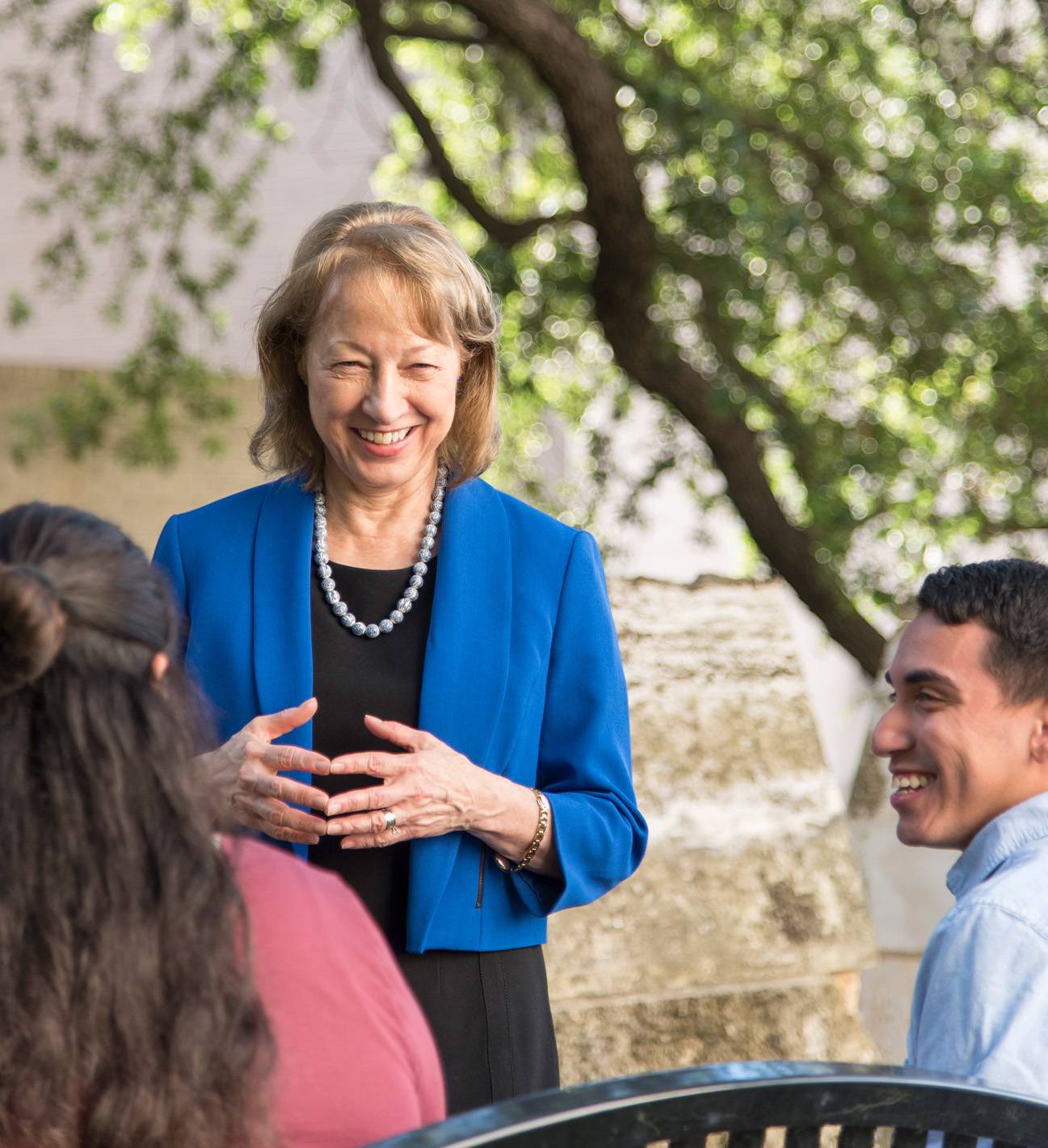 In the last 20 years, Texas State has achieved unprecedented growth, advanced its research enterprise, and transformed from a regional institution to one of statewide and national prominence. Looking back at this evolution, there are changes that stand out.
During my first legislative session in 2003, we achieved two transformative initiatives. Our name change was approved. Also, we received funding for our first building on the Round Rock Campus — allowing us to move out of high school classrooms and temporary buildings.
Since I arrived at Texas State, our student enrollment has nearly doubled. The demographics of our student body changed in that time, and now we closely mirror the state of Texas. More than half of our students identify as ethnic minorities. This gives Texas State a tremendous opportunity and responsibility to contribute to building diverse workplaces and prepare our students for a global workforce. It inspired us to examine everything we do regarding diversity, equity, inclusion, and access. In response, and in collaboration with our students, faculty, and staff, we launched many initiatives, services, and programs aimed at making our university community welcoming and supportive to all.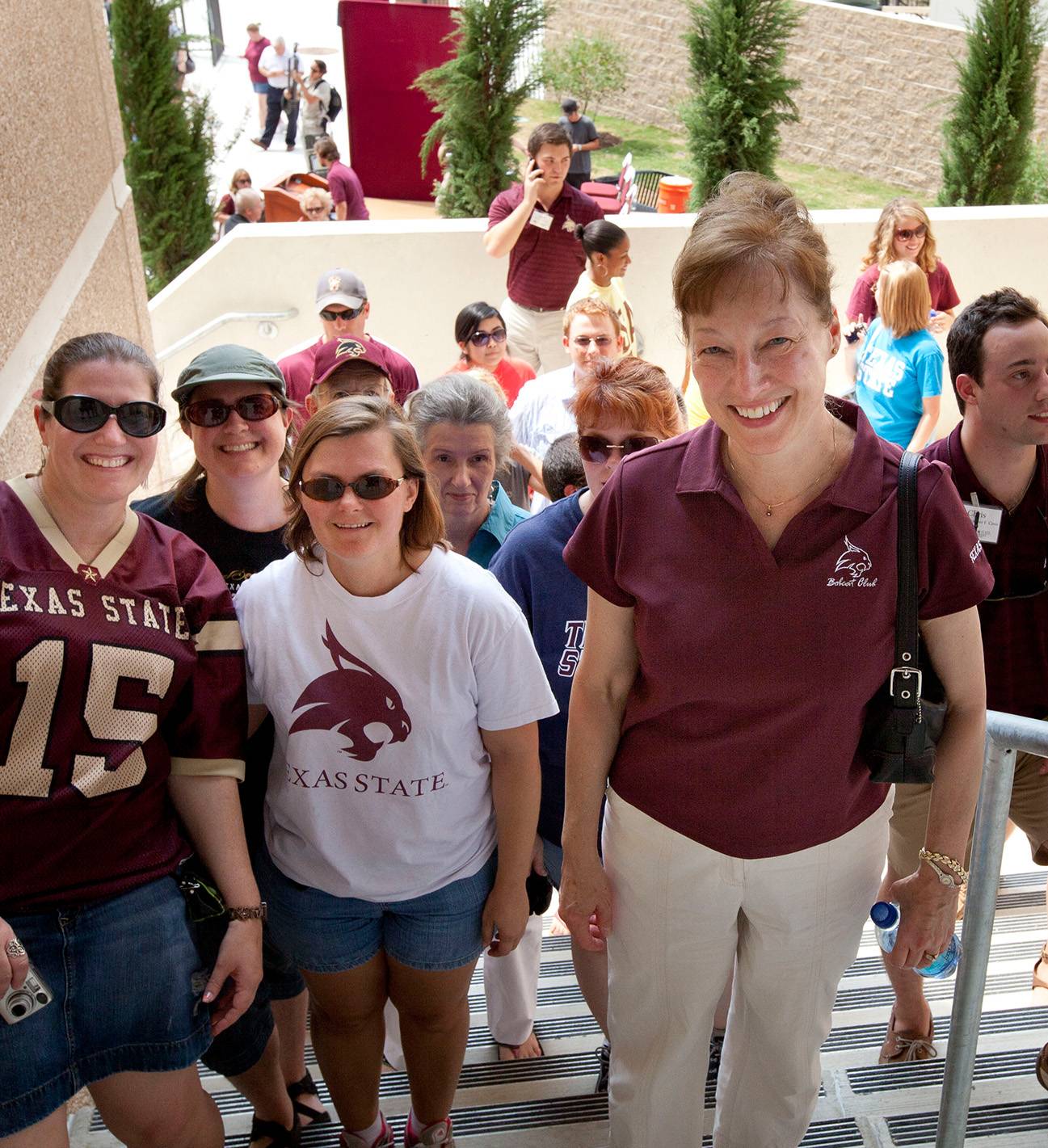 We've accomplished two 10-year master plans that guided the growth and transformation of our campuses as we constructed new buildings, renovated existing facilities, and added more green spaces. We experienced the largest construction program in the university's history, opening the Round Rock Campus and the Science, Technology, and Advanced Research (STAR) Park, along with numerous modern academic facilities.
On the Round Rock Campus, we are educating the next generation of healthcare professionals. At STAR Park, we house a technology incubator for start-up companies. The companies at STAR Park are working hand in hand with our faculty to create game-changing new technologies, including thermoelectric devices, point-of-care diagnostics, and nanomaterials for solar power — prototyping, testing, and bringing new products to market.
The greatest sense of accomplishment I take with me is that we experienced the achievements, the triumphs, and the challenges together as a community. Bobcats have a resilient and innovative spirit that keeps us moving forward, supporting one another and our university. That is at the core of who we are at Texas State. I will always cherish that quality and know it will continue to propel Texas State to new heights.