Music professor and team create, perform 'Stations of Mychal'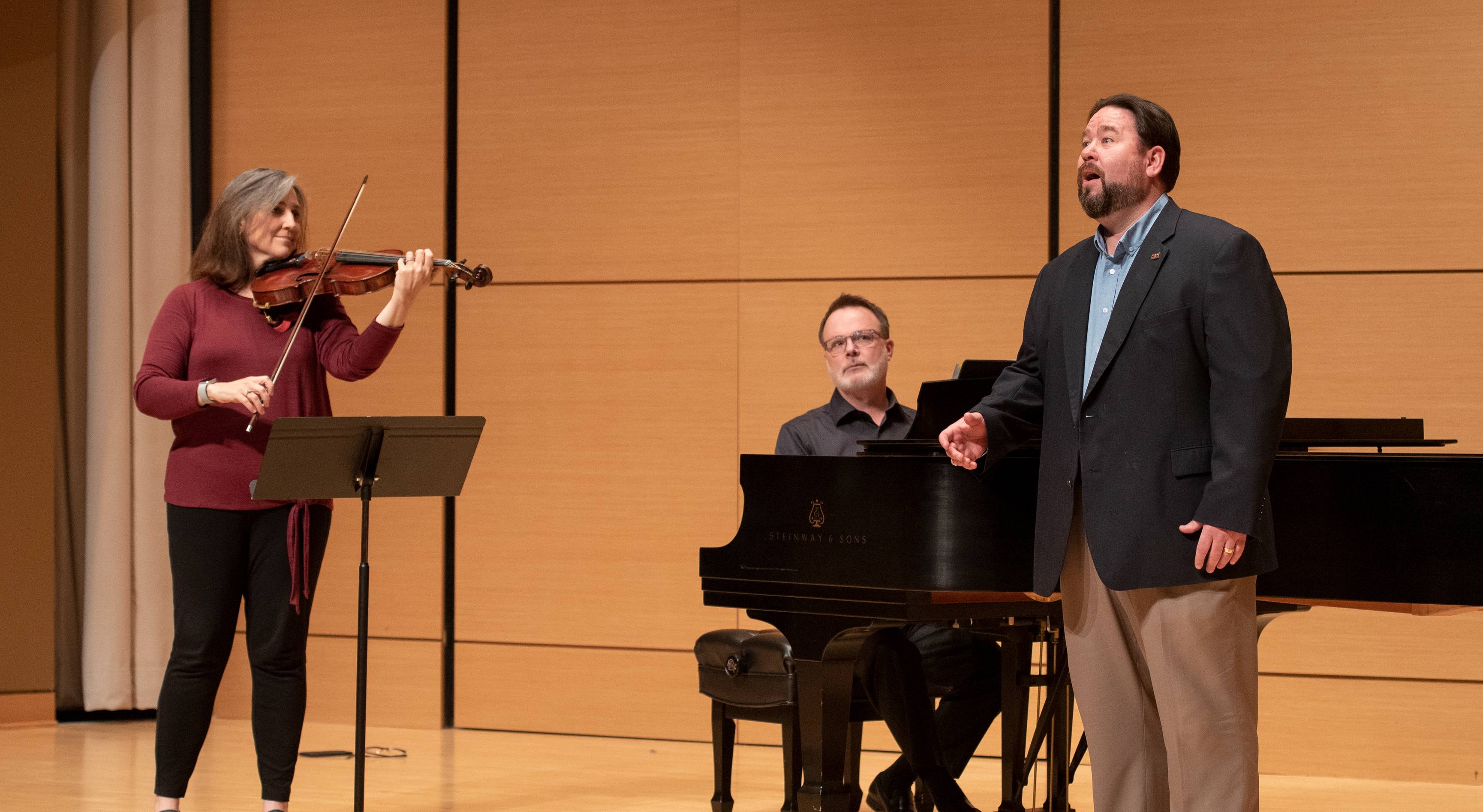 The tenor is singing a prayerful chant, but listeners agree the performance resembles the delivery of a sermon.
"Lord, take me where you want me to go. Let me meet who you want me to meet. Tell me what you want me to say. And keep me out of your way."
The singer is not a cleric. He is Dr. Richard Novak, assistant professor of voice in the School of Music at Texas State University. He is sharing through lyrics and music the remarkable life and ministry of the Rev. Mychal Judge, the first recorded casualty of the 9/11 terrorist attacks in New York City in 2001.
Stations of Mychal
Titled "Stations of Mychal," the project is a 14-story song cycle, a collection of narratives depicting Judge's life from its humble beginnings to his role as a chaplain for the New York Fire Department (FDNY). Plans call for "Stations of Mychal" to be performed at several universities, including Texas State, at churches, and at ceremonies commemorating the 20th anniversary of 9/11 this year.
Novak, whose parents grew up in Yonkers and who felt a connection to the ministry of Judge, has assembled a creative team to research, write, and perform Judge's story to honor the Catholic priest and to contribute to the repertoire for tenor, viola, and piano. The work is funded in part by a $16,000 Texas State Research Enhancement Grant awarded to Novak and Dr. Ames Asbell, associate professor of viola. Dr. Joey Martin, professor and interim director of the School of Music also performs on piano.
Song cycles have no prescribed length, but Dr. Rick Davis, librettist for the work and dean of the College of Visual and Performing Arts at George Mason University, suggested a framework of 14 movements in keeping with the Catholic Church's Lenten prayer known as Stations of the Cross. Each of the 14 stations depicts key moments in the last day of Jesus' life before he was crucified. Novak says the idea seemed "like a God thing" since the concept for Stations of the Cross originated with the Franciscan order of priests, the order that Judge joined.
Once the format was decided, Novak says the task of condensing Judge's complex life into only 14 segments posed a challenge. He calls Judge "a fascinating and inspiring priest who is remembered for his many years of ministry to the FDNY, his years of service to the people of New York, and his tireless efforts on behalf of the poor." Judge was a recovering alcoholic, who in order to help others fight addiction, allowed himself to be publicly identified despite to the practice of anonymity espoused by Alcoholics Anonymous
Judge also cared for victims of the AIDS epidemic in the 1980s when the cardinal of New York forbid priests to minister to them. Unbound by church convention, Judge told colleagues at the time that he was certain that's the kind of thing Jesus would have done, Novak explains. "Jesus touched lepers, so Father Mychal sat at the bedside of AIDS patients, rubbing their feet and comforting family members. At a time when people needed faith, Father Mychal was one of the only ones who rose to the occasion. He was Christ for them."
The song cycle begins with Judge's early life in New York, including the death of his father, and continues with Judge's decision to enter the priesthood, followed by details and key moments of his work. There was the funeral Mass he conducted for the victims of a TWA flight that crashed in New York in the 1980s, the detective who was paralyzed after being shot by a teenager, and Judge's experience as a peacemaker in Northern Ireland. Yet another song reveals his struggle to become the fire chaplain, including time spent with a firefighter who was badly burned but lingered. Judge, who had befriended family members, would painfully question whether he gave them right advice.
One of the final songs pays homage to Judge's last homily on Sept. 10, 2001, when he spoke of the fire house as a chapel where firefighters pray, give thanks, and reach out to colleagues with messages of, "I'm here to help you." It foreshadows the next day when Judge raced to the burning Twin Towers after the planes crashed, to comfort injured firefighters, only to lose his life in the process.
At a rehearsal in 2020, Novak, Asbell, and Martin gathered with the composer, Dr. Kevin Salfen, associate professor of music history at the University of Incarnate Word, who was hearing the work for the first time. "This has been a labor of love to convey (Judge's) life. I've tried to make sure each measure, each note conveys his depth of character and passion," Salfen observes.
Martin says it was helpful to be able to ask the composer what he was trying to achieve with the music. After performing a section described as "walking into the fire," Martin proclaims, "This is like a song I've heard all my life."
The music is emotive and edgy, at times, to depict both the joy and agony that a holy man might feel. Novak says the project has reinvigorated his faith as a cradle Catholic to embrace the reality that God loves and accepts everyone, despite each person's flaws. "His message is you are a child of God and I love you. This is what Father Mychal lived," Novak says, adding that the undertaking represents some of the best music he's heard and reflects a cohesive collaboration of the artistic team. "This has far surpassed anything I've ever dreamed," he says.
Performances for Stations of Mychal
| | |
| --- | --- |
| August 28 at 7 p.m. | University of the Incarnate Word— Music Concert Hall (San Antonio) |
| Sept. 3 at 7:30 p.m. | Texas State University- Performing Arts Center (San Marcos Campus) |
| Sept. 6 at 7:30 p.m. | George Mason University-Hylton Performing Arts Center (Manassas, Virginia) |
| Sept. 7 at 7:30 p.m. | St. Camillus Parish (Silver Spring, Maryland) |
| Sept. 10 at 7 p.m. | Church of St. Francis of Assisi (New York City) |
| Sept. 11 at 1 p.m. | Church of St. Francis of Assisi (New York City) |
Performances are free and open to the public. Donations will be collected for the Mychal Judge Charities.