Fighting the war on cancer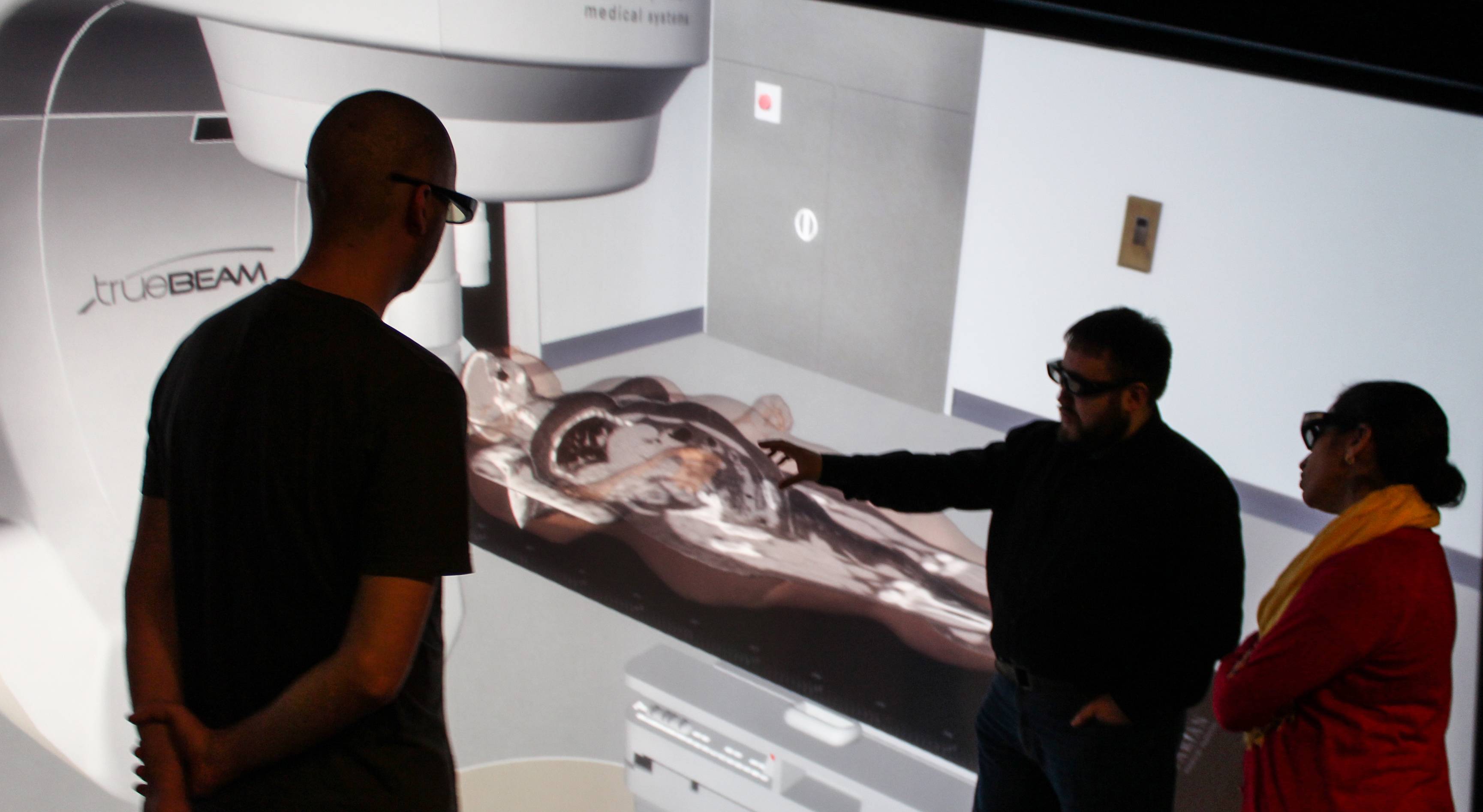 As brick-and-mortar classroom meetings have given way to virtual classes and smaller group instruction, one instrument has proved to be a most valuable tool for Radiation Therapy Program students in the College of Health Professions.
VERT – virtual environment for radiation therapy program – is a resource available within the four-year Bachelor of Science in Radiation Therapy at Texas State University. It has helped both current students and recent graduates gain a feel for the occupational scenarios they see during professional clinical work.
VERT enables students to actually see the results of an improper radiation beam angle to treat a patient's tumor and the damage that would be caused to tissue and organs if a beam or the patient is improperly positioned.
In the clinic, patients are positioned on a moveable treatment couch and the radiation beam is delivered by a linear accelerator. The accelerator's gantry can be rotated around a patient, which allows radiation to be delivered to a tumor from multiple angles by rotating the gantry and repositioning the patient. In the classroom, the application simulates this process to allow the student to practice moving the machine without inconveniencing the patient or accidently damaging the multimillion-dollar linear accelerator.
Think flight training
Trina Dillard, simulation computer lab manager and program faculty, has likened VERT to the kind of aircraft simulator that pilots use for flight training. Since the early 2000s, the technology that is used in radiation therapy has advanced exponentially with more complex equipment providing better treatments for patients. "The last 10 years have been unbelievable. Technology is going so fast. Everyone seems to be in a learning mode," Dillard says. "I'm thankful we have implemented cancer treating software programs into our curriculum to provide a foundation of understanding for the students. We no longer rely solely on their time in the clinic for their exposure to technology. It's too complicated. Understanding is key to a successful outcome. The development of good critical thinking skills — that's what makes a good radiation therapist."
Wendy Garcia-Ramirez, a Dallas native, is a senior in the RT program. "We already had some virtual learning before the pandemic," she says. "It was an easier transition once we entered the pandemic. The staff was trying to figure out the best way to teach us virtually. For us, it was about being disciplined and keeping up. It is a challenge for all because it's different not having that in-person, class of 17 instruction with the personal engagement."
Dr. Ronnie Lozano is program chair and associate professor of Radiation Therapy. "The Texas State Radiation Therapy program is the only baccalaureate degree program in the state that offers a complete curriculum guiding the student's education from freshman year to graduation. Other programs offer the professional curriculum and admit students only after completing the general education component at another institution," he says.
Having VERT on campus allows students to be more competent, Dillard says. "It can help them build a comfort level by slowing down the process," she says. Being able to ask questions in the lab setting allows for unrestricted time for understanding. It can be better for everyone – student, patient, and therapist – than in the actual clinic when the focus is the patient. In addition, the student might be hesitant to distract or interrupt the treatment session, which is avoided in the virtual lesson.
A strong program
In addition to VERT resources, the radiation therapy program provides education on an electronic medical records system, Mosaiq, to help students gain a grasp of working with an electronic patient chart, documentation, scheduling and billing of the procedures they will perform as radiation therapists.
Madison Mosley, a senior from Batson, about 30 minutes from Beaumont, credited VERT and Mosaiq for making this a strong overall program. "I knew I wanted to do radiation therapy and the radiation therapy program was the whole reason I came to Texas State," says Mosley. "The VERT system gives you the option to download scenarios – lung cancer, breast cancer or prostate cancer – in clinical settings. It allows us to practice. You can rotate the table and gantry. For me, it helped practicing with the table. It helps you to be cautious."
The COVID-19 pandemic created a new issue for the program's students. Because clinics did not want another person to be physically inside a facility, students in 2020 had to work harder to find suitable clinical options. "It was very serious for us (students) to not be around immune compromised patients to keep not only patients safe, but us and our families as well," Mosley says. "This semester, we have the whole program back in clinics wearing the required PPE needed to keep everyone safe and healthy."
When Texas State went mostly remote with classes, it meant that senior radiation therapy students returning back in their hometowns were assigned to local cancer centers. This, says Lozano, turned out to be a blessing.
"We've doubled the number of clinical sites for our students— statewide. It has also given Texas State's Radiation Therapy program a higher visibility," Lozano says.
Switching majors
Senior Texas State radiation therapy student Grace Gilchrest had a longer journey to the program and use of the VERT resources. She came to the university from Lamesa, 60 miles south of Lubbock. She started at the university as a physical therapy major before switching to radiation therapy. Having access to the virtual tools has eased the transition learning curve. "Dealing with the linear accelerator and machines that cost millions of dollars can be intimidating for people," Gilchrest says. Having that virtual preview also helps teachers in the clinic. "We (students) have some experience with the linear accelerator, and they can focus on patient care."
Senior Lauren Marcus moved to Austin several years ago from San Diego. The combination of technical tools available at Texas State and personal interaction with peers proved to be a good combination. "We are able to do things we would in a clinic," Marcus says. "Even having CT (computerized tomography or CAT scan) slices of human anatomy, that has been a lifesaver, especially during the pandemic."
Considering the bonds formed in classes of 17 to 18 people in the radiation therapy program, Marcus says there has been a burden due to the loss of typical Q&A and discussion among classmates. "In a small group, you get close with those people," Marcus says. "You are spending half of your class time together. For the administration and professors, they have also had to pivot with learning and keeping us engaged. The amount of clinic hours we are getting is what the majority of knowledge is based on," Marcus says. "The online tools are very helpful for the board tests before we can get certified."
Lauren Stevenson graduated from Texas State's radiation therapy program in May 2020. She is now a registered radiation therapist at Oncology Consultants in Houston. She credited the VERT technology for successfully linking her clinical experience and textbook knowledge. "Every scenario is different – the technology helped me a lot with troubleshooting," Stevenson says. "The transition from school to work has been smooth. I couldn't ask for a better transition after college."
Stevenson switched her original degree program at Texas State to radiation therapy. It was a move based on getting a bigger dose of patient/therapist interaction. "In radiation therapy, you see the patient every day and you have a bigger part," Stevenson says. "I love the patient care (aspect). For sure, you are making an impact."
American Cancer Society: 1 in 3 people will be diagnosed with cancer in their lifetime
What percentage of people survive cancer?
The five-year relative survival rate for all cancers combined has increased substantially since the early 1960s, from 39% to 68% among white people and from 27% to 63% among Black people. Improvements in survival reflect advances in treatment, as well as earlier diagnosis for some cancers. Survival varies greatly by cancer type and stage, as well as age at diagnosis.
How many new cases and deaths are expected to occur in 2021?
Almost 1.9 million new cancer cases are expected to be diagnosed in 2021. This estimate excludes basal cell and squamous cell skin cancers, which are not required to be reported to cancer registries, and carcinoma in situ (noninvasive cancer) except for urinary bladder.
Approximately 608,570 Americans are expected to die of cancer in 2021, which translates to about 1,670 deaths per day. Cancer is the second most common cause of death in the U.S., exceeded only by heart disease.
How much progress has been made against cancer?
Death rates are the best measure of progress against cancer because they are less affected by detection practices than incidence (new diagnoses) and survival rates. The overall age-adjusted cancer death rate rose during most of the 20th century, peaking in 1991 at 215 cancer deaths per 100,000 people, mainly because of the smoking epidemic.
As of 2018, the rate had dropped to 149 per 100,000 (a decline of 31%) because of reductions in smoking, as well as improvements in early detection and treatment for some cancers
Source: Cancer facts and figures 2021 @ www.cancer.org