Alkek One is a hub of technology-focused spaces located on the first floor of the Alkek Library at Texas State University. The spaces feature a variety of technology that support the maker culture, immersive reality, time-based media, geographic information systems and digital design. At the core of Alkek One is a social learning network, which fosters the connection between the physical spaces, the community of experts in these technologies, and the foundational concepts and skills that enable students to innovate using the technologies and tools available.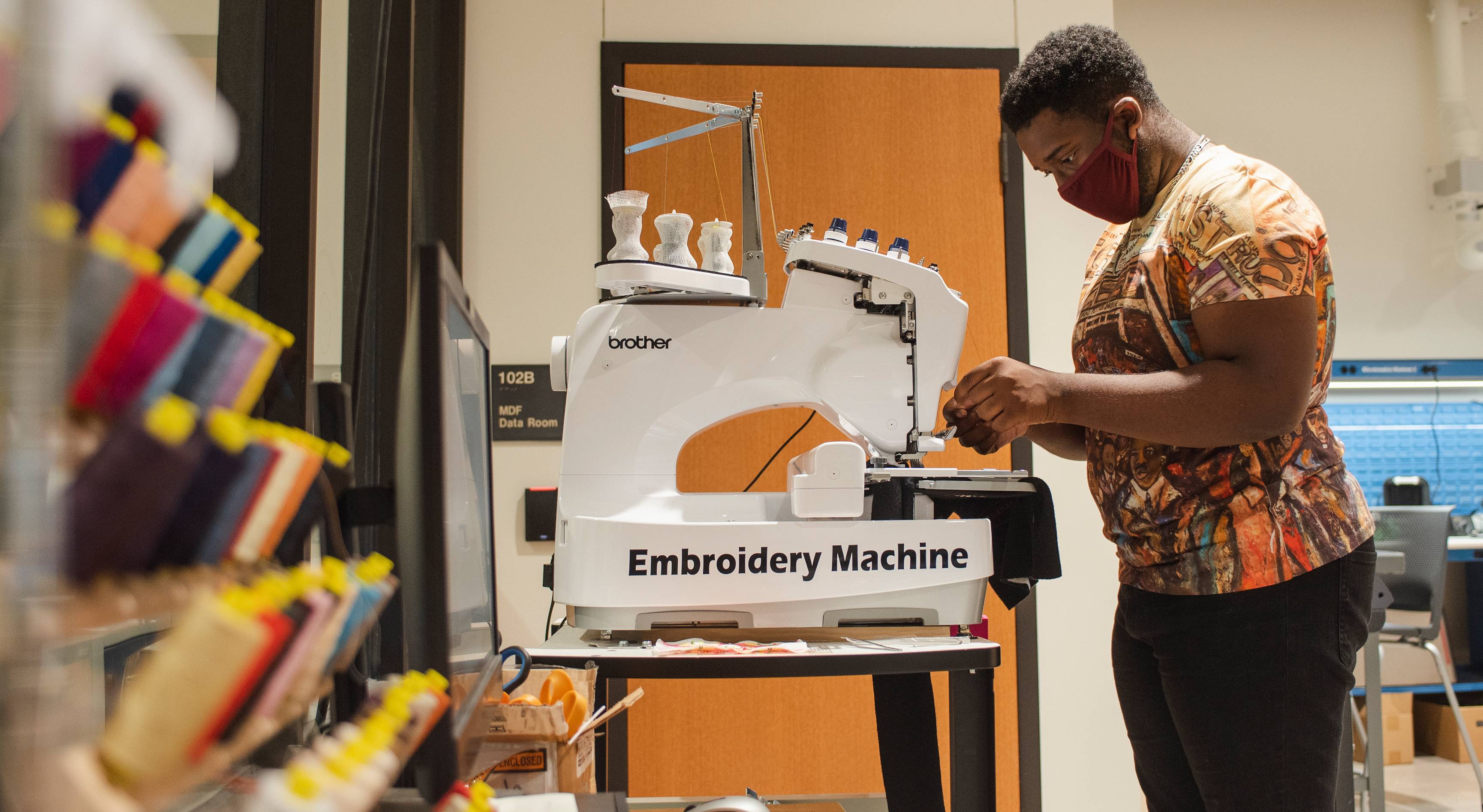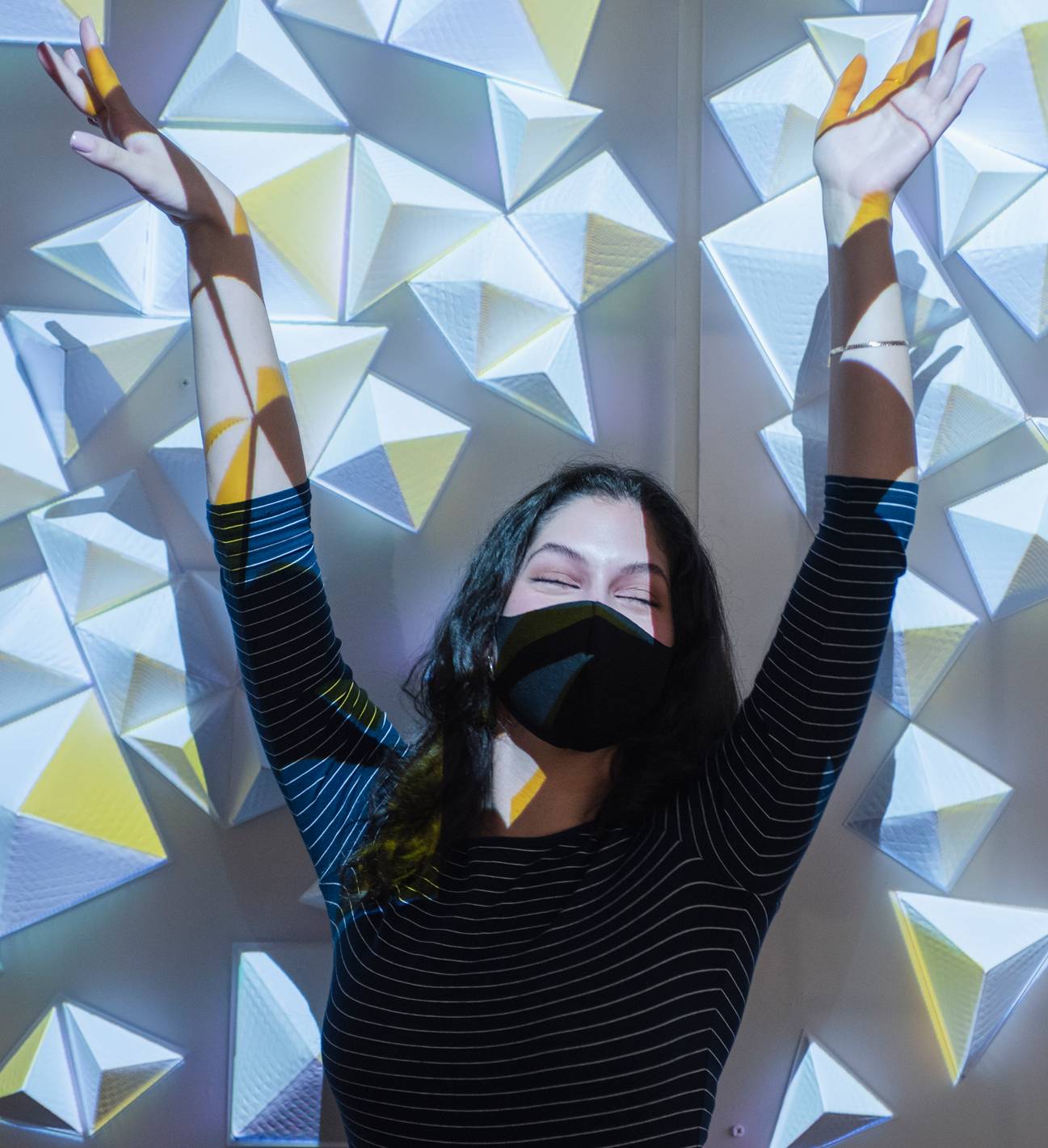 Giselle Kowalski has always been drawn to creative mediums. As a youngster, the Texas State University senior was active with dance and acting. Technology also ignited her passions, which is why she chose to major in digital media innovation and minor in computer science.
She hopes to marry these interests in a career that blends both technology and creative communication. Kowalski and students like her now can find that opportunity on the first floor of the Albert B. Alkek Library, which has been transformed into a hub for new and emerging technologies in a suite of centers dubbed Alkek One.
During a pre-opening tour of Alkek One, Kowalski couldn't conceal her excitement. "I would definitely want to use these technologies," Kowalski says while touring the sound and video recording YouStar Studio spaces. "I record a lot of things on my own in my apartment, but apartments have a lot of sound, loud neighbors, or not the best lighting. So, I would love to have a place where I could record an interview in a controlled space."
She was awed by the rows of 3D printers in the new MakerSpace and a holographic display she discovered in the Immersion Studio where virtual, augmented, and mixed reality technologies can be both explored and created. "I would love to try out 3D Design because I know a lot of people in my computer science classes that are engineering majors or minors and I have seen the stuff they've created," Kowalski says. "While it doesn't necessarily have to do with my major, I would just want to try it out for fun."
Engaging students across disciplines
Kowalski is exactly the kind of student that Dr. Andrew Rechnitz, director of technology engagement for University Libraries at Texas State, envisions participating in the Alkek One programs. Rechnitz, like Kowalski, has a passion for technologies outside of his academic training. "I was an English major, and I was very interested in technology. I landed there eventually, but it took a lot of proving out," Rechnitz says. "I think we're going to give students an opportunity to engage with creative technologies and hands-on digital fabrication that can be used by anyone in any major."
Remington Ridley, a junior computer science major, also has a passion for creating with technology. He works there as a student assistant in the MakerSpace. In his free time, Ridley says he tries to learn as much as he can about the technologies available in the Alkek One centers. "Alkek One exposes us to a lot of things you wouldn't think about that are outside of your major," he says. "I have a lot of engineering-based knowledge, but now I know about video production." Ridley likes that Alkek One instruction and technology usage is free and can be accessed any time the library is open.
"The expert staff at Alkek One teach you what to do, it makes you a lot more multi-dimensional. We can learn things that are not in our major that will benefit us in the future."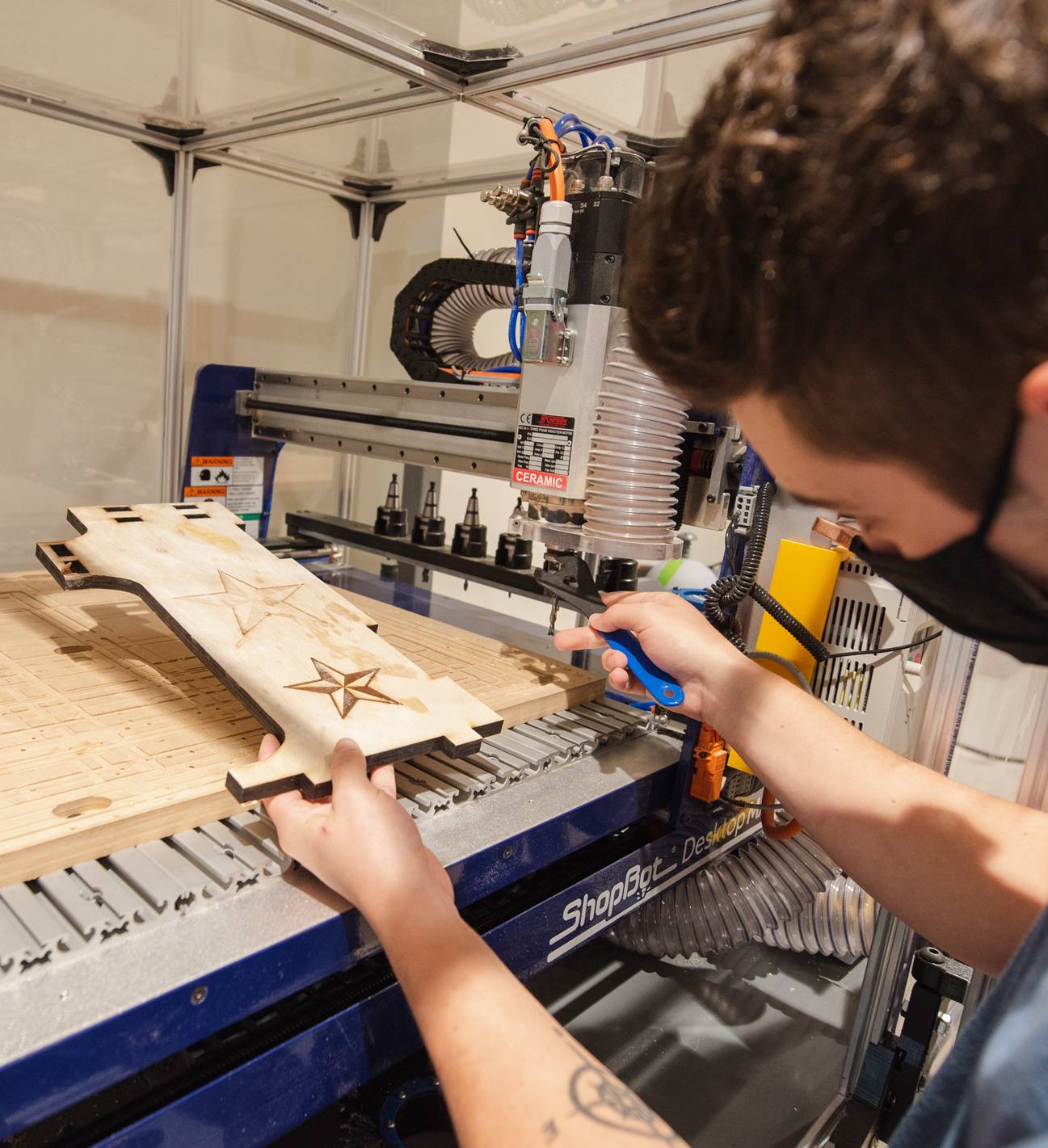 Making technology accessible to all
One consideration behind the development of Alkek One was a need to bridge the digital divide, allowing a diverse set of students to learn and demonstrate proficiency with the latest technologies that are unavailable to many. "We're giving access to students and enabling them to see other people like themselves using these tools. This is no longer supporting the stereotype of the white male who gets to do all the things in tech," Rechnitz says. "We have a diversity of staff, students, and faculty who are all going to be engaged in these spaces at the same time."
Alkek One's technologies can assist with academic work by giving students free access to tools to use for assignments. "There are a lot of people in architecture who come into the MakerSpace and utilize the 3D printers for modeling because it's more efficient and looks a lot better," Ridley says. "Mass Comm students use video and audio, and design equipment for their assignments. It just provides a lot of equipment that makes it easy to elevate your work without having to spend your own money."
Since the new library spaces opened, faculty have discovered ways that the technologies can support interdisciplinary learning.
"Alkek One provides a space for students to learn and explore without fear," says Dr. Krishna Kisi, assistant professor in the Department of Engineering Technology. "We can harness the Immersion Studio's full array of AR/VR/MR [augmented, virtual, and mixed reality] headsets and professional 3D models to help students not only conquer their learning phobias, but also enhance their creativity and innovation."
Micro-credentialing program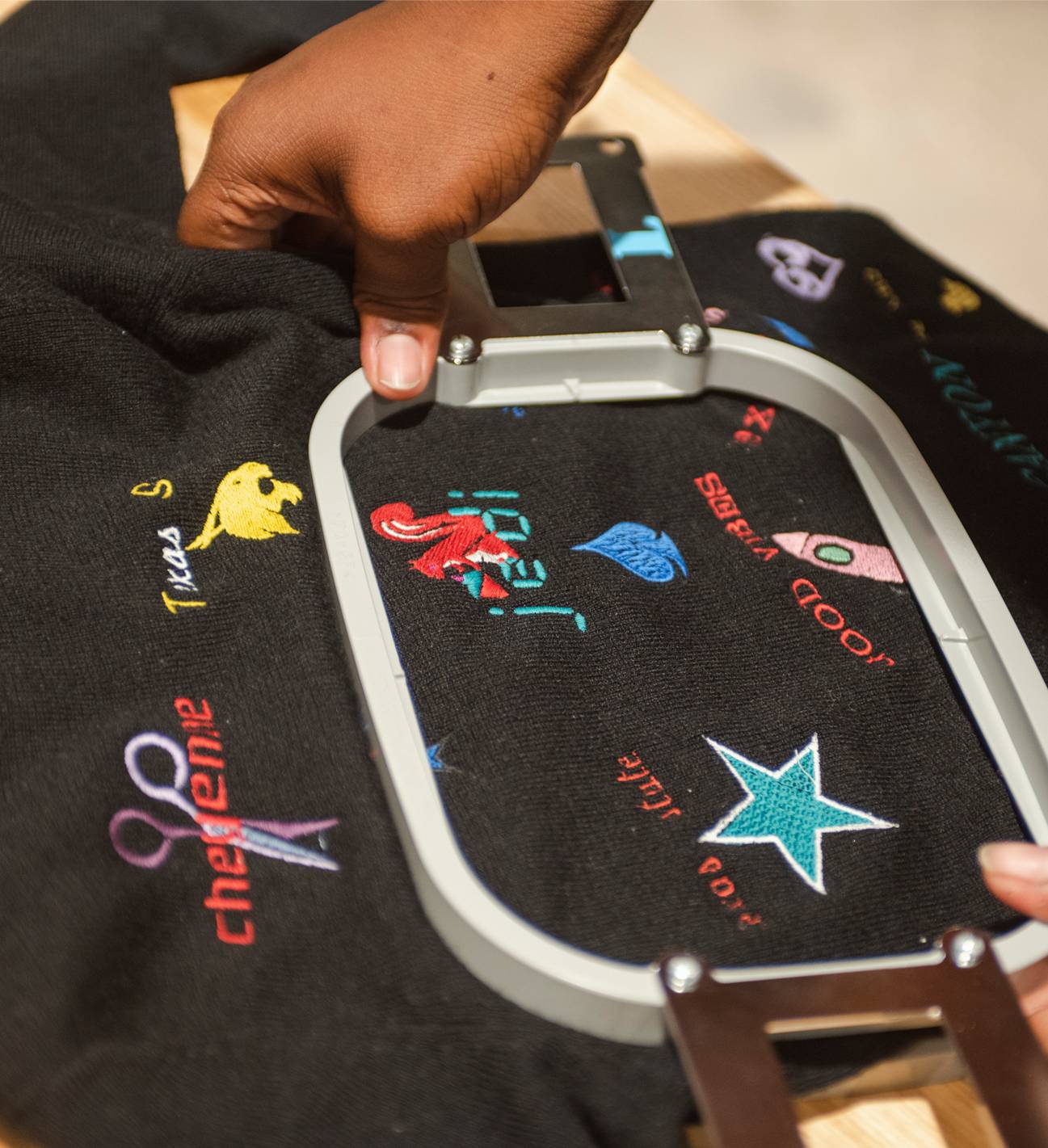 Libraries across the country have added technology spaces as an extension of their mission to engage patrons in research and innovation. Texas State is adding a new twist. The Alkek One team is developing a unique program designed to help students demonstrate their competencies with in-demand job skills. The trend, called micro-credentialing, lets students earn a digital form of certification, sometimes referred to as a badge, indicating demonstrated mastery in a specific skill or set of skills.
Though often associated with technology and programming skills, micro-credentialing is constantly being expanded to other professional development arenas including soft skills and even information literacy. The trend became an attractive option as Rechnitz looked for a way to ensure that students would engage with the new technology centers in multiple and meaningful ways.
"The concept behind the Alkek One micro-credentialing program is that we wanted repeat customers," says Rechnitz. "The tendency is for people to treat these technology spaces as one-off experiences because they are not equipped to create the kinds of things they can actually use. For example, maybe they experience a (virtual reality) simulation and find it interesting, but they cannot create their own simulations, so they don't come back."
Rechnitz believes the ability to earn badges as a supplement to their academic achievements will encourage students to engage more fully and help prepare them for the workforce. Planned for launch in 2022, the Alkek One micro-credentialing program will allow students the opportunity to earn badges in six modules or pathways: 2D design, 3D design, photography, GIS, immersive experiences, and time-based media. Students will earn badges after finishing a skill-training tutorial, participating in a hands-on workshop, and completing other specific requirements.
What sets the Alkek One micro-credentialing program apart is a requirement to create something using the obtained skill to demonstrate proficiency with that technology. User creations will be shared through the Alkek One online platform as part of an Open Education Resource repository that will allow others to download innovative content and learn from it or build on it. The creations and the micro-credentials become a part of each user's profile which is housed on the platform's app and shareable on a résumé or portfolio through a simple link.
Value to employers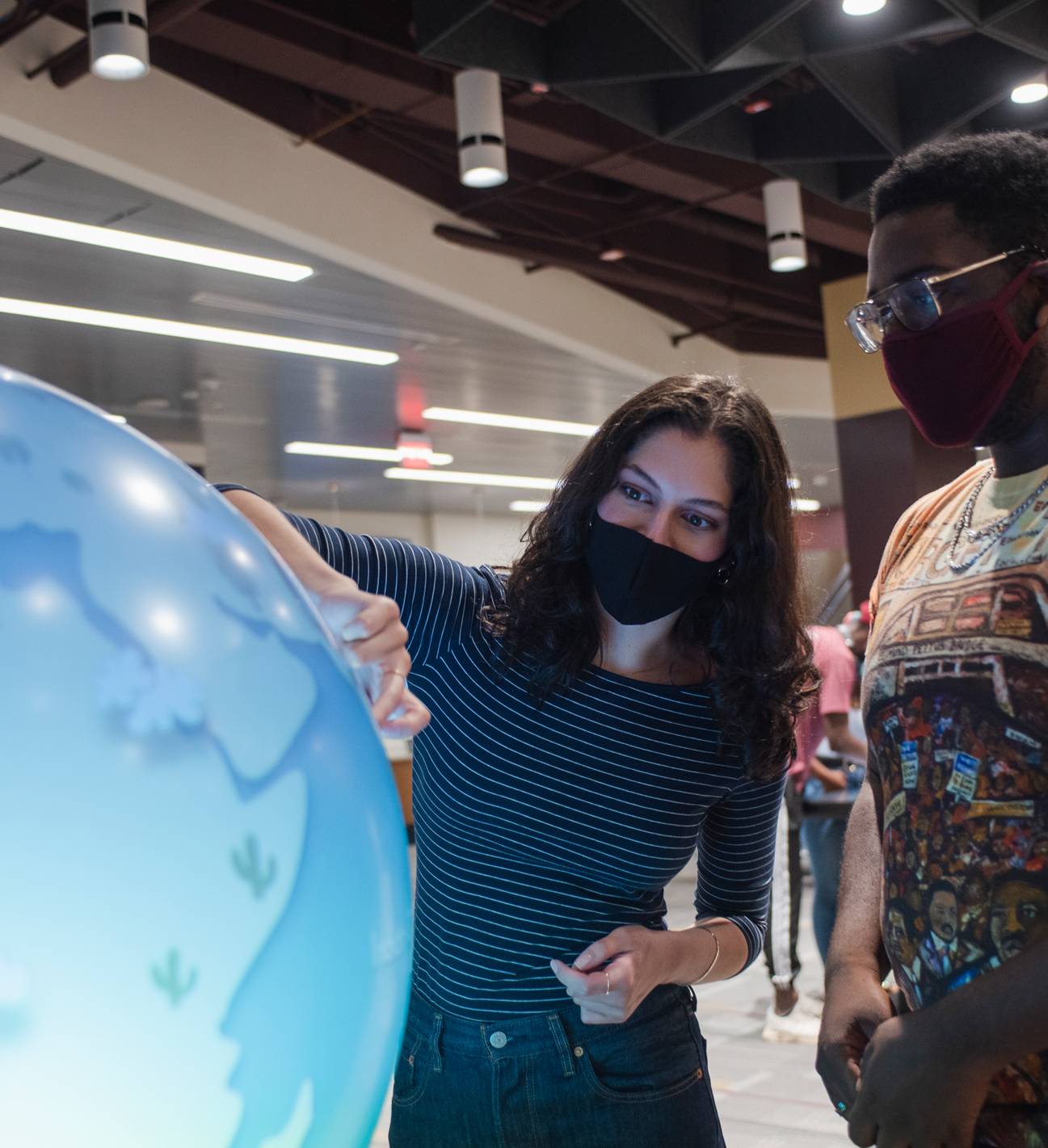 Unlike traditional certification programs, there are no industry standards required to earn a micro-credential. Rechnitz says he doesn't feel it will be necessary for employers to be familiar with the Alkek One micro-credentials. "Participants will be able to showcase what they created to earn their different micro-credentials so you can see the innovation behind the badge; and honestly, I think that's probably enough," he says. "An employer wants to see a snapshot. I think this is going to give it to them. It's a portfolio. The value of the micro-credential is really in the value of the work that was done to earn it."
Ray Rogers, director of Career Services, acknowledges the value in that approach. "Being able to show what you produced that demonstrates a skill, that's like the gold standard and I think there are employers who will put the time into looking through and verifying that for the candidates they want to consider," he says.
Beyond academic achievement, Rogers believes there are four key skill sets that employers want to see in their job candidates:
Communication – writing and interpersonal skills
Teamwork and collaboration – what is done as part of a team and how success and failure were handled
Leadership – taking responsibility
Critical thinking or problem solving -- being nimble, responsive and finding nontraditional solutions
"I've been doing career services for 20 years now and these big four things have remained the same, so there isn't any breaking news in this," Rogers says. These are part of the NACE (National Association of Colleges and Employers) Career Competencies.
"The NACE competencies were considered during the development of the Alkek One program and the pathways are built around developing critical thinking skills," Rechnitz explains. "Workshops will involve group work with students across multiple disciplines and student profiles will include points earned for demonstrating leadership, collaboration, and innovation. Alkek One gives students the ability to try something, fail at it, and learn from the experience without impacting their academic record."
As a young woman with a passion for technology, Kowalski is excited about the opportunity to demonstrate her skills by earning micro-credentials and thinks other students will be too. This spring she used the YouStar Studios for a video project.
"I've seen portfolios of people that are now graduate students that worked up in New York at the Facebook headquarters and I'm nowhere near as experienced as they are. They have so many different skills. So, if I earned a credential that I could put on my online portfolio it would be for that purpose," Kowalski says. "I would treat (working on micro-credentials) like going to the gym to make progress toward something and make my brain a little stronger and more muscle-y."
Alkek One Centers
Space for designs, studios and more
Alkek One's technology centers are found on the first floor of the Alkek Library. Each center is managed by staff experts that develop training workshops and assist library patrons as needed. Content created in the centers can be cross pollinated across other centers, so that something created in one area can be expanded or repurposed using technologies found in other centers. Glass walls and open spaces invite curiosity and encourage this connectivity.
MakerSpace
The MakerSpace supports additive, subtractive, and smart manufacturing by providing patrons with an array of digital fabrication tools geared towards creativity and innovation. Equipment includes 3D printers, laser cutters, sewing and embroidery equipment, Raspberry Pi boards, and much more.
DesignSpace
Equipped with both Macs and PCs, the DesignSpace has specialized workstations that support all types of 2D and 3D design work. Software includes the latest and most robust programs used for graphic design, 2D and 3D animation, 3D modeling, motion graphics, game and simulation design, and video editing.
YouStar Studios
Users can create, edit and produce high quality video and audio recordings in these do-it-yourself studios. The suite of studios includes two video recording studios, two audio recording studios, and a production studio equipped with a variety of musical instruments and production equipment.
GeoSpace
This center provides users with opportunities to approach data in unique ways through enhanced experiences using geospatial technologies including GIS, Remote Sensing, GPS and GeoComputation. Geospatial technologies are useful and applicable in almost every discipline including architecture, art, agriculture, basic and applied sciences, business, criminal justice, engineering, education, geography, sociology and political science.
Immersion Studio
This studio space embraces the burgeoning industry term XR in which the X represents any technology-mediated form of human interaction including virtual reality, augmented reality, mixed reality, cinematic reality, 360-degree video and whatever immersive technology comes next. The studio is designed to not only allow library patrons to experience these realities, but also learn how to design and create their own media using them.