Leading through listening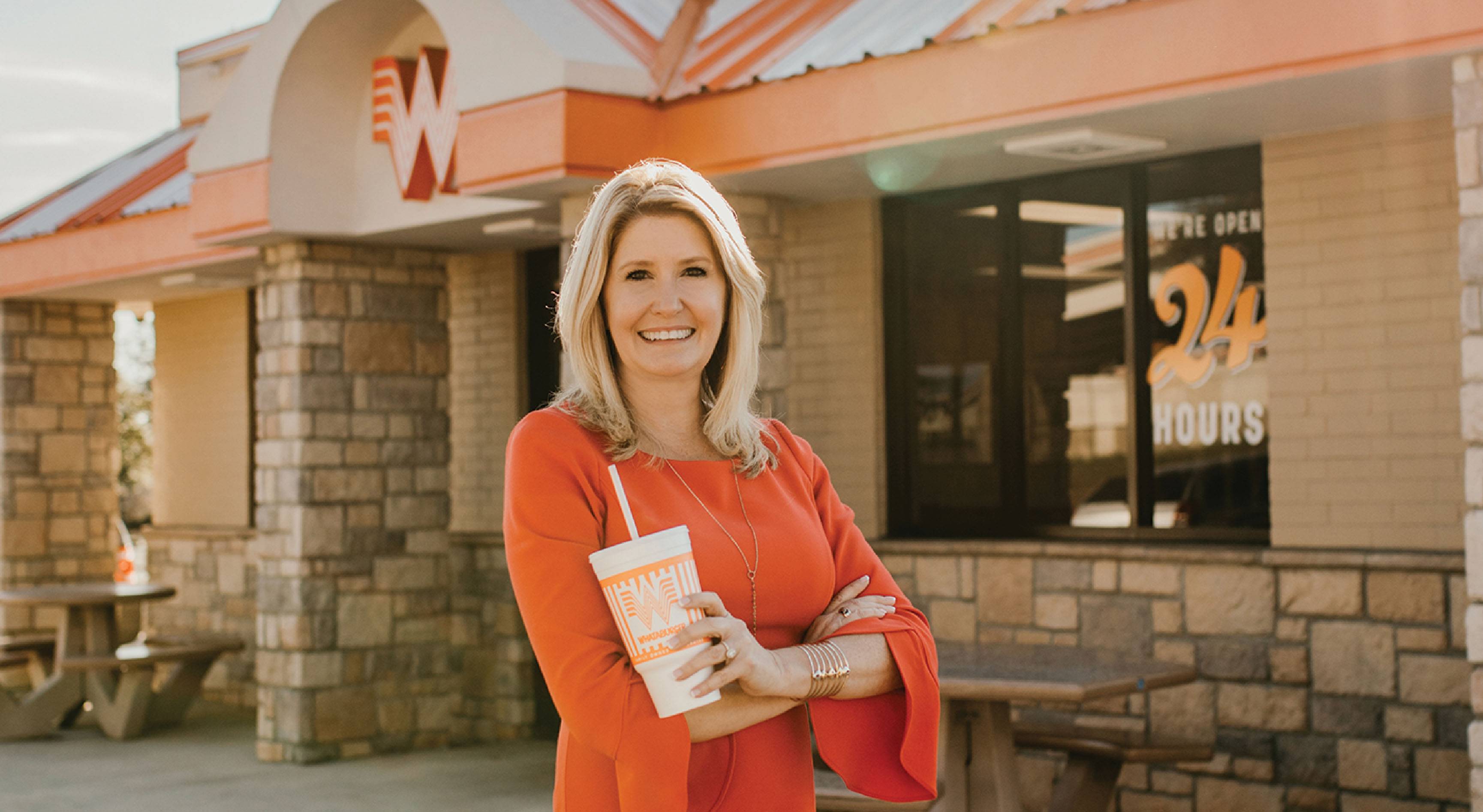 Lessons learned at Texas State help Whataburger's Pam Cox grow with the iconic brand
By Dan R. Goddard
In an era when conflict strategies seem to revolve around who yells the loudest, Pam Cox (B.A. '92) has built a career on a different value.
"I spend 99.9% of my time listening to what my team thinks, to what leadership thinks, what surveys are saying, what the media is reporting," says Cox. "I try to take it all in and ask enough questions to get us to the right answer. I think that's the only way to come up with a solution that feels right, respectful, and real."
Cox, who serves as Whataburger's vice president for Human Resources and Brand Communication, says the ability to listen and evaluate different perspectives was honed during her time at Texas State. "Yes, you go to college to learn and get your degree," she says. "But there's a whole other element of college that is more valuable to me, and that is learning to see the world differently, by getting to know others' perspectives."
Cox arrived at Texas State in 1987 from Portland, a town of 13,000 located in the Coastal Bend. She grew up in a close- knit family she says could have been swapped with the cast for "Leave It to Beaver." She wasn't sure what path her life would take and considered majors in psychology and teaching before taking an introduction to advertising class. "It just made sense to me," Cox says. "I had a lot of great professors who took the time to not only teach me the in-class lesson but gave me the opportunity to apply the lesson."
In her senior year, Cox helped lead a team in the American Advertising Federation's (AAF) National Student Advertising Competition, designing a Visa marketing campaign targeted at college students. Her professor, Dr. Mary Ann Stutts, became a mentor Cox remains in touch with today. "She was someone I really admired," Cox says. "She put her heart and soul into the AAF competition and even back then, as a 21-year-old, I recognized how much she cared about her students. We made it all the way to the national competition where we presented our campaign to Visa executives."
That competition brought a job offer and began a career journey that led Cox to Whataburger in 2001. She joined as a marketing manager, but after a year, she was recruited to help run the communications and public relations function for the company, overseeing a lean team of just two employees. When Whataburger moved to San Antonio in 2009, Cox packed up her young family for the move. In what she describes as one of the most challenging years of her life, she found that the company's values of "Pride, Care, Love" weren't just lip service. "In some of my family's darkest times, my colleagues at Whataburger showed me they valued me as a person first, not just for what I could accomplish at work," she says. "It's one thing to say you're like a family; it is another thing to see that in action."
As Whataburger has grown, so has Cox's role with the company. She now oversees all brand communication including social media, brand content, public relations, community outreach, internal communications, customer care, and meetings/events, as well as the human resources for a company with more than 46,000 employees, whom Whataburger calls Family Members. They, she says, are the forefront of every decision. "There are impacts on human beings behind everything you do in business. Whether you are in accounting, real estate, communications, HR — you have to think first about how the decisions you make impact people," Cox says. "If you don't understand the weight of that, you shouldn't be in a leadership position."
Cox has a natural ability to cut through bureaucracy and processes in a way that instantly inserts humanity into the conversation, says Donna Tuttle, group director for Brand Communication. "When Hurricane Harvey hit Houston in 2017, we were in the Whataburger command center, carefully monitoring our Family Members stuck in the restaurants due to rising waters," Tuttle says. "We were all kind of following the rules, waiting for local authorities to rescue our people, and finally Pam says: 'Why are we waiting? We all know people with boats.' And within the hour, we had private boats rescuing our Family Members. That's how she operates — she doesn't get paralyzed by rulebooks or compliance."
There is also a fun, self-deprecating side to Cox. "Don't get me wrong; she sets very high expectations," Tuttle says. "But she is also able to swap hilarious memes during tense meetings and isn't afraid to host a 'What- Not-to-Wear' fashion show for 800 people — rather than writing a boring dress code policy when our home office transitioned from business casual to everyday jeans." Last summer, Cox used that creativity to plan her New Braunfels' wedding, where she married Wayne Nemec, officially became Pam Cox Nemec, and promptly took off for a cross-country honeymoon in a rented RV because, well, COVID-19.
As Whataburger navigated the COVID-19 crisis, Cox says that the drive to do the right thing for people has been the company's guiding principle. "We changed nearly everything about our operating model in an 8- to 10-week period," Cox says. "We stood up curbside service, added delivery, set up a whole command center to make sure the policies and equipment were in place to keep our Family Members on our front line safe and working so they could support their families."
In the stormiest of times, this has kept the company on course and Cox true to her values. "Listen to the perspectives, but keep your values in mind," she says. "At the end of the day, you have to be proud of the things you've done, the things you've said, and the things you've implemented." ✪