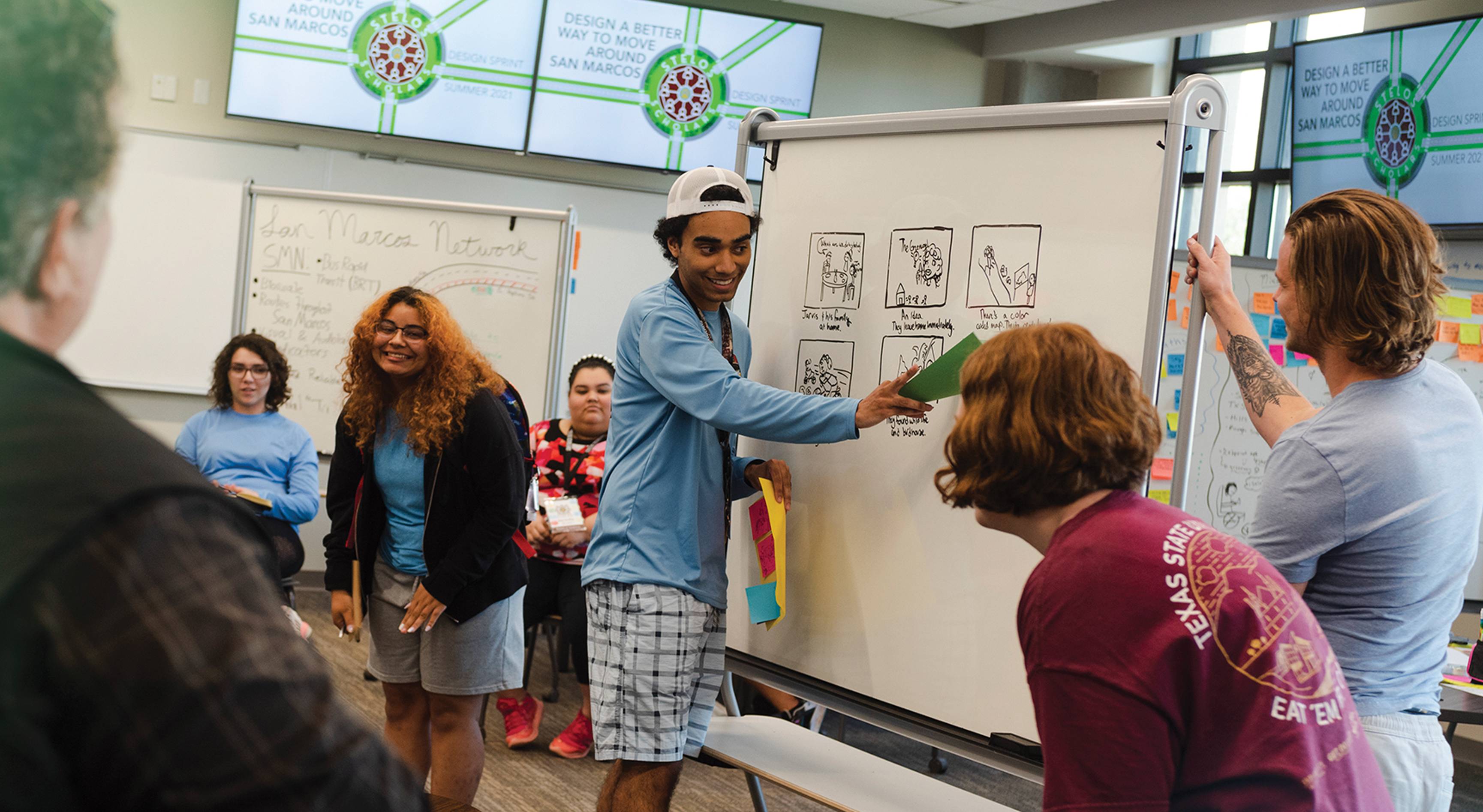 A DIFFERENT EXPERIENCE
While teaching a leadership course in the Honors College over the last four years, Austin-based entrepreneur Bill Poston (B.B.A. '88) wondered how Texas State might further enhance its Honors program and offer a differentiated academic experience for the university's top students.
"There are brilliant students on campus, so let's give them an opportunity to learn new things and really challenge themselves," says Poston, a finance graduate who has served as the founder or principal owner of more than 20 companies and nonprofit enterprises.
Honors College leadership agreed and crafted plans for an exclusive cohort program that would help students develop deeper connections with each other and the university, arm them with valuable leadership skills, unlock new opportunities, and fuel the completion of a senior thesis project. Poston's Stelos Alliance, a nonprofit that runs educational and scholarship programs for college students only at Texas State committed to funding the pilot program.
After opening the application process to all Texas State undergraduates, the Honors College received more than 50 applications for the program's 15 spots. Gomez submitted his Stelos Scholars application the same day Honors College Dean Heather Galloway announced the novel program. "I was immediately drawn to the program's leadership and entrepreneurial focus," Gomez says. "It seemed like it would add things to my toolkit that I don't have right now."
The 15 members of the inaugural Stelos Scholars class come from 13 different majors, ranging from philosophy and physics to criminal justice and theatre. The group carries an average overall GPA of 3.71.
"We wanted to find motivated, intellectually curious, and collaborative students eager to push themselves in new ways," says Dr. Peter Tschirhart, associate dean of the Honors College.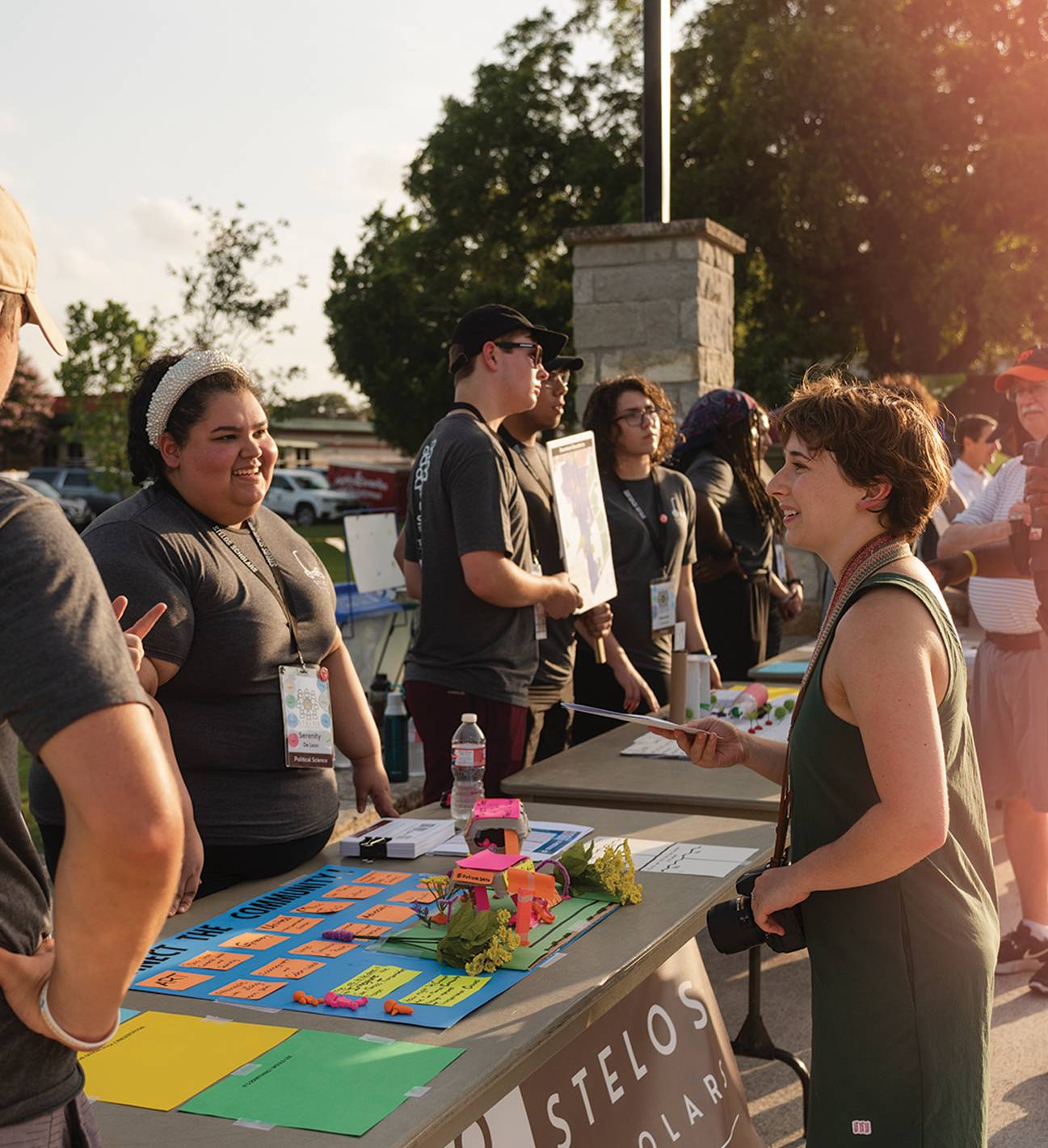 DEVELOPING VALUABLE SKILLS
In July, the Stelos Scholars converged on the Texas State campus for a week-long design sprint workshop focused on mobility and transit issues. Working alongside representatives from the City of San Marcos, Spin scooters, and other transit entities, students created innovative design projects to improve how individuals move around San Marcos.
"It was immediately clear from our collaboration on the mobility workshop that the Stelos Scholars comprise a remarkable group of students," says John Lankford, head of campus partnerships for Spin. "We're grateful for the opportunity to support this program."
The collaboration was a win-win for Spin and Texas State students.
"We really want them to experience what it's like to work with real-world stakeholders and dive deep into a complex, socially impactful issue," Tschirhart says. "We don't expect them to fix the world in a week, but we do expect them to make meaningful connections with each other and the community and have a really stimulating intellectual experience along the way."
This fall students attended Poston's leadership course, one he thoughtfully designed to help drive students' self-discovery. During the semester, the Stelos Scholars tackled activities based on improving self-awareness, including reflecting upon their values and personal mission, and building their leadership capacity. The goal, Poston says, is for students to develop habits that will help them become "people of consequence."
"The world needs people willing to assume leadership responsibility and take on consequential roles, whether that's in their family, their community, the business world, or the public sector," Poston says.
In the summer of 2022, the Stelos Scholars will visit a major U.S. city to connect with Texas State alumni and explore career opportunities. "We hope to break students out of their comfort zone, to get them experiencing a different environment and thinking about the big things they can do," Tschirhart says.
The Stelos Scholars program will conclude with a final course focused on the completion of the Honors College's independent senior thesis. Students select a topic of curiosity or a problem they would like to solve and then research, produce, and present at the annual Undergraduate Research Conference & Honors Thesis Forum.
"Throughout the Stelos Scholars program, this group will be developing 21st-century skills like dealing with ambiguity, leadership, and researching problems that we think will help them become more curious about the world and more successful in it," Tschirhart says.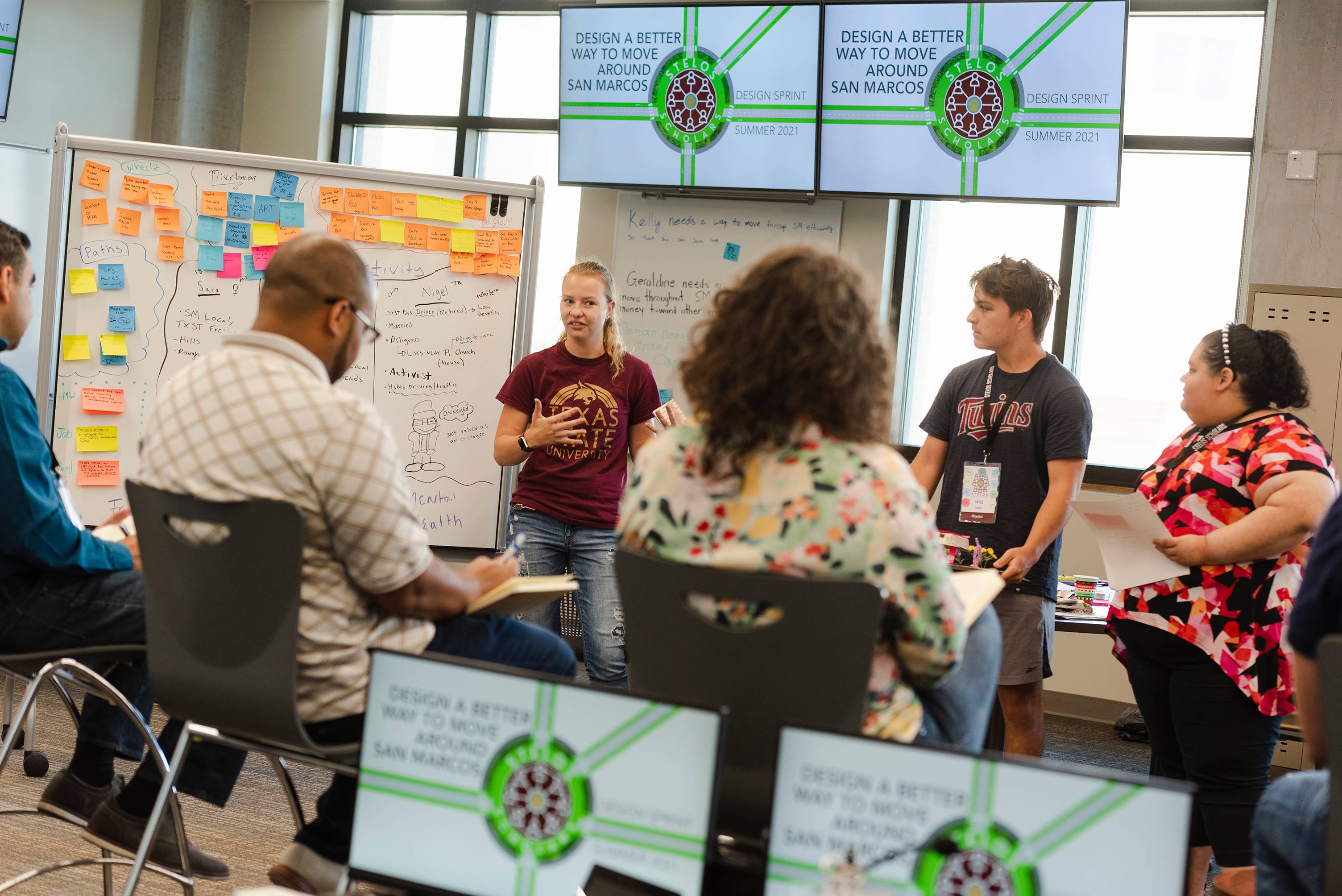 A PROGRAM WITH IMPACT
Through the two-year Stelos Scholars program, Tschirhart says students will collaborate with peers, expand their worldview, and discover new ways of confronting problems so they are better prepared to plan their lives and careers.
"We hope the Stelos Scholars see new possibilities for themselves and develop a better grasp of how the world operates and how they can impact it," Tschirhart says.
Poston hopes to see the Stelos Scholars program grow into a more rich and comprehensive effort capable of hosting some 200 Texas State undergraduates.
"I desire to see Texas State play an even greater role in higher education in the state of Texas," Poston says. "I see the Stelos Scholars program as a step in that direction and an opportunity to do something unique and different for the best students we have on campus." ✪