Leveling the playing field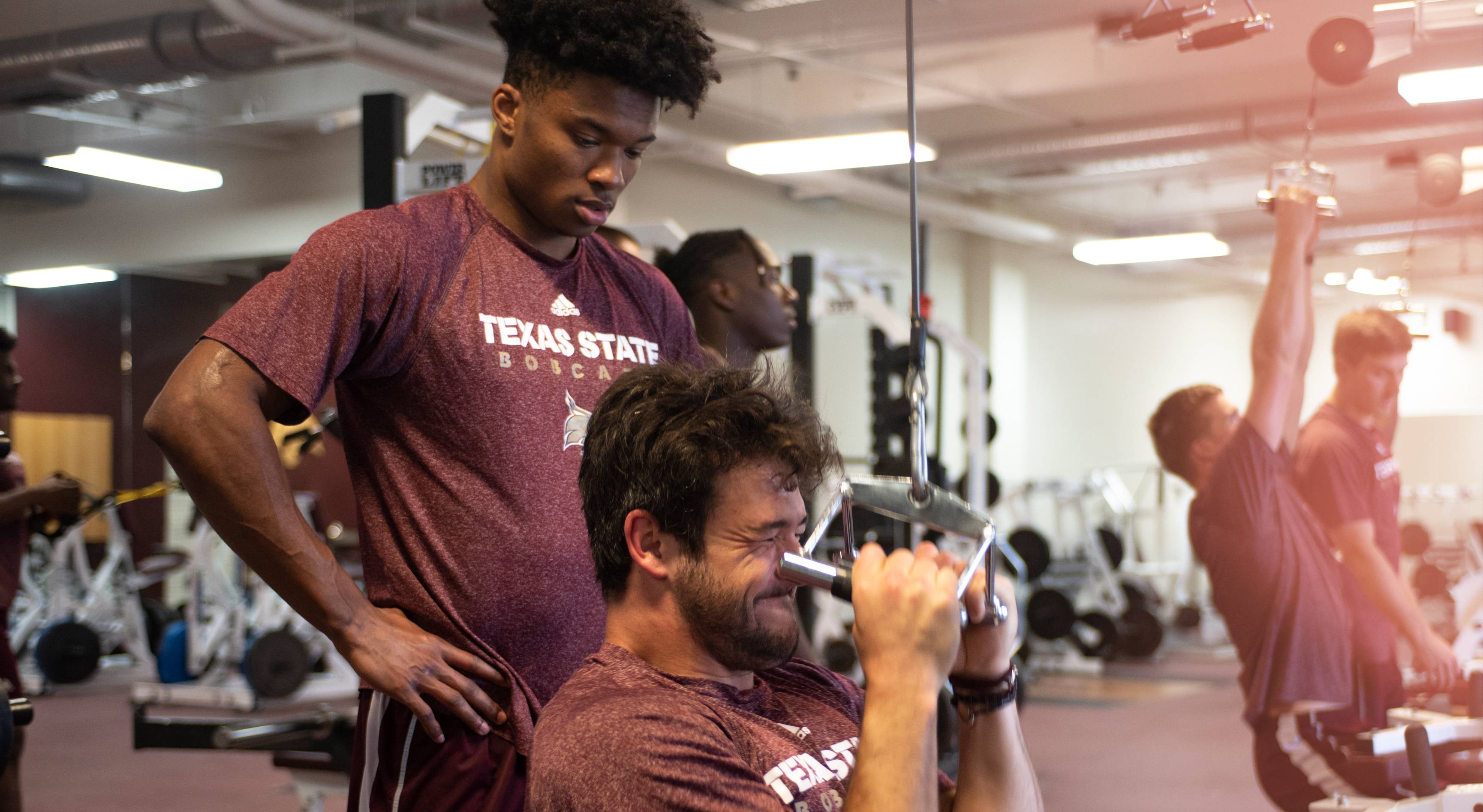 Texas State football is looking to expand. With tremendous growth over the past 20 years, space originally designed for a much smaller team and staff is bursting at the seams — requiring the Bobcats to modernize and enlarge the program's South End Zone Complex.
"Since our move to FBS (Football Bowl Subdivision) in 2012, our team roster has grown from approximately 63 players to 120 players and our football coaching and support staff has almost doubled," says Director of Athletics Don Coryell. "We have done great things to support that growth, and expanding the South End Zone is now our top priority. We need a space that will allow our student-athletes and coaches to train and function at a championship level."
Because of this need, fundraising is underway for a renovation of Bobcat Stadium's South End Zone Complex to modernize and expand the crowded and outdated weight room, along with rooms for team meetings, sports medicine, and training.
Head football coach Jake Spavital reached the same conclusion when he arrived in 2019.
"We have a beautiful stadium, but our daily operation space is extremely challenging," he says. "This project is about the space and function we need to offer our student-athletes to give our program the best chance for success. We currently do not have the space in our weight room or training room facilities to accommodate our program."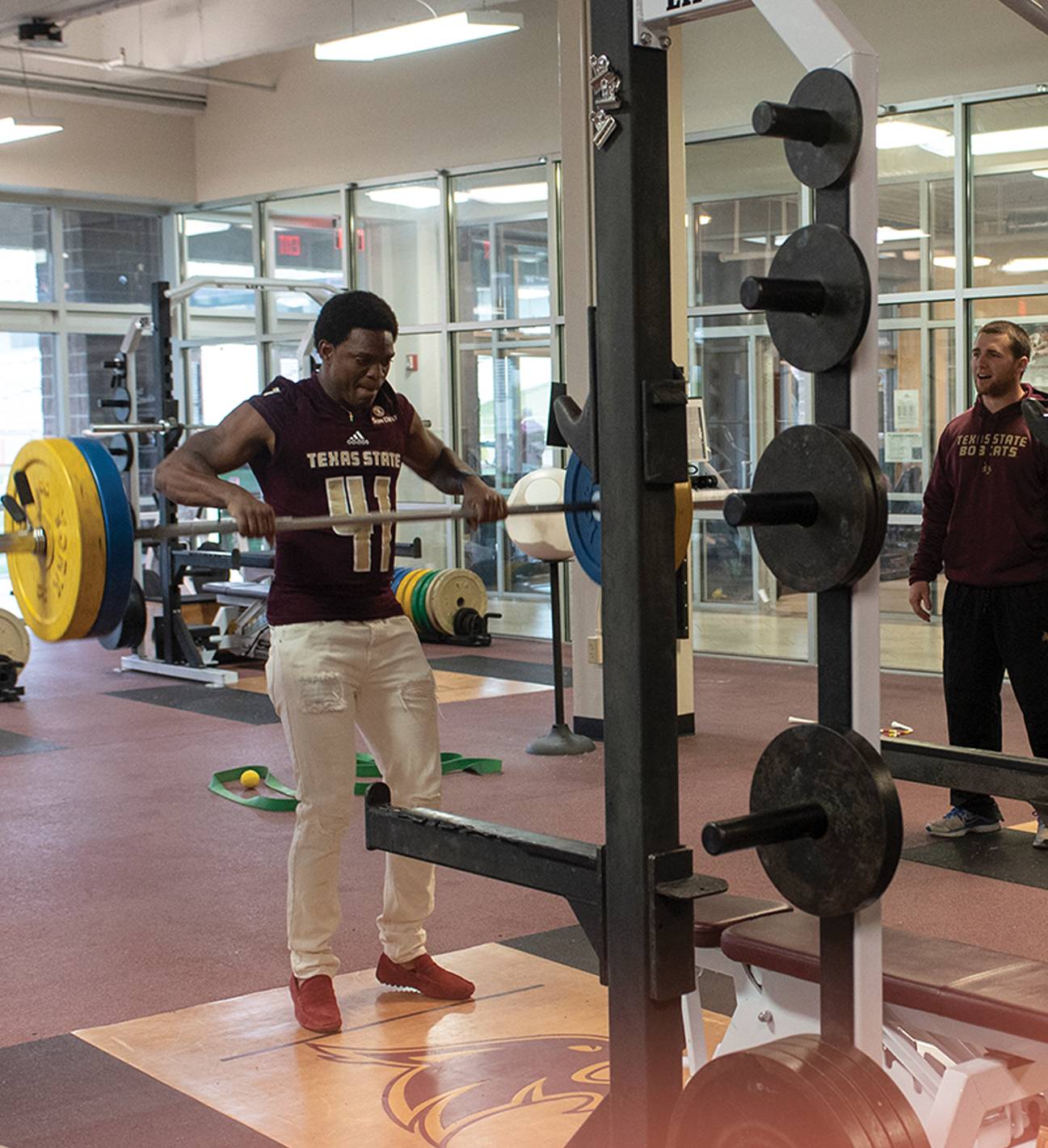 Under the plan, the weight room would double in size from its current 4,300 square feet to over 8,500 square feet. Players are required to lift weights four times a week but can lift as many as six days a week if they like. This would allow for student-athletes to lift in much larger groups and significantly streamline time management in the weight room.
"These students live in the weight room," says Spavital. "We need a weight room where we can put at least half our team in the facility. Logistically it's been difficult. We have to do four lift groups. Most universities are able to split their teams into two groups, which then allows more time to focus your efforts in other areas if necessary."
Overcrowding is also a problem in the training room where players get preventative care, such as being taped before practices and games, and receive hydrotherapy in hot and cold-water tubs. After the expansion, 50 players will be able to use the training room at one time whereas only 10 can now, according to Spavital.
"The way this game is and how taxing it is on the body, the recovery aspect is a very vital part of this game. The new training room will help the overall longevity of these student-athletes staying healthy over the course of the season," Spavital says. It will also have new in-ground hydrotherapy pools that will give football players their own dedicated hydrotherapy space and improve the overall capabilities for rehab and recovery.
Jeremy Cobb, head athletic trainer, often sees training room traffic jams. "If a player runs in to get taped, he has to zigzag and jump over and hurdle others, who are trying to get in and get taped before practice. It's just a lack of fluid movement here. We have truly outgrown our space. We do the best with what we have, and we do a good job. We need an update," he says.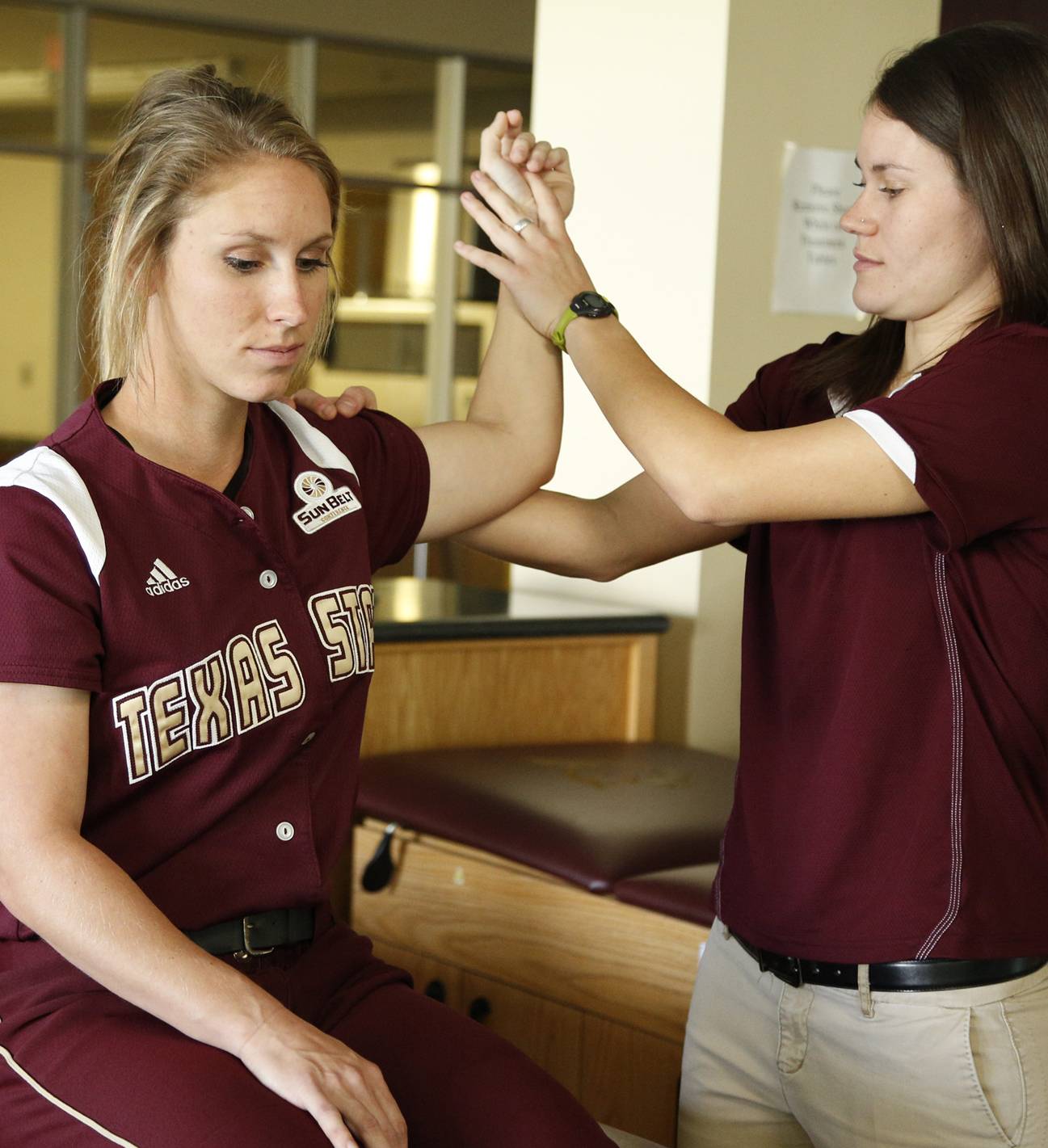 The Bobcats completed a 2020 peer review of other Sun Belt Conference teams' student-athlete facilities and found theirs were lacking. For example, one Sun Belt Conference peer institution boasts a 16,000-square-foot weight room, almost four times larger than the Bobcats space.
"We invested significantly in our football stadium. But a majority of those projects, like the North End Zone expansion, were geared more toward our fan experience," said Travis Comer, executive senior associate athletics director for development. "This project is geared more toward our football student-athletes and their experience."
Recruiting is also expected to benefit from the expansion and an updated facility. "It's going to give us more of an edge. Look at UTSA (the University of Texas at San Antonio) and North Texas who we recruit against. They have built facilities similar to what we need. This will help us win those recruit battles," says Spavital. Cobb agrees. "The updated look is going to be huge for recruits and parents," he adds. "Parents want to know their kids are being taken care of. The new look will go a long way to having them see how much of a healthcare facility we are."
The project, which will be financed by privately raised funds, does not have a renovation start date. However, fundraising is already under way.
"The completion of this project in its entirety is contingent on us securing dollars to build this facility," says Comer. "We are actively fundraising and will need a tremendous amount of philanthropic support."
"The health and wellness of our student-athletes is our No. 1 priority," Coryell says.
"We've outgrown that space. It's not efficient. It doesn't function well. The sooner we can see the vision of this project come to fruition, the better."