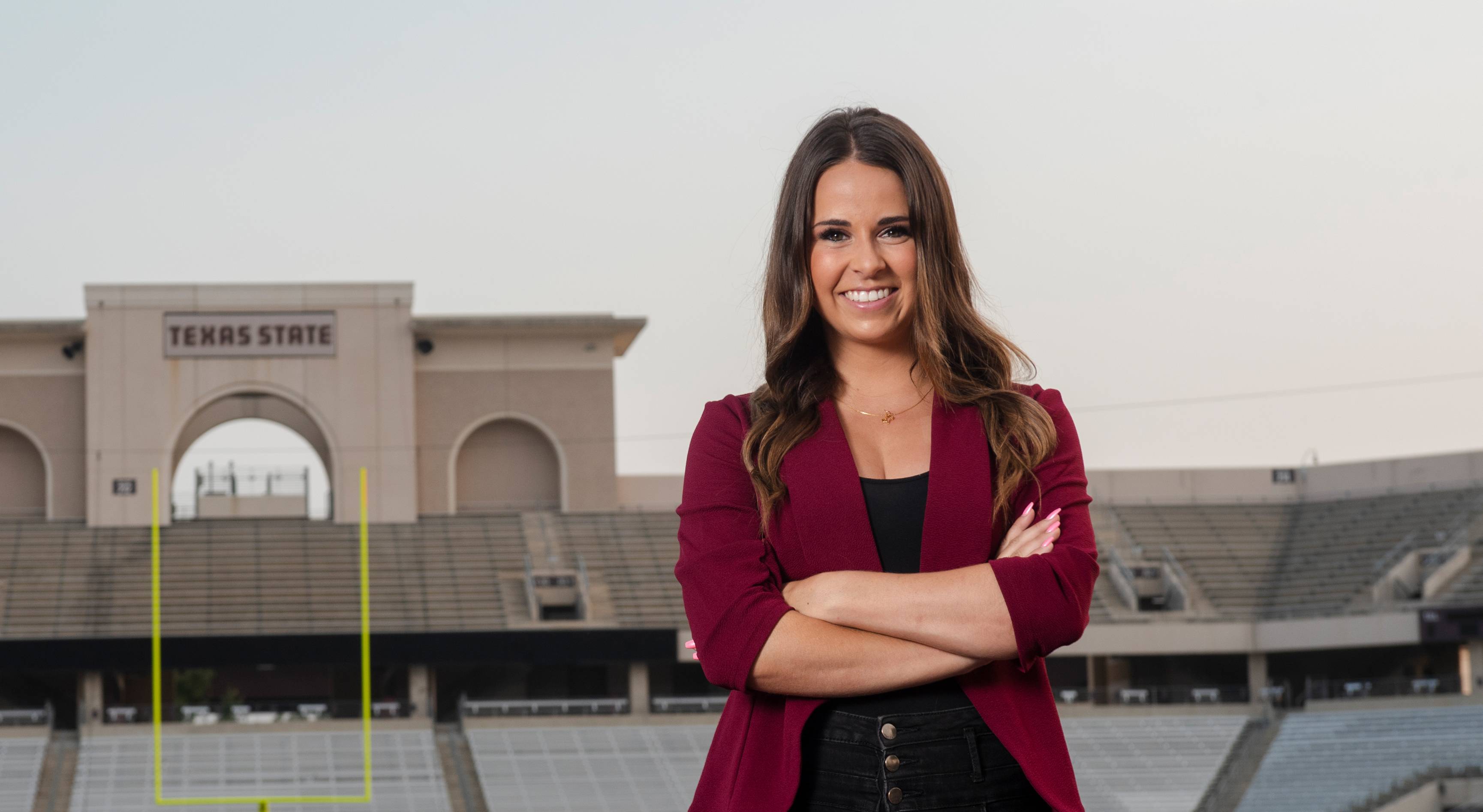 Haleigh Blocker may not consider herself much of a pioneer, but she is definitely breaking new ground in a male-dominated profession.
Blocker, 24, who earned a bachelor's degree in exercise and sports science from Texas State University in 2019, is one of only two women to serve as director of football operations for the Bobcat football team. Her duties include booking the team's travel, hotel accommodations, and security; attending to day-to-day program operations with the coaching staff; scheduling media interviews; and managing the head coach's calendar.
A former high school cheerleader, Blocker lives and breathes Bobcat football. Maybe that is in part because she grew up in a small South Texas town. "Falls City (pop. 1,172) is a super-small town where football is everything, so I grew up loving football," she says. "I've played sports all my life — basketball and track — so I knew I wanted to pursue a career in athletics."
Blocker followed in the Bobcat footsteps of her mother and sister. Christy Blocker (B.S. '89) earned an education degree and Ashleigh Blocker Labus
(B.S. '16) majored in fashion merchandising.
"I don't know how you could say no to this university, and I tell people that all the time," she says. "It's just so beautiful here, and it's central to everything. I mean, you have a river that goes through the campus. You can't beat that."
At the start of her freshman year, Blocker applied for an internship in Athletics and began working the front desk for the coaching staff. It was a role that she took very seriously. "I had notes written down of exactly what I would say if someone called," she says. "I was just so happy to be up here."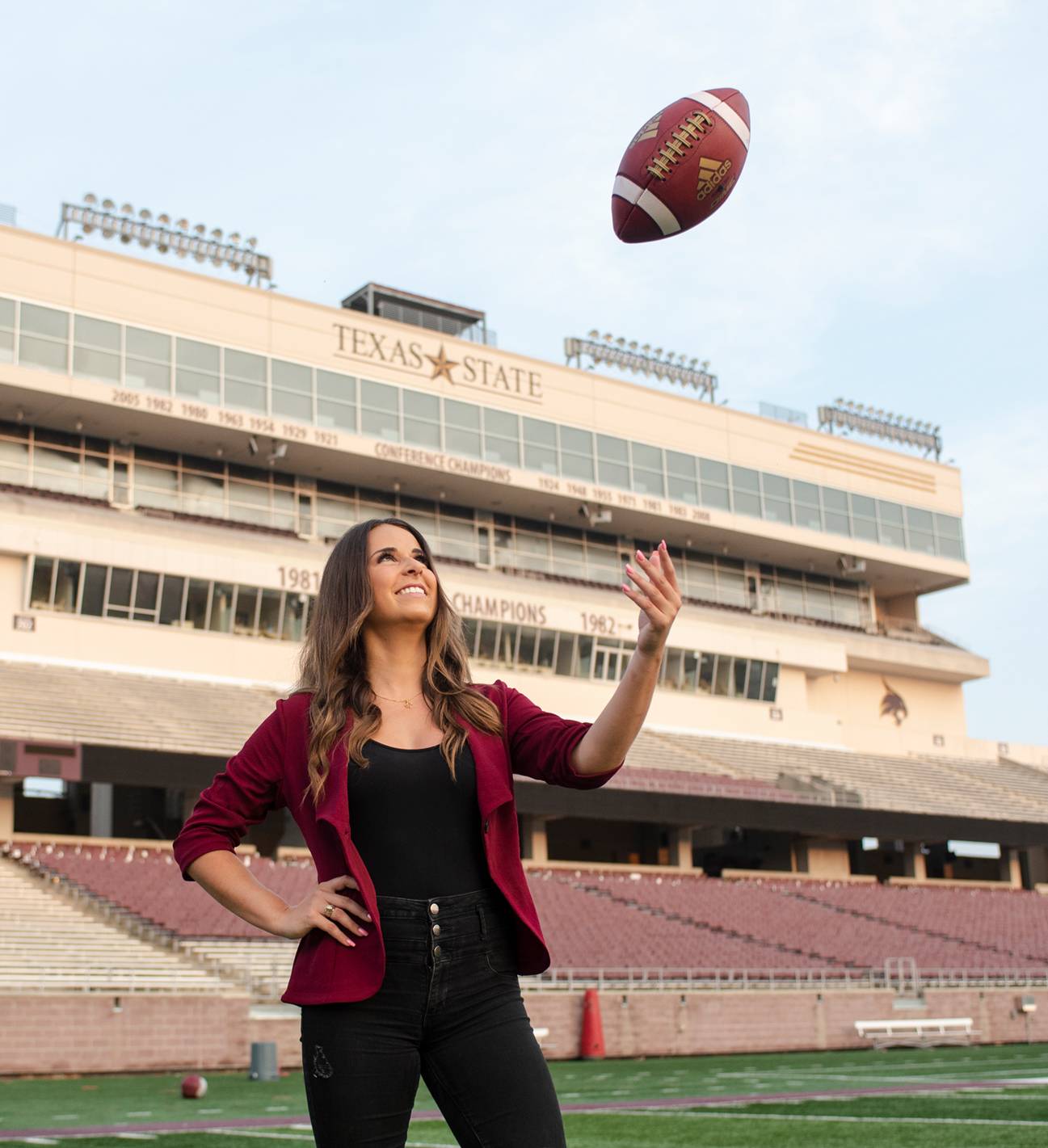 Over the next two years, Blocker learned a lot about recruiting and team operations. Two months before graduation, she interviewed with Jake Spavital for the job of assistant to the head coach. A few months later, she took over the operations job she now holds. "As soon as I got up here, I knew that this was what I wanted to do," she says.
Among her role models are Tory Teykl, formerly director of operations at The University of Texas, now assistant athletics director for football operations at Kansas University, and Sophie Luoto, director of football operations for the Los Angeles Rams. "Tory Teykl was the first person I called when I got the job," Blocker says. "She has always been a role model for me, as far as being a woman in this industry."
Blocker is also finding out what It's like to be a role model to a group of women interested in careers in sports. That group, the Bobcat Belles, is a special-interest organization formed at Texas State in 2011. The Belles work with the coaching staff to promote school spirit, assist the admissions office with recruiting, and volunteer with Bobcat football. It's not uncommon for Belles to stop by and ask Blocker questions, or just sit and watch her during some of the day-today operations. Other women have reached out through Twitter or other social media channels seeking her advice or professional input.
"It's crazy that I was looking up to other people, and now I can help younger girls who want to get into this profession," she says. "When I can get them on the phone, I just tell them it's all about building connections. You just have to show people what you bring to the table, and it doesn't matter if you're a woman."
So what's next? Blocker says she's not sure yet, but has not ruled out a future move into a front-office role with the National Football League. "It's about making those connections," she says.
"It's a good feeling knowing that people want to help you out and see women grow in this profession."
---
Correction: An earlier version of this story reported that Haleigh Blocker was the first woman to serve as director of football operations for the Bobcats.
We have learned that Kelly Keresztury held the position in 2013-2014.