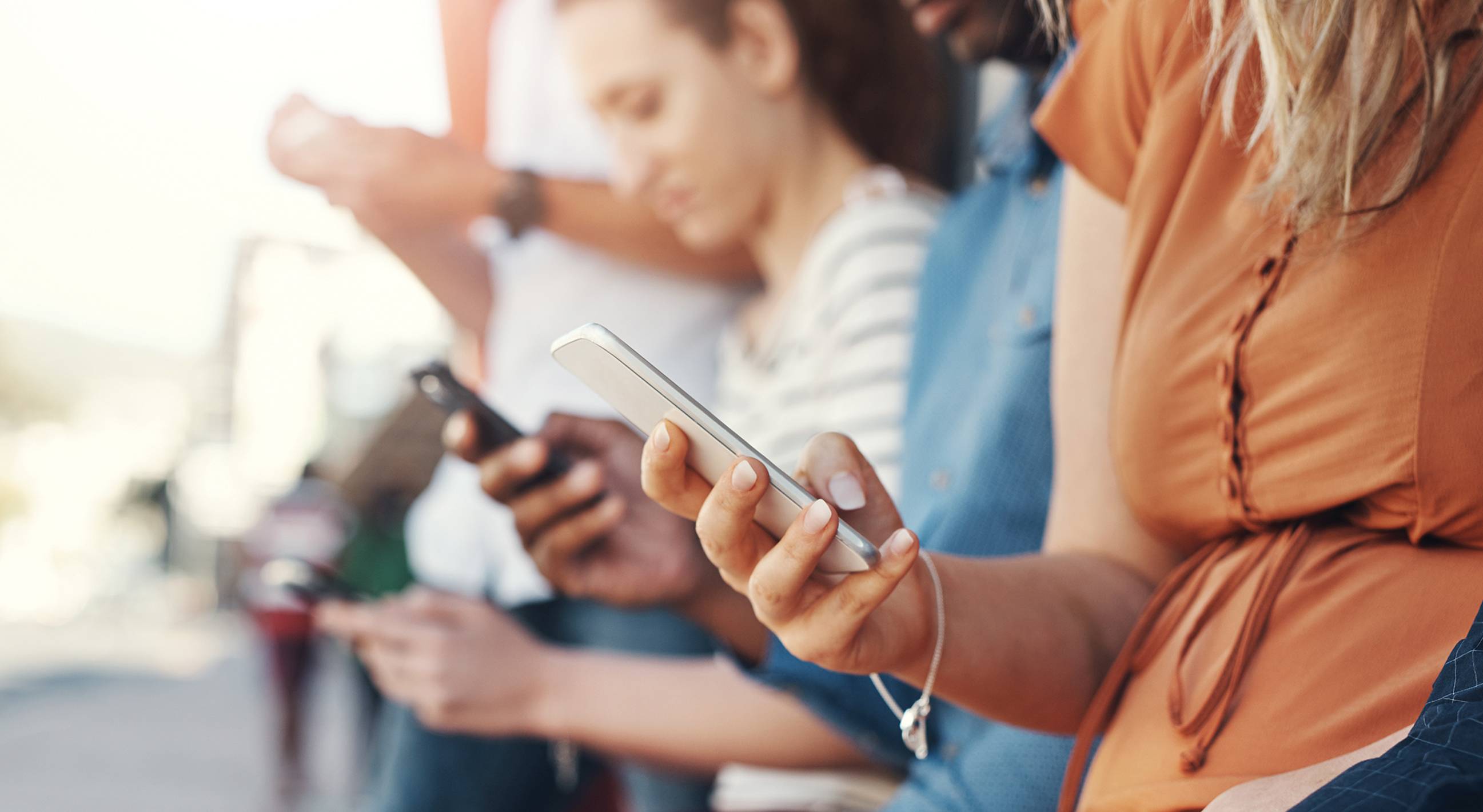 The Sounds of Silence
By Catherine Duncan
Cultural anthropologist studies how technology impacts communications when students are immersed in a digital world
When Dr. Nicole Taylor (B.A. '95) was a student at Texas State University in the 1990s, she attended political science courses in the Evans Liberal Arts building. Today, she is a cultural anthropologist and associate professor of anthropology on the university's faculty.
"Being in the building was so familiar to me; it looked and smelled the same," she says. "As I began teaching, I walked through the halls and noticed how quiet the students are now. You can hear a pin drop. Everyone is looking at their phones.
"When I was a student, all you heard were students talking to each other between classes. It was so noisy. That is all gone because of technology." Taylor discussed her observations with her mentor and dissertation advisor, Dr. Mimi Nichter, professor of anthropology at the University of Arizona. Nichter also had noticed the quiet university hallways in recent years.
"We started wondering what was happening on all those smartphones.Today's students are immersed in a digital world. They are not as involved in personal interactions," Taylor says. "How are phones impacting college students' face-to- face communication? Prior to this study, research on social media was primarily from researchers' viewpoints. We are trying to make sure young people's voices are heard.
"We also wanted to know what is happening on social media and how that is affecting students' sense of self."
"We started wondering what was happening on all those smartphones. Today's students are immersed in a digital world. They are not as involved in personal interactions." - Dr. Nicole Taylor
As a cultural anthropologist, Taylor studies current human societies and behavior and uses ethnographic research, which involves in-depth interviews as well as long-term participant observation. In researching her first book, Schooled on Fat: What Teens Tell Us About Gender, Body Image, and Obesity (Routledge, 2016), Taylor spent a year at a high school, observing students at lunch and during their physical education and academic classes. "The high school students got used to me being around. I sat with them at lunch and heard their conversations. I also worked out with them in PE. I observed how they talked about their body image.
"I discuss how popular, mainstream ideas of male and female body image have shifted over the years. We tried to figure out why certain body images exist at this moment in time," she says.
In 2017, Taylor received an Early-concept Grant for Exploratory Research (EAGER) from the National Science Foundation to study "Ethical and Methodological Challenges in Social Media Research." While conducting the research with college students, the project also was aimed at understanding the dynamics of constantly evolving technologies and the process of protecting the anonymity of participants and their digital data.
Researchers interviewed 64 college students. "We recruited some of the more insightful students to gather friends for focus groups. We then spoke to the groups about their use of social media on their phones," she says.
In addition to these traditional means of data gathering, they developed and tested a new method of obtaining data. They created accounts on Instagram, Snapchat, Twitter, and Facebook. They asked the students to "friend" or follow these accounts.
"We did participation observation of their social media accounts. We captured the posts and observed their online interactions," she explains. "We ended up recruiting a data historian, Dr. Louie Dean Valencia-Garcia, who helped us unpack the ethical implications of research with identifiable information."
Valencia-Garcia (B.A. '07/B.A.I.S. '07), an assistant professor of digital history, is working with the team on troubleshooting ethical issues related to this online terrain. "We are trying to figure out how to anonymize the data. We were using standard methods of blurring faces and blacking out names when Dr. Valencia-Garcia explained that anyone can run the images through Google's reverse image test that analyzes other parts of the photos," Taylor says.
"The photo could still be identified. We learned about the holes in our anonymity methods and which images we can share that can't be used to identify the subject."
The team partnered with the university's Institutional Review Board (IRB), which is tasked with ensuring all human research participants are protected. "We submitted a paper to an applied anthropology journal for researchers who are navigating these waters. We also submitted a report to the IRB of issues they need to be aware of and look for with future research," Taylor says. Graduate student Alejandro Allen (M.A. '19) was added to the team to oversee data collection, which concluded in August 2019.
The data has been analyzed, and Taylor has teamed up with Nichter on a second book, A Filtered Life. "The issues we are studying are ethical minefields," Taylor says. "While conducting research to understand the effects of smartphones and social media on today's society, we must be able to guarantee the anonymity of our participants. We must think through the ethical implications.
"We hope our research and publications will result in discussions and studies that mold research methods going forward." ✪