Meeting the challenge, filling a need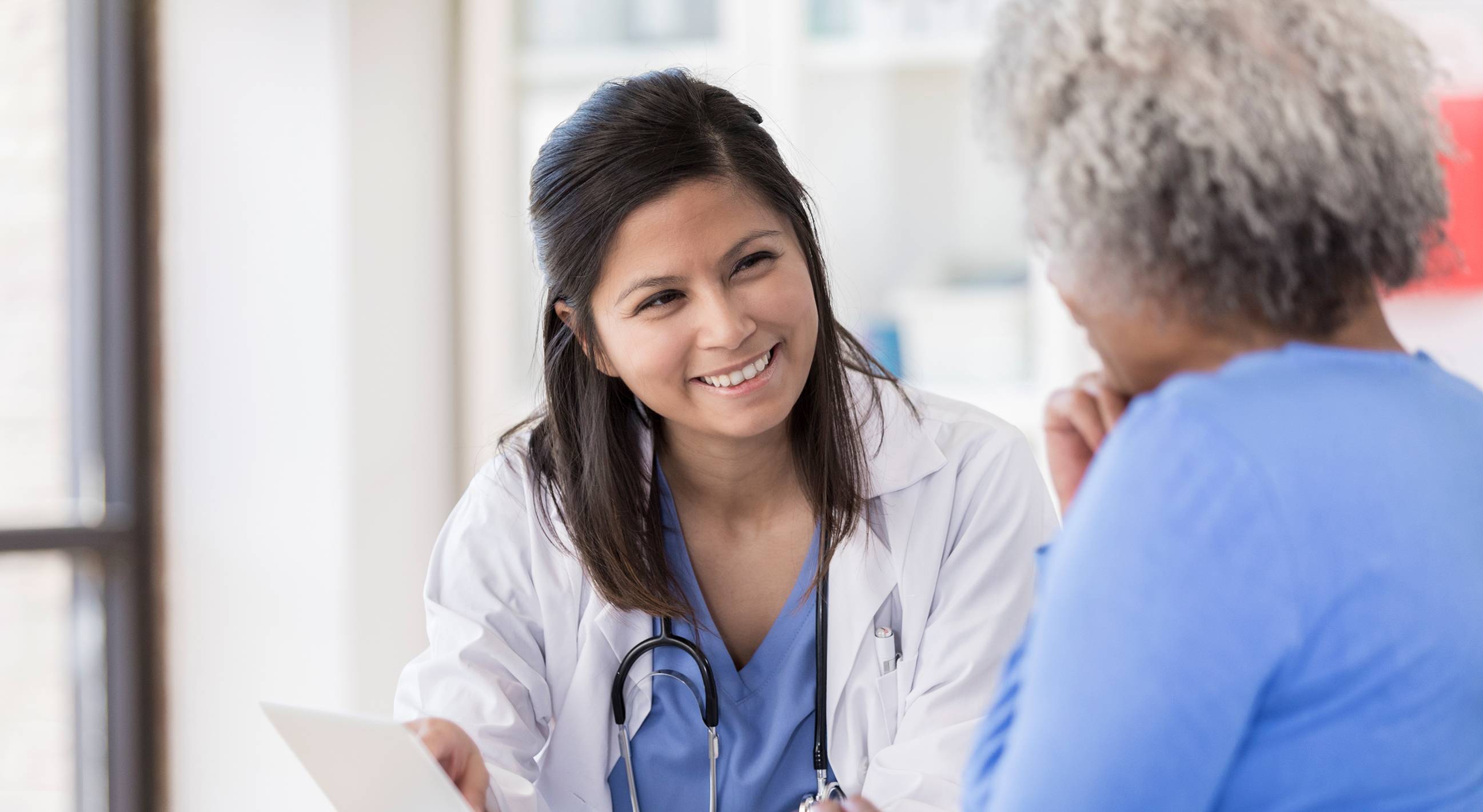 Nurses flock to new MSN-Psychiatric and Mental Health Nurse Practitioner program at the Round Rock Campus
By Diana Finlay Hendricks
In the face of a national mental health crisis, nurses have a more important role than ever before.
According to the National Institute of Mental Health, nearly one in five U.S. adults live with a mental illness. In 2016, that was 44.7 million people.
Nurses are often the first point of contact for those struggling with a mental illness. Nurse.org recognizes psychiatric-mental health nursing as a specialty, within nursing, that largely focuses on caring and advocating for individuals, families, groups, and communities with mental health issues. The St. David's School of Nursing on the Texas State Round Rock Campus has a new master of science in nursing (M.S.N.) program that will help fill a significant gap in the medical profession.
Launched in spring 2019 with funding from the St. David's Foundation, the MSN-Psychiatric and Mental Health Nurse Practitioner (PMHNP) degree program initially enrolled 11 students. The fall 2019 enrollment rose to 45.
What is an MSN-PMHNP, besides a long acronym? It was a challenge for Dr. Shirley Levenson, the director of the program, to contain her enthusiasm when describing the program and the need for psychiatric-mental health nurse practitioners. "I truly love this field and can see how much we can help people and make a difference. We train our students to focus on behavioral health, group counseling, substance abuse, and therapy.
"Our students work closely with psychiatrists, and upon graduation, work as a psychiatrist would, under the direction of the psychiatrist and often a physician. They work with patients with depression, schizophrenia, chronic mental health, acute postpartum, and bipolar conditions, as well as opioid addictions," Levenson says.
Levenson's interest in the program grew when she saw the number of deaths resulting in the opioid crisis. One has to be a psychiatrist or a psychiatric nurse practitioner to treat these patients, she says, and adds that as the spotlight makes opioids more difficult to get, many who are addicted turn to street drugs or to methamphetamines. It is a growing problem in both urban and rural areas.
In addition to directing the burgeoning program at Texas State, Levenson owns a practice in her hometown of Caldwell, about 70 miles east of the Round Rock Campus. At her Caldwell clinic, where she is affiliated with a family doctor and a psychiatrist, she stresses the importance of mental health as part of the full-body approach to health. "Some people who visit PMHNPs often feel more comfortable because they don't feel the age-old stigma that comes from walking into a psychiatrist's office. We take a holistic approach to the big picture, including mental, emotional, and physical health, as well as social factors. Many of our clinics are open after five and on weekends. Clients appreciate the flexibility of clinic hours."
The MSN-PMHNP program is a five-semester program. St. David's School of Nursing plans to accept 40 students each fall and spring, and the first cohort, which began in the spring of 2019, is scheduled to graduate in the fall of 2020. The nurse practitioner program is year- round, with fall, spring, and summer classes. The graduates will sit for national certification through the American Nurses Credentialing Center. The PMHNP exam consists of 200 questions, and, Levenson says, the students should be prepared to pass the first time they take it. Once certified, these PMHNPs will be eligible to practice anywhere in the nation.
To enter the MSN-PMHNP program, a candidate must have a bachelor of science in nursing degree and be currently licensed as a registered nurse in Texas. The program requires at least one year of experience as a practicing registered nurse. At this time, the program only admits students with Texas addresses who claim Texas residency. Students are paired with psychiatrists, mental health MDs, and psychologists as part of their hands-on training.
Most students in the MSN-PMHNP program are in their late 20s to early 30s with five years of nursing experience. As it expands, the program could possibly add a certification program for people who already have a doctorate and would like to add psychiatric-mental health certification.
Karissa Dungy is a first semester student in the MSN-PMHNP program. The San Antonio native served in the Navy for 10 years as a linguist and is fluent in Farsi and Dari, the languages spoken in Iran and Afghanistan, as well as Spanish. While in the Navy, she worked nights and weekends to earn a bachelor of science degree in nursing and become a registered nurse.
"Having civilians who can provide care and therapy, with an understanding of what we have been through, can help our veterans as well as military families to grow stronger and continue as leaders in our communities."

— Karissa Dungy, first-semester student in the MSN-PMHNP program

In 2017, Dungy suffered a traumatic brain injury and was medically discharged from the Navy. "I always knew I wanted to work in the medical field, but it was not until my injury that I came across the mental health field. Almost every military person is familiar with post traumatic stress disorder (PTSD). I was seeing a psychologist and fell in love with what was possible with the right help," she says. "In the military, there continues to be a distinct underlying fear that you can lose your security clearance if you see a psychologist or psychiatrist. I served as a sexual assault victim advocate as well as working with other sailors and soldiers as a nurse in a traditional clinic and was able to connect with them in a safe environment, without jeopardizing their status."
Dungy says the military is not the only area that has a stigma regarding mental health. "Many people come from cultures that dismiss mental health as a weakness and won't seek treatment for health concerns that are easily treatable because they don't want to be perceived as weak or broken.
"Upon graduation, I look forward to working with veterans outside the Veterans Administration system, in a clinic in a city like Austin, where the demand is great, and the everyday challenges can be overwhelming. The military is a beast of its own and can be overwhelming," Dungy says. "Having civilians who can provide care and therapy, with an understanding of what we have been through, can help our veterans as well as military families to grow stronger and continue as leaders in our teaches at Texas State.
Hogan is very impressed with this program, having worked with traditional nurse practitioners in his practice, and recognizes that having a psychiatric/ mental health nurse practitioner on staff in the office will serve a strong role in patient care. He says that mental health nurse practitioners will bring several bonuses to the practice. "First, they have the traditional nursing mindset of nurturer, putting the patient first and recognizing the importance of educating the patient. It is in the ethos of nurse practitioners to make sure the patient understands the details of the treatment, which is something doctors tend to rely on. Second, there is a shortage of psychiatrists going into the mental health field right now. These PMHNPs will fill that much needed gap," Hogan says.
"Finally, they are financially more available. A clinic can hire three or four nurse practitioners for the price of one medical doctor — and those NPs can see patients immediately. There is a not a delay in service and/or treatment."
In 2015, USA Today reported that states cut $5 billion in mental health services between 2009 and 2012. This makes the job of psychiatric nurses even more challenging. Because of a weakened healthcare system, many adults with mental illnesses go untreated, some 60% according the USA Today report.
PMHNPs fill an important role, and Texas State's St. David's School of Nursing is on the front lines of building this vital component in healthcare nationwide. ✪
More information
Learn more about St. David's School of Nursing at the Texas State University Round Rock Campus, along with financial aid opportunities and degree plans.