Tyler Wallach is Having Serious Fun
Actor-turned-artist's colorful creations are making a splash in the art world and with major brands
By Ela Schwartz
Forget formalities when entering the Tyler Wallach Studio in Brooklyn's trendy DUMBO (Down Under the Manhattan Bridge Overpass) neighborhood. Tyler Wallach (B.F.A. '10) will immediately come to greet you warmly with a hug.
The self-described "1988 lovechild of Keith Haring and Lisa Frank" is wearing a T-shirt and baseball cap featuring his signature graffiti-style art — whimsical, cloud-shaped characters and crazy faces loud and proud with the colors of gay pride. "My art is about love, light, and positivity," he says. "It's magical, colorful, rainbow drippy fun."
But behind the fun is an artist who knows how to market Tyler Wallach Studio and build a successful business and brand. Since graduating from Texas State University, he has gone from unknown street artist to one whose work is displayed in Google's New York City headquarters and the office of a senior producer of ABC News' "Nightline." He has worked with big-name retail clients like Macy's and Barneys.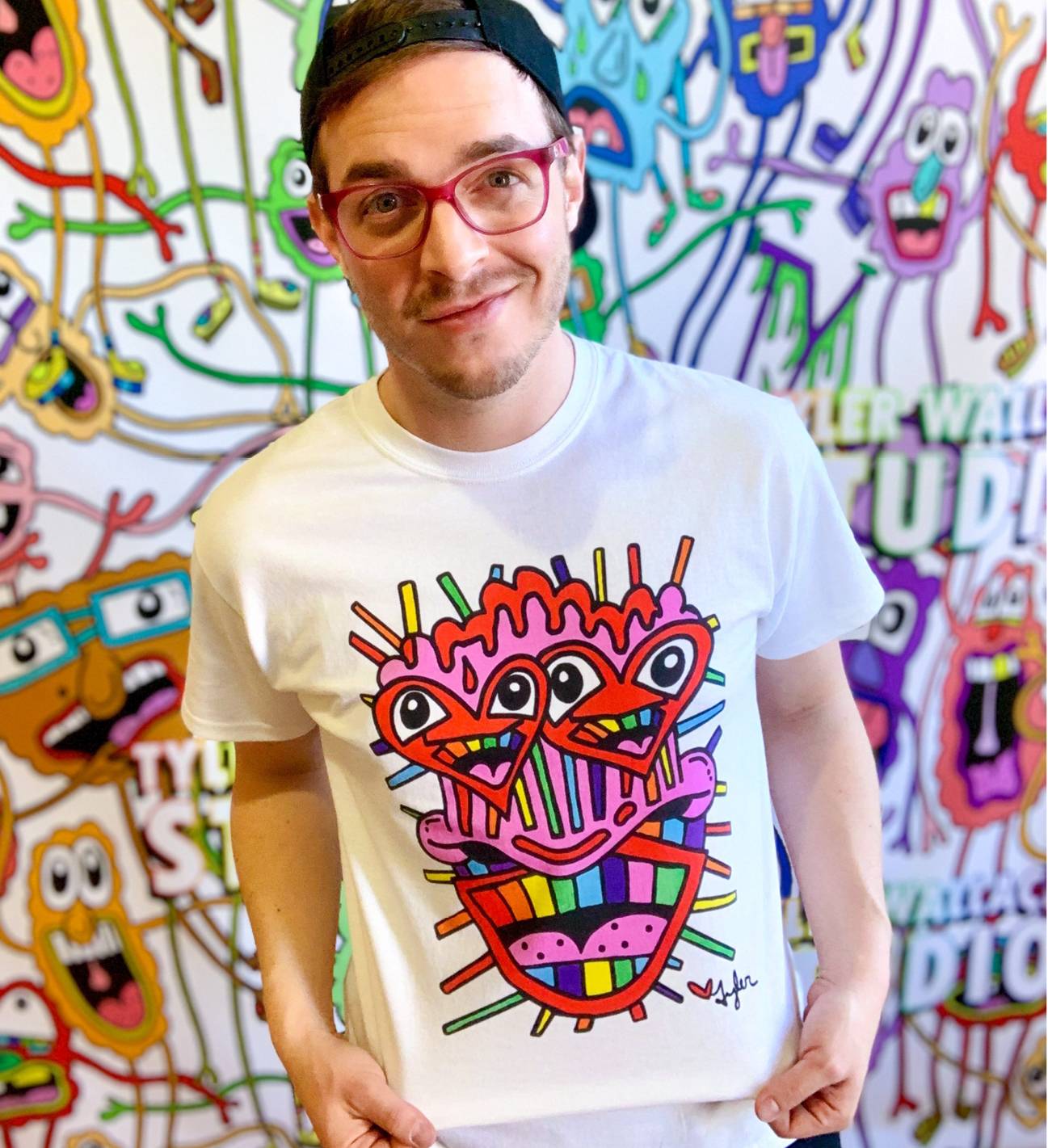 He's painted items such as a $12,000 Birkin bag and customized a coat for "RuPaul's Drag Race" winner Sasha Velour. Most recently, Samsung hired him to create his art on the Galaxy Note 10+ for two integrated marketing spots that aired during "The Masked Singer" and "The Emmy Awards Show." It's the kind of success most artists strive for, but Wallach originally planned on becoming an actor. He discovered another passion during his senior year at Texas State: In a screen-printing class, he created what are now his trademark cloudlike characters sporting the colors of the LGBTQ pride flag. He drew the characters on "Hello My Name Is …" stickers, adding "TY" at the bottom.
"I put them all over campus and became the guy who does the stickers," he says.
After graduation, Wallach headed to New York to pursue his acting career. He landed a part in a musical right out of the gate but knew in his heart that acting wasn't the right path for him. Meanwhile, he was also taking his TY stickers to the streets, posting them on walls à la his idol, the late public artist Keith Haring. This led to being discovered by the organizers of a show about the history of queer art.He had some doubts about whether to brand himself as a queer artist but decided to go with it. "I'm glad I did," he says.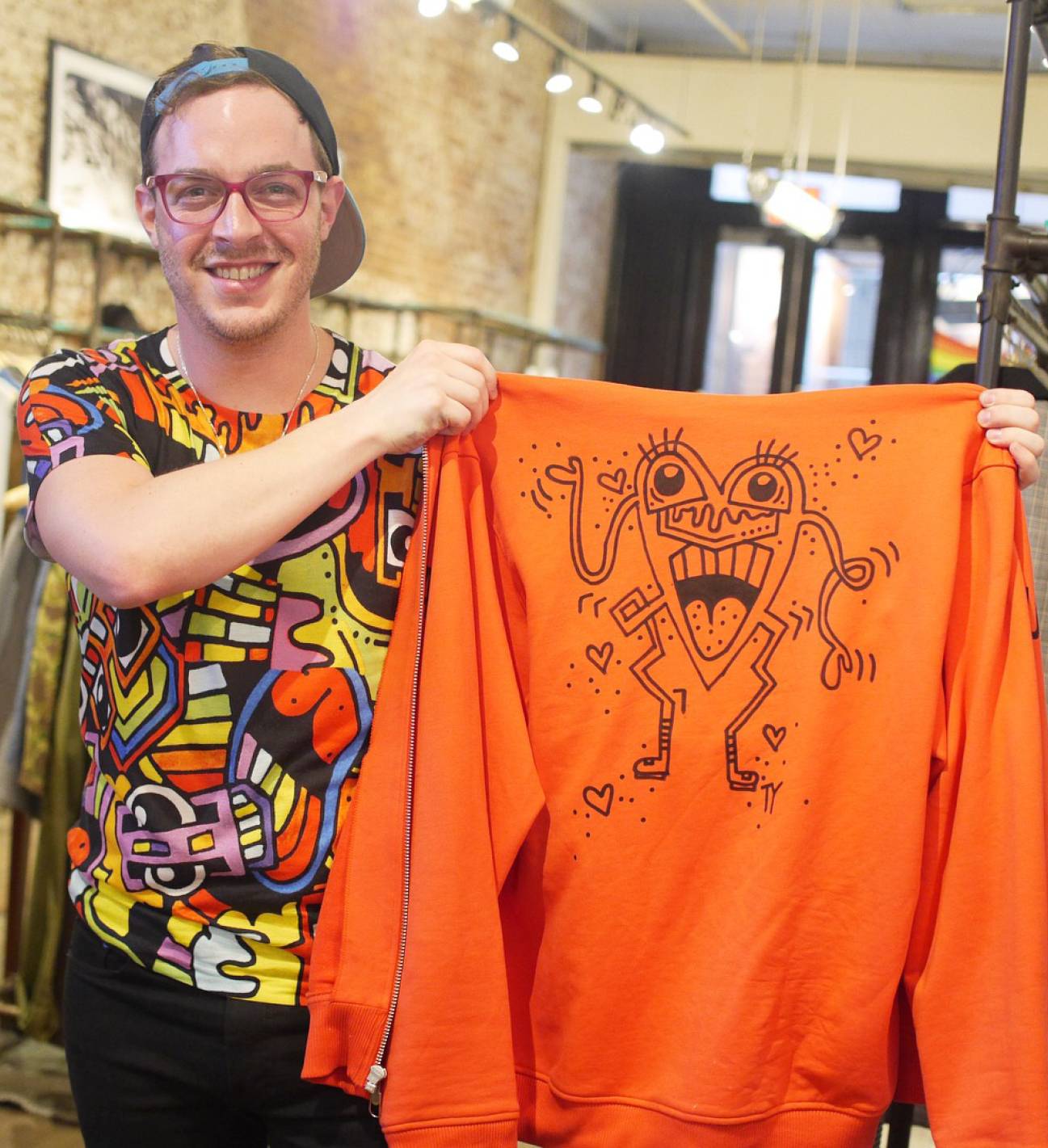 It's been amazing to see how my art has been embraced and applauded." Even mainstream clients "wanted a queer perspective, something new and fresh from an up-and-coming artist."
But Wallach's life hasn't been all rainbows. Before coming out at the age of 18, he struggled with anti-gay attitudes from friends. "It sent me in a tailspin," he says. "I wanted to cover up my true identity. I had suicidal thoughts." Today, he generously donates his time and art to a variety of LGBTQ causes.
Although Wallach didn't stick with acting, his education from Texas State has served him well. "I take more from my theatre degree with me in my career than anything else," he says in a perfect stage voice that only occasionally has the hint of a Texas twang, thanks to voice and dialects professor Melissa Grogan. "I learned how to read a room. I can stay on brand, I'm personable. Getting a job is about being someone people want to work with."
What does Wallach hope people feel when they look at his art? "That happiness is a choice," he says. "I look at my art, and I'm reminded to take a deep breath and realize that everything is on track.
"I've been riding this wave for 10 years," he adds. "I'm ready to keep going and embrace new opportunities." ✪