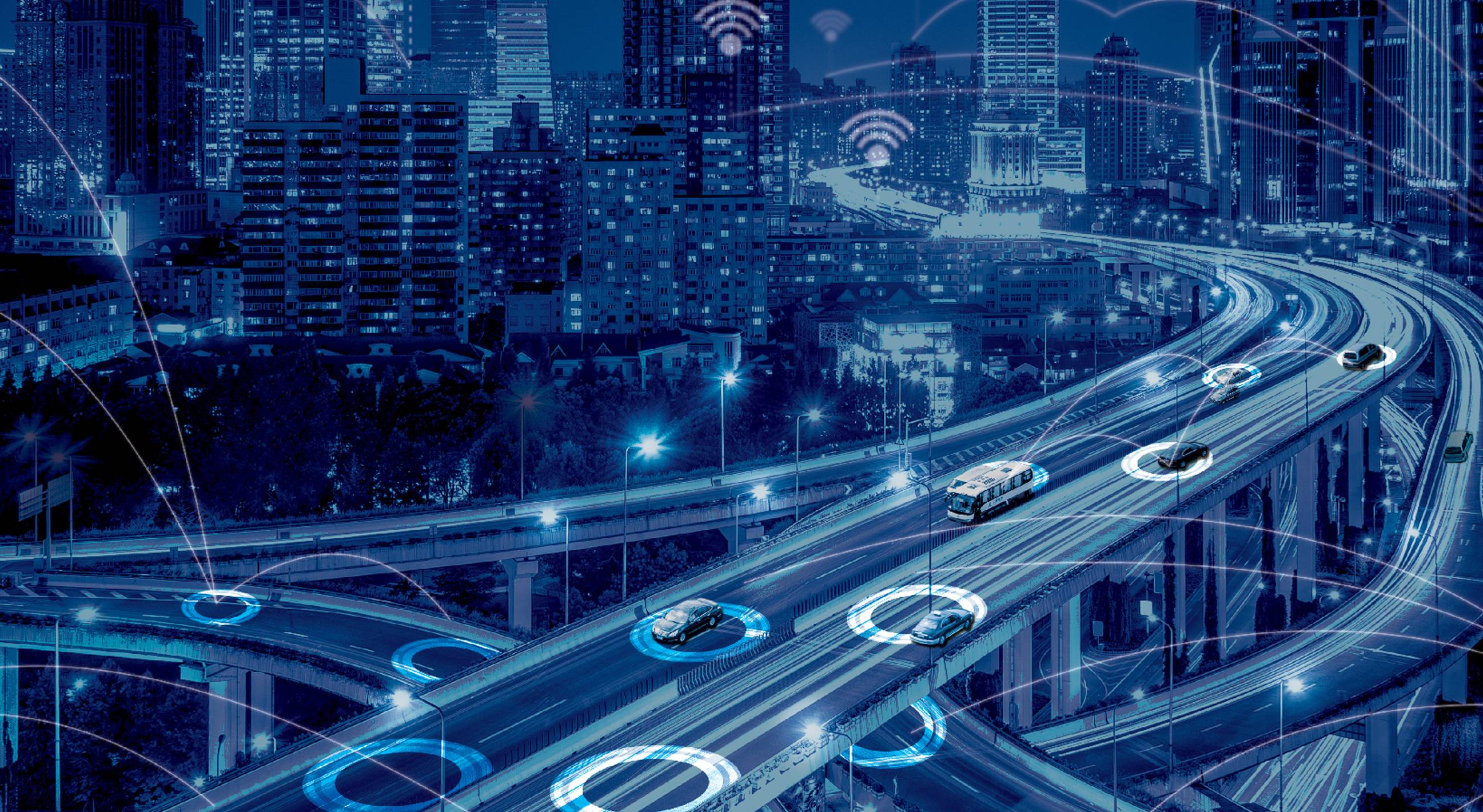 Welcome to the Future
By Bryan Kirk
Newest research collaboration developing at STAR Park
Imagine a world where bridges, roads, and buildings are smart enough to alert engineers about structural or design issues, where sensors embedded within the roads connect with electric vehicles to ensure not only that they are fully charged during the journey but also that they are operating safely.
All this, and a whole lot more, is happening as a result of an innovative research collaboration initiative under development at the Science, Technology, and Advanced Research (STAR) Park at Texas State University. Joining the 58-acre research park is the Connected Infrastructure for Education, Demonstration and Applied Research (CIEDAR) Consortium, which is built upon partnerships with industry and Texas State's faculty and students. CIEDAR was born out of the Materials Applications Research Center and falls under Dr. Walter E. Horton, chief research officer for Texas State.
Ingram School of Engineering faculty Andres Carvallo and Dr. Stan McClellan serve as co-directors of CIEDAR. Carvallo is overseeing the transition as they work to bring nine living laboratories to STAR Park that could ultimately impact infrastructure and life in the near future. Carvallo is a professor of innovation in the College of Science and Engineering and the founder and CEO of CMG Consulting LLC, a next-generation consulting and advisory firm. McClellan is a professor of electrical engineering.
The facilities being built under CIEDAR will help determine if these sensors can work as part of one network, or just how it will be managed. "Our role is to manage the birth of the organization that will manage nine living labs," Carvallo says. "We are in the early stages of recruiting for membership in four of the nine labs which will start up this year (i.e., Smart Utilities Lab, Smart Mobility Lab, Smart Networks Lab, and Infrastructure Research Lab)."
Currently, there are nearly 100 researchers across every college at Texas State working in 32 traditional labs on more than 290 externally funded CIEDAR projects. Carvallo says the new buildings and labs under construction at STAR Park will all have embedded smart technology, including smart floors and smart walls. "Our goal moving forward is to make all of our buildings technologically upgradeable as well as being zero energy, zero water, zero waste facilities," he says.
One new building that will support CIEDAR is the Infrastructure Research Lab (IRL) being built at STAR Park. The IRL will provide an environment for students, faculty researchers, and industry partners to dynamically test infrastructure components such as structural beams while employing the latest advances in sensors, 5G "Internet of Things" networking, and data analytics. The research capabilities being built by CIEDAR will greatly contribute to Texas State meeting its strategic goal to achieve R1 National Research status.
Ron Epperson, who serves as director of industry strategic partnerships for Texas State, is responsible for connecting with potential collaborators and creating corporate partnerships for the university and STAR Park. "We engage with companies and show them the value they can have by collaborating with Texas State, so they can come aboard, become partners, and help our students, our faculty, and our programs," Epperson says.
STAR Park and Texas State are located within the geographic sweet spot of what is known as the Texas Innovation Corridor, with connections to The University of Texas at Austin, The University of Texas-San Antonio, and UT Health San Antonio.
Epperson says that Texas State's emergence as a vital hub of research and development in the heart of the Interstate 35 corridor is fulfilling a huge need for high-tech industries, corporations, and local governments to share ideas and work closely with the university to meet specific goals. "There is nothing like this, certainly in Texas and maybe not in the United States, where people can come, collaborate with the university, and collaborate with each other in a living laboratory to create a smart neighborhood," he says. "This is a great example of Texas State's commitment to applied research."
Epperson says that the partnerships will not only aid local businesses and communities to implement smart technology but also help raise the profile of Texas State and generate more revenue toward research and development. "We are going to do research with relevance at STAR Park with CIEDAR — that will help solve problems of Central Texas and the world." ✪
What is CIEDAR?
A multidisciplinary connected infrastructure research consortium for industry that will build nine living laboratories for the acceleration of digitization, decentralization, and decarbonization of industry.
Key areas of focus for the consortium include education, demonstration, and commercialization of smart technologies.
• Using embedded smart technology (e.g., sensors, networks, big data, and software) into utilities, buildings and construction, transportation, cities, water, wastewater, and energy.
• Creating roads, bridges, and buildings embedded with smart sensors to detect structural defects, and monitor stress, motion and air quality, water, and energy use.
• Developing embedded mobility and autonomous public transportation systems that increase safety, control traffic signals, and keep electric vehicles fully charged using artificial intelligence.
• Testing 5G networks on all kinds of applications, and even with wearable and ingestible sensors.