Texas State University: The Heart of the Texas Innovation Corridor
Anchored to the north by Austin's Silicon Hills and to the south by San Antonio's biotech industry, the burgeoning Texas Innovation Corridor has boasted unprecedented population growth, job creation, new business startups, and economic expansion for the better part of a decade.
Comprised of the Austin and San Antonio Statistical Metropolitan Areas and roughly paralleling Interstate 35, the Texas Innovation Corridor encompasses 13 vibrant Central Texas counties with Texas State University occupying an envious position at its very center. For years, locals have known the Texas Innovation Corridor was poised to become the next big thing. Now, the rest of the nation has taken notice.
In July, the U.S. Army selected Austin as the site for its prestigious new Futures Command center. The Futures Command will consolidate the Army's innovation efforts to project what future roles and threats the army may face, and modernization efforts through the development of new technologies. In the spring of 2018, Industry Week profiled San Marcos, and the Texas Innovation Corridor in successive articles, highlighting the area's advanced, job-generating companies such as CFAN, Mensor, and RSI, along with the role Texas State plays in preparing well-rounded, tech-savvy graduates ready to fill critical roles in the industry. Forbes magazine dubbed San Marcos "America's Next Great Metropolis" and Thrillist referenced the locale as one of "America's Best Small Cities to Move to Before They Get Too Popular."
Such glowing accolades don't occur in a vacuum. Hays County, home to Texas State and San Marcos, ranked as the fastest-growing county in the United States for 2017 with a population of more than 150,000. To the south and west, neighboring Comal and Kendall counties rank as the second- and fifth-fastest-growing nationally with populations of more than 10,000, posting growth of 5.1 percent and 4.9 percent, respectively.
This activity has paralleled Texas State's recent growth in research and development activities. The university attained Emerging Research niversity status in 2012, and that same year opened the Science, Technology, and Advanced Research (STAR) Park, a catalyst for research and commercialization activity three miles from campus with easy access to Interstate 35. Since 2014, companies located in STAR Park have created more than 80 jobs and raised more than $32 million through equity and strategic alliance investments. Two of those STAR Park success stories are Micropower Global — developing solid-state semiconductors that convert heat directly into electricity — and Paratus Diagnostics — developing in vitro diagnostics devices for use in medical settings or as bioterrorism defense.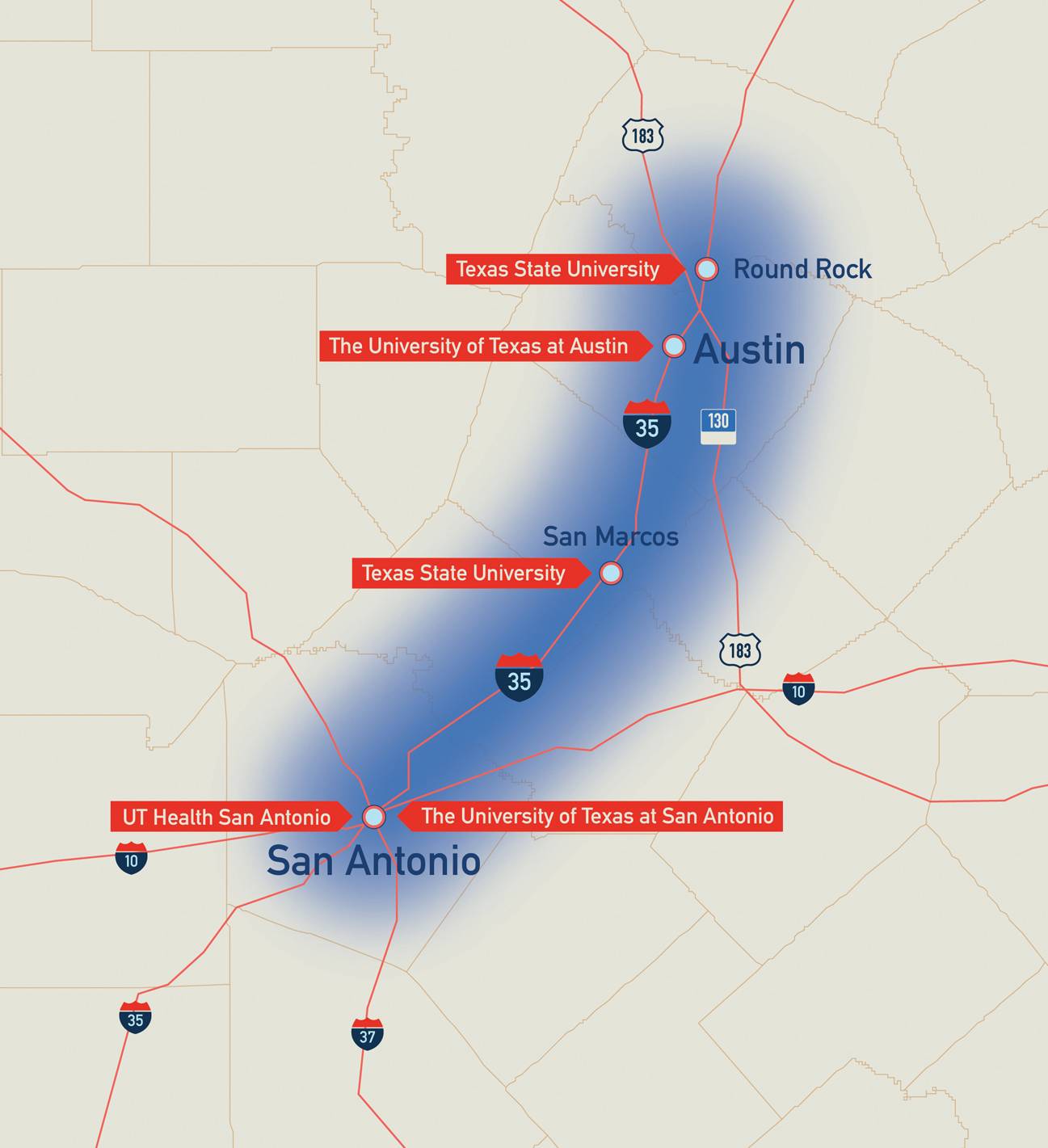 That degree of success has led to a demand for more capacity at STAR Park. While still in the early stages, future plans anticipate a new multi-tenant building going up on the site, which will enable a significant expansion of Texas State's capacity for commercialization and business incubation initiatives.
"If you're at the heart of the Texas Innovation Corridor, this is what you're trying to grow," says Dr. Gene Bourgeois, provost and vice president of academic affairs. "The companies we have at STAR Park have, to date, been primarily focused on nanomaterials. Now that we have a computer science Ph.D. program, it's fair game to consider some computer technology seed companies moving into STAR Park."
In-house innovation lab
Innovation is not just confined to STAR Park. The Materials Application Research Center (MARC) was established in late 2017 and operates under the Office of Research and Sponsored Programs. It serves as an in-house innovation lab for the university with robust entrepreneurship components and has attracted more than $5 million per year in funding from the Texas Legislature. The MARC boasts an Advanced Prototyping Center, which provides prototype development services and applied research activities.
Texas State continues to invest heavily in science, engineering, and technology as it proceeds on its path to becoming a national research university. Currently ranked 30th in the United States in enrollment, the university has committed to growing its research footprint in all areas — in the spring of 2018 the Chronicle of Higher Education listed Texas State among the top 50 public institutions with the highest research and development spending on the humanities — but innovative research into physical science fields continues to be among the university's top priorities.
Since 2007, when the university established the Ingram School of Engineering, named for generous benefactors Drs. Bruce and Gloria Ingram, engineering has been on an aggressive growth path. Texas State's engineering programs have grown from an initial offering of three degrees in 2007 to five by fall 2019, dependent upon the new civil engineering program receiving final approval from the Texas Higher Education Coordinating Board.
To accommodate the expansion in these programs and in other science programs such as computer science, math, and biology, the university launched the construction of Bruce and Gloria Ingram Hall, the largest, most ambitious academic building project in Texas State's history. It is also one of the most expensive to date. With more than 166,000 gross square feet of space over five floors, Ingram Hall will offer students and faculty the most advanced classroom and laboratory space available. The Collaborative Learning Center is open to all students in the College of Science and Engineering, offering free walk-in tutoring in basic and advanced biochemistry, biology, chemistry, computer science, engineering, engineering technology, mathematics, and physics courses. Once the engineering programs have moved to Ingram Hall, the current labs and offices in the Roy F. Mitte Technology and Physics Building will be renovated for the planned civil engineering program.
Ingram Hall dominates a full square block at the corner of Comanche and Woods streets and is a visual demonstration of the university's commitment to science, engineering, and technology. Ingram Hall brings an array of new facilities to Texas State, including new active learning classrooms and an extension of the System Modeling and Renewable Technology (SMART) Lab where students are directly involved with renewable energy research. The Materials Science, Engineering, and Commercialization (MSEC) program, an interdisciplinary, graduate-level program that works closely with the McCoy College of Business Administration to help students hone the skills to develop their work from a commercial perspective, will also benefit from new space in the building.
Accessible Maker Space
Perhaps the most striking presence in Ingram Hall will be the campus accessible Maker Space. Highly visible with broad windows allowing passersby to observe activity within, the Maker Space includes large and small 3D printers, laser cutters and engravers, metal and plastic mills, a large water jet table, and equipment to enable the recycling of 3D printer waste. There are also fully equipped areas for welding, sheet metal work, printed circuit boards, and woodworking.
New degrees at the undergraduate and graduate level are designed to capitalize on these resources coming online with the opening of Ingram Hall and to provide the needed intellectual framework to help guide Texas State's evolution in the 21st century. The computer science Ph.D. program — established in fall 2017 — is the first in Texas to combine the application of computer science practice and theory with entrepreneurial and commercialization skills. The innovative program is bolstered by faculty research areas that develop skills and knowledge needed in technology industries.
Texas State's engineering technology programs have also enjoyed robust growth in recent years. These programs have been in existence since 1999 and offer bachelor's degrees in applied technology and research expertise needed to support the demands of today's workforce. Examples of these programs include the Concrete Industry Management program, one of only four such degrees in the nation, which provides graduates with a certification highly valued by industry leaders.
From a historical perspective, Texas State remains a relative newcomer to the world of cutting-edge research and development. The amount of progress the university has made in just the past few years, however, is remarkable. This creative, cross-disciplinary approach to challenges of research and commercialization efforts has proven viable and productive, ensuring Texas State an ever-expanding role in the Texas Innovation Corridor for decades to come. ✪