Christie Ryan: Attorney's work on behalf of veterans, their spouses earns award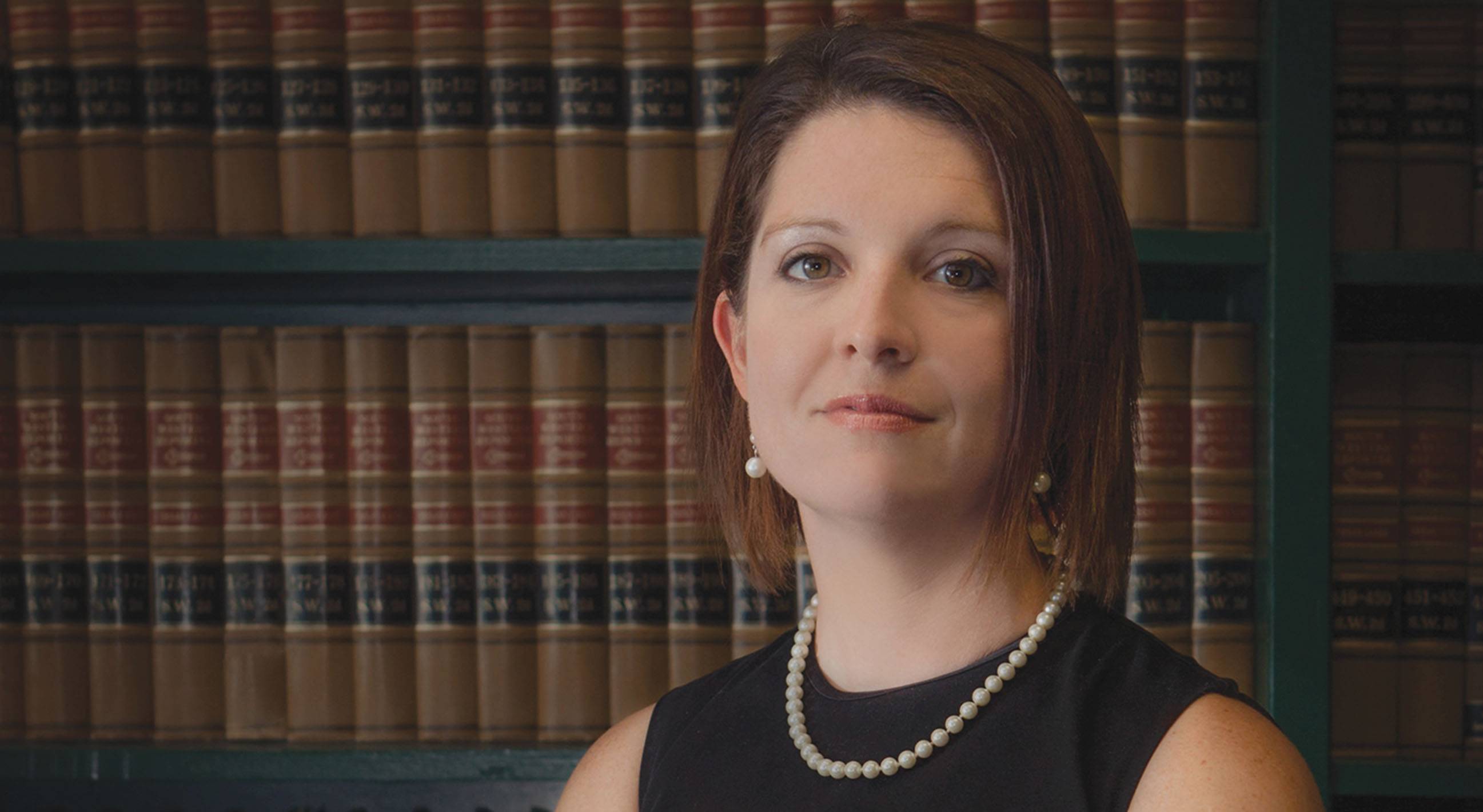 Christie Ryan
By Brian Hudgins
Attorney's work on behalf of veterans earns award
Christie Ryan's first indication that a legal career might be in order didn't come from a classroom or a courtroom.
"My dad always said I argued too much and I should be a lawyer," she says. Today, Ryan (B.A. '05) is an attorney with Dunnam & Dunnam in Waco where she practices appellate, civil trial, commercial, consumer, and family law. She received her Juris Doctor degree from Baylor Law School and has volunteered for the Baylor Law Veterans Clinic since it opened in 2012. Last year, Ryan was honored as the clinic's Advocate of the Year, an award given to those who go above and beyond in pro bono legal services to veterans and their spouses.
"I volunteer at the Baylor Law School Veterans Clinic pretty frequently," Ryan says. "They send me mostly divorce cases. Some clients have PTSD. Many times, it's a complicated case."
Those complex issues are just one part of the legal lure for Ryan, who is married to Baylor Law professor Rory Ryan and is the mother of three children. Aside from her courtroom experiences, Ryan sees decisions handed down frequently in a much different arena. Being a mom to three boys, with two involved in sports leagues, means that many weekend afternoons are spent at ball fields. The atmosphere and decision-making processes are more casual than court proceedings.
"I am a lawyer but also a parent. A parent might have a great case legally, but emotionally — people who have been married for 10 or 15 years still have to raise their kids. Once you cross that line, it's hard to be civil."
Many cases revolving around family law issues are settled out of court before a decisive court hearing is reached. "For family law cases, there is about a 70 percent chance the case will be settled before a final hearing," Ryan says. "I like those family cases, because I like talking to people and working out those issues."
One case that stands out for Ryan involved custody of a child with autism where the dad's visitation was restricted. "Assisting a dad in a custody case and seeing that emotion is powerful," she says.
Ryan says her learning process at Texas State helped her become a better problem solver. She majored in history with a minor in philosophy. "You are always looking at solving problems (as an attorney)," she says. "How is somebody else going to try to destroy your case? How can I win or lose this case? Philosophy and those logic classes were really helpful."
In addition to those lessons, both listening and asking questions in a courtroom setting has value — even if the material does not directly involve one of her cases. "Any time I see other lawyers put on a case, I can learn a lot by being there," she says. "Hearing jurors and finding out what was or wasn't credible helps you."
"You are always looking at solving problems. 'How is somebody else going to try to destroy your case? How can I win or lose this case? Philosophy and those logic classes were really helpful."

Christie Ryan, Class of 2005
Ryan, who is from Fort Worth and was home-schooled until age 16, had her first big post-law school lesson happen on familiar ground. "My first huge deal as an attorney came during an appellate argument," Ryan says. "My bosses let me write the appellate brief (where) you have to present your argument to a panel of judges. It was held in Waco and my former professors were there. I lost and it was terrifying."
Since then, Ryan has carried a mental reminder of the value of both positive and negative outcomes. "If you lose, it keeps you humble and you learn how to better advise clients going forward," she says. "The more you win or lose, it helps me to advise a future client."