A Bobcat with style: Leslie Fossler says there is a big difference between designer and decorator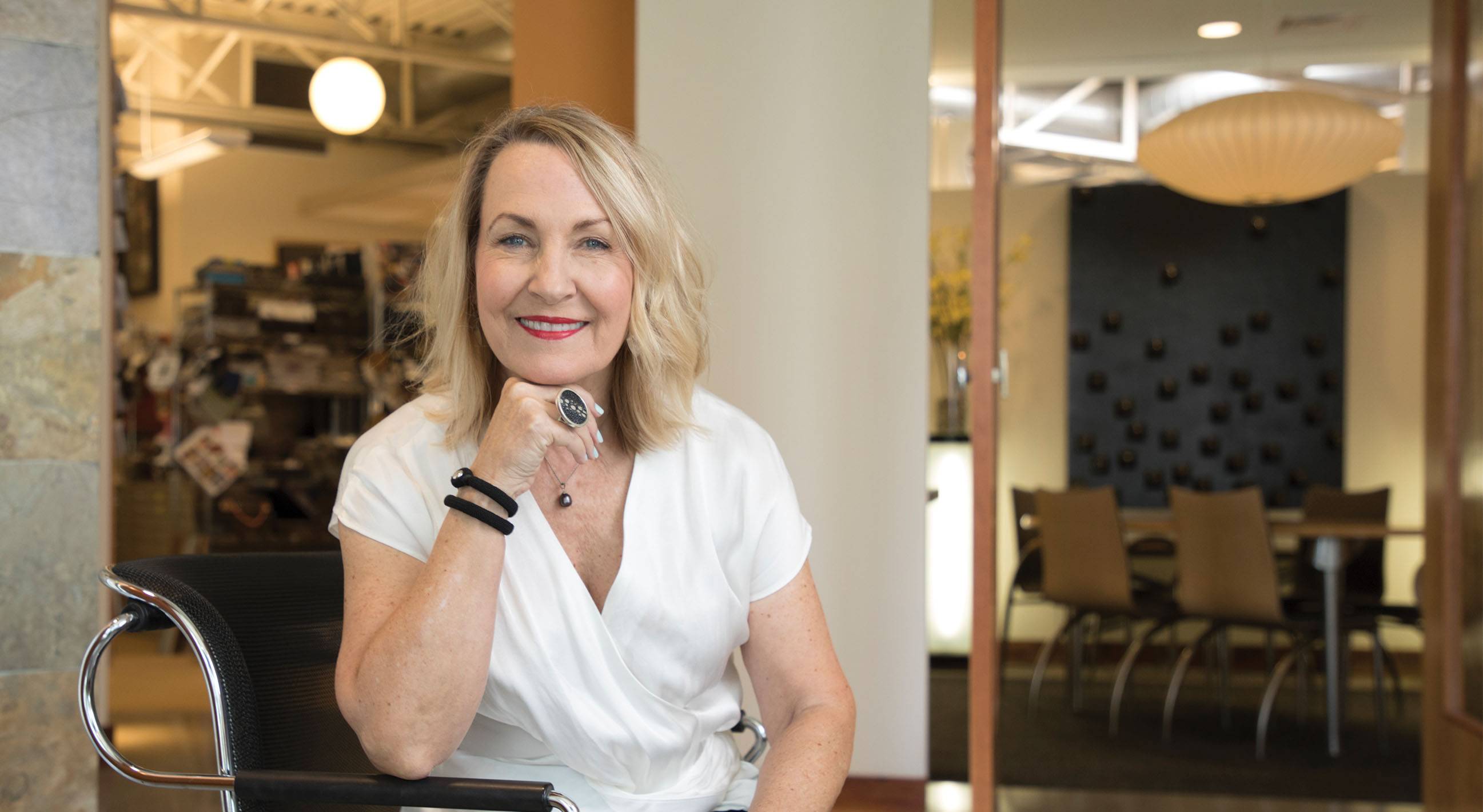 A Bobcat with style
by Tracy Hobson Lehmann
Leslie Fossler says there is a big difference between designer and decorator
Interior designer Leslie Fossler often feels misunderstood.
Most people don't grasp the complexity of her profession, says Fossler (B.S. '76), who launched her Austin firm, Leslie Fossler Interiors, in 1982. "Now they think it's HGTV or Pinterest or Houzz."
Those platforms raise awareness about aesthetics, she acknowledges, but there's more. Licensed designers must understand building codes, materials safety, and accessibility standards. They stick to budgets and schedules — and, yes, they decorate.
Fossler enrolled at Texas State in 1972,the year the concentration in interior design was first offered in Home Economics, now the School of Family and Consumer Sciences. She's been explaining the distinction between designer and decorator to peers, friends, and family ever since.
"Decorating is part of what I do. It's the fun part," she says. "Design of the true space, which is the crux of what I've built my business on, is working collaboratively with architects, developers, structural engineers, and mechanical consultants. I'm part of that team." Fossler's design credits include offices, restaurants, hotels, and high-rise apartments — and, yes, she has redone living rooms along the way.
Retired Texas State professor Jene Laman says he told Fossler and other students it's good to be versed in both commercial and residential design. The curriculum, however, emphasized commercial design so students could be grounded in the complexities of large buildings. "If you learn commercial design, that information carries over to residential design," he says.
Fossler's first job was with an Austin company that sold office furniture to state agencies. It wasn't glamorous, but it turned out to be a career springboard when the firm tapped her to head its new interior design department. Her first big project there was transforming the 100-year-old Walter Tips Building on Congress Avenue into the Franklin Savings and Loan building. She relished delving into the building's history to incorporate past and present in the design.
"That's when I knew my work would always be fundamentally grounded in history," Fossler says. "Learning that history and understanding it and how to bring it into the 21st century is the ultimate for me."
She forged professional connections with restoration architects and key players in Austin's downtown rebirth. "I had everything you could have asked for," she says. "I didn't even know to ask for it, it just happened."
The young designer launched her business amid Austin's booming economy. Then, the boom went bust, and Fossler reluctantly accepted jobs making over clients' homes. Turns out, the work she never wanted to do did more than sustain her business until the economy rebounded. The lessons she learned from those residential jobs shaped her approach to design. "It was the hardest thing I ever did," she says. "I had to take someone else's idea and make it come to life. I was not great at it, but it did teach me some valuable things about listening."
Computers have replaced hand drawing, and clients are more design savvy. More than ever, designers need strong listening and face-to-face communication skills, Fossler tells interns and young designers. "You have to build trust," she says. "(Clients) have to trust that you're going to design it right, that it's going to hold up and perform, that it's going to come in under budget, and it's going to wow people."
Earning potential is strong for well grounded designers, Fossler says. "Making $100,000 a year is possible for creativepeople. To be worthy of that, you have to be on your feet about what you're telling people. You have to be aware of accessibility requirements and building and safety codes."
Fossler stays active in organizations such as the International Interior Design Association and the Council for Interior Design Accreditation to help bolster professional standards. She's part of CIDA's accreditation team, visiting universities to ensure that interior design programs meet industry standards. Texas State's program has been accredited since 1988, with the next review due in 2021.
Today, Fossler's firm employs four fulltime staffers along with contract designers and is listed among the Austin Business Journal's top design firms. In 2005, Fossler bought and renovated a 1950s garage in downtown Austin to serve as her office. The building lies about a mile southwest of the State Capitol in what was "kind of the armpit end of town" when she bought it. Austin, like the design profession, has evolved.
"Now I own a piece of Austin in a really good part of town. Who knew (this would happen) when I enrolled in the home economics department?" she says, laughing.