The Fighting Stallions: Sculptor Anna Vaughn Hyatt Huntington created the university's symbol of freedom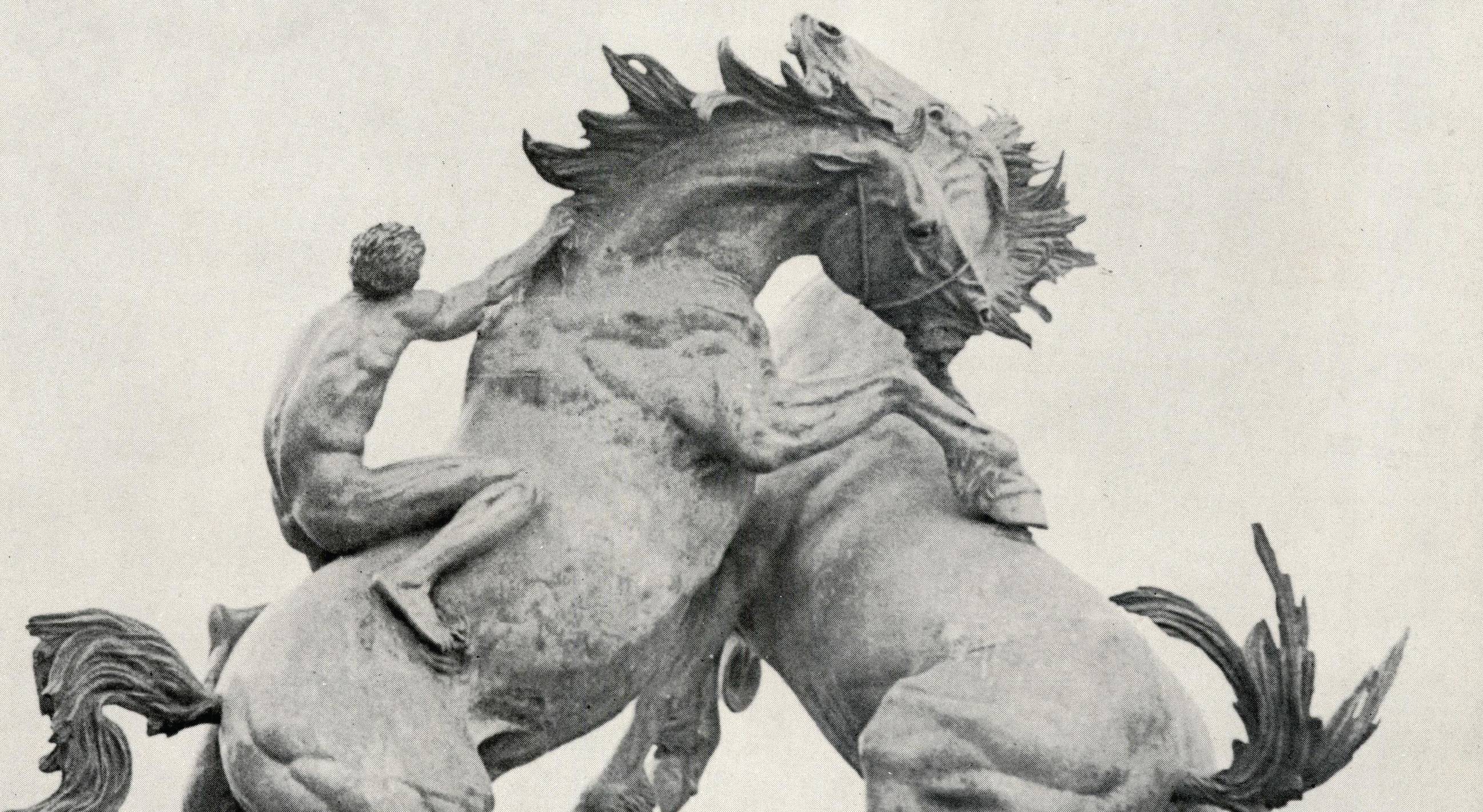 The Fighting Stallions
by Margaret A. Vaverek and Dan K. Utley
Sculptor Anna Vaughn Hyatt Huntington created the university's symbol of freedom
Long a symbol of freedom, the ornate statuary group formally called "Fighting Stallions" has served as a dramatic backdrop for countless social rallies, political protests, and anti-war demonstrations since it was installed on the Texas State campus during an era of uncertain peace in the early 1950s. Its history reflects diverse contexts that include foundational education, women artists, philanthropy, city planning, and a family's enduring sense of place. It is the artistic expression of renowned sculptor Anna Vaughn Hyatt Huntington (1876-1973), whose monumental works grace grand cultural landscapes in places such as New York City, Seville, Buenos Aires, Edinburgh, and San Francisco. It also uniquely defines the mission of the artist's public sculpture collection at her Brookgreen Gardens in South Carolina, where the original serves as the entryway centerpiece.
Born and raised in Cambridge, Massachusetts, Anna Hyatt lived in a family environment grounded in academics, artistic exploration, and an appreciation for nature. Her father, Alpheus Hyatt II, was a noted paleontologist and zoologist associated with the area's prominent universities, as well as the Boston Society of Natural History. Her mother, Audelia Beebe Hyatt, was an artist, and Anna's older sister, Harriet, established her own worthy credentials in sculpture and art education. Although Anna studied and worked with renowned artists of her time, including Mount Rushmore designer Gutzon Borglum, she credited her sister as the greatest influence on her art, which remained largely self-taught and observational.
Given her background, it is not surprising that Anna Hyatt developed an early passion for art, particularly the dynamic sculptural portrayals of animals. As an influential animalier, part of a celebrated group of like-minded French and U.S. artists around the turn of the 20th century, she imbued her work with stylistic references to naturalism, neoclassicism, and the Beaux Arts. Retaining a strong commitment to long-held artistic traditions, she persevered in prominence even when modernism seemed to prevail.
In 1923, Anna Hyatt married New Yorker Archer M. Huntington, who had commissioned her to design the prestigious Mitre Medal for the Hispanic Society of America he founded. Archer was the wealthy stepson of railroad and shipping magnate Collis Potter Huntington. His mother, and Collis's second wife, was Virginia-born Arabella Yarrington Huntington, who instilled in her son an appreciation for the arts she actively supported throughout her life and which led to the acclaimed Huntington Library in California. A scholar, humanitarian, and philanthropist, Archer had a great fondness for Central Texas, having enjoyed extended visits with his Yarrington family members on a ranch near San Marcos during his formative years.
Anna and Archer Huntington made their primary home at their Stannerigg (stone ridge) Farm estate in Connecticut. By the 1930s, they also began developing an estate along coastal South Carolina, where they established Brookgreen Gardens as a means of celebrating and providing public access to the American sculptural arts. Their philanthropy in the field of public art soon spread far afield, and in 1951, they decided to donate a replica of Anna's sculpture, "Fighting Stallions," to Texas State, then known as Southwest Texas State Teachers College. Archer had fond memories of time in the area and Anna believed that Texas would be an ideal place for a monument to wild horses.
In the 1950s, the Fighting Stallions statue was displayed on a base designed by Wimberley artist Buck Winn. The statue was moved from its original location between Taylor-Murphy and Evans some 20 to 25 yards away, to its current location on the west end of the Quad when campus improvement were made in the 1980s.
College president Dr. J. Garland Flowers proudly accepted the Huntingtons' generous donation, noting it would "give accent to the aesthetic aspects of our program which we are so anxious to emphasize." Flowers immediately set about the task of raising funds and technical assistance for a suitable base that would adequately showcase the monument and reflect the natural history of the San Marcos area. To that end, he worked with alumnus and Archer Huntington nephew John T. Yarrington, as well as school and city officials, to find and landscape a suitable site. He relied heavily on the design of Wimberley resident James Buchanan "Buck" Winn Jr., a noted regionalist artist. The advisory committee selected a site between Evans Auditorium and the Fine Arts Building (now Taylor-Murphy).
In his rustic landscaping, Winn utilized massive ashlar-cut gray granite stones acquired from the ruins of the old Texas Military Institute campus in Llano, Texas, symbolizing a solid historical foundation of education. He accented with native grasses, yuccas, junipers, and boulders that added to the innate "wildness" of the piece. Although the pieces of the monument arrived in San Marcos in October 1951, ongoing fundraising and base construction work caused the school to delay the formal dedication until the following year. In his dedicatory address on Oct. 18, 1952, President Flowers noted the new monument served as a reminder that "the discovery of the beautiful may be as rewarding and enriching as our search for goodness and wisdom." Although continued growth and redesign resulted in the sculpture's relocation and dismantling of the original base in the early 1980s, it remains, as Buck Winn observed, a work of art to be "cherished forever, a thing of beauty."
---
Margaret A. Vaverek is a librarian in the research and outreach department of the Alkek Library. Dan K. Utley is an adjunct professor in the Department of History and the chief historian for the Center for Texas Public History.✪