Kick it into high gear: Kat Conner ready for challenges in 2018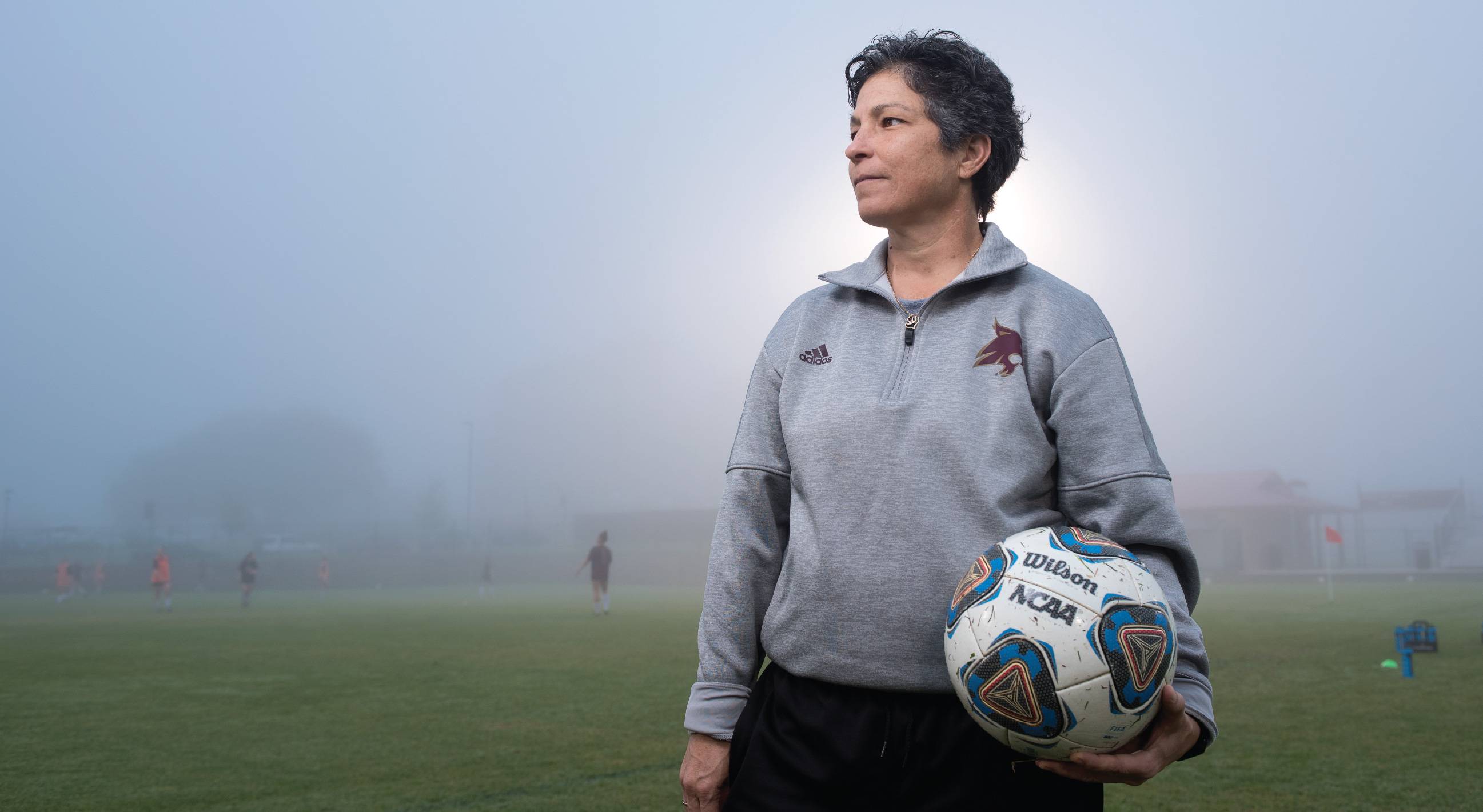 Kick it into high gear
By Benjamin Gleisser
Kat Conner ready for challenges in 2018
The Texas State Women's Soccer team ended the 2017 season at the top of its game, with an impressive 10-6-1 record, and a trip to the Sun Belt Conference (SBC) quarterfinals. Under the leadership of Head Coach Kat Conner, who this fall will enter her 20th season as founder, the team is poised for greater heights in the 2018 season.
Preseason training is just weeks away but is merely an extension of the requisite Bobcat soccer mentality. "In our minds," explains Conner, "physical and mental preparation is ongoing. The success of the 2018 fall season depends upon the foundation we build in the offseason. The players have trained all spring, and the expectation is that they will return for preseason in August fit and ready to train even harder."
Although the team's focus has shifted to this fall's 2018 competition season, Conner does pause to acknowledge and celebrate the team's accomplishments, as well as the momentous awards earned by several individual players in 2017.
Seniors Chandler Cooney, Kassi Hormuth, and Rachel Grout were named to the United Soccer Coaches All-Region South Team. Grout also was selected to the College Sports Information Directors of America Academic All-America Division I women's soccer third team. Hormuth earned the title of SBC Offensive Player of the Year, and was selected for the SBC First Team along with Cooney, Grout, Heather Martin, and Kaylee Davis. Davis was chosen SBC Newcomer of the Year.
Conner herself was named 2017 SBC Coach of the Year, the third time in her 19 years at Texas State. She also was named Southland Coach of the Year in 2008 and 2009.
Reflecting on her accolade, Conner explains, "Peer recognition is, of course, an honor. However, any good coach knows that success is linked directly to the efforts and dedication of staff and players. No question, my coaches and players work hard, uphold standards of excellence, and are very good at what they do."
Though the team is losing a number of talented graduating seniors, the coach remains confident that the returning athletes will have a strong impact."We've got a solid nucleus of players waiting in the wings, highly competitive," she says. "They're all determined to go to the next level, and they believe in our style of play: 'Work hard, be scrappy, and get after 'em.'"
Without question, Conner does her part to inspire her field warriors. After each match, as the team unwinds in the locker room, she rewards the match's top performers with giant dollar bills from the Dollar Store.
"I announce, 'Here's your big money,' " Conner says with a laugh. "We put the dollar bills on their lockers. There is a sense of pride, and some competitiveness, too. If you want that big money, you have to earn it. The true competitors do earn it."
A soccer standout at Pacific Lutheran University, where she earned a bachelor's degree in 1992, Conner says she coaches the same way she played. "I considered myself one of the hardest workers, and my goal was to get out there, be aggressive, and make things happen. I try to get my team to see themselves that same way. I want them to be standout competitors, driven, accountable for their performance.
"These are not only soccer skills but life skills. I hope what they do on the field will translate into their lives and teach them to be leaders. Many of my players have big dreams. They're studying to be therapists, engineers, doctors, and I want them to be committed and dedicated to their dreams."
" Many of my players have big dreams. They're studying to be therapists, engineers, doctors, and I want them to be committed and dedicated to their dreams."
Meeting challenges is nothing new to Conner, who is facing her toughest test yet. Diagnosed with ovarian cancer in 2015, she has built a great support team and, thankfully, she's winning the fight. Currently in remission, Conner takes a low-grade chemotherapy medication orally.
"My players have been so supportive," she says. "They are a constant reminder that giving up is never an option. They've been awesome and so inspirational for me."
Carrying this sense of inspiration and hope even further, Conner founded Goals2Cure, an organization promoting ovarian cancer awareness and raising money to assist women fighting the disease. The soccer team collected pledges for each goal scored last season, with donations benefiting the Texas Oncology Foundation to help ovarian cancer patients with treatment bills. The final donation amount exceeded $4,500.
Conner got the idea for Goals2Cure after seeing the diversity of ovarian cancer patients receiving treatment at Texas Oncology. "I realized some women out there couldn't afford to get treatments, and I wanted to find a way to help them," she says. Conner credits her players and assistant coaches with supporting the success of Goals2Cure. "They went all in with me. They believed in me, and they have made a difference in the lives of other women battling this cancer."
Assistant coach Lauren Frazier says working with Conner has been inspiring. "I've grown a lot since working with her," says Frazier, who played for Conner in 2010-11, joining the coaching staff in 2012. "Her mission is to teach people to live by a set of values."
Senior forward and 2017 team captain Hormuth says Conner has taught the team "to be helpful in any way we possibly could. 'Make a teammate look good' is our motto; and off the field, if you see somebody struggling, take initiative and help them. Coach has taught us that if you can do anything to make somebody's life a little easier, do it."