Making the move
by Hannah Hepfer
Health Professions looks forward to collaboration, growth in Round Rock
Healthcare employment is growing across the country. In Texas, among the fastest growing states — it's booming.
The U.S. Bureau of Labor Statistics estimates that employment of healthcare occupations will grow 18 percent through the year 2026, adding some 2.3 million new jobs across the nation. In a 2017 report on growth occupations, the Texas Workforce Commission projected healthcare and social assistance employment growing to approximately 1.8 million new jobs over the next seven years. Among the 11 industries included in the report, the strongest, with a 32.2 percent increase, was healthcare and social assistance.
Texas State University is out in front of the trend, offering three in-demand programs — Communication Disorders, Physical Therapy, and Respiratory Care — in the College of Health Professions. Prospects for graduates are promising, with the bureau estimating that 25,400 speech-language pathologist jobs, 60,000 physical therapist jobs, and 30,000 respiratory care therapist jobs will open up by 2026.
The move for these three programs to the Round Rock Campus began in the spring. Joining St. David's School of Nursing, these programs bring associated community clinics: the Physical Therapy and Speech-Language-Hearing Clinics and the Texas State Sleep Center. The programs are the first to use instructional space in the new four-story Willow Hall, the third building on the Round Rock Campus.
Dr. Ruth Welborn, dean of the College of Health Professions, says the impetus for the move came from a need for more physical space as well as opportunities for partnerships with the numerous healthcare facilities in the area. "We're excited to have four programs that have a focus on clinical practice together in one location," she says.
The move furthers the development of a professional healthcare campus setting that's focused on preparing qualified health professionals while offering an environment that's also conducive to faculty research and community service. Moving these three programs is the first phase of the university's plan to relocate the entire College of Health Professions to Round Rock. Until a fourth dedicated building is completed, the other four Health Professions departments — Clinical Laboratory Science, Health Administration, Health Information Management, and Radiation Therapy — will remain on the San Marcos Campus.
Dr. Barbara Sanders, department chair of Physical Therapy, believes the new building provides critical upgrades. "We were in the [San Marcos] location for 25 years and far outgrew the resources," she says. "We weren't keeping up with the technological advances."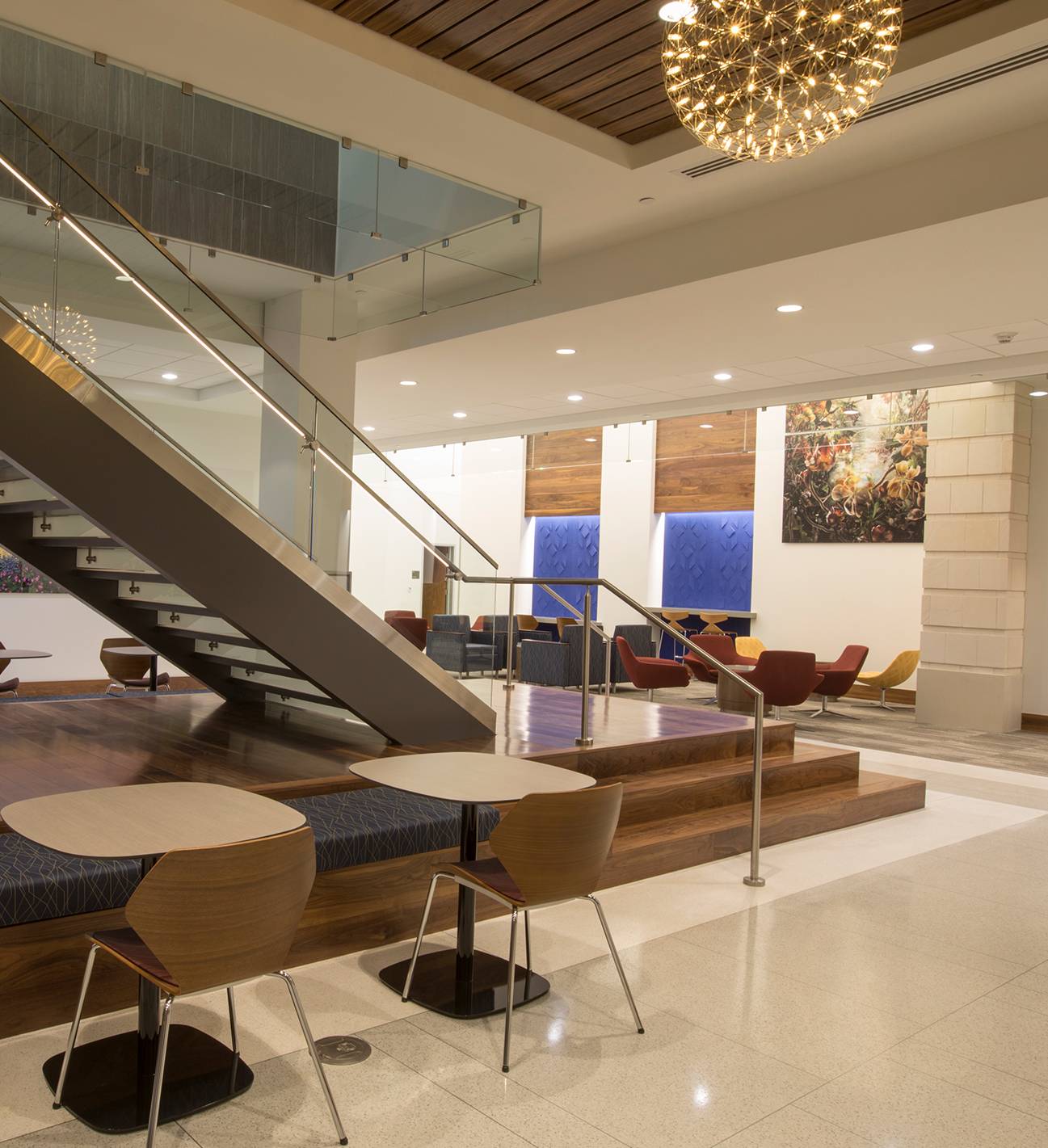 Willow Hall has more than 100,000 square feet of space. About 500 students and 70 to 80 faculty members were relocated to the Round Rock Campus. For bachelor's degree programs, all upper level (junior and senior) courses will take place at Round Rock as will graduate-level courses. Lower-level degree courses will continue to be completed at the San Marcos Campus.
Dr. Valarie Fleming, department chair of Communication Disorders, says the program's clinic has doubled in size and faculty members now have individual research spaces, which previously were shared. "We're able to serve the community at a greater capacity and have more of a variety of clinic interactions," she says. Communication Disorders will complete the move to Round Rock in the fall.
Round Rock residents can access the Physical Therapy Clinic and the Speech-Language-Hearing Clinic, which are open to the community as they were in San Marcos. The Speech-Language- Hearing Clinic will continue to maintain a presence in San Marcos one day a week.
Fleming hopes the move will bridge the San Marcos Campus culture with Round Rock's. "We know we have a lot to offer the community," she says. "The university has strong traditions, and we'll be the ones to bring them here."
Because the region is rich with healthcare organizations — notably Seton Williamson Medical Center, and Baylor Scott and White Medical Center, and St. David's Round Rock Medical Center — students have convenient locations to complete their clinical education and find employment after graduation.
"There are hospitals and outpatient clinics up and down the street," says Dr. Gregg Marshall, department chair of Respiratory Care.
Sanders says she looks forward to establishing deeper connections with the surrounding institutions. "We have a history of developing great partnerships with our clinical community and look forward to establishing more of these relationships in the Round Rock area."
Health administrators in the region applaud the move to expand health programming at the Round Rock Campus.
"I think bringing all of those healthcare tracks to one area will really be important as we look at that interprofessional type of education that needs to happen — so that education and training is not in silos," says Gail Acuña, division assistant vice president of clinical education at St. David's Institute of Learning. "It's not just PT being with PT or nursing being with nursing. Gaining the efficiencies of what these disciplines have to offer is going to be huge."
Jay Fox, president of Baylor Scott & White – Austin/Round Rock Region, echoes the sentiment of the move coming at a good time for the university and the region. "As this community and surrounding areas continue to grow, it becomes increasingly important to have a local talent pool of qualified healthcare professionals," Fox says.
Marshall also notes the potential for partnerships with local colleges. "Texas A&M College of Medicine is out our back door and Austin Community College has a campus nearby with about 10,000 students," he says. "So there's some possible collaboration with them that we're looking forward to."
The move also allows Health Professions' students the chance to practice their requisite skills while interacting with each other. "We anticipate a lot of collaboration among the faculty and students as they participate in interprofessional activities in teams," says Welborn.
"Respiratory care students can work with [high fidelity] mannequins in the nursing simulation lab that are in respiratory distress, along with nursing supervision," she offers as an example. "Then, they can follow up with rehab services for physical therapy, and if there are individuals who've had a stroke or have compromised speaking, then they can engage the communication disorders students."
It's a welcome joint effort for nursing students who have been taking classes at the Round Rock Campus since 2010 and have had to role play other professions when learning various skills, like how to assist a patient with crutch walking or how to move them properly in beds. "What better way to have them learn these things than to have them work with [physical therapy] students themselves?" asks Dr. Marla Erbin-Roesemann, director of St. David's School of Nursing. "That's what they do best."✪