Ahead of the pack: Ali Ijaz founded a successful business and competed in an international competition for entrepreneurs -- and that was before he earned an M.B.A.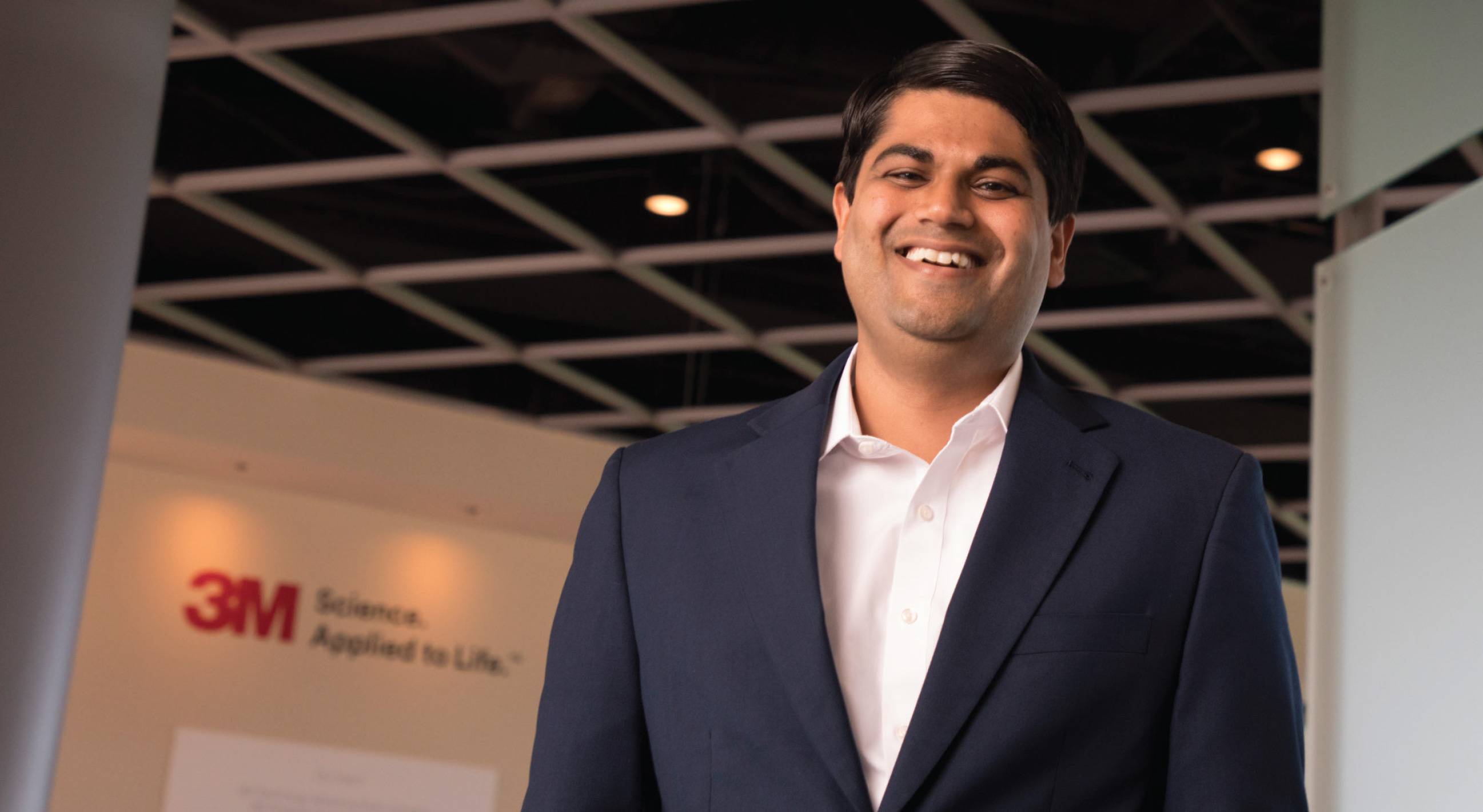 Ahead of the pack
By Arthur Cavazos
Ali Ijaz founded a successful business and competed in an international competition for entrepreneurs — and that was before he earned an M.B.A.
Even before he hit his 30th birthday this summer, Ali Ijaz could securely be branded a success. He works in a global marketing role for 3M, he received a major company award, and recently tied the knot with his Bobcat fiancée.
An overview of his years at Texas State University would cast him as a bit of an overachiever. While earning an undergraduate degree in finance and marketing, Ijaz started Row, a digital marketing company. The company employs current students and Texas State graduates.
Ijaz, who earned his M.B.A. in 2014, cultivated Row to the point where it was acquired by a larger company in October 2017. He took on a leadership role in Enactus, an international business organization based on the concept of entrepreneurial action. During his term as president, the team won the 2014 national championship over 500 other universities. The Texas State team went on to represent the United States at the Enactus World Cup in Beijing, China.
His business acumen and accomplishments may seem like the norm in today's fast-paced, technology-powered work environment — but it takes a special person to see tomorrow's challenges while still immersed in weekly college activities. Texas State definitely put Ijaz on a life path to continued success.
What Ijaz says he really liked about the university is what many before him have said. "You get to work at what you are learning," he explains, fondly recalling his mentorship experiences. His biggest influence was Vicki West, the Sam Walton Fellow in Free Enterprise. "She was a true mentor in the best academic tradition of higher education," Ijaz says. "When I enrolled in the business school I knew right away that there was a lot of energy driving the school to excellence."
Growing up in Plano, school was a journey he enjoyed, perhaps because he was so good at it. Ijaz says he was not that different from other high school graduates, and the fact that "some of my friends were going to Texas State" played into his decision-making process.
He credits the hands-on learning approach of some professors and a hefty dose of real-world career field experience, with making him a more engaged student.
Perhaps the best example of his vision at work is Job Help, which he started in 2011. The Enactus project focused on helping the unemployed and the underemployed of Central Texas. Over the course of several years, it has included partners such as the City of Austin, the Mayor's Office, Caritas of Austin, Workforce Centers, Goodwill Industries, and the office of U.S. Rep. Lamar Smith. Over the course of the project, a combined 2,000 people were enrolled and re-trained at Workforce Centers and other facilities. One part of the project worked to get homeless veterans off the street, into housing, and assist them in becoming self-reliant by helping to find employment.
"Many of the individuals that went through Job Help found a job. The project is still going on. Between the time I started the project and graduated, over 1,200 individuals had found employment through the help of this project. We also had relationships with key employers to bridge the gap between employers and the unemployed," Ijaz says.
At 3M, Ijaz was recently named global product marketing manager and is responsible for the P&L results of the Global Electrical OEM Tapes business. He is also responsible for developing and executing strategies and operational plans for the business. He earned a global marketing award for demonstrating excellence in planning and executing exceptional marketing programs.
Ijaz capped off 2017 when he wed Kayla Krantman-Mynier. She will be graduating in August with her M.B.A. from Texas State. The couple now reside in Austin with their goldendoodle Harry, and two cats, Franklin and Eleanor.