Sandra Cisneros' works find home in Wittliff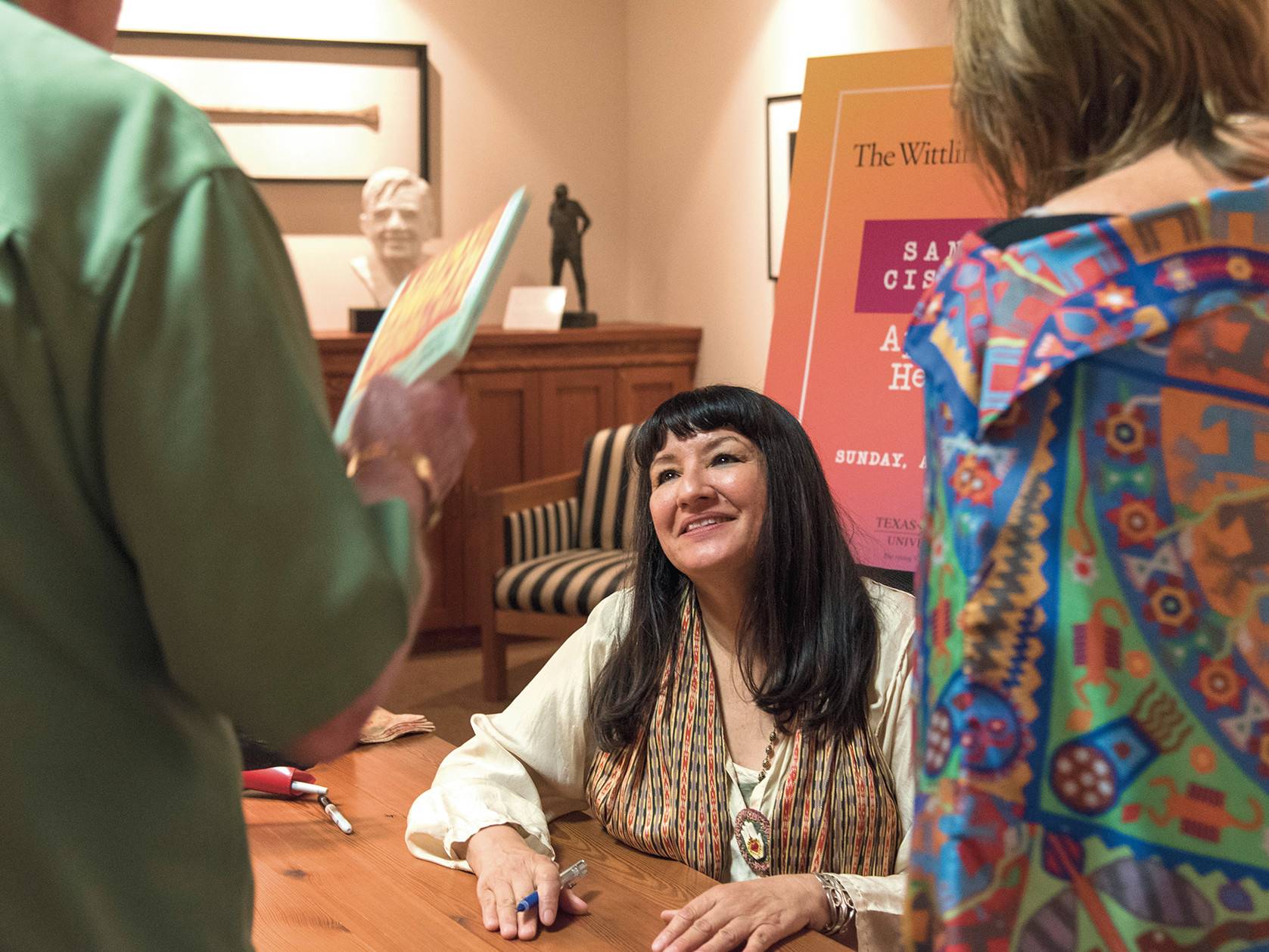 Sandra Cisneros' works find home in The Wittliff
by Anastasia Cisneros-Lunsford
Archives define Texas author's life, career
The last time acclaimed author and National Medal of Arts honoree Sandra Cisneros walked into the Alkek Library at Texas State University, she said, "This is my new home."
In October, Cisneros gave faculty and students a preview of her literary archive now permanently housed at the Wittliff Collections. Sandra Cisneros: A House of Her Own comprises 250 file boxes documenting the entirety of her literary career to date. Included are manuscripts for her major works, personal diaries, travel journals, correspondence, photographs, videos, awards, publicity material, personal effects, interviews and speeches, original drawings, files on her famous purple house in San Antonio, and the Canon portable typewriter she used to create many of her works. Also present is the original artwork used for the first edition of The House on Mango Street, which has sold more than 2 million copies.
"I've been engaged with (Sandra) Cisneros' work for a very long time, maybe more than half of my life. It's been a dream to put something like this symposium together."

– Dr. Geneva Cano, assistant professor of English
The Wittliff Collections acquired the archive in 2015 with the hope that her archive will inspire students and young writers. Wittliff Collections Director David Coleman says the collection will help young writers get a sense of how she defined her life and career.
"She's hoping that if students can pore through her papers here, they'll see her path and maybe, be able to model it in some way," Coleman explains. "(The collections) show young people how much work it is to be a writer and how much work it takes to write well. It doesn't come easily for anyone but they shouldn't be discouraged by how hard it is; they should see it as inspiration for their own careers as they see how much a writer has to work to perfect a poem, a story, a novel, or a screenplay."
Cisneros returned to the Wittliff Collections this spring for a symposium celebrating her literature and an opening reception for the archives. The April 29 symposium featured renowned scholars of Cisneros' work from across the United States, including Paula Moya, professor of English and director of the Research Institute of Comparative Studies in Race and Ethnicity at Stanford University.
"Sandra Cisneros was very interested in what other people think about her work," says Dr. Geneva Gano, assistant professor of English, who planned the Cisneros symposium along with creative writing graduate student Claudia Cardona.
Gano, who focuses on American women writers, recently published an article that examines the narrative voice of Esperanza in Cisneros' House on Mango Street and the young female narrator in Mexican author Nellie Campobello's Cartucho. "I've been engaged with Cisneros' work for a very long time, maybe more than half of my life," Gano says. "It's been a dream to put something like this symposium together."
In the spring, Gano taught a course dedicated to the work of Cisneros. "One of the things that we were able to do with the Wittliff's help and encouragement was to build archival research projects for undergraduate students," Gano explains. "They found an area about Cisneros that interested them the most — maybe it was her childhood or her time in San Antonio or her fan letters. I also incorporated some service learning in this class. Students moved beyond our campus borders to present Sandra Cisneros to the wider community."
Cardona focuses on literary Mexican-American authors. "Cisneros is a literary hero of mine," she says. "It was amazing to gain insight from the scholars who participated in the symposium." Cardona plans to teach at the college level and work with undereducated communities to encourage writing.
"We're so fortunate to have someone like Sandra to be a part of the Texas State family," Coleman says. "She is a great representative of building bridges between communities and being a spokesperson for peace, communication, and crossing borders, which are really important and part of the culture of the Southwest and a strong element for the Wittliff."
The Cisneros collection is a foundation collection, Coleman says, right next to Cormac McCarthy. Winner of the National Book Award for All the Pretty Horses and the Pulitzer Prize for fiction for The Road, McCarthy's literary papers are part of the Wittliff's Permanent Archive. Like McCarthy, Cisneros is also a recipient of a MacArthur "genius grant."
"She is a leader of the pack in American letters," says Coleman. ✪