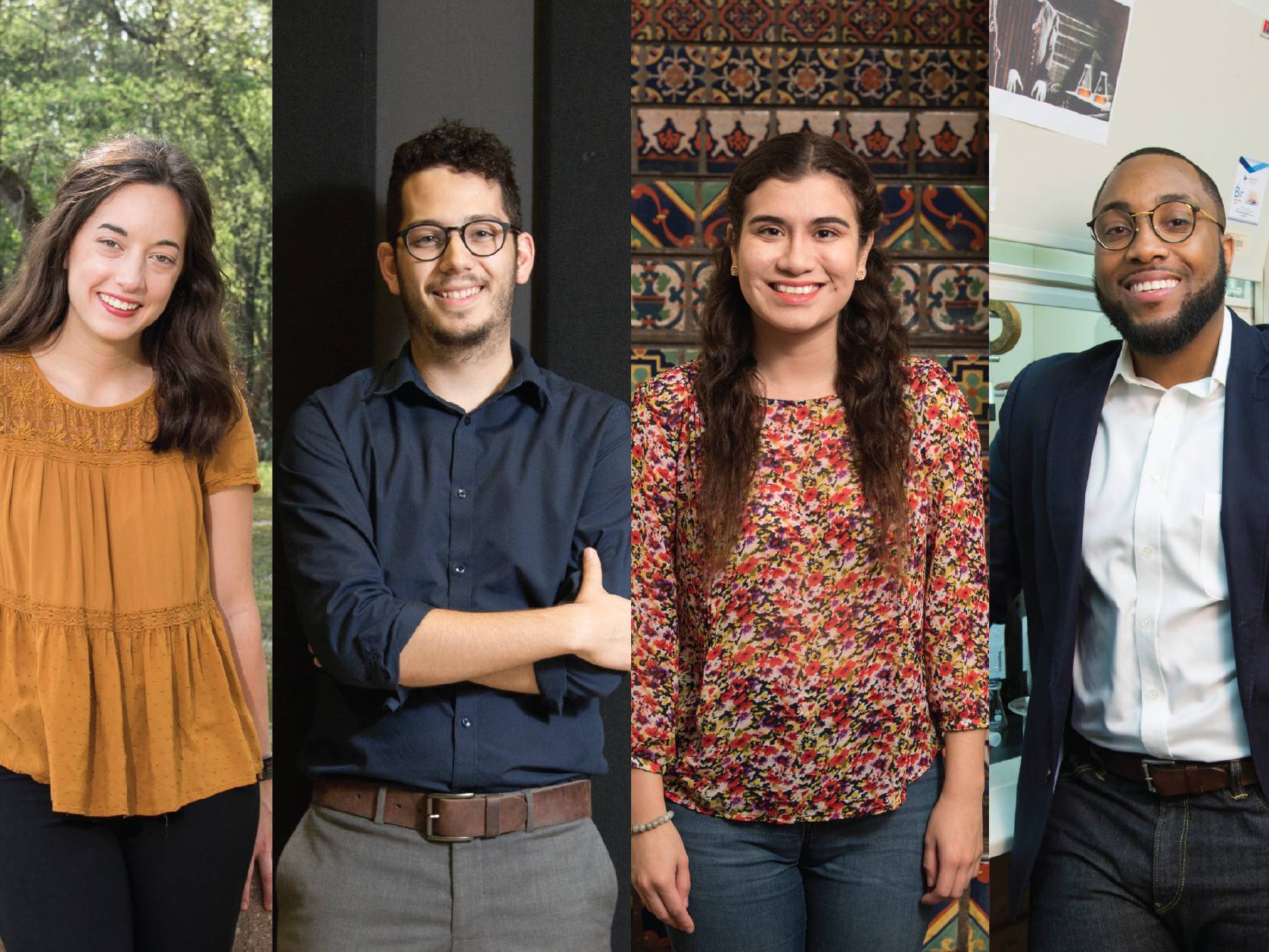 Ramping Up Research
by Mark Wangrin
Texas State's undergraduates are getting unique opportunities to discover new knowledge
Thumb through the Texas State University course catalog looking for the amazing opportunities for undergraduate research.
Go ahead, we've got time.
We'll give you a hint. You won't find many. There are some undergraduate research classes in the sciences, sure, but like a Plume agate begging for some pumice and a rubbing cloth, the promise of undergraduate research is the hidden gem in the Texas State academic culture.
Hidden, in plain sight. When they arrive on the Texas State campus, sometimes they find it. Sometimes it finds them. Sooner or later, the very qualities that make a student interested in knowing what others do will cause them to fall, headfirst, into undergraduate research.
Anthony Ledet worked his way through high school at a Houston Arby's, not because he liked the extra pocket money, but because his family needed him to. College didn't seem to fit his otherwise bright future, but his single mother shipped him off to Texas State four years ago with this message about affording his education: "I'm a mother. I can make a way."
Clearly, that's a message that's encrypted in his DNA. Through Advanced Placement and dual credit courses, he graduated high school with two years' worth of college credits for his chemistry degree. Science came naturally to him, as did a sly sense of adventure. All it took was hearing Dr. Christopher Dorsey, a senior lecturer in organometallic chemistry, remark: "Everything I work with explodes." And Ledet's imagination followed suit. After all, growing up he was always the kid with the Mentos and the 3-liter plastic soda bottle.
"It explodes?!" he gleefully recalls thinking. "Why not work with that?"
Of course, Ledet later discovered that Dorsey exaggerated somewhat to get students excited about organometallic chemistry when he mentioned that all his compounds "explode." However, synthesizing the compounds in the lab of Dr. Todd Hudnall, he discovered ones that easily decompose in air. Ledet, a December 2016 graduate, proudly claims a clean record. "I'm the only (student) who hasn't caught fire," he jokingly says, meaning that he has always been able to successfully isolate his compounds. "I know in some shape or form, everything can be tamed. It may explode for others, but maybe I can tame it."
That's the attitude Texas State has long been seeking in its students, and undergraduate research provides the tools.
Emerging Research University
In January 2012, Texas State became the eighth university in Texas to be named an Emerging Research University, which gives it access to incentive funding created by the Texas Legislature. This designation keeps it on track to join the others Texas institutions as a research institution. That distinction primarily recognizes post-graduate and faculty research, but it also includes undergraduate research.
In the 1990s, President Jerome Supple began a concerted effort to burnish and promote the school's academic reputation by establishing Ph.D. programs and encouraging a nascent undergraduate research presence. Dr. Denise Trauth, who became president in 2002, has accelerated that effort, promoting the faculty's reputation as researchers.
"We've had a history of outstanding scholarship since the doors opened," says Dr. Michael Blanda, assistant vice president for Research and Federal Relations. "As the school evolved, the flavor of research took on all things."
One of the first things Blanda did after being hired in 1992 was author a white paper on undergraduate research opportunities. Slowly it gained traction, but something was missing. "What we were lacking," he says, "was a champion."
Enter John Hood. A theatre professor and adjunct faculty member in the Honors College who taught a class called "The Art of Storytelling," Hood so loved instructing and interacting with students that he was still teaching at age 80. (He passed away in July 2015.)
Hood knew that cajoling and encouraging could only go so far. They needed money. He landed a grant from the Mind Science Foundation that included recruiting undergraduates to perform research in psychology.
"We found each other," Blanda says. "That became the nucleus we built on. We cobbled together money with the goal of becoming a self-funded program."
In 2011, the Undergraduate Research Initiative was created and the Honors College and the Office of Research and Sponsored Programs began awarding $1,000 Undergraduate Research Fellowships (URF) to between five and 10 qualified undergraduates each in May and November. Though the drive for undergraduate research flourished mainly in the Honors College, it's not limited to their students.
Ron Haas, a senior lecturer in the Honors College, says those schools that dedicate research funding for undergraduates usually limit it to STEM fields. "We have defined undergraduate research in broad terms to include STEM, the humanities and social sciences, fine arts, and even community-based research," Haas says. "We aim to fund a wide variety of projects that reflect the diverse interests of our students."
The goal is to create a research culture and community in which undergraduates, graduate students, and faculty researchers collaborate, present and publish their work, Haas says.
TXSTUR, the interdisciplinary journal of undergraduate research, annually publishes peer-reviewed research papers by any Texas State student. The Undergraduate Research Conference and Honors Thesis Forum also gives them a way to present their findings, often serving as a litmus test on whether graduate school might be an option.
Dr. Heather Galloway, dean of the Honors College, would like to see a summer program funded, and hopes for the day when there's enough external funding to make sure all interested students have an opportunity.
"I know that some disadvantaged students have to work a job, at say H-E-B, to make ends meet, and think all they have time to do is get their grades," she says. "I really want to see the same openings for all students, and to raise visibility so more students know that this is possible."
Getting to know students
The result has been astonishing in the depth and breadth of the research undertaken. It can show up in the thesis of a student who spent four weeks negotiating the campus in a wheelchair and wrote about the challenges and perceptions; or the physical therapy student huddled in a quiet corner of an orphanage in Kazakhstan, whispering via Skype her thesis presentation on the warehousing of those with disabilities because it was, after all, 3 a.m. And then there were the theses on how gender affects the way players experience the World of Warcraft video game, or on different Cinderella stories over the years, on human trafficking, or Lyme disease or any of hundreds of other topics.
"The favorite part of my job," Galloway says, "is reading all the theses."
Galloway has other perks ― like getting to know the students as people. She warmly recalls a picture of Ledet in a suit and tie ― apparently an extremely rare occurrence ― with Hudnall, who's wearing a "Go Geek" T-shirt. And she's participated in a musical group with another undergraduate researcher, Andrew McNair.
McNair, a spring 2017 graduate, loves music. Interviewing him about his undergraduate research is easy. His passion for the work and influences of Italian composer Claudio Monteverdi, whose career spanned the Renaissance and Baroque eras, is so palpable, you only have to ask maybe three questions to fill your notebook.
The trouble with Monteverdi, though, is that there's just not much new to discover.
"Think of research as a wall," he says. "You have to find a hole in the wall and your scholarship has to fill the hole. You have to come up with something, within reason, that hasn't been discovered yet."
Easy in theory. Different in practice. "Monteverdi has been researched (extensively)," McNair says. "Baked. Cooked. DONE. There's nothing left for a project of my scope and size. So I was like, 'What do I do now?' "
One day as he was leaving a conference with his thesis advisor, Dr. Kay Lipton, McNair mentioned that Monteverdi was born in a region of Italy that was under Spanish control. Just like that, he had a topic: What influence did the 17th-century Spanish composer Sebastian de Vivanco have on Monteverdi?
For McNair, though, it went further than that. In researching, he searched exhaustively for a recording of a relevant piece, one of Vivanco's Magnificat settings. He couldn't find one, probably because it had never been recorded. Ever.
He applied for and won a URF Grant to fund the project to make a professional recording. "I kind of feel like it's my cosmic duty," he shrugs. [Link to the recording.]
Nutrition to fight cancer
Hallie Nix, who graduated in December 2016 with a bachelor's degree in Family and Consumer Sciences, is one of eight sisters who were home-schooled from pre-school through high school. When she was a freshman in high school, her grandfather, Frank Holland, succumbed to liver cancer. Holland, who was 82 when he died, had battled various types of cancer for some years. She remembers her mother, a registered nurse, telling her that he smoked tobacco and had poor eating habits. She pondered the correlation to his disease. "It's significant the impact that nutrition has on everything going on in your body," Nix says.
Doing research on the effects of obesity on liver cancer was natural for Nix for other reasons. Her mother had seven other girls to homeschool, so she'd hand Nix a textbook, assign the reading and tell her to come to her with questions. "So I started early with self-taught, independent learning," Nix says. "I learned how to ask 'good' questions. That's something being home-schooled helped with."
Nix wishes she'd have discovered the research possibilities earlier than during a career exploration class before her senior year. So she encourages younger students to take advantage of the opportunities every chance she gets.
Added to experience
"That's something that really can change the way people see Texas State if they knew," she says. "There's so much support for research from the leadership roles here it's amazing. I expected (them to say), 'Why are you doing this?' I wish more students knew about it. It would add so much to their experience."
Daisy Jaimez, who researches how economic indicators influence Mexican immigration, found out about opportunities for undergraduate research as a freshman.
"It depends a lot on us as students to find it, to know it's there," says Jaimez, a senior. "You can't just go to class, take exams and get your grades. You have to get involved. Faculty support is very present. If you speak up on your interests, you're bound to get guided to something."
"I think that Texas State really has helped me evolve. I didn't think I'd get to do this as an undergraduate. I thought I'd have to wait until graduate school or law school. To have this available, thanks to the faculty here, has really sent me in the right direction," Jaimez says.
It's a direction toward knowledge. Toward helping others. Curing cancer. Recording the unrecorded. Not blowing up.
"I want to be the person who knows everything," says Ledet, the chemistry graduate.
"You never know what you're going to find," adds McNair, the music grad. "What a cool thing." ✪