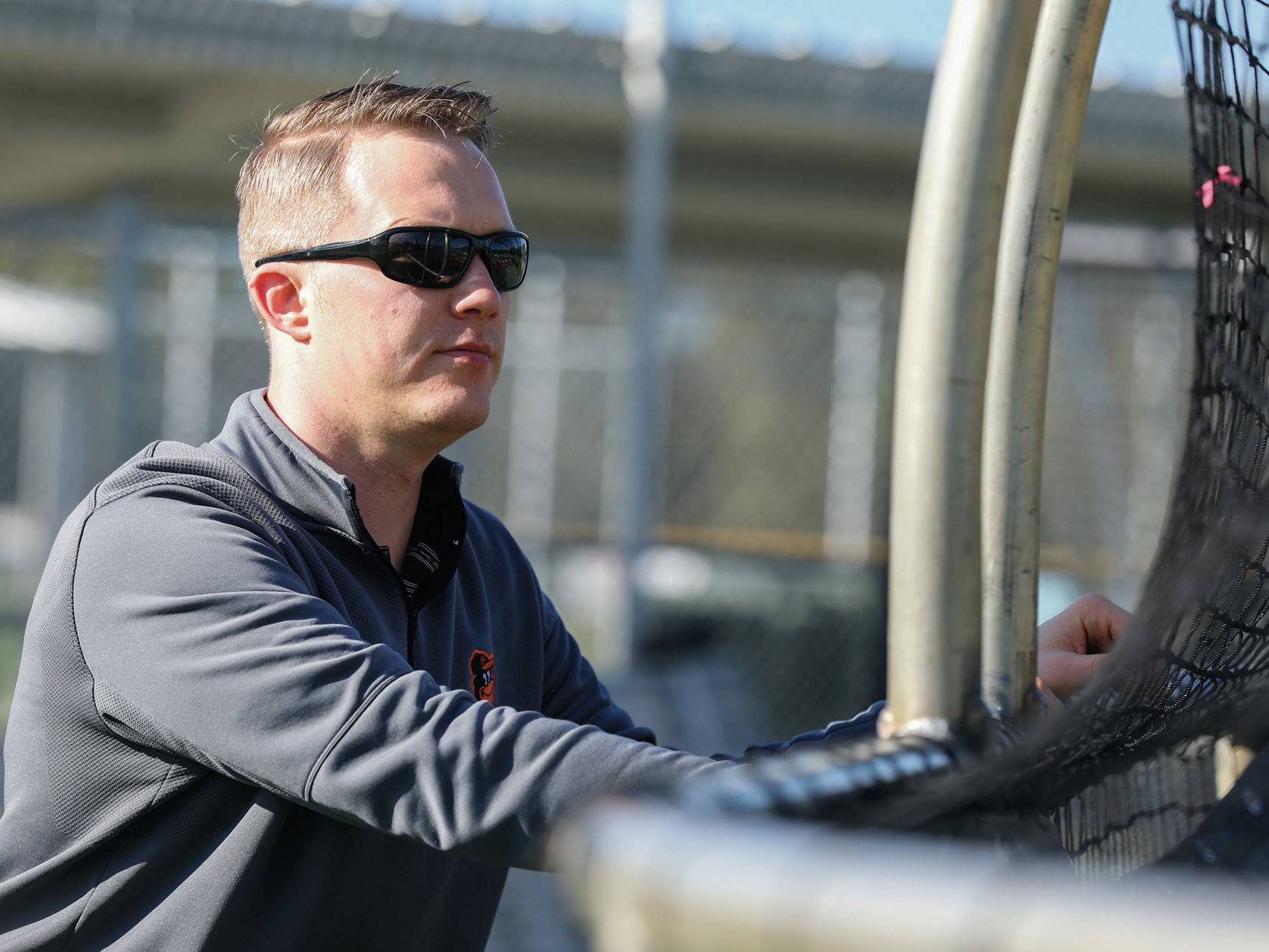 Cale Cox
by Benjamin Gleisser
Bobcat business graduate scores with Orioles
Spring training can be a stressful time for Cale Cox, assistant director of minor league and international operations for the Baltimore Orioles. That's when Cox must winnow 250 wannabe major leaguers into about 200 players who will fill the rosters of the parent club's six minor league teams.
"It's stressful for ballplayers who want to make the cut, and for us too," Cox says. "You have to trust your evaluating skills. For sure, there have been players we've cut that went on to other teams and had great careers, but 99 out of 100 times when you see someone, you just know whether he is or isn't going to make it as a major leaguer."
Cox, who graduated from Texas State University in 2007, grew up in Lampasas. He was a Texas Rangers fan whose heroes were Nolan Ryan and Ivan "Pudge" Rodriguez. He spent lots of his free time in baseball chat rooms critiquing Rangers lineups and played baseball and football in high school until an injury sidelined his playing career.
But Cox still wanted to be involved in the baseball world, so he studied business in the McCoy College of Business Administration, earned an M.B.A. at Texas A&M, then sent resumes to every MLB team. It was Johnny Almaraz, the former international scouting director for the Atlanta Braves, and a Texas State alumnus, who hired Cox as an intern for the Braves' Dominican Republic Academy baseball facility. Almaraz is currently the Philadelphia Phillies' director of amateur scouting.
"My job was to be an observer and compile statistics," Cox says, adding that he's got some interesting memories of the Dominican Republic. "There were a couple fights where teams ended up throwing rocks at each other, and brawls on sugarcane fields. Guys sold coconuts at games and used machetes to open them up so you could drink the liquid from them with straws."
In 2012, Cox joined the Orioles operation. He was named to his current
position in March 2015.
It was Johnny Almaraz ... a Texas State alumnus, who hired Cox as an intern for the Braves' Dominican Republic Academy baseball facility.
Before he headed to Sarasota, Florida, the Orioles' spring training home, Cox visited the team's baseball academy in the Dominican Republic where he evaluated Latin American athletes who want to play for U.S. teams. Cox rates his own Spanish proficiency as "conversational, but not quite fluent."
Spring training also means "working many 80-hour weeks," he says. At the end of each day, Cox huddles with the team's coaches, scouts, and player development officials and compares notes about players they've seen and those they should focus on tomorrow.
"A player should at least be outstanding in one of the five tools: hitting, power, arm strength, fielding ability, and speed," he says. "When they have that, you can work with them. If they have more than one outstanding tool, then they're a project."
And personal feelings can't get in the way of evaluations, Cox adds. "Sometimes, you like a guy and want him to succeed, but you've got to cut him. That's tough."
One player he is especially high on is pitcher Donnie Hart, a 2013 Texas State graduate who won the Orioles' Minor League Pitcher of the Year Award last September. Hart, a left-hander, was called up from double-A to pitch in July 2016. This season, No. 58 Hart is part of the Orioles 40-man roster.
Once the regular season gets underway, Cox's job entails keeping track of 200 players at various levels — rookie leagues, class A, AA, or AAA. Those whose skills are developing nicely may be bumped up a notch or two. Injured players create holes in their teams that must be filled quickly by players drawn from another level.
"Players always need to know where to go and sometimes, I've got to drive them to the airport," he says. "Luckily, most of our minor league clubs are within a short driving distance."
Growing up a Rangers fan, who does Cox root for when the team plays the Orioles? Cox laughs, then says, "The Rangers don't pay me!" ✪