Bludgers, brooms and Bobcats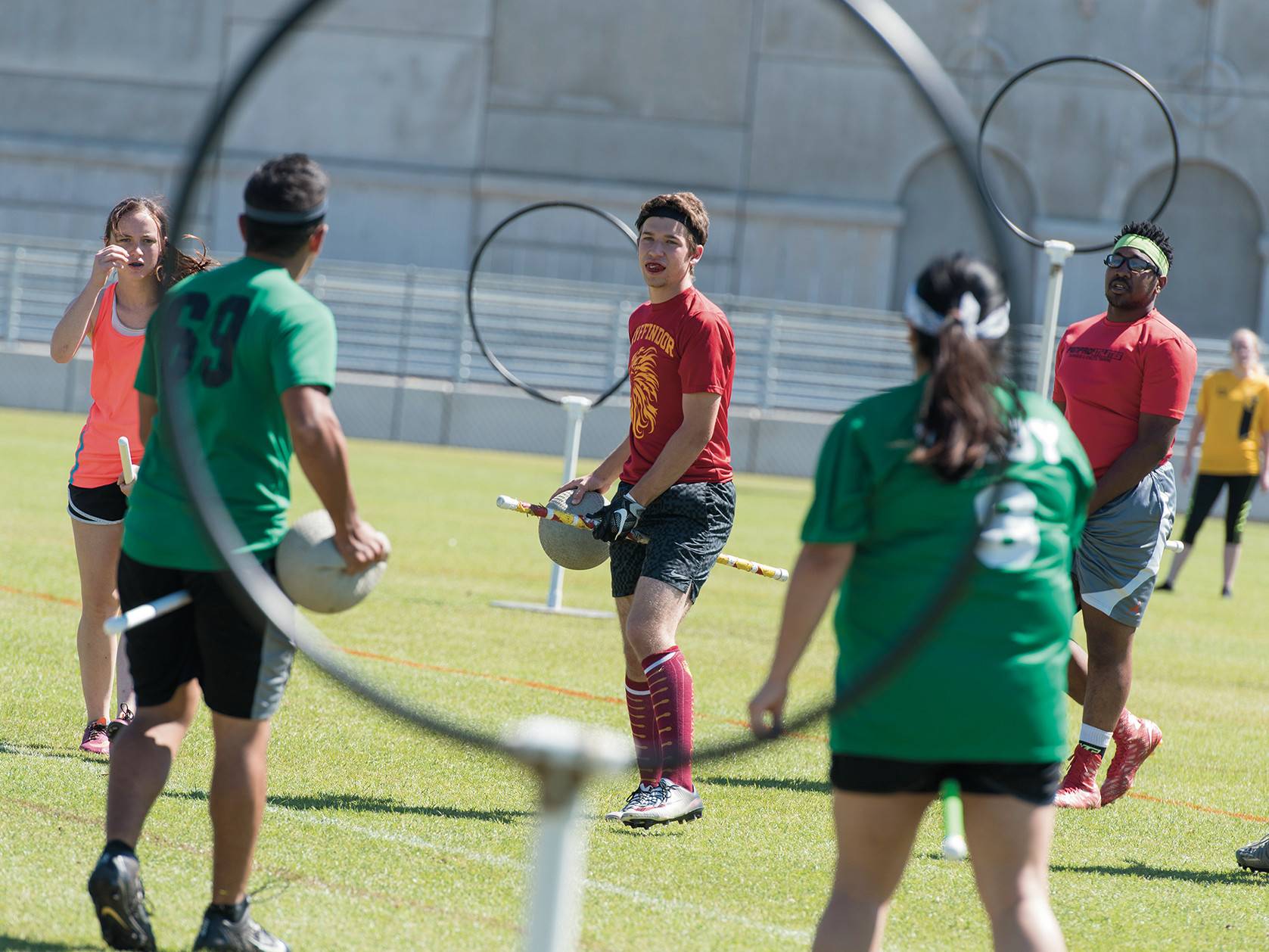 Bludgers, brooms and Bobcats
by Tracy Hobson Lehmann
High-flying fantasy sport forges family bonds in club members
Surprises were ahead for Alex Aguirre when she said yes to joining the quidditch club as an incoming freshman in 2012. The fast-paced outdoor game that flew into real life from the fictitious wizarding world of author J.K. Rowling's Harry Potter intrigued her.
Aguirre was new to sports and expecting "funsy-type play," she says. She didn't expect to forge deep friendships and participate in a college club sport. She couldn't have been more surprised by the athletic demands of the game if the players had flown on brooms — as in the books and movies. "I quickly realized how intense and athletic it was."
Quidditch might be ripped from the pages of fantasy literature, but the Bobcats play seriously. The team, established in 2011, is among about 180 under the US Quidditch (USQ) governing umbrella. Texas State Quidditch, one of 29 sport clubs offered through the Department of Campus Recreation, consistently ranks near the top of the USQ's Southwest region.
On the quidditch pitch, members of the coed teams run, jump, dodge, throw, and body check as four balls fly around the oblong field. They do all that astride 40-inch lengths of PVC pipe — the modern version of the broom — meaning they play one-handed. The objective is to get one of the balls, the quaffle, through a hoop while dodging the other three balls, bludgers.
Chaos ensues when the two teams — initially six players each — scramble at the "brooms up!" call. Late in the game, craziness builds when the seekers — one additional player from each team — enter the field to capture the snitch — a tennis ball in a sock tucked into the waistband of an independent player's shorts. That player, dressed in yellow, is the snitch runner.
Unlike most club sports where men and women compete separately, USQ reinforces equality and inclusivity. Under its gender maximum rule, a team can have no more than four players of the same gender — determined by how the player identifies — in active play before the seekers and snitch runner enter the game.
Observers see elements of rugby, dodge ball, and lacrosse in the action. Positions of snitch runner and seeker demand speed and agility. Wrestling skills come in handy, too.
"If you have experience in any team sport, it will transfer over to quidditch," says Katie Stephenson, who joined the team as a sophomore transfer student in 2012 and continued to play as a graduate student. Quidditch appealed to her for both its athletic demands and its social possibilities.
"There is such a large diversity of people in the club that you can find somewhere to fit in," says Aguirre. It's where she made "99.99 percent" of her college friends.
With almost 100 members, quidditch is the largest non-Greek student organization on campus. Members organize social events such as a holiday ball and a Halloween party, and they perform community outreach through projects such as food drives and teaching children to play the sport.
The activities on and off the field, including recruiting, leadership, and fundraising, enhance the educational experience, says Mario Rios, assistant director of sport clubs. "Students forget they learn these valuable skills that will transfer to any organization or profession," he says.
As an upperclassman, Aguirre became too busy for tournaments, games, and twice-a-week practices. But she stayed active in the club through graduation in December 2016.
That's common, says club president Brigid Rhoden. "One of the things that cannot really be measured, but I feel like is a real accomplishment, is that once a person has been in quidditch they continue to support us and stay involved long past their graduation. We are a family," she says.
The family bond is especially strong for Aguirre. Quidditch teammate Michael Comer, still in his cap and gown from commencement, surprised her when he dropped to one knee on the banks of the San Marcos River and asked her to marry him.
She said yes.