Riders Up - Paul Bulmahn's quest: a triple crown winner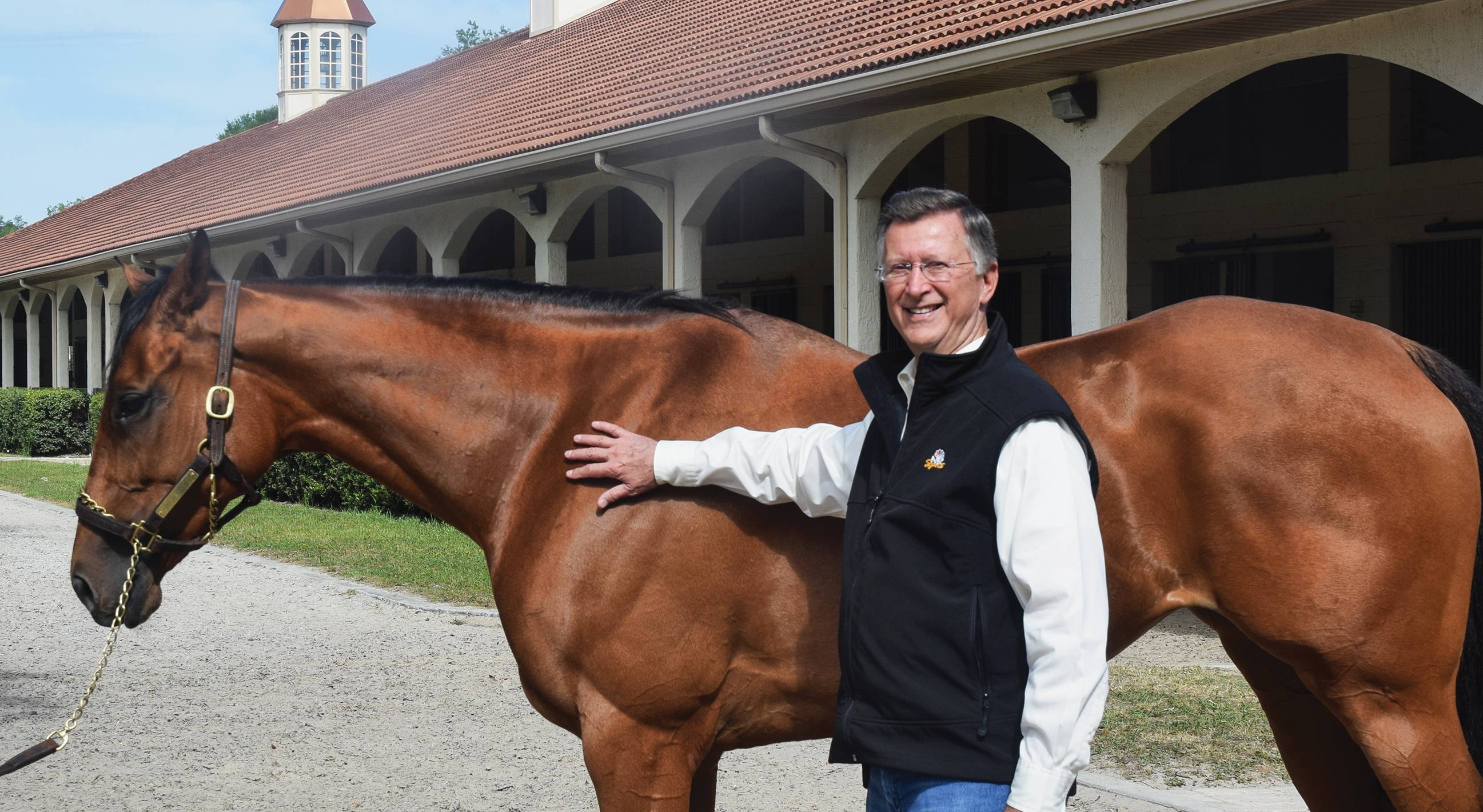 Riders up
by Rachel Wayne
Paul Bulmahn's quest: A Triple Crown winner
The Florida sun quickly dries the morning dew at GoldMark Farm, but not before a parade of thoroughbreds, accompanied by its eager entourage, approaches the training track.
T. Paul Bulmahn greets everyone with a warm smile as he studies a clipboard with dozens of quirky names such as Ghost Chaser and Elusive Lady and grooms tack up the horses. Under Bulmahn's tutelage, GoldMark Farm personnel prepare thoroughbreds for their destiny: to compete on tracks across the country.
GoldMark Farm has established itself as one of the premier training and rehabilitation centers in the country since opening its doors 10 years ago. GoldMark-trained thoroughbreds have earned 586 wins, and an impressive 220 of those winners became stakes horses, where 52 percent of the farm's starters have won graded stakes races. Approximately 30,000 thoroughbreds are born each year, and only when reaching age 3 can thoroughbreds compete in the Kentucky Derby. In 2016, three of the 20 Derby competitors trained at GoldMark.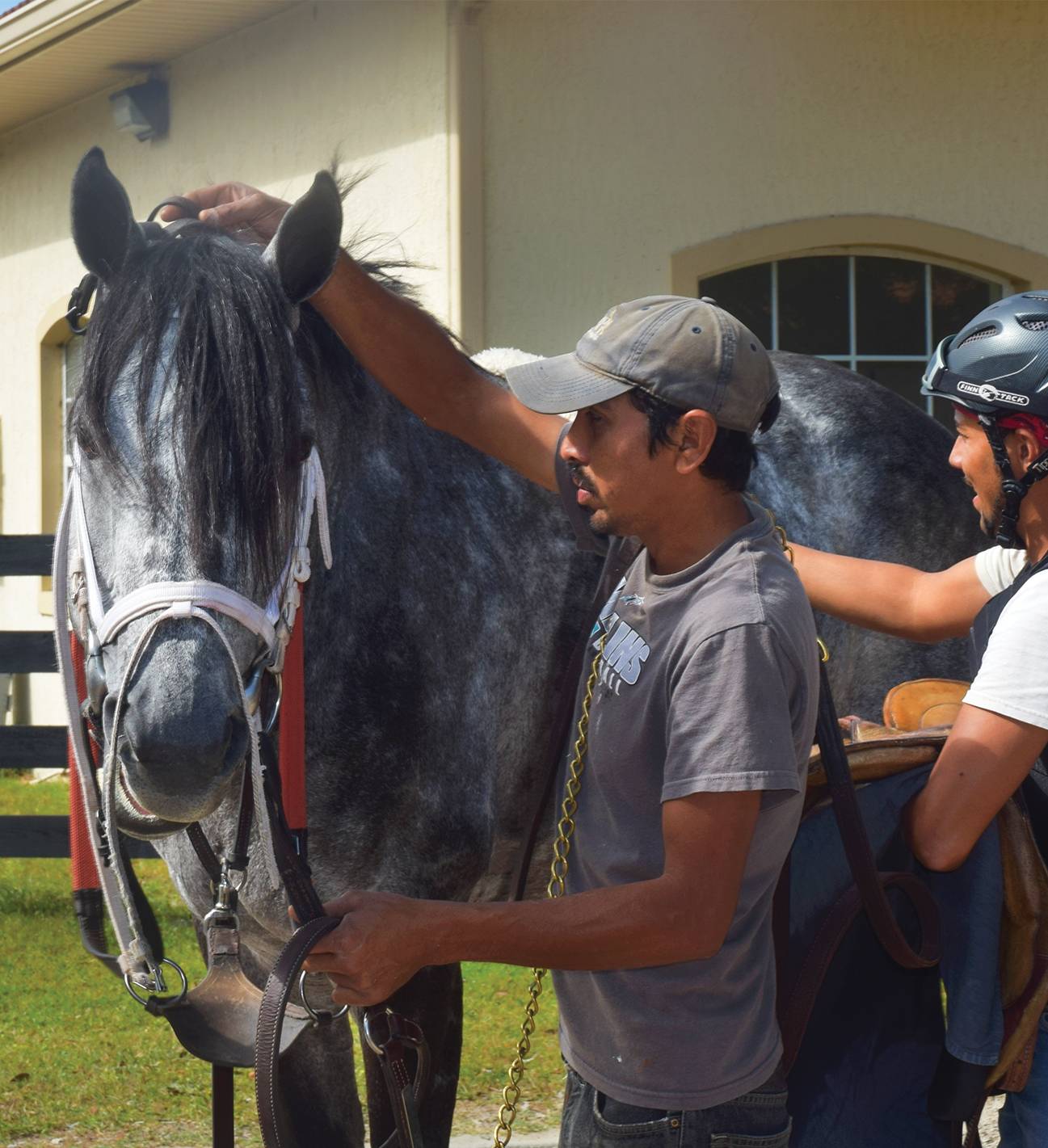 The training facility, located on 2,600 acres in Ocala, Florida, is itself a product of destiny. Bulmahn purchased the land in 2002, but his appreciation for horses began much earlier, when he read the seminal horse novel The Black Stallion. "I spent a lot of time in the children's library and I read everything I could find about horses. Everything in the 'H' section," he says. "When I was a kid, I climbed up a mulberry tree and a limb lowered just enough that I could swing down onto our neighbor's horses." Riding these horses around their paddock in Fort Wayne, Indiana, "I imagined I was riding Citation at the Derby," he says with a laugh.
Standing in the observation deck, Bulmahn sweeps his hand to encompass the three-quarter-mile track — the motion symbolizing the expanse of his vision and evoking the big-dreaming personality seen in larger-than-life entrepreneurs both real and fictional. Unlike Walt Disney or Willy Wonka, however, Bulmahn earned a master's in business administration from Texas State.
After his childhood appreciation for the library led him to pursue an English degree, which he credits for those entrepreneurial communications skills, he studied law at The University of Texas at Austin. Like his thoroughbreds, Bulmahn leaves no challenge unturned. Getting his M.B.A. in 1978 "filled the void I felt about finance and accounting and answered some needs I felt I had," he says.
Eventually, it empowered him to go into business for himself when he founded ATP Oil & Gas in Houston, which became a multibillion-dollar international oil and gas exploration and development entity. "I had always worked for someone else," he recalls. "I felt it was time to start up a company." He and his wife, Mary, decided to put their entire life savings into it.
In Bulmahn's typical fashion of daring curiosity, he opted to begin offshore. Later, in the eastern Mediterranean he discovered a gas well within 18 months of incorporating in Israel. "That's a phenomenally short turnaround for deep-water [exploration]," he explains. "I had the best people in industry — and I still do, at GoldMark."
Some of those "best people" were recruited from among Texas State graduates. "I want Texas State to keep going straight up, as it has been," he says. As the donor behind the T. Paul Bulmahn Research and Trading Lab, he continues to support Texas State's McCoy College of Business Administration. He is on the board of the McCoy College of Business Foundation, and in 2000 he was honored as one of the university's Distinguished Alumni.
Bulmahn says that he's still a "youngster" in the horse world, having only pursued the business for the past 15 years. "I had book learning without the practical experience," he explains. Yet when his eyes light up as the horses race around GoldMark's track, he's a youngster in a different way, as his inner Black Stallion-loving child still jumps with joy. As a pair of thoroughbreds race down a sand-based Safetrack, designed to protect horses' delicate legs, the thrill is palpable in his voice: "That's the exciting part."
Joy seems to be a daily experience at GoldMark, and indeed a general sense of contentment, wonder, and passion permeates the place. In between the statuesque Spanish mission-style facilities — designed to keep things cool for the horses, Bulmahn notes — idyllic great oaks, occupied by wild birds, create sweeping leaf patterns across the rolling acres of paddocks. Beyond, one can see sun-drenched pastures of perfect green. A host of cats prowl for pesky rodents, while other paddocks hold friendly goats and Bulmahn's prized longhorn cattle. The stables are remarkably clean and fresh — Bulmahn insists upon it — and more than 100 horses in active training enjoy luxury care. Thoroughbreds have a reputation for being high strung, but those training at GoldMark seem pleasant and happy. Their pampering includes daily baths, premium food, a cold saltwater spa, and a whole-body massage station, after which they retreat to their stalls for post-training leg wraps and unique rubber flooring for a "mattress" of enviable comfort.
The creature comforts aren't limited to the horses. Bulmahn aims to cultivate a wondrous experience for the dozens of clients who send their horses to GoldMark. Adjacent to the training track is a two-story building equipped with cushy chairs and a panoramic view of the track, topped with a screened deck and bar and flanked by hotel-quality accommodations. The main office offers an auditorium, trophy cases, and Bulmahn's cherished collection of Triple Crown memorabilia. A compelling storyteller, Bulmahn has an encyclopedic memory and a knack for sharing Triple Crown lore, including the tales of the aptly named Whirlaway, who won despite his wayward movement, and the pacemaker-turned-champion Sir Barton. He is also working on a documentary film, Crown, about the jockeys who have won the Triple Crown.
At first blush, GoldMark Farm appears to be a thoroughbred training facility, but its breadth of amenities and attractions make it a home and destination as well as a business. In fact, the 2016 premiere of the biopic A Sunday Horse took place at GoldMark.
Always one to embrace the unique, Bulmahn's home is adorned with an impressive collection of artifacts honoring his other favorite animal, the elephant. Rare Israeli marble is tickled by a relaxing waterfall as one enters Bulmahn's dining room, the corner of which bears an olive-tree camel sculpture also from Israel (a souvenir of his time exploring for natural resources). A home bar hosts his tribute to Maker's Mark, a Kentucky-based distillery known for its horse-themed enterprises. In fact, Bulmahn's friendship with Bill Samuels Jr., president of Maker's Mark, inspired half of the farm's name. The "gold" half refers to the Olympic gold medal, the highest achievement in sport.
Outside his house, a paddock holds a blind mare named Sunday Shopping, a tribute to his late wife Mary's favorite hobby. Sunday Shopping was blinded in a fall and is kept with a donkey companion to ward off coyotes. "I wanted to give her a chance," says Bulmahn, who offers her a treat and a song every morning. "I just love animals."